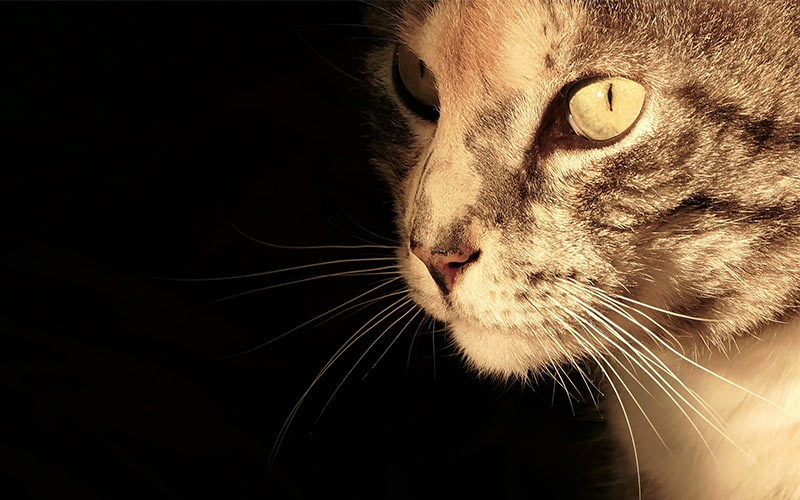 Cat separation anxiety occurs when a cat's bond to us is so entrenched that being parted causes them intense stress.
But there are other reasons they can feel stressed or anxious too.
Working out the reason your cat is worried will help you to improve things for her.
General anxiety and separation anxiety in cats have different causes and so some of the solutions are different too.
We'll take a look at them both, and help you to work out why your kitty might be upset and what you can do to help her.
Your anxious cat
Cats, like people, experience anxiety. In fact, to a greater extent than we might realize.
Anxiety plays a very important role in how cats behave. Cat separation anxiety occurs when this natural paranoia gets out of hand.
Worrying is natural
Cats are naturally pessimistic about life. Some might even call them paranoid.
They normally live alone, and can therefore be quite suspicious of others.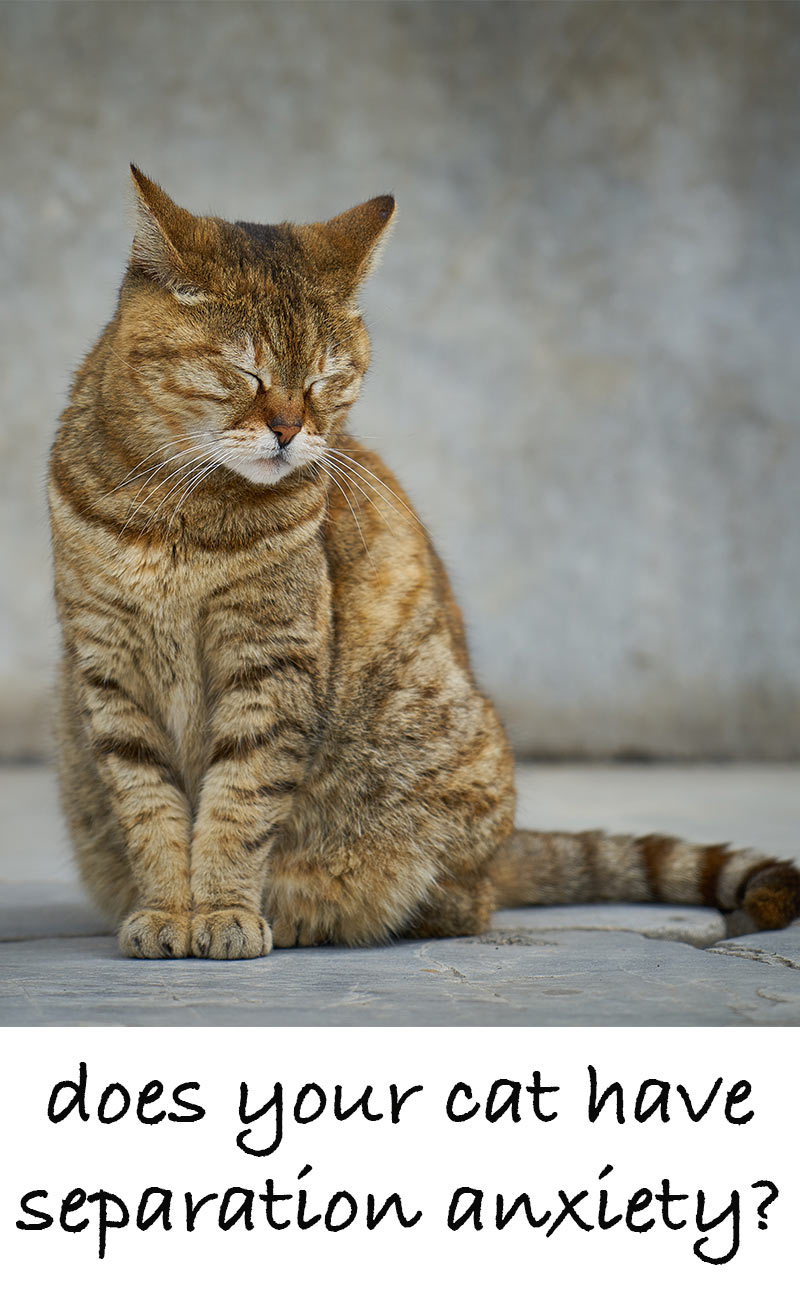 Constantly on the look-out for anything that might pose a threat to their survival.
It's this pessimism that makes them particularly susceptible to stress.
Many of the behavioral problems that we see in cats are caused by underlying anxiety.
Small worries vs big worries
Short term, anxiety is a normal healthy response to life's everyday challenges.
However, when it lasts a long time, or affects every aspect of a cat's life, this can be very unhealthy for him.
Anxiety in cats
Cats get anxious when they feel unsafe. It's part and parcel of everyday life.
But if a cat is unable to escape his worries, they build up.
This anxiety causes stress.
When stress occurs, their bodies release the hormones adrenaline, noradrenaline and cortisol.
If these hormones are continually released on a long term basis, changes take place which can impair a cat's immune system.
They can also exacerbate any underlying medical conditions. Or trigger disease such as lower urinary tract disorder.
Does my cat have anxiety?
Some kittens are born anxious.
If their mother had a lot of stress while pregnant, or they weren't properly socialized, they can find the world very scary.
Domestication also plays a part in making cats anxious.
In the wild, cats can choose where they live, how big their territory is and which cats they want to socialise with.
However, when cats live with us we control these things.
We tend to neuter them, make the decision about who they live with, and place them in a relatively small territory.
Often one containing other cats with whom they wouldn't necessarily have chosen to be near.
We also choose how we want to interact with them.
This may not match their own idea of appropriate feline communication!
All these may increase our cats' anxiety or compromise their ability to cope in new situations.
Cat anxiety symptoms
Anxious cats will do some, if not all, of the things on this list:
Cats with anxiety might behave in ways that help them cope such as:
Keeping themselves in a secure, hidden space.
Resting more or feigning sleep.
Eating less, or over-eating.
Grooming less or over-grooming.
Urinating and defecating less.
Urinating or defecating outside the litter box.
Urine spraying.
Displaying extreme vigilance.
Being more easily startled than usual.
Not showing an interest in play.
Displaying changes in patterns of behaviour such as spending significantly more time indoors, irrespective of usual seasonal changes.
Rubbing and/or scratching surfaces more frequently.
Showing defensive aggression towards people.
Being more aggressive towards other household cats
If you notice your cat performing one or more of the above behaviours, he may be chronically anxious.
Cat separation anxiety may also cause some of these symptoms, but we'll give you a more detailed list for that below.
Cat anxiety treatment
So how do we treat anxiety in cats when it has generalized causes?
Here are is a quick list of some things you can do:
Provide cat perches or towers
Offer more hiding places, like cat caves
Give multiple cats their own space
Provide more scratching posts and toys
As you can see these involve changing your cats environment, and providing enrichment.
Let's take a look in more detail at how we can make our cat's home more relaxing.
Cats like to be high up
Cats live in a 3D world of movement, not just going backwards and forwards, but also up and down.
High places, such as shelves, wardrobe tops, multi-level cat trees allow them to escape from danger.
They also help them to survey their territory and generally feel safe and in control.
By increasing vertical spaces in our homes, we are effectively increasing the living space for our family felines.
But cats don't just like to be high up.
Cats Like to be able to hide
It's important to offer our cats a number of hidey-holes they can retreat to if feeling anxious.
Cat cave beds are great for when your pet wants a bit of space.
If your cat has chosen to hide it's also his way of telling you that he doesn't wish to be disturbed!
Cohabiting cat solutions
It's important to offer cohabiting cats a choice of locations for eating and drinking.
Cats are competitive creatures.
Providing multiple feeding and drinking stations in separate areas will help reduce any anxieties over sharing these important resources.
The same goes for litter boxes.
Confident cats might block access to the litter box or even ambush their feline housemate whilst he's using it!
Providing multiple litter boxes in separate, private locations will help ease any litter box tensions.
Cats love to scratch
Scratching objects provides them with a means of depositing scent via the glands on their paw pads.
Cat scratching posts with perches are great.
The more scent they can spread around their core territory, the better they feel.
So, giving cats the opportunity to scratch on several surfaces, both vertical and horizontal will fulfil this need.
The right cat beds
Quality sleep can be a rare commodity for our cats, so anything that helps promote this can only be a good thing.
They generally help our cats feel more relaxed, especially in the colder months.
Other Cat Stress Relievers
Allowing cats to work for their food by using puzzle feeders replicates natural feline feeding patterns.
This provides stimulation which can help reduce anxiety.
Play is a great stress buster.
Schedule time each day to play with our cats using toys that encourage them to run, jump and chase will help blow those blues away!
Reducing Cat Anxiety
When it comes to reducing cat anxiety, the other area we might need to address is our own interactions with them.
Some cats enjoy sharing physical contact with us, others tolerate it, and in others it induces a feeling of dread!
Try not to focus on an anxious cat.
Behave normally around the house, there's no need to compensate for your cat's anxiety by moving around slowly or quietly.
Allow cats that are extremely anxious around people to become 'invisible' in their environment.
This can be achieved by not acknowledging their presence in any way.
It will allow them to regain control and over time view humans as less of a threat.
For all cats, a good general rule of thumb is to allow them to initiate all interactions with us.
Will these ideas help cat separation anxiety?
All of the above will be potentially beneficial to cats that are stressed. Which is a big issue for cats with separation anxiety.
But it can also help to have a more specific approach to dealing with this source of upset.
Do Cats Get Separation Anxiety?
Many of our cats enjoy a sociable relationship with us.
It's not uncommon for them to sleep with us and greet us at the door.
Cat separation anxiety occurs when this bond becomes too deeply entrenched.
Research has demonstrated the existence of feline anxiety and helped increase our understanding of it.
However, we should be careful that we don't apply the label of 'cat separation anxiety' incorrectly.
Or confuse it with behaviour that can be attributed to another cause.
Does my cat have separation anxiety?
Kittens aged around 18 months or less aren't likely to suffer from cat separation anxiety because they aren't yet socially mature.
As our cats enter old age they are more likely to suffer from separation anxiety as a result of senile-related changes.
We might also play a role in the development of separation anxiety in our cats.
If we become too dependent on them we might be creating an emotional bond between us and them that can become addictive.
This can cause withdrawal symptoms when we're separated from each other.
It is especially true where the cats in question are already anxious, lacking in confidence, sensitive or 'clingy'.
We should be mindful that the intense 'love' associated with this type of relationship is not in the best interest of us or our cats.
This can also happen within cat relationships where some cats are sociable with others to a degree that borders on dependency.
If one of the cats then dies, the other might attach themselves firmly to their owner, become very 'needy' and suffer a form of separation anxiety in their absence.
It can be hard to discourage this behavior, but it's important to try for their sake.
Cat separation anxiety symptoms
A cat with separation anxiety might display the following behaviors when you are together:
Insist on being with you at all times.
Follow you from room to room.
When you are out they might:
Perform cat separation anxiety peeing and/or defecating outside the litter box, especially on items associated with your scent, such as clothing and bedding
Spray urine
Perform cat separation anxiety meowing immediately after you have left
Be destructive (if your cat has been confined he may claw carpets and scratch doors in an attempt to escape)
Over-groom
Pace and appear agitated
Suffer from anorexia (affected cats are often too anxious to eat when left alone)
Withdraw from social contact with other people and pets or exhibit cat separation anxiety aggression
Stop playing
Whilst these behaviours might be indicators of separation anxiety, we need to be aware that most of them have other causes!
Living with cat separation anxiety
For a diagnosis of separation anxiety, cats should be taken to their local veterinary practice first to rule out any underlying medical cause for the behavior.
A webcam is another important way of providing evidence of how your cat may be feeling when you're not around.
It will help to identify whether the behavior is related to separation anxiety, or something else in the environment.
If your cat is diagnosed with separation anxiety, looking at ways of increasing stimulation when you're away will help reduce his stress.
We can help achieve this by providing an environment that will keep him distracted, challenged, entertained and safe when you're not around.
Many of the ideas below are also used to treat general anxiety.
Cat separation anxiety treatments
Here are some ways you can help a cat suffering from separation anxiety:
Provide a tall multi-level cat tree by a window where your cat can view the outdoor action. Assuming there are no other cats around, a bird feeder in front of the window is sure to keep him positively stimulated!
Placing scratching posts and mats in different locations will help him spread his scent and feel more secure.
Ensure there are comfortable places where he can hide and feel safe.
Offer his food in shop-bought or home-made puzzle feeders.
If you're going out for the day leave tasty treats around the home for him to 'forage' for. If you're away for longer periods, you can ask your pet sitter to do this. It's a good idea to reserve his favourite treats for times when he's on his own.
Treats can be placed in:

Cardboard tubes
Egg boxes
Paper bags
Yoghurt pots
Cereal boxes
Plastic containers
Greaseproof paper

Provide scent stimulation in the form of catnip and/or valerian toys. Both these herbs can create an 'altered state' in susceptible cats and often promote play. Keeping toys in a sealable bag containing loose catnip and valerian, and rotating them randomly will help maintain their novelty.
Cats love boxes, especially if they contain a nice surprise such as a treat, loose catnip, or catnip toy!
As already mentioned, heated beds or radiator hammocks can help keep cats calm and relaxed.
Ask your sitter to provide social interactions which include activities that your cat particularly likes such as chasing games, stroking and grooming.
Leaving the radio or television on in the background may help to muffle any outside noises that might trigger your cat's anxiety. You could even try one of the DVDs specifically designed to keep cats entertained!
Diffusers containing feline pheromone or essential oils may help to reduce anxiety.
Cats are very sensitive to how their owners are feeling and if you're upset about leaving, the chances are this will project onto your cat.
So, try to avoid making a fuss of him when you leave and make your departure a more laid-back.
The same goes for your arrival back home. A brief, casual greeting is sufficient.
Anxiety medication for cats
If, despite your best efforts your cat is still very anxious, then you might choose to consult your Veterinarian regarding medication.
Selective Serotonin Reuptake Inhibitors (SSRIs) and Tricyclic Antianxiety-Antidepressant medications (TCAs) are examples of groups of anti-anxiety meds for cats.
These drugs aren't approved for use in cats, but can be used if you give the vet your signed consent.
Cat anxiety medication should not be given in isolation.
They must be used in conjunction with behavioral therapy, and only for cats at the extreme end of the anxiety scale.
Do cats suffer from separation anxiety?
Some cats do appear to suffer from separation anxiety. And what we can know for certain is that cats suffer from anxiety in some forms.
Anxiety in cats should be taken very seriously.
Hopefully this article will have helped to give you a better understanding of what it really means to be a 'scaredy-cat'.
If you have lived with a cat with separation anxiety, why not share your experiences in the comments section below?
References
Feline Fear and Anxiety. Emily D. Levine DVM, MRCVS. Veterinary Clinics Small Animal Practice (2008)
Separation anxiety syndrome in cats: 136 cases (1991–2000). Stefanie Schwartz, DVM, MSc, DACVB
Food puzzles For cats. Feeding for physical and emotional wellbeing. Leticia MS Dantas DVM MS PhD DACVB; Mikel M Delgado BA; Ingrid Johnson BA; CA Tony Buffington DVM PhD DACVN. Journal of Feline Medicine and Surgery (2016).
Essential Cattitude. An insight into the feline world. International Cat Care