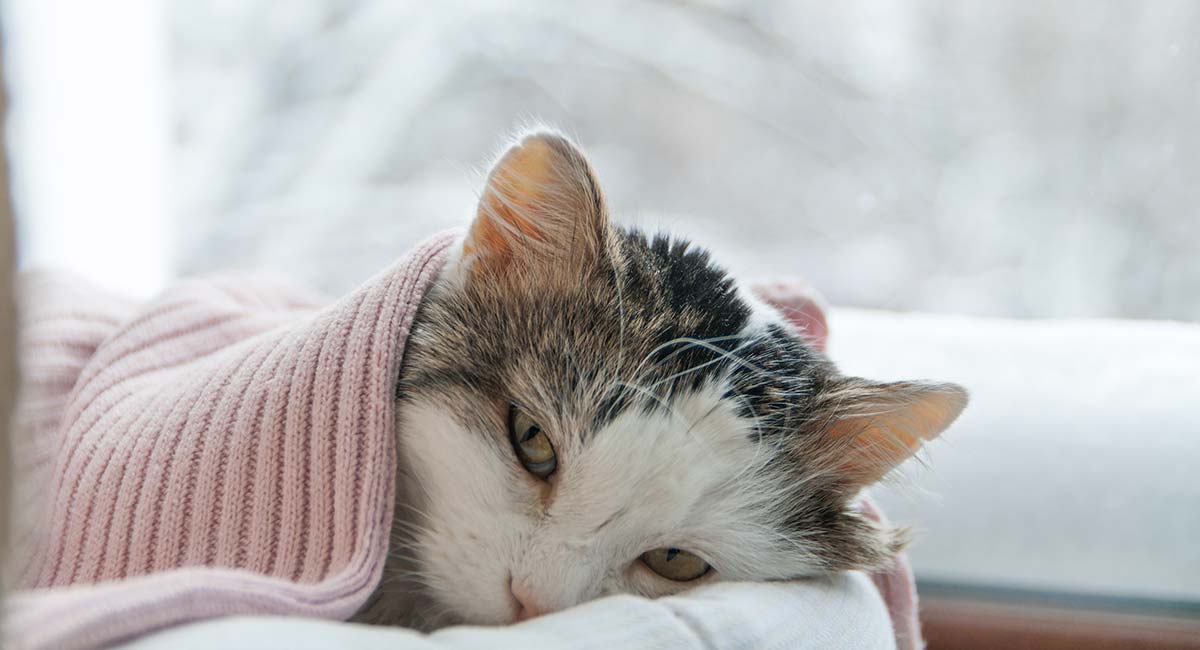 If you see your feline companion itching, scratching, and rubbing against the furniture in an agitated way, then cat dry skin skin may be to blame.
Cats can experience some dry skin issues on occasion.
And just like humans, there are quite a few things that cause the skin to dry out.
While a bit of itching may be the result of some winter chapping, it also may signal a more serious issue.
So, can cats gets get dry skin, why is cat dry skin an issue, and how can the problem be resolved?
Keep reading to find out more about cats and dry skin.
What Is Cat Dry Skin?
So, let's explore the question, "do cats get dry skin?" by learning a bit about the skin first.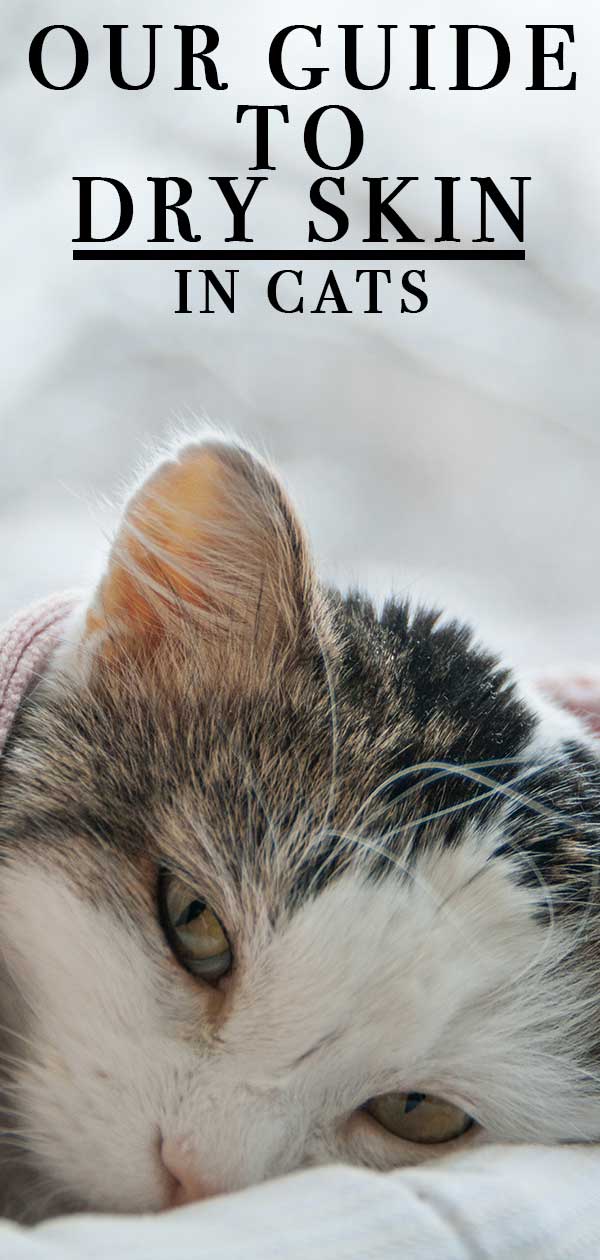 Cat skin is made up of three distinct layers, the epidermis, dermis, and subcutis.
The epidermis is the thick external layer that protects your cat's body from microorganisms and general damage.
The epidermis is mostly made up of dead skin, and the skin cells continually flake off as they are replaced with new layers of tissue.
This is usually unnoticeable, but sometimes, big flakes of skin peel away and cause your feline to itch.
Sometimes the itching forces the skin to come loose before it is supposed to and other times, the flaking skin causes the itching.
This really depends on the situation and what is going on with your cat.
Cats And Dry Skin – The Causes
There are a wide range of medical issues that can cause your cat to experience itchy and dry skin.
The change of the weather is one of the more common causes.
When the winter weather sets in and you turn your heater on for the season, the epidermis loses moisture quickly due to evaporation.
The fluid loss leaves the skin dry and itchy.
This is called transepidermal water loss, or TEWL.
Studies show that TEWL is most significant along the back region, so you are most likely to see patches of dry skin on your cat's lower back.
Causes of Cat Dry Skin – Allergies
Allergies are also problematic for felines.
Like other animals, allergies can cause widespread inflammation in cats.
Swelling can extend from the respiratory system to the skin, creating irritation.
However, unlike humans, most inflammation will appear along the skin and may not affect the respiratory system at all, even if the allergen is inhaled.
Felines may be allergic to pollen, like the kind released from weeds, trees, and local grasses.
Or they may have an allergy to a certain type of fragrance or additive in a new product you are using on or around your cat.
Cats can also develop food allergies, and like the seasonal variety, symptoms generally involve the skin.
My Cat Has Dry Skin – Could It Be Their Diet?
Between 1% and 11% of all itching skin conditions are caused by food allergies – they are not that common.
If a food allergy develops, the usual culprit is one or several ingredients in your cat's dry food.
Vitamin and nutrient deficiencies can lead to skin problems as well.
So your feline's food should be closely considered, even if there is no food allergy.
Other Causes Of Cat Dry Skin – Fungal Infections
Fungal infections of the skin are sometimes responsible for dryness.
These infections develop mostly in immune compromised cats and often involve the overgrowth of yeast across the skin.
Malassezia yeasts are responsible for the opportunistic infections.
When the yeasts grow into substantial skin colonies, rashes, hair loss, and dry patches of skin develop.
Dry and itchy skin will usually appear first, until the yeast takes over larger portions of your cat's epidermis.
Ringworm is another fungal infection that causes a great deal of dandruff and itchiness.
Cats, Parasites, and Dry Skin
Dry skin is also a sign of parasites and microorganism infections other than the fungal variety.
For example when a flea infestation develops.
Your feline may actually be allergic to the proteins in flea saliva.
This is a common problem and results in the dry, itchy, and inflamed patches of skin you see on your feline.
Cat dry skin scabs are common with fleas and develop where the flea has broken the skin.
Finally, systemic health issues like hyperthyroidism and diabetes can present with dry skin too.
What To Do For Cats With Dry Skin?
If dry skin starts causing your cat discomfort, it's time to visit the vet.
They will perform a physical examination, and ask you lots of questions about your cat's medical history, their home environment and how the symptoms started.
If an infection is detected, then a swab may be taken of the skin to identify the culprit so the correct medication can be prescribed.
If an allergy is suspected, then a more in-depth evaluation may be required to figure out if pollen or a specific type of food ingredient is causing the concern.
Food allergies are sometimes hard to pinpoint. You may simply be asked to switch to a limited ingredient or hypoallergenic cat food.
If the cause is not apparent, then a blood test may be necessary to see if an allergy is present or if a systemic disease like diabetes is creating the dry skin.
Cat Dry Skin Treatment
The treatment your vet recommends for cat dry skin will vary depending on what caused it.
Anti-fungal, anti-parasitic, and antibiotic medications may be prescribed to control the condition.
Treating Cat Dry Skin Caused by Fleas
Most medications are prescribed for oral administration.
However, topical flea medications might be provided if a flea bite allergy is noted.
If a flea allergy is severe, then corticosteroids are often used in conjunction with a strict flea control protocol.
This includes the use of insect growth regulators, pesticides, and thorough cleaning procedures within the home.
If you have multiple pets, then they all must be treated too, but a simple application of a topical medicine will usually do the trick.
Treating Cat Dry Skin Caused by Allergies
If seasonal allergies are an issue, then an antihistamine like Benadryl can be used.
However, you will need to monitor your cat to determine your feline's specific allergy season.
Benadryl is best used to prevent symptoms, so your vet might advise you give it to your cat daily when the allergens are present.
An air filtration system within the home that uses a HEPA filter is a good way to reduce the number of allergens your cat is exposed to.
Keeping your cat indoors, especially during allergy season, can help too.
Allergy shots can be provided to some felines as a cat dry skin treatment.
The shots desensitize them to the allergens that make them feel ill.
The injections are similar to the ones given to humans and require a lengthy regimen.
Discuss them with your vet if you would like more information.
Lotion For Cats' Dry Skin
Typically, treating the underlying cause of dry skin will eliminate the problem.
However, if allergies persist or if your home is simply too dry, then lotion can help to soothe your cat's itchy skin.
Cat lotion is a bit different from the creams you may be used to.
Lotions as we recognize them are next to impossible to apply through a cat's coat, and they would quickly end up ingesting them through grooming instead.
Cat moisturizer is a mist or spray.
This helps to get the needed moisture to the skin instead of it caking up on your feline's hair.
You can purchase a moisturizer from your veterinarian.
Once they have recommended a suitable product and how to use it, you might also find you can stock up in your local pet store.
Other Treatments For Cat Dry Skin
If dry skin starts to appear during the winter months, then you could invest in a humidifier to add moisture to the air.
This can cut down on skin issues associated with dry air.
Also, if your cat does not have a food allergy, then make sure your feline's diet is packed with the vitamins and nutrients that he needs.
Since skin issues are sometimes related to nutritional deficiencies, ask your veterinarian about the cat food they suggest.
In general, studies show that low carbohydrate and high protein foods are the best to meet a feline's specific nutritional needs, and moist varieties are better than dry ones.
A healthy food is a good way to prevent dry skin issues in the future, even if the problem is related to an allergy or the weather.
Simply put, with the right food, your cat's body will have the moisture and nutrition it needs to keep the skin healthy.
Cat Dry Skin – Conclusion
It can be difficult to see your cat itch and leave flakes of skin around your home.
The good news is that dry skin conditions can be diagnosed and treated with the help of your veterinarian.
If a skin condition does not resolve right away, then there are some good moisturizing products available as well as high-quality foods that encourage skin health.
Do You Have Experience of Cats and Dry Skin?
Does your cat get dry skin?
Do you know what causes it, and have you found an effective remedy?
Let us know in the comments below.
References
Marcin P. Szczepanik, et al, The examination of biophysical parameters of skin (transepidermal water loss, skin hydration and pH value) in different body regions of normal cats of both sexes. Journal of Feline Medicine and Surgery. 2011
W. Grant Guilford, et al, Prevalence and Causes of Food Sensitivity in Cats with Chronic Pruritus, Vomiting or Diarrhea, The Journal of Nutrition, 1998.
Lee SE1, Jackson LA, Opdebeeck JP. Salivary antigens of the cat flea, Ctenocephalides felis felis. Parasite Immunol. 1997.
Odile Crosaz, et al. Generalized dermatitis associated with Malassezia overgrowth in cats: A report of six cases in France. Medical Mycology Case Reports. 2013.