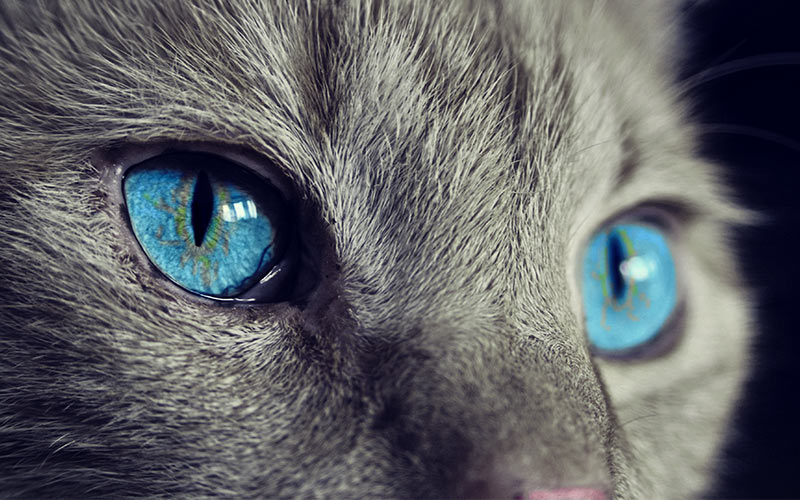 Welcome to our complete guide to cat eye infection treatment. Looking at the causes of cat eye infections, best way to help your kitty when she has sore eyes, and answering your top questions like 'can you use human eye drops on cats?'
Eye infections are an annoying and potentially dangerous ailment that can affect humans and animals alike.
Most of these infections can be easily cured with eye drops, ointments and/or antibiotics.
But it's important to know what to look out for and what the possible causes may be.
So let's find out more about cat eye infections and possible treatment options.
Cat Eye Problems
Cats are less likely to suffer from eye problems than dogs are because a lot of cats spend most of their lives indoors and are less likely to come into contact with other animals.
However, if your cat does spend a lot of their time outdoors then they have the same risk of developing an eye infection.
This is because eye infections can be easily spread by close contact with other infected animals.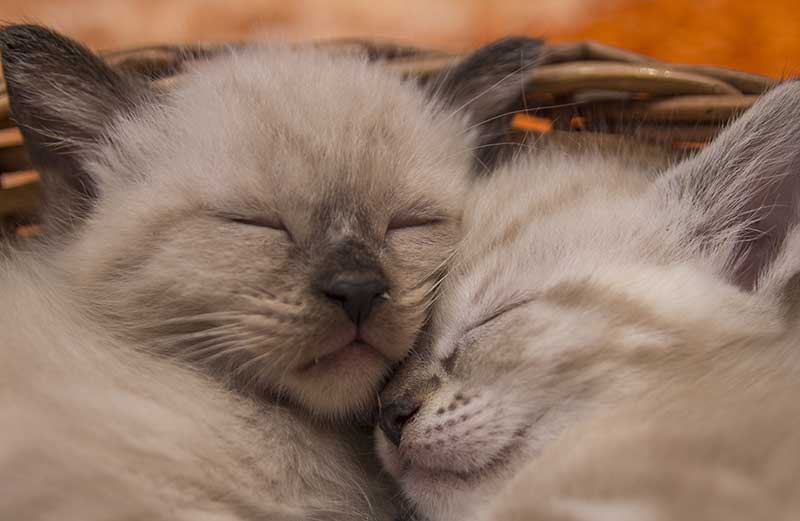 Some eye problems sort themselves out within a few days and can be treated by simple home remedies and/or cleaning routines. But others are more serious and should be looked at by a vet.
Either way, it's a good idea to get your vet to check over your cat's eyes if they seem at all unwell.
Cat Eye Infection Symptoms
Whilst some of conditions can be fairly obvious, others may go unchecked until they start causing severe problems.
Untreated eye infections can result in vision impairment or even blindness if left untreated for too long, so it's a good idea to regularly check your cats eyes to make sure everything is okay.
Things that you should look out for include:
Your cat rubbing, pawing at and/or blinking their eyes.
Unusual and/or excessive eye discharge.
Red and/or swollen eye (s).
Your cat squinting.
Your cat appearing distressed/ in pain.
Cloudy eyes or any unusual growth in one or both eyes.
Checking Your Cats Eyes
Consider giving your cat regular eye exams.
This doesn't have to be time consuming or strenuous. All you have to do is take your cat into a brightly lit room. Then kneel down to her level and gaze into her eyes.
Your cat's eyes should be bright. The area around our cat's eyeball should be white. Both pupils should be the same size.
If you notice anything unusual then gently push your cat's eyelid down to check the inner lining of your cat's eye.
Your cat's eyes should be clear. There should be no signs of swelling and both pupils should be the same size. In addition there should not be any cloudiness in either eye.
Your cat may have a bit of sleep in the corner of their eye. That is nothing to worry about, but it shouldn't be excessive.
Keratitis In Cats
Keratitis is the medical term for an inflammation of the cornea.
This inflammation may come as a result of old age, but it can also affect cats over the age of four.
Keratitis can also be a result of the herpes virus.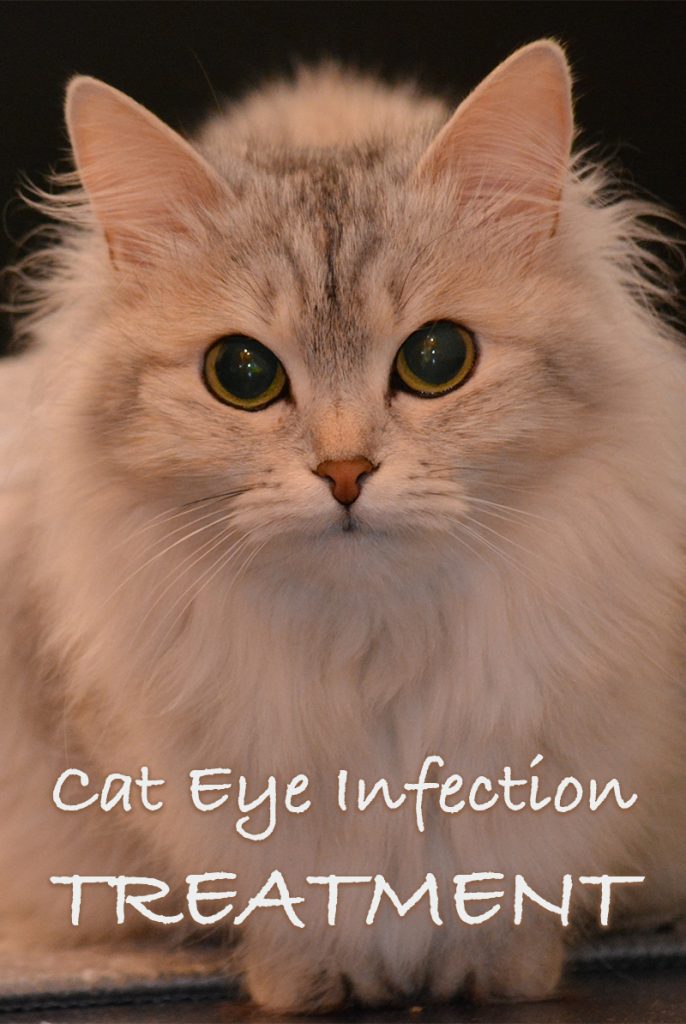 If you suspect that your cat is suffering from keratitis, consult your veterinarian for more information and a formal diagnosis.
Cats With Third eyelid protrusion
Third eyelid protrusion, as the name suggests, refers to the abnormal elevation of the cats inner eyelid.
This 'third eyelid' is normally barely visible, but various disorders can result in the protrusion of the inner eyelid.
This condition can be caused by various things including the loss of function of the nerve supply, weakening of the ligaments, tumours or inflammatory disease, dehydration, weight loss and abnormally small eyes.
As well as an abnormal protrusion of the 'third eyelid', you may also notice your cat squinting, their pupil size changing, and other discolouration or deformities in the eye.
Cat Cataracts
This is a condition which normally affects older and/or diabetic cats. It is characterised by an opacity/cloudiness of the lens of the of the eye.
Symptoms may include a visible 'ice-blue coloured chip' in one or both eyes, cloudy spots in the pupil of one or both eyes, changes in vision, squinting, watery eyes, and changes in pupil size or shape.
If you suspect that your cat has cataracts, consult your vet for further advice and treatment.
Eye Displacement/Cherry eye in cats
Eye displacement is a condition which makes a cat's eye protrude from its eye socket.
This distressing condition is normally the result of an accident or trauma to that area, but in rare cases it could also be caused by a tumour or serious infection.
It is normally pretty easy to spot as it is very noticeable.
It is important that you seek help as soon as possible if you suspect your cat is suffering from cherry eye as it could result in vision damage and is very distressing to your pet.
Uveitis in cats
Uveitis is a fairly common and painful disease which, if left untreated, can result in blindness.
It is an inflammation of the uveal tract, which is the part of the eye which includes the iris, the choroid and the cilary body.
Common symptoms of uveitis include a sensitivity to light, third eyelid protrusion, a redness in the eye, changes in pupil size, and a change in iris colour
We don't know what causes every case of uveitis, in fact 6 out of 10 cases never have an identified cause, but we do know that when the cause is identified it is normally infection, trauma, and cancer.
Only a vet can formally diagnose uveitis, so if you are concerned it's important that you take your cat to see the vet as soon as possible.
Conjunctivitis In Cats
Conjunctivitis is an inflammation of the conjunctiva area of the eye; i.e. the moist tissue lining of the eyelids. Conjunctivitis is the most common eye infection that a cat can suffer from.
This condition can be caused by an irritation of the conjunctiva as a result of viruses, bacteria or fungi. Cats, much like humans, can suffer from Chlamydia and herpes, and both of these conditions can cause eye infections.
Your cat's conjunctivitis could also be due to allergies. If your vet suspects that this is the case they should be able to find this out fairly quickly, and in that case, the problem should improve when the allergen is taken away.
Your cat could be allergic to a certain food, they may have hay fever, or it could be a result of being around smoke, dust or chemicals.
Conjunctivitis can also be caused by trauma, i.e. as a result of an injury. Conjunctivitis may also be caused by a poor immune system or an underlying disease, although this is far rarer than any of the other options.
Pure-bred cats are generally more likely to develop conjunctivitis, but this doesn't mean that other cats are immune.
Cat Conjunctivitis Symptoms
One of the most common signs of conjunctivitis is a visible redness and swelling around the cats' conjunctiva.
You may also notice an unusual discharge from one or both of your cats' eyes. This discharge may be clear in colour, or it may be green or yellow. The discharge could be either watery or thick in consistency.
This discharge may also be smelly.
Your cats' eyes may also become gummed shut/crusty.
Conjunctivitis is often painful for the cat, so keep an eye out for your feline friend rubbing their eyes against objects (such as your legs) and other signs of discomfort.
If you see your cat squinting or blinking excessively, or if they have a fluid build up in one or both eyes, then that could also be a sign of conjunctivitis.
Conjunctivitis can affect one or both eyes at the same time.
Cat Eye Discharge
Cats often have a bit of gloop in their eyes (especially if they have just woken up and haven't cleaned themselves yet) and this can be normal.
However, this discharge can also be a sign of conjunctivitis if your cat also appears to have inflamed and swollen eyes. This eye discharge can be clear, but it may also be green or yellow.
This discharge should be gently cleaned away with a wet cotton wool ball.
Use fresh cotton wool each time, and use a different cotton wool bud for each eye.
It is fairly common for a kittens eyes to get gummed shut by eye discharge. Kittens have weaker immune systems, and dirty surroundings can play havoc with their eyes.
If your kittens eyes are gummed shut it is really important that you keep cleaning them. This is because the infection could cause blindness if it's left alone.
If the cats eyelids are gummed shut, you should use a wet cotton wool ball which has been washed in both boiled and cold water (so it is a mild temperature) to keep wiping the discharge away, and use your finger and thumb to gently try and pry the cats' eyes open.
Cat Eye Infection Treatment
Lets take a look at cat eye infection treatment. Scroll down to find the answer to that top question -can you use human eye drops on cats?
The type of treatment you use will obviously depend on what type of eye infection your cat has. Mild forms of conjunctivitis may clear up on their own without any help from a vet. You can try cleaning their eye with a diluted solution made with boric acid.
Do you think your cat may be suffering from a serious eye infection? Has that infection persisted for longer than 24 hours with no sign of improving? Then it's important you take them to the vet.
Your vet will probably prescribe eye drops or ointment for your cat. The treatment should only take a couple of weeks to work and you should start seeing improvements fairly quickly.
If your cats' condition has not improved after a few weeks, your vet will need to check for any underlying issues. This may involve your vet taking a swab from the infected area for more investigation. They may also need to take a blood test to rule out other causes.
Cat Conjunctivitis Prevention
You can't completely protect your cat against conjunctivitis, but there are some measures you can take to lessen the risk.
Cats can transfer pink eye to each other through direct contact, so it's a good idea to limit their contact with strays or other infected pets.
There are also some vaccinations which can minimise the risk of your cat developing conjunctivitis. Some eye infections can be caused by chlamydia or the flu, so get your cat vaccinated to protect against those conditions.
It's a good idea to ensure your cats' eyes keep clean to avoid any unnecessary infections. Try and make a habit of wiping the external area around your cat's eye, keep an eye out for any debris which could be lurking around the cat's eye, and keep any long hair trimmed around the eye area to avoid irritation.
Please keep in mind that cats can infect humans with their eye problems.
This is normally caused by direct contact between yourself and the infected part of your cat, so never touch your own eyes after you have been in contact with your cat's eyes.
Wash your hands after contact, and also avoid immediate contact with other family members and friends after you have tended to your cat. Make sure that everyone in the household follows these guidelines to stop the possible spread of infection.
Conjunctivitis In Cats: How Long Does It Last?
If you use an over the counter remedy on your cat, you should start seeing improvements within a day. If your cat's conjunctivitis persists (or gets worse) then you will need to take them to see your vet.
Prescribed medications such as eye drops or ointments may take a week or two to cure the infection, but you should start seeing improvements before then. If your cat's condition does not improve (or if it gets worse) then there may be an underlying problem which needs to be addressed.
Eye Drops For Cats
Most cases of conjunctivitis in cats can be treated with eye drops, antibiotic ointments and/or anti-inflammatory drugs.
Cats don't typically like things being put in their eyes, so giving your cat eye drops can be a bit difficult. You will need to carefully restrain your cat in a way which is gentle, firm and minimises your risk of being bitten or scratched.
It should go without saying, but before you give your cat any kind of medication you will need to read the instructions first to make sure you know the dosage and how it should be applied.
If your cat has discharge coming out of their eyes then this will need to be cleared with a sterile eyewash solution before you go ahead with the eye drops.
How To Give Your Cat Eyedrops
When you are ready to give your cat the eye drops, you will first have to gently restrain the cat to make the whole process easier and safer for both of you. Wrap your cat up in a cosy blanket or towel so only the head is sticking out.
In order to stop your cat running away, you may need to hold them between your knees in a seated position.
Use one of your hands to hold the cats eye open. You should use your non-dominant hand for your cats head as you'll need a steady hand to accurately administer the eye drops.
Place your hand under your cat's jaw so your thumb is on one side of the face and the fingers are on the other. Your cat's hand should be cradled gently but firmly in your non-dominant hand. Gently tilt your cat's head slightly upwards.
Use your thumb to gently pull down your cat's lower eyelid to create a small pouch which you can drop the solution into.
Put the applicator right up close to your cat's eye (around one inch away), but make sure you don't poke your cat in the eye by mistake as not only would this hurt your cat but it would also contaminate the tip of the applicator.
Squeeze the bottle and drop the required amount of solution into the affected eye.
After you have administered the eye drops, keep hold of the cat for a few moments more to stop them rubbing the solution off.
It's a good idea to feed your cat (or at least give them a treat) after the eye drops to distract them and put them in a better mood.
Cat's may not like eye drops, but the eye drops shouldn't cause pain or discomfort. Make sure to tell your vet if your cat seems to be in more pain after receiving the eye drops.
Cat Conjunctivitis Treatments Over The Counter
Mild conjunctivitis in cats can be treated with a diluted solution of boric acid which can be bought over the counter at most pharmacies.
You should know what is causing your cats eye infection before giving them medication, so even if certain eye drops have worked in the past that does not mean they will work again.
Whilst you can purchase pet-friendly treatments and use them on your cat without a vet's prescription, it is still a good idea to check with your vet to make sure that this treatment is safe for your cat, especially if you have not used this specific treatment before.
Can You Use Human Eye Drops On Cats?
So, can you use human eye drops on cats?
Some eye drops are suitable for cats and humans alike, but others may contain preservatives that can damage your cats' eyes.
It's not worth risking your cat's eyesight by using your own eye drops on your cat because a dose and/or concentration that is safe and effective for you may well be different than what is safe and effective for your cat.
You should not use human eye drops or other forms of human eye medication on your cat.
Don't try and treat an infection before you know what is causing it as this can make things worse and it could also make the infection harder to diagnose.
Always check with your vet before using new eye drops or other forms of medication on your cat.
Further Reading
Cater R.T & Chang J, 'Feline uveitis: A review of its causes, diagnosis, and treatment', Veterinary Medicine, 2009
Drs Foster & Smith, 'Eye Infections (Conjunctivitis)', Pet Education,
Dr Becker, 'When Does an Eye 'Problem' Become Crisis?', 2010,
Hillstrom, A et al. 2012. Evaluation of cytologic findings in feline conjunctivitis. Veterinary Clinical Pathology.
McCalla, Terri, 'Feline Uveitis', 2001-2017,
Sykes, JE. 1999. Prevalence of Feline Chlamydia psittaci and Feline Herpesvirus 1 in Cats with Upper Respiratory Tract Disease. Journal of Veterinary Internal Medicine
'Is Cat Pink Eye Contagious?', 2012,
'Conjunctivitis In Cats', Vetstream
Free Updates For Cat Lovers!
Our cat care articles, tips and fun facts, delivered to your inbox