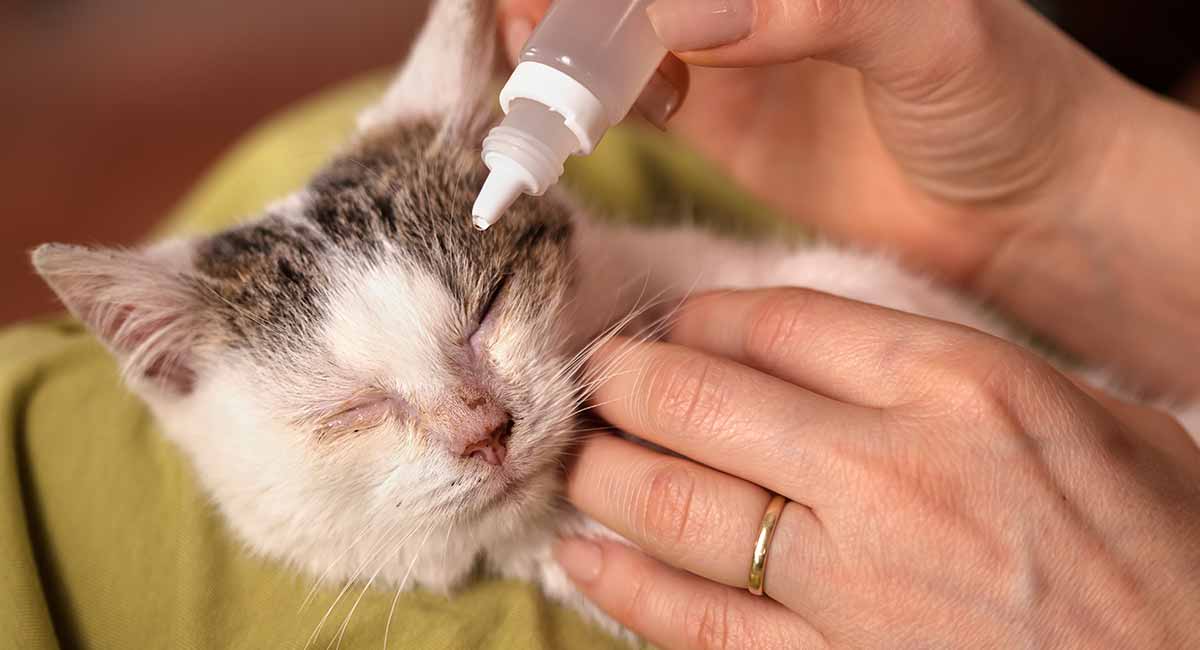 If your cat has red, sore or swollen eyes the most likely cause is an eye infection. Although they have the potential to cause pain or even blindness, there are some great cat eye infection treatments available. From home care to veterinary prescribed ointments and drops, I'll help you to decide how to help your kitty and when to visit the vet. From common conjunctivitis to more unusual conditions like keratitis and protruding third eyelids, most of us will have to deal with some form of eye infection over the course of our cats' lifetimes.
Contents
What Is a Cat Eye Infection?
A cat eye infection is caused by bacteria or viruses. Your cat can pick up an infection by coming into contact with another infected animal. This is more likely to happen if your cat spends a lot of time outdoors, or with other cats. They often follow injury or another illness, such as a respiratory infection.
Checking Your Cat's Eyes
Consider giving your cat regular eye exams. Just take your cat into a brightly lit room, kneel down to her level and look into her eyes. Your cat's eyes should be bright. The area around the eyeball should be white. Both pupils should be the same size.
Your cat may have a bit of sleep in the corner of her eye. That's nothing to worry about, but it shouldn't be excessive. There should be no swelling or cloudiness in either eye. The cornea, the transparent outer layer of the eyeball, should be smooth and clear.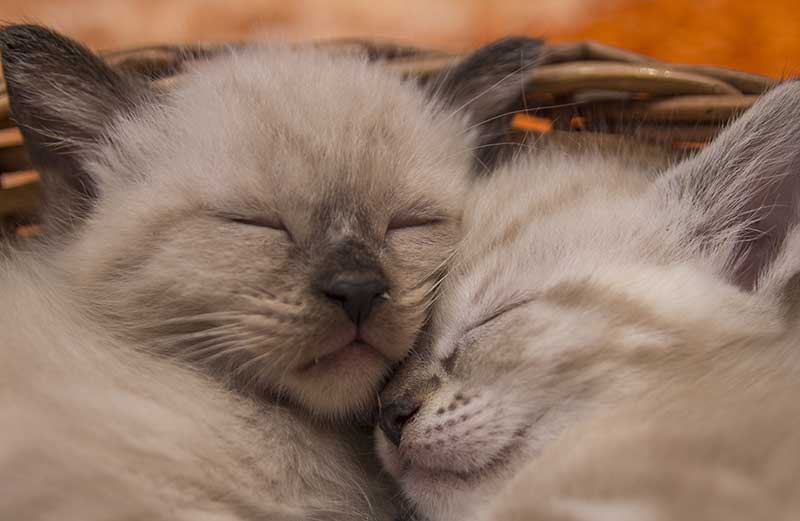 Cat Eye Infection Symptoms
Things that you should look for include
rubbing, pawing at and/or blinking their eyes
unusual and/or excessive eye discharge
red and/or swollen eye(s)
squinting
distress or in pain
cloudy eyes
any unusual growth in one or both eyes.
Conjunctivitis In Cats
Conjunctivitis, an inflammation of the moist lining of the eyeball and inner eyelids, is the most common cat eye infection. Many cats get it at least once, and some get it many times.
Conjunctivitis can be caused by allergies, trauma or irritants like smoke and dust. Most cases, though, are due to bacterial or viral infection. If your cat has a compromised immune system or other chronic health problem, she is more likely to suffer conjunctivitis. Symptoms include
redness and swelling of the conjunctiva
discharge from one or both eyes that is clear, green or yellow
eyes are crusty
one or both eyes are stuck shut
squinting or blinking a lot
rubbing her eyes against your legs or other objects
pain.
Uveitis
Uveitis is an inflammation of the uveal tract. This includes the iris, which is the round part that determines your cat's eye color. It also includes two parts of the eye behind the iris, called the choroid and the ciliary body.
This is a fairly common and painful disease which, if left untreated, can result in blindness. We don't know what causes every case of uveitis. In fact, 6 out of 10 cases never have an identified cause. But we do know that when the cause is identified it is normally infection, trauma or cancer. Signs include
sensitivity to light
third eyelid protrusion
redness in the eye
changes in pupil size
change in iris color.
Keratitis In Cats
Inflammation of the cornea is called keratitis. There are two kinds, ulcerative and non-ulcerative. In non-ulcerative keratitis, the inflammation is on the surface of the cornea. In ulcerative keratitis, sore spots extend down into the cornea's deepest layers.
Keratitis is most common in older cats, but it can occur at any age. The herpes virus causes some cases, others are due to injury or lack of tears. But often the cause is not known. Symptoms of keratitis are similar to those of other cat eye infections. Additionally, you may notice divoted, hazy or swollen corneas, rough colored bumps or spots.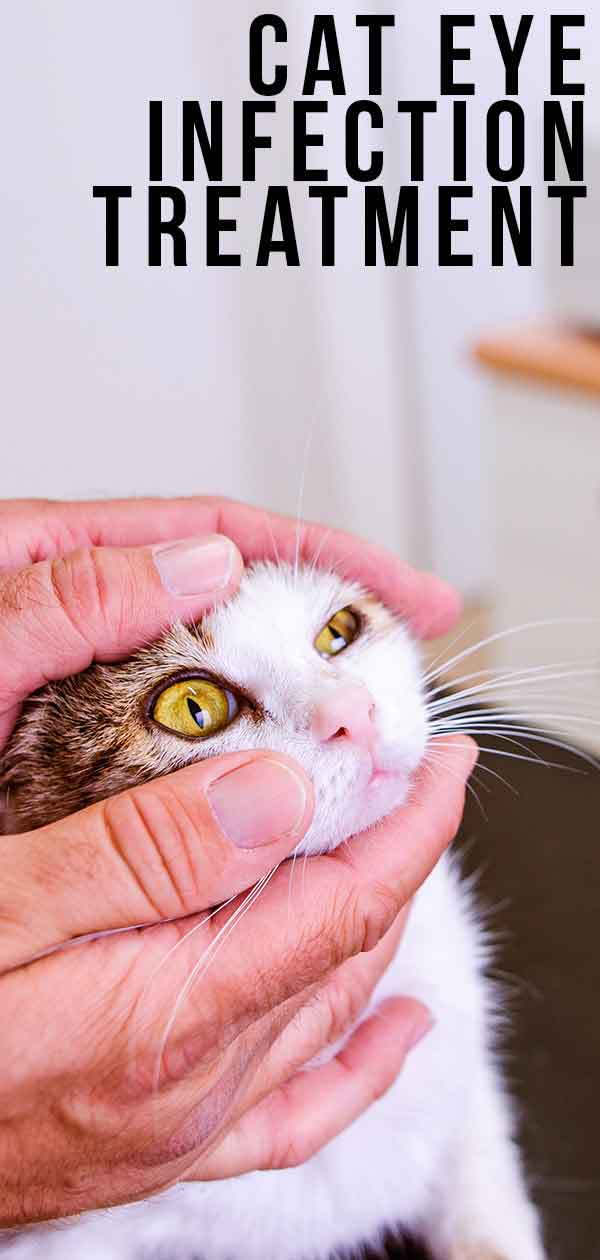 Third Eyelid Protrusion
Like many animals, cats have a kind of third eyelid known as a nictating membrane. You may see the third eyelid in the inner corner of your cat's eye when they first wake up. That's normal. However, you should not see the membrane at any other time.
Treating Cat Eye Infections
Cats sometimes have a bit of goop in their eyes when they first wake up. And this can be normal. You can try wiping the discharge away with a cotton ball dipped in water that has been boiled and cooled. Use a clean cotton ball for each eye.
When To Call The Veterinarian
Call the vet if your cat has discharge from her eyes that doesn't clear up with home treatment, especially if it's getting worse. The treatment your pet physician gives will depend on what type of eye infection your cat has. They will probably prescribe ointment or eye drops. You should start seeing improvement fairly quickly, and the infection should clear completely within a couple of weeks.
If your cats' condition has not improved after a few weeks, your vet will need to check for any underlying issues. This may involve taking a swab from the infected area for more investigation. They may also need to take a blood test to rule out other causes.
How To Give Your Cat Eye Drops
Cats don't typically like things being put in their eyes, so giving your them eye drops can be a bit difficult. You will need to carefully restrain your pet in a way that is gentle, firm and minimizes your risk of being bitten or scratched. When you are ready, follow these steps.
Wrap your cat up in a cosy blanket or towel so only her head is sticking out.
Sit down and hold your her between your knees.
Place your non-dominant hand under your cat's jaw. Gently cradle her head so that your thumb is on one side of her face and your fingers are on the other.
Gently tilt your cat's head slightly upwards.
Use your thumb or index finger to gently pull down your cat's lower eyelid, creating a small pouch to drop the solution into.
Hold the eye drop applicator about one inch away and squeeze the solution into the pouch you've made. Be careful not to touch the applicator to the eye.
After you have administered the eye drops, hold your cat for a few moments so she can't rub her eyes. This is a good time to offer her a favorite treat.
Can You Use Human Eye Drops on Cats?
It can be really tempting to use products for humans on our pets as they are easy to get hold of. Often they are already on the bathroom shelf! Although some eye drops can be used for our pets as well as us, others have damaging preservatives that could do more harm than good.