Your complete guide to cat fleas, their symptoms, treatment and prevention.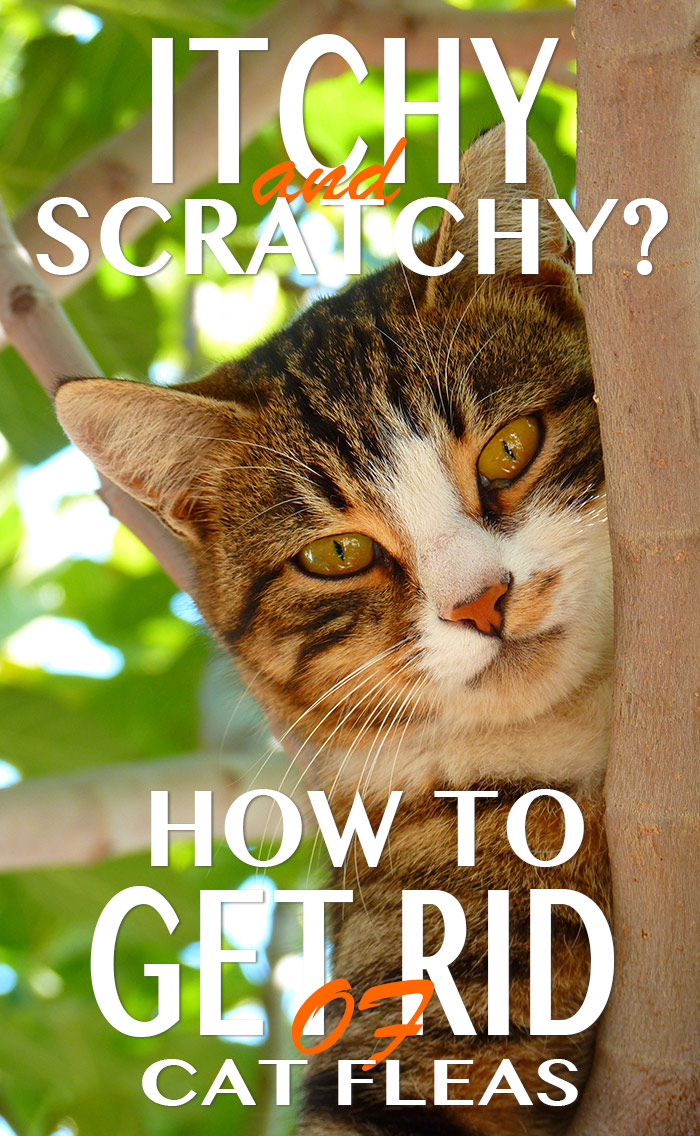 Fleas… just thinking about them is enough to make you itch.
But every day, thousands of pet owners search the internet for advice on getting rid of fleas.
And that's because if you have a dog or cat at home, the tiny flea can be a big problem.
Getting clued up on fleas
Taking smart steps to avoid them
And knowing how to get rid of fleas on cats a vital part of having a feline friend.
So, before we all start scratching, let's cover everything you need to know about fleas on cats, what kills fleas, and the best cat flea treatments, so you need never fear them again!
Know your enemy – cat fleas close up!
Cat fleas (Ctenocephalides felis) are very small wingless parasitic insects, which live deep in your cat's fur, and survive by drinking their blood.
An adult cat flea is 1-2mm long (less than one eighth of an inch).
They are usually a solid reddish brown in color, unless a female is carrying eggs.
These show through her abdomen and give her a brown and white striped appearance.
Fleas on cats – how they hide
Cat fleas' bodies are laterally compressed, which means they look as if they were squashed flat whilst lying on their side.
This helps them slide down between the dense hairs of your animal's coat. It also makes them fiendishly difficult to see, even against white fur.
Now you'll notice I keep specifying cat fleas.
Can cats get dog fleas?
You've probably heard people refer to cat fleas and dog fleas, and in the same conversation you probably heard someone else say they're all the same.
And there's a bit of truth in both.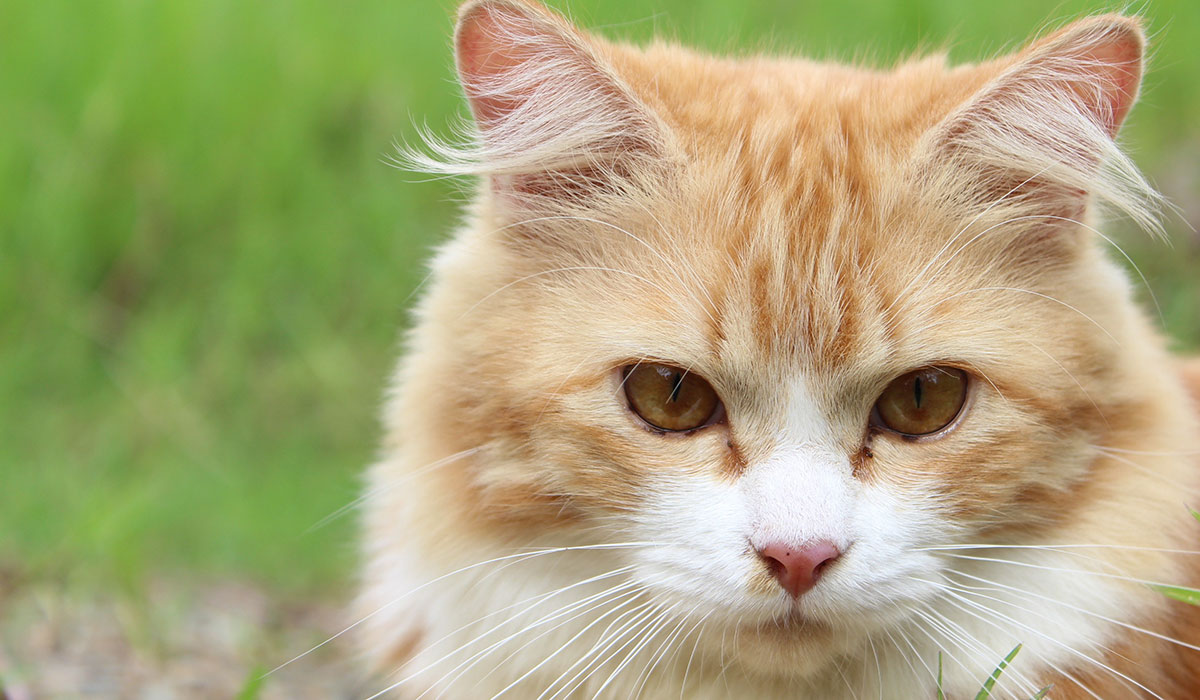 Dog fleas are a different insect – Ctenocephalides canis – but the difference isn't so much a rule, as a preference on the fleas' part.
In fact, more than 90% of fleas on dogs are… cat fleas!
Can indoor cats get fleas?
Cat fleas are not just an outdoor cat problem. They are just as likely to be found on indoor cats, especially in homes where the central heating is kept on all year round.
In fact, cat fleas spend a surprisingly small proportion of their life cycle living on a cat.
Where do cat fleas come from?
Female fleas lay their eggs onto the ground (up to 8,000 in her lifetime!), where they take two to seven weeks to hatch, depending on environmental conditions like temperature and humidity.
Once hatched, the larvae spring onto the first available host, and spend three to twelve days eating the poo of adult fleas already living there (and just when you thought fleas couldn't get any more unpleasant…).
Then they drop off onto the ground, and spend one week to three months there, resting and growing.
Next it's time for another meal, so they hop back on to a host animal, and feed for another three to ten days.
Then they spend another two weeks to three months back on the ground, resting and growing some more. It must be tough being a flea, huh?
Finally they become adult fleas, and jump onto their final host. Here they feed, and the females start laying eggs of their own, which drop onto the ground.
How did my cat get fleas?
Adult fleas almost never move from one host to another, unless your pets sleep side by side.
Most adult fleas will eventually by cleaned off by your cat when they wash, and die of starvation soon after being removed.
All in all, your average cat flea only spends one quarter of it's life living on a cat. And this is really important when it comes to preventing fleas and eradicating fleas, as we shall see.
Your cat will often have caught fleas by lying down in a place where flea eggs have been laid and flea larvae are lurking.
Pet bedding and carpets are a common source of re-infestation
Has my cat got fleas?
If you suspect your cat has fleas, the best thing you can do is act fast to prevent an infestation growing out of control.
It's important to be able to recognize the signs.  So let's take a look at the symptoms to look out for.
Symptoms of cat fleas
#1 Fleas or their droppings
Stand your cat on a white piece of paper or towel, and groom them with a fine-toothed comb. You might see the fleas or their droppings fall onto the white surface.
Identify flea droppings by adding a few drops of water – if the droppings turn reddish brown, fleas are the most likely culprit.
#2 Scratching
Cat fleas feed by piercing the skin with needle-like mouth parts, to draw their host's blood.
This can be uncomfortable and itchy.
So if you notice you pet scratching much more than usual, fleas could be the culprit.
#3 Worms
This is somewhat of a double whammy.
Fleas are responsible for transmitting some species of tapeworm when they bite.
So if your pet is diagnosed with a tapeworm infection, is is wise to examine them closely for fleas as well.
#4 Dehydration or anemia
If a small or frail cat hosts a large number of fleas, the blood loss can make them dehydrated and/or anemic.
Some signs of this are weakness, lethargy, rapid heart rate, panting, pale or yellowy eyes and gums, and sunken eyes.
If your pet shows ANY of these symptoms, it is vital that you take them to the vet immediately.
Cat flea allergy
Unfortunately, some unlucky cats are particularly sensitive to flea saliva, and each bite triggers an allergic reaction resulting in a small, extremely itchy, fluid-filled lump on the skin.
Flea-allergic cats frequently react to the discomfort of these lumps by excessively scratching and grooming the area.
This behavior causes the skin to become inflamed and scabby, and vulnerable to bacterial infection.
If you notice your cat scratching or grooming excessively, or find any raw or crusty lesions on their skin, take them straight to the vet.
Getting rid of fleas
We've already learned that cat fleas spend as little as one quarter of their life on a host animal.
If you've found adult fleas living on your cat, unfortunately it means there are definitely also eggs and juvenile fleas living on your floors and furniture.
So when it comes to treating fleas, you have to tackle your pet, AND your home.
Flea treatment for cats
Your vet will recommend the best cat flea treatment for your pet, based on his age and medical history.
There are a wide range of treatments available, including dab-on insecticides, shampoos, impregnated collars and oral medicines.
If you think your cat has fleas, it is likely to be too late to rely on an over the counter product – these are only really for preventing fleas.
There are also some previously effective flea treatments that no longer work in some areas, because fleas have become resistant to them
So always consult your vet, who can prescribe stronger, more effective cat flea medicines, that will effectively get rid of your flea problem
Your vet may recommend treating every animal in your home, even ones that aren't (yet!) showing signs of fleas.
Warning: dog flea treatments can be toxic to cats!
NEVER use up flea treatment for dogs, on your cat.
Flea treatments for dogs frequently contain permethrin, which is harmless to dogs, but highly toxic to cats.
As well as chemical insecticides prescribed by your vet, you don't have to look far online to find numerous home remedies and natural flea killer treatments.
Always consult your vet before using one of these on your pet: if they are misused, they could irritate your pets skin even more, or fail to work at all.
Remember, the best flea treatment for cats is always one which has been approved by their vet!
Getting fleas out of your home
This can feel like an overwhelming prospect. The best way to get rid of fleas from your home is to take them on with military ruthlessness.
But you CAN do it, so let's get vengeful, and let's get started:
First, vacuum EVERYWHERE your pet goes.
Hard floors and carpeted floors, rugs, baseboards, and furniture with fixed covers: put some music on and really go to town.
Now throw the bag from your vacuum cleaner into an outside bin. Unfortunately getting rid of cat fleas involves sacrificing several new vacuum cleaner bags.
Next, wash bedding and loose furniture covers at 60ºC/140ºF or more (less, and you'll just end up with lovely clean fleas). If the care instructions allow, tumble dry them on a hot setting for at least 30 minutes as well.
If your cat has any favorite toys which can't be washed, seal them in a plastic food bag and put them in the freezer for a couple of days to kill eggs and larvae.
Repeat all of these steps every day, for as long as the course of treatment prescribed by your vet.
Preventing cat fleas
An otherwise healthy, well fed cat, without an allergy to flea bites, might carry fleas without any ill effects.
Unfortunately though, fleas are often the carriers of other diseases, such as bartonella and rickettsia, nasty infections which can affect both cats and humans.
Susan Shaw, Chief Vet at Bristol University in the United Kingdom collected cat fleas from 121 cats and dogs, and found that half of the fleas were carrying at least one infectious disease. One in five were carrying two!
That's why it's wise to make flea prevention an everyday part of owning a cat.
Your vet will recommend a regular routine of preventative flea treatment.
Typically this involves a specially formulated insecticide flea spray for cats, or flea drops, which you apply to the back of your pet's neck once a month or so. Once again, never attempt to use up anything formulated for dogs – it is likely to be highly toxic to your cat.
Your vet may also recommend a suitable flea collar for your pet. Cat flea collars are widely available online, but the chemicals they use and the concentration of chemicals applied to them varies a great deal, so stick to product your vet has recommended first.
At home, vacuum floors and baseboards regularly, and if your cat likes to nap on your bed, wash your bedding frequently at 60ºC (140ºF) or more.
By taking these small precautions regularly, you will remove arriving fleas at every stage of their life cycle, and stop a small number of fleas turning into an infestation.
Cat fleas on kittens and older cats
Because cat fleas feed on the blood of their host animal, a small kitten, underweight cat, or frail elderly cat can quickly become dangerously anemic or dehydrated by an unchecked flea problem.
Your vet will recommend what age to start treating your kitten with a routine flea prevention treatment.
If you think your kitten has picked up fleas before then, or if your elderly or underweight cat shows signs of fleas, take them to the vet straight away.
Fleas on humans and dogs
As we've seen, cat fleas will happily take up residence on dogs as well as cats.
If your cat gets cat fleas and you also have a dog at home, be sure to tell your vet and take them both in for treatment.
Whilst cat fleas can survive on humans too, it's actually quite rare for them to try if there is a cat or dog nearby.
However you might notice one or two cat flea bites, and whilst these are usually itchy but harmless, always consult your own doctor if you have any concerns.
Summary
Fleas can be anything from a nuisance to a danger.
For most people though, our worst experience will only be the hassle of getting rid of them.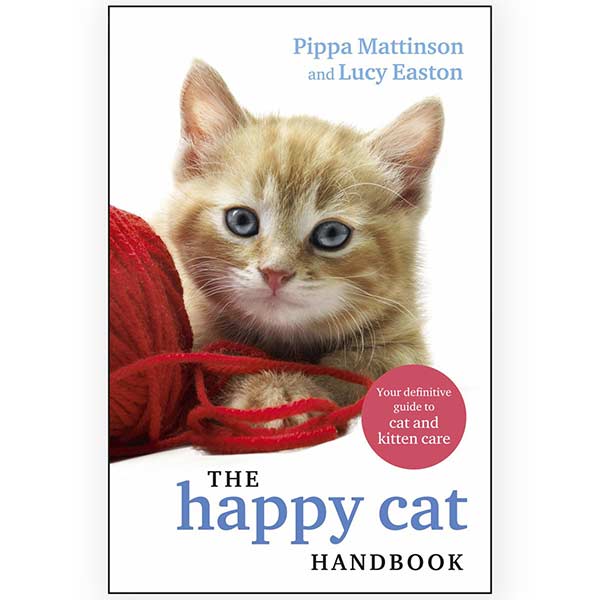 So it's never been more true that prevention is better than a cure!
Do you have any tips for getting rid of cat fleas from your home? Is there a natural flea repellent you swear by? Please share them with us in the comments section below!
"Today's article is by Sarah Holloway. Sarah holds a bachelors degree in Zoology and has a special interest in animal behavior and communication"
Free Updates For Cat Lovers!
Our cat care articles, tips and fun facts, delivered to your inbox
References
The Royal Society for the Prevention of Cruelty to Animals, "Keep Fleas in Check", www.rspca.org.uk.
Cornell University College of Veterinary Medicine, (2014), "Flea Allergy", www.vet.cornell.edu.
Dryden, M. W., (1989), "Host Association, on-host longevity and egg production of Ctenocephalides felis", Veterinary Parasitology, Volume 34, Issues 1-2, pp 117-122.
Jacobs, D., Fox, M., Gibbons, L., (2015), Principles of Veterinary Parasitology, John Wiley & Sons, p34.
Paterson, S. (2009), Manual of Skin Diseases of the Dog and Cat, John Wiley & Sons, pp 122-124.
Shaw, S. E., Kenny, M. J., Tasker S., Birtles, R. J., (2004), "Pathogen carriage by the cat flea Ctenocephalides felis", Veterinary Microbiology, Volume 102, Issues 3-4, pp 183-188.
Your Amazing Cat!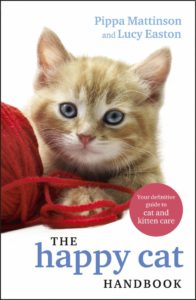 We are so excited to share our new book with you!
If you have enjoyed your visit to The Happy Cat Site we think you'll love The Happy Cat Handbook.
Written by the founders of this website including the author of the hugely successful Happy Puppy Handbook, it's packed with cat care information and fascinating cat facts.
Grab your copy today!
Free Updates For Cat Lovers!
Our cat care articles, tips and fun facts, delivered to your inbox