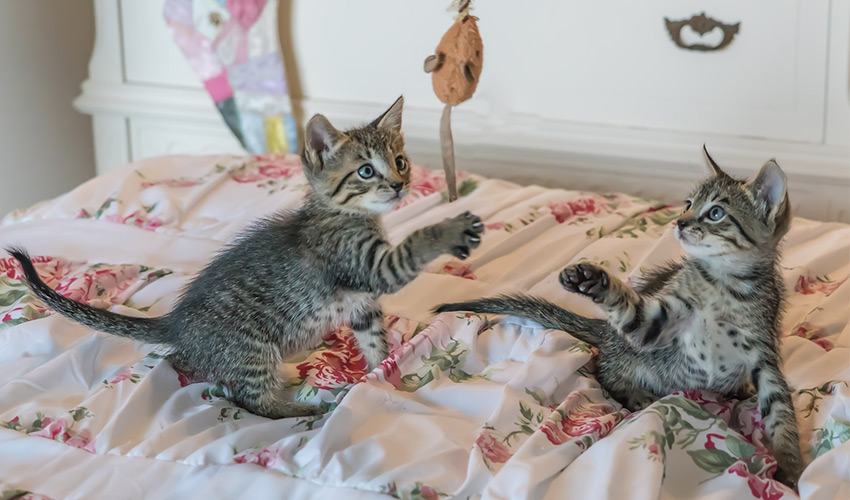 Welcome to our complete guide to choosing and using cat nail clippers!
Personally, I love a good pedicure but most cats need some encouragement to get into the cat nail cutting groove.
In this article, we'll take a closer look at cat claw nails and the tools and top tips to keep them healthy.
Let's dig our claws in.
How Many Claws Does A Cat Have?
Cats have 18 toes, five on each front foot and four on each back foot. Cats have one claw per toe, or 18 claws.
Well, most cats.
Polydactyl cats have six or more front toes and may even have five back toes! This is a genetic glitch that can occur in any breed but is rare.
Fun Fact: Ernest Hemingway was fond of polydactyl cats and many six-toed cats still live in his historic home in Key West, Florida!
No matter how many toes your cat has, the same care is needed to maintain healthy cat claws.
Let's look at some tools and top tips for cutting cat nails and trimming cat nails.
How To Cut Cat Nails
Ideally, start at kitten age. When you make nail cutting a part of kitten's routine, you'll have a much easier time with your full grown cat.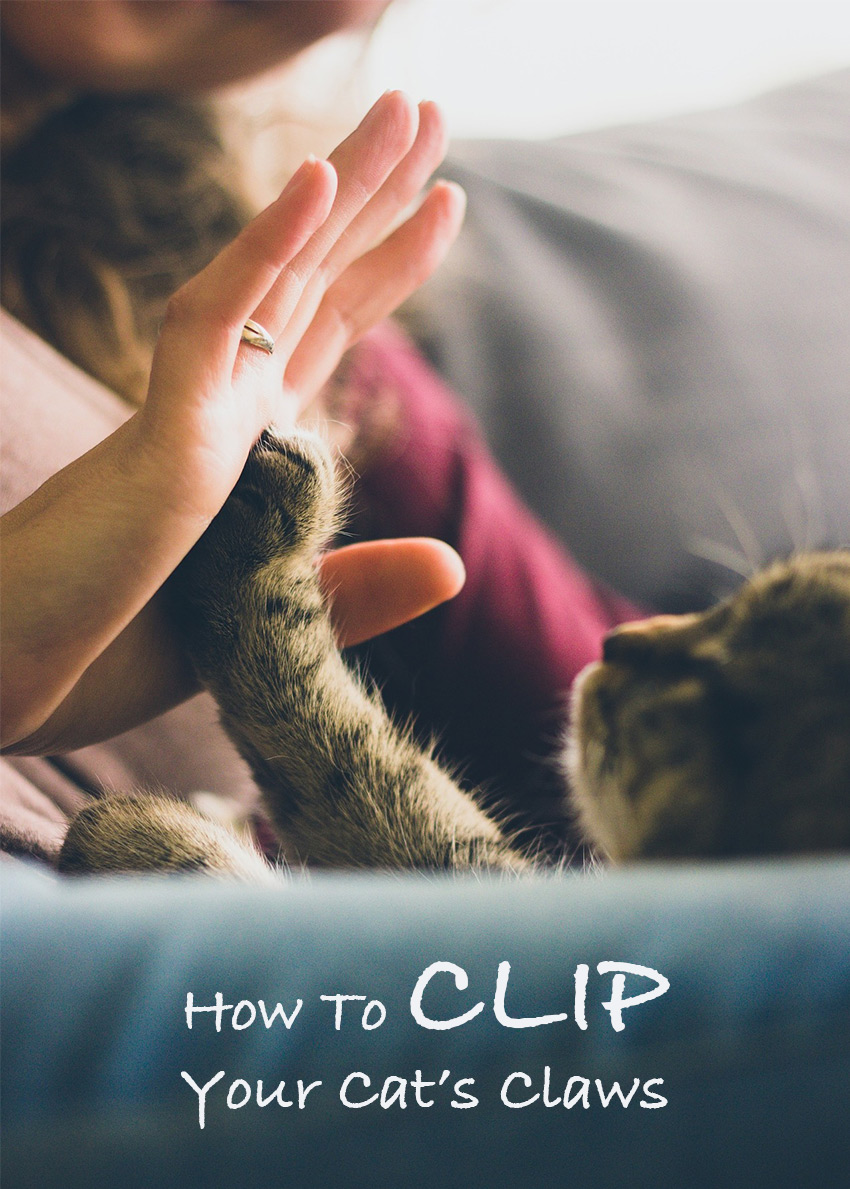 Don't worry if you're starting on an adult cat. It's never too late to start a good grooming habit.
Set The Mood
Hold your cat on your lap with his backside under your elbow and his paw in your hand.
Choose a relaxed setting where there will be no interruptions or loud noises to startle kitty.
Allow him to sniff the cat nail clippers or trimmers, but do not let him rub against them as there are sharp edges on these tools.
Find The Cat Claw Nail
Under your cat's foot is a large pad surrounded by smaller pads, one for each toe.
With the paw facing down, position your thumb on top of the paw and a couple of fingers underneath between the large and small pads.
Apply a gentle upward pinching motion on each toe and you'll see right down to the nailbed. That's protraction.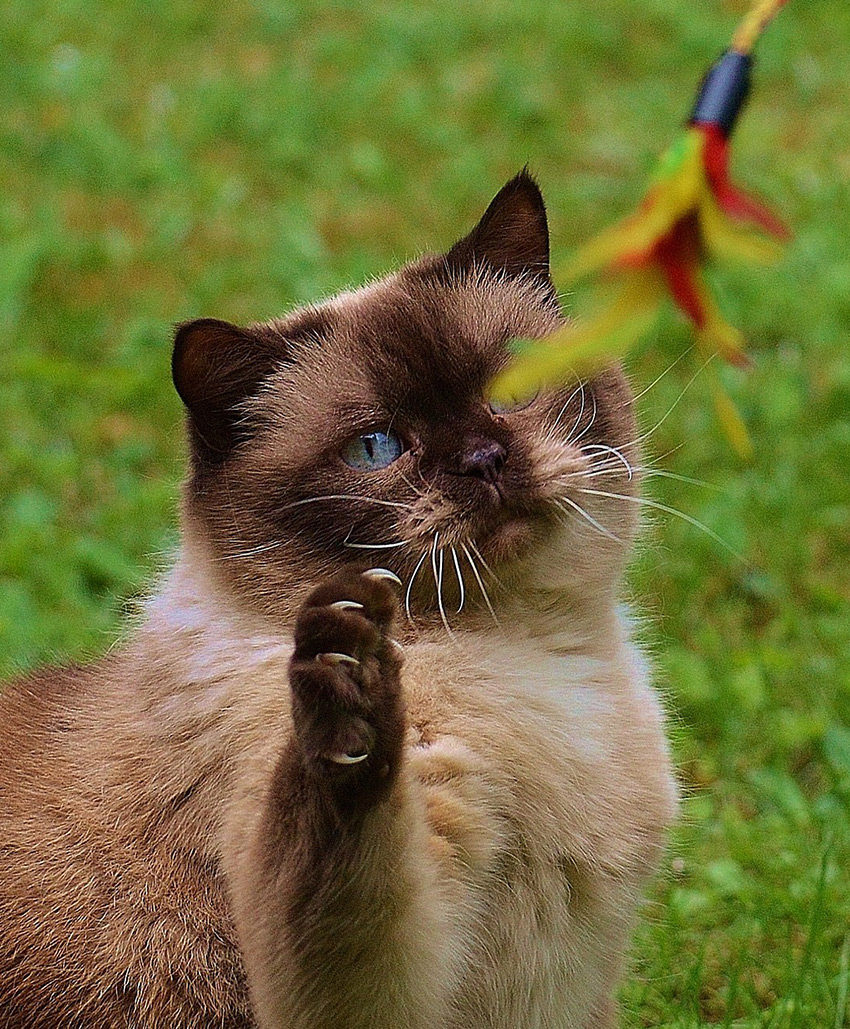 Sit with your kitty and practice protracting the front claws one toe at a time. Treat this like a massage.
Before trimming begins, you may want to massage kitty's feet once a day for a few days to get him used to the sensation. Leave the clippers nearby so kitty will learn to associate them with his massage.
Where To Cut Your Cat's Nails
Protract your cat's claw.
You can see the tip is translucent. This part of the nail does not contain nerves so your cat cannot feel it when it is cut. It is exactly the same as your own nail in this way.
You always want to cut in the tip area only.
Position the blades or blade housing around the translucent tip.
Apply gentle pressure until you're holding the nail between the blades.
When you have positioned the blades to cut at a 45 degree angle, make the cut.
A 45 degree cut will create a sloped edge which is more natural than the blunt edge you get from cutting straight across.
The more control you have over the angle, the cleaner the cut.
Where Not to Cut Cat's Claws
Further down the nail, you can see the blood vessel that feeds your cat's toe. This is the quick. Do not cut in this part of the nail.
Help! I Cut The Quick!
The quick is filled with nerve endings. A cut here is painful and kitty will likely shake his foot in protest which makes a bloody mess.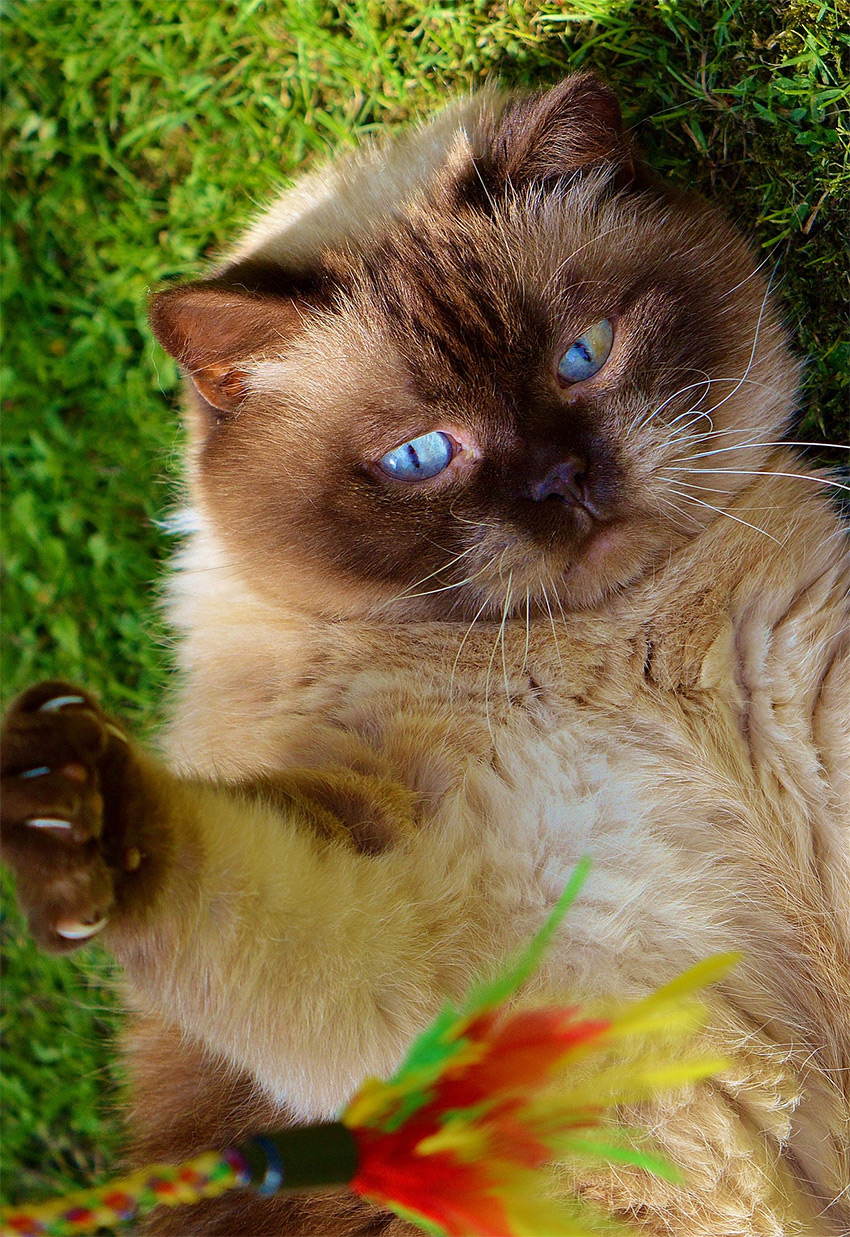 A little nick beneath the tip is not dangerous but it will bleed. A significant cut closer to the nail bed will bleed more and could be harmful.
If it happens, don't panic.
Put your cat in the bathroom as quickly as possible.
Go the kitchen and get some corn starch or flour.
Apply a small amount of corn starch or flour to the tip of the nail to act as a coagulant. This should stop the bleeding long enough for a clot to form.
You can buy over the counter coagulants, but cutting the quick even once should make you a much more careful groomer without need for more than a home remedy.
Plan to stay with kitty for about 30 minutes to make sure he doesn't remove the clot by shaking or licking his foot.
If you cannot stop the bleeding within 30 minutes, you should consult a veterinarian.
Trimming Cat Claws
The Humane Society of the United States recommends trimming cat claws every few weeks.
Those 18 claws are used for scratching, grooming, climbing, defence and hunting. Keeping them healthy benefits everyone.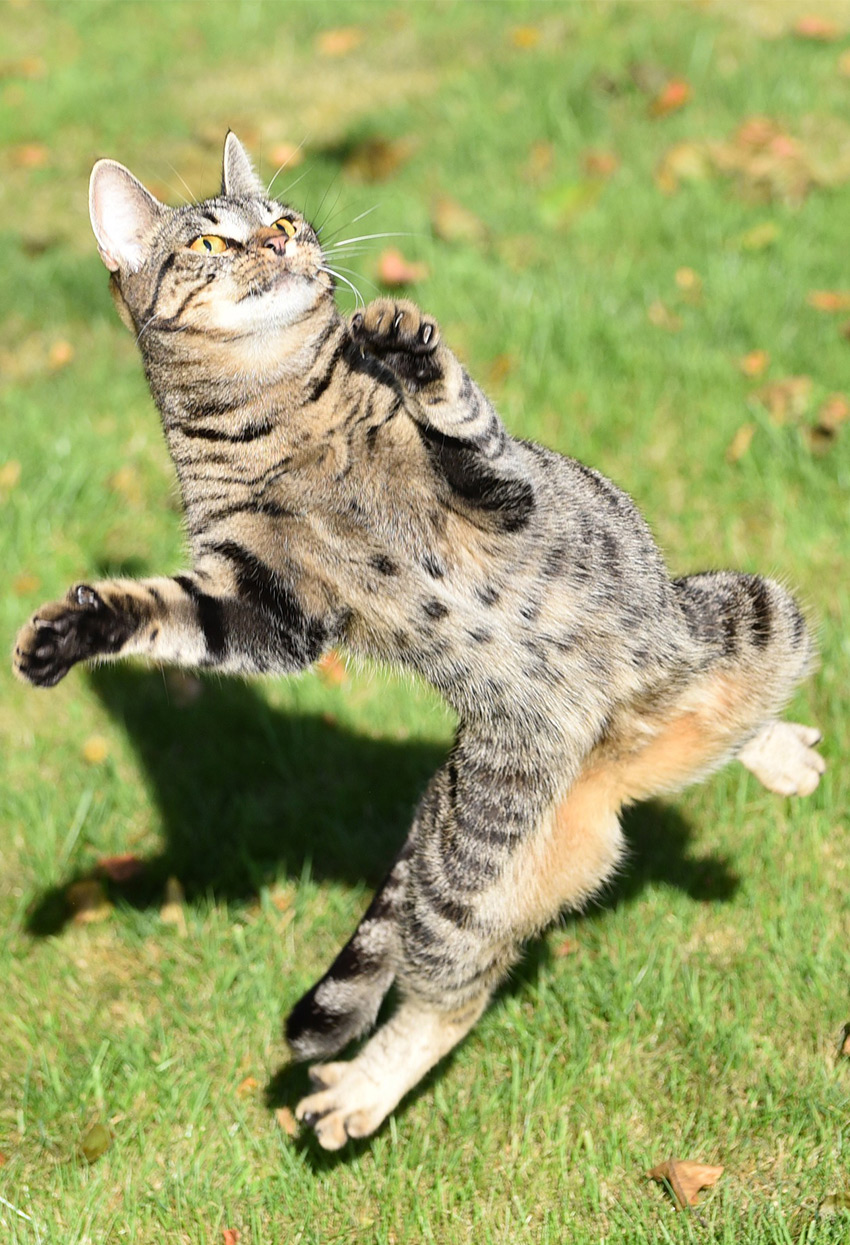 For your cat, it helps him avoid broken claws and painful snagging on furniture and carpets.
For you, regular trimming helps cut back on scratching and furniture destruction. We discuss the latter in depth in our article How To Stop Cats From Scratching Furniture.
Removing Cat Claws
According to the American Medical Veterinary Association, declawing is "an amputation and should be regarded as a major surgery."
That is simply a medical fact and should be well understood before making, in our opinion, a terrible choice.
At the very least, some combination of clipping, trimming, filing and behavior modification should be attempted prior to choosing declawing.
We explore this further in our article Should I Declaw My Cat? – We Help You Decide.
Cat Nail Clippers
The terms nail clippers and nail trimmers are sometimes used interchangeably. For this article, we'll break the tools down a little further.
Cat nail clippers come in three main styles designed to cut the tip of your cat's claw.
Standard Cat Nail Clippers
Standard cat nail clippers have a spring-loaded handle and scissor type rounded stainless steel blades.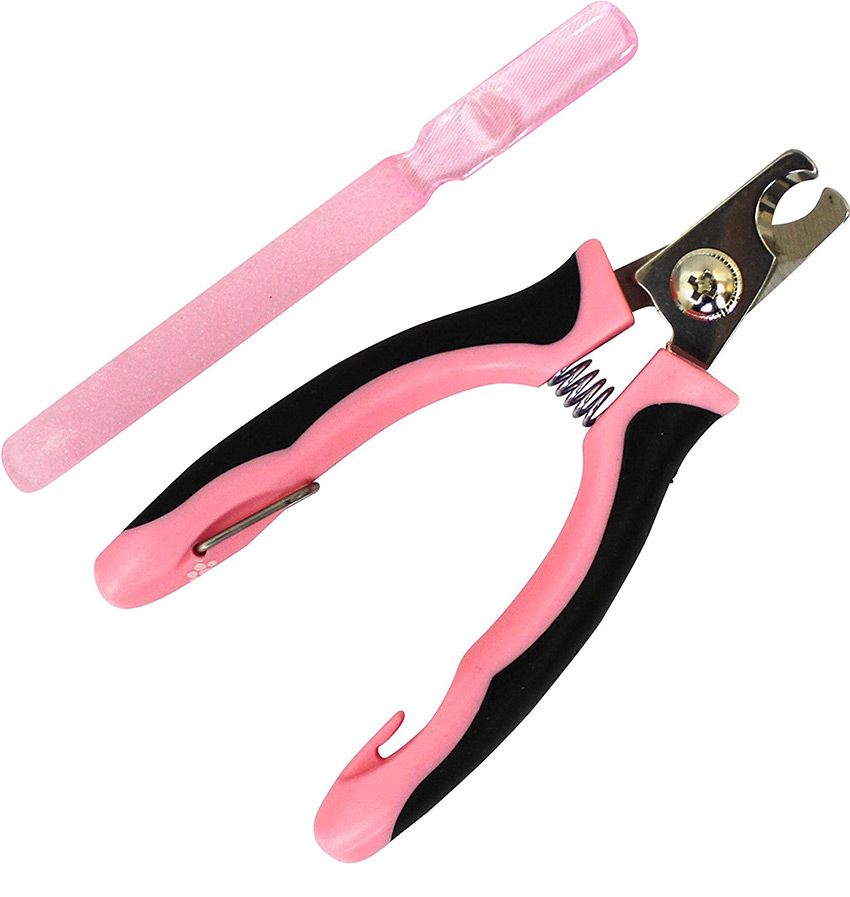 Some brands include a nail guard which blocks you from feeding too much nail between the blades. If you choose this feature, look for styles with a movable guard so you can make a longer cut if needed.
As a bonus, many standard clippers include a cat nail file conveniently stored in the handle.
Non-slip handles for maximum control and a locking mechanism for safe storage are also desirable features.
Cat Nail Scissors
This style of cat claw clippers uses two rounded stainless steel blades and cuts just like paper scissors.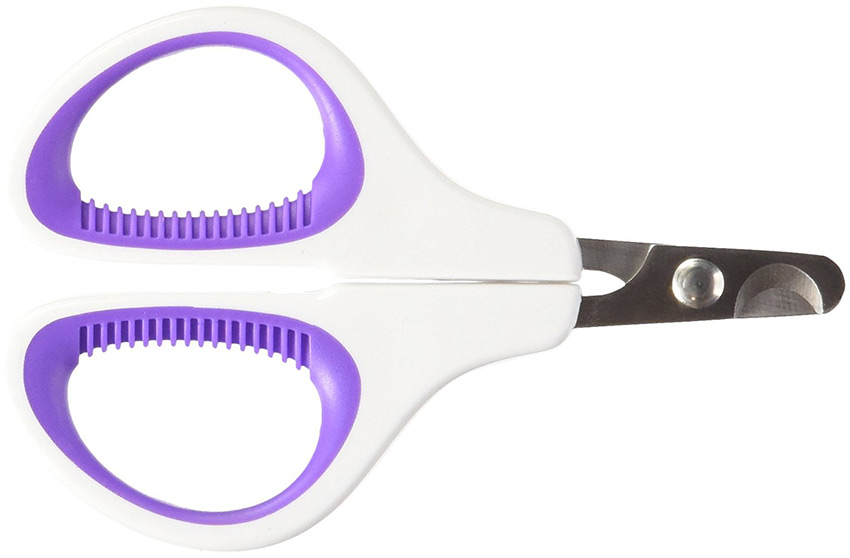 This is a small tool (think elementary school scissors). If your hands are large, the finger holes might be tight for you.
Look for a pair with an angled cutting head which takes some of the guess work out of cutting the cat nail at the correct angle.
Choose a pair of cat nail scissors with locking blades or a sheath for safe storage.
Cat Nail Guillotine
The cat nail guillotine style of cat claw clippers the blade is retracted until you squeeze the handle. Position your cat's claw in the opening and squeeze the handle to make the cut. When you release the handle, the blade retracts again.
Look for brands with rubber coated handles for better control.
Several brands offer replacement blades which is also a bonus.
Using the guillotine style takes some practice which could try the patience of a less than cooperative kitty. It is best to use this style when you and your cat are comfortable with nail trimming.
Cat Nail Trimmers
Cat nail trimmers or grinders are electronic tools which have a spinning grinder head for filing and shaping up your cat's claws.
They can be used as a primary trimming tool or for smoothing out rough edges after clipping.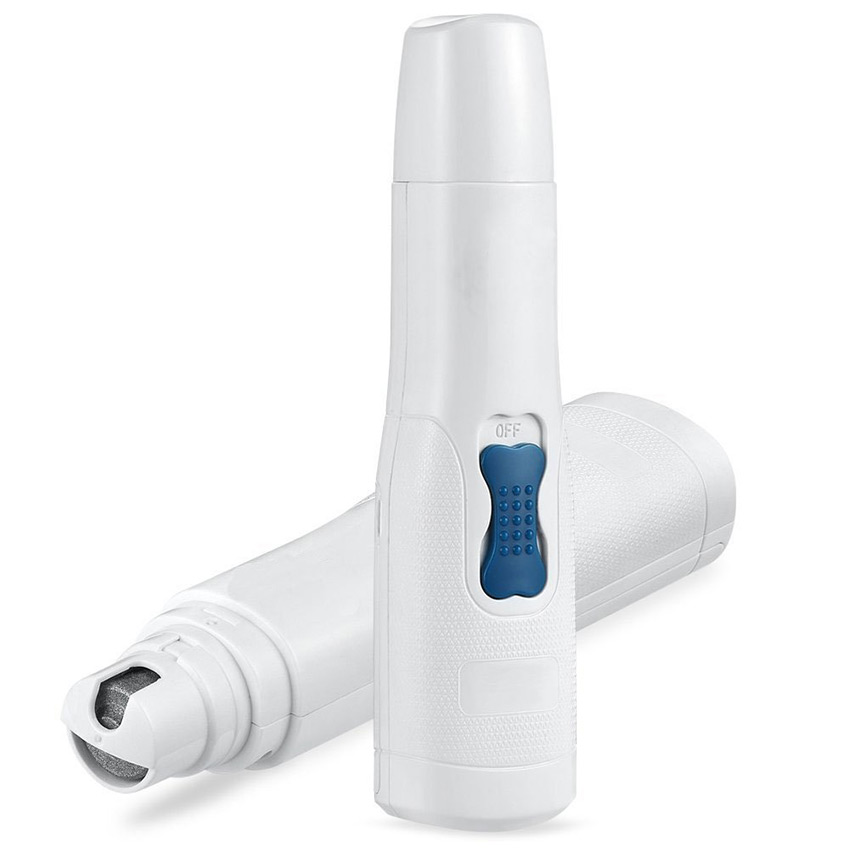 Roll the spinning head back and forth over the tip on the nail until you have achieved the desired length and shape. Just like with clippers, shape the tip on a 45 degree angle and avoid the quick.
This is a good option for trimming cat nails on the back feet which sometimes need a little cosmetic attention.
Most electronic trimmers have a cap that allows you to control how much of the spinning surface is exposed. This is a handy feature for precise trimming.
No batteries required. Contemporary styles have a USB charging port.
Some cats are frightened by the sound of cat nail trimmers. Allow your cat to see the spinning head and become comfortable with the sound before using.
Cat Nail File
Cat nail files include a rigid stainless steel filing head attached to a small rubber coated grip. This is similar to the filing tools you use on your own feet.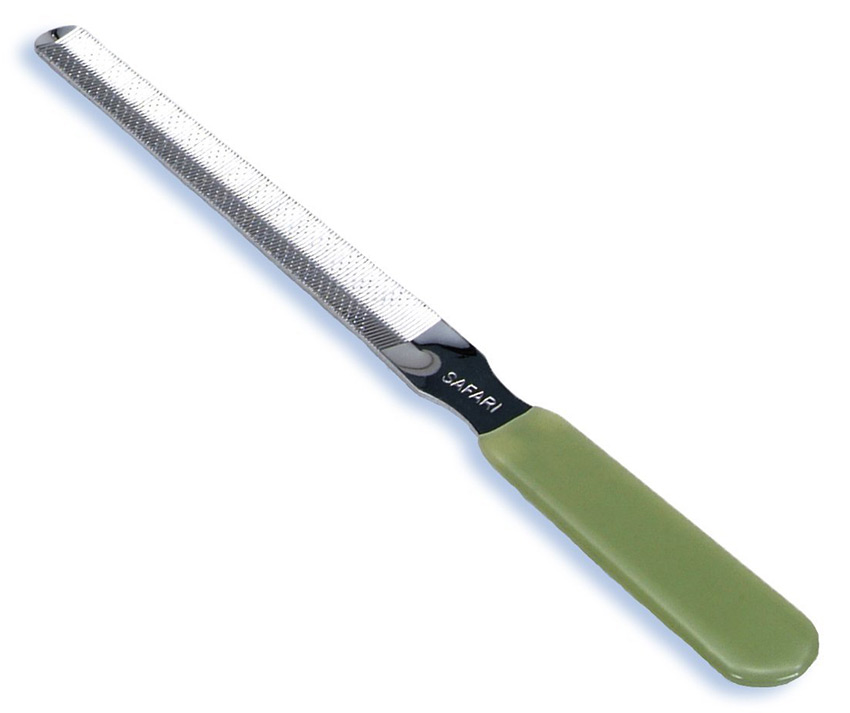 Using a cat nail file requires a little finesse and practice. And an agreeable cat.
After cutting with a traditional tool, use the file to smooth out rough edges of the cat claw nails. Or use in between trims for touch ups.
If you dread the thought of more grooming, don't despair. When you make regular, precise cuts with cat nail clippers, you won't have to do much (if any) filing.
But have one handy, just in case.
Cat nail files are included as a bonus tool with many popular styles of nail clippers. That's handy!
Cat Nail Caps
If destructive scratching is a concern, cat nail caps offer a humane alternative to declawing.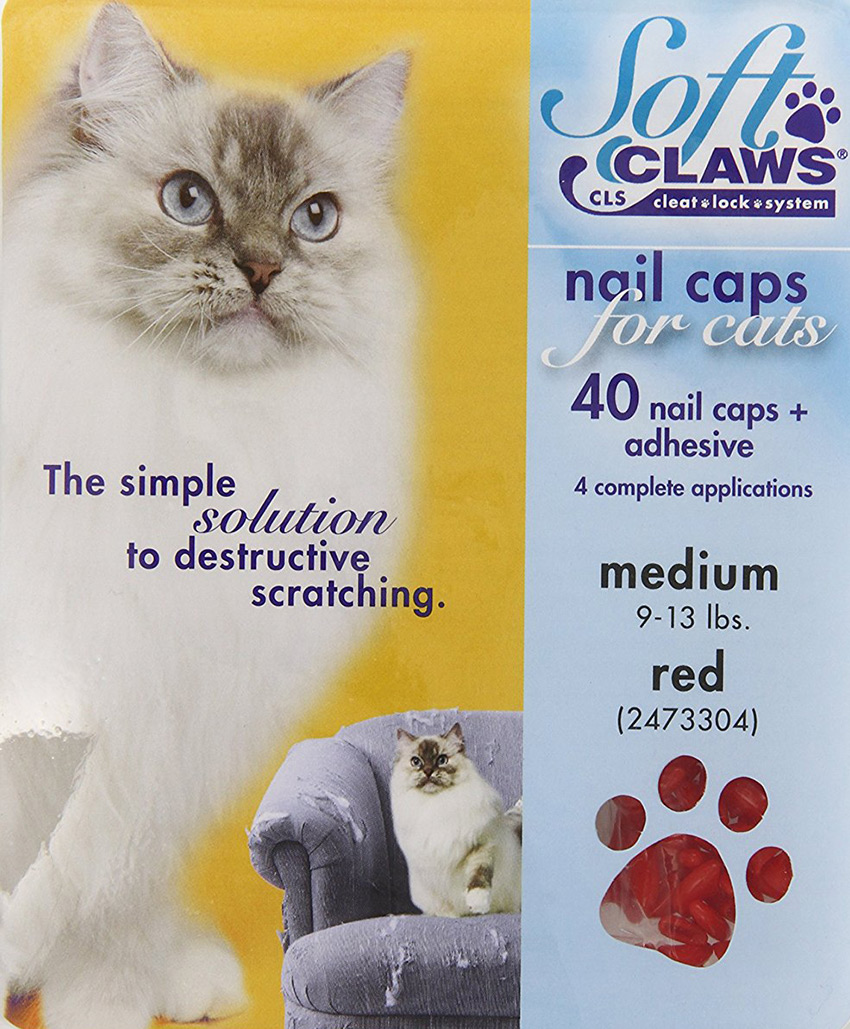 Cat nail caps are small vinyl sheathes that are glued onto your cat's nail. They come in many sizes and, for the cat fashionista, there is a rainbow of colors available. Even glittery ones!
Cat nail caps do not take the place of regular clipping. Caps will fall off as the claws grow and claws will need to be trimmed prior to applying each set.
Most cats will adapt to wearing them in a couple of days. A properly applied set of nail caps should last four to six weeks.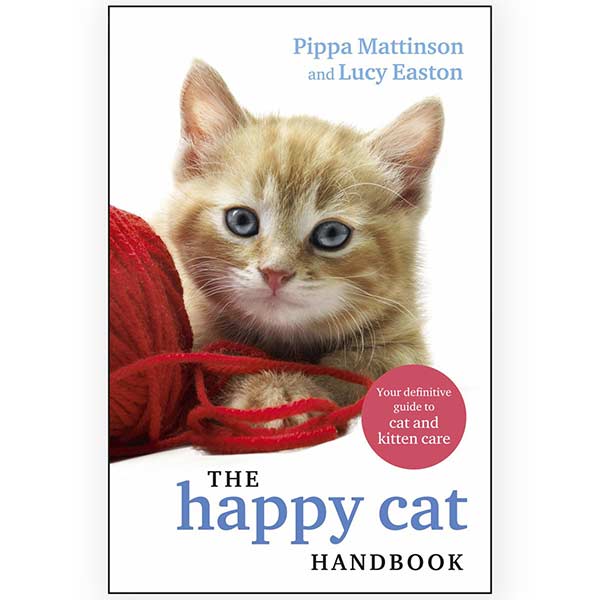 Always apply cat nail caps per the manufacturer's instructions using only the included adhesive.
These should not be used on an outdoor cat as they may diminish your cat's defense abilities.
More Top Tips For Using Cat Nail Clippers
It is better to cut too little than risk cutting the quick. After a few regular cuttings, the quick will recede and you'll then be able to cut further down the nail.
Most cats require trimming of only the front claws. Just keep an eye on back claws for jagged edges that can benefit from a little trimming or filing.
Stretch nail trimming over a few days until you've cut all ten front claws.
After a successful trimming, reward kitty with a favorite treat.
Grooming your cat is an expression of your love. Keep up those foot massages and enjoy this bonding time with your feline family.
Check out this article for the best cat nail clippers we've found!
Free Updates For Cat Lovers!
Our cat care articles, tips and fun facts, delivered to your inbox
Your Amazing Cat!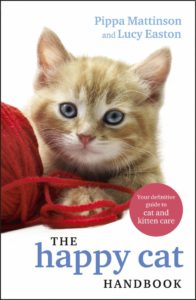 We are so excited to share our new book with you!
If you have enjoyed your visit to The Happy Cat Site we think you'll love The Happy Cat Handbook.
Written by the founders of this website including the author of the hugely successful Happy Puppy Handbook, it's packed with cat care information and fascinating cat facts.
Grab your copy today!
Free Updates For Cat Lovers!
Our cat care articles, tips and fun facts, delivered to your inbox