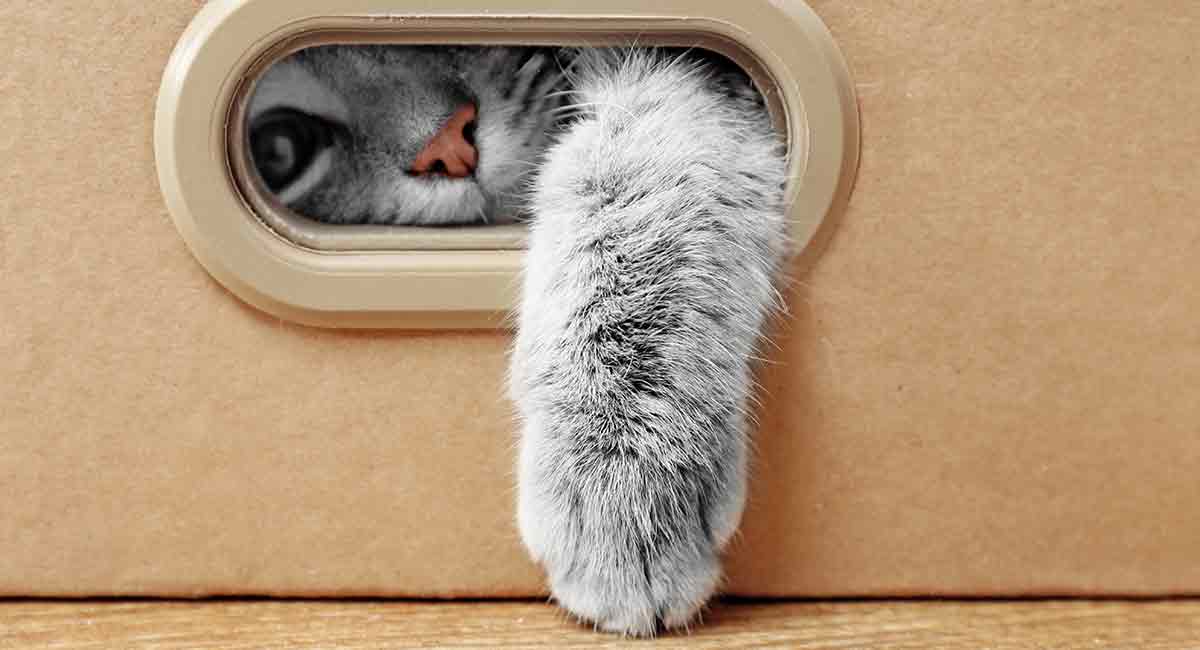 Cat paw anatomy is fascinating. And while they look similar from a distance, the difference between cat vs dog paws is striking. Inside your cat's paw is a clever system for retracting and extending those razor sharp claws.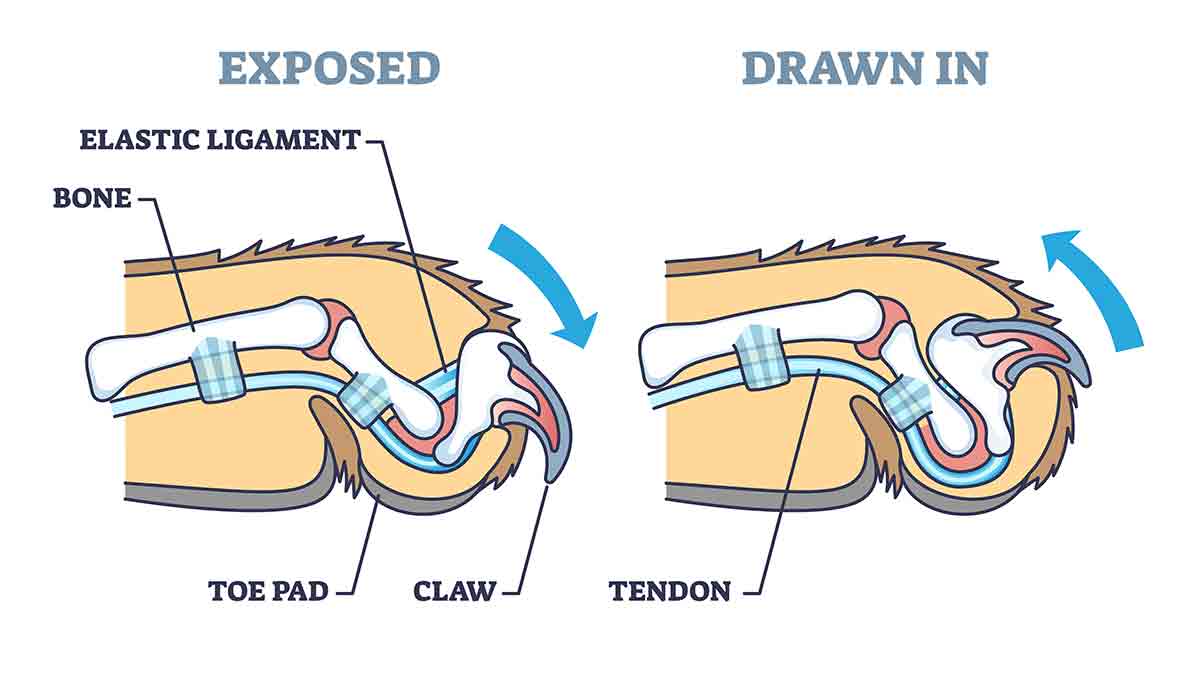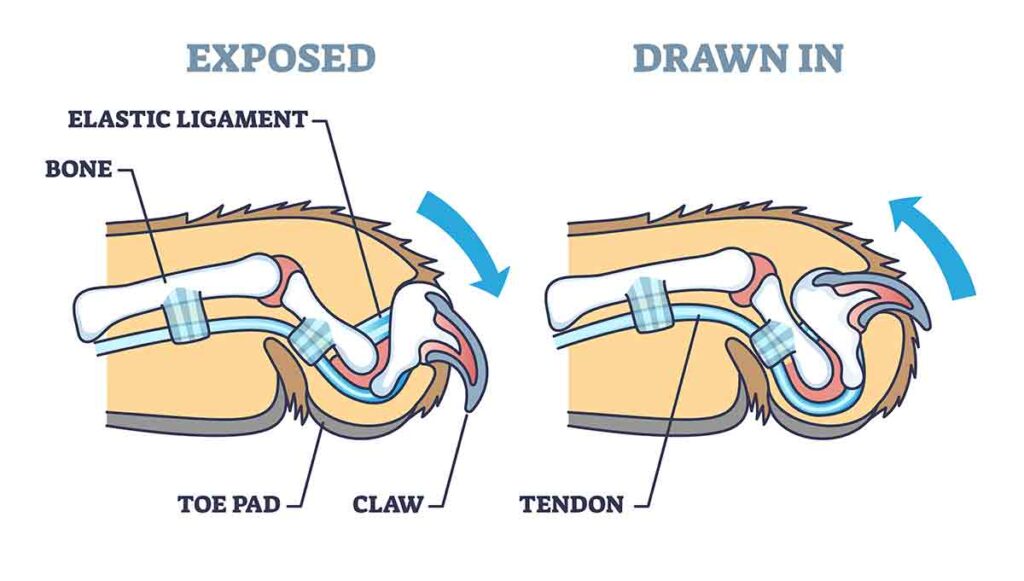 A powerful elastic ligament pulls the claw right inside its furry housing and the cat is able to pop those claw out again when they are needed. This ability to retract and extend claws gives cats a huge advantage when they are climbing.
Dogs of course, cannot do this at all. Which is why they are left looking silly at the bottom of the fence while your cat mocks them from above!
There are a lot of really interesting facts about our cats' paws that most people don't know. If you're a cat fanatic, you'll love these 25 fascinating cat paw facts!
1. Cat Paw Anatomy – Toes & Claws
A cat's paw is made up of several parts, so let's take a look at cat paw anatomy.
In the picture below you can see that a regular cat paw has four toes bunched tightly together, two at the front and one slightly further back on either side.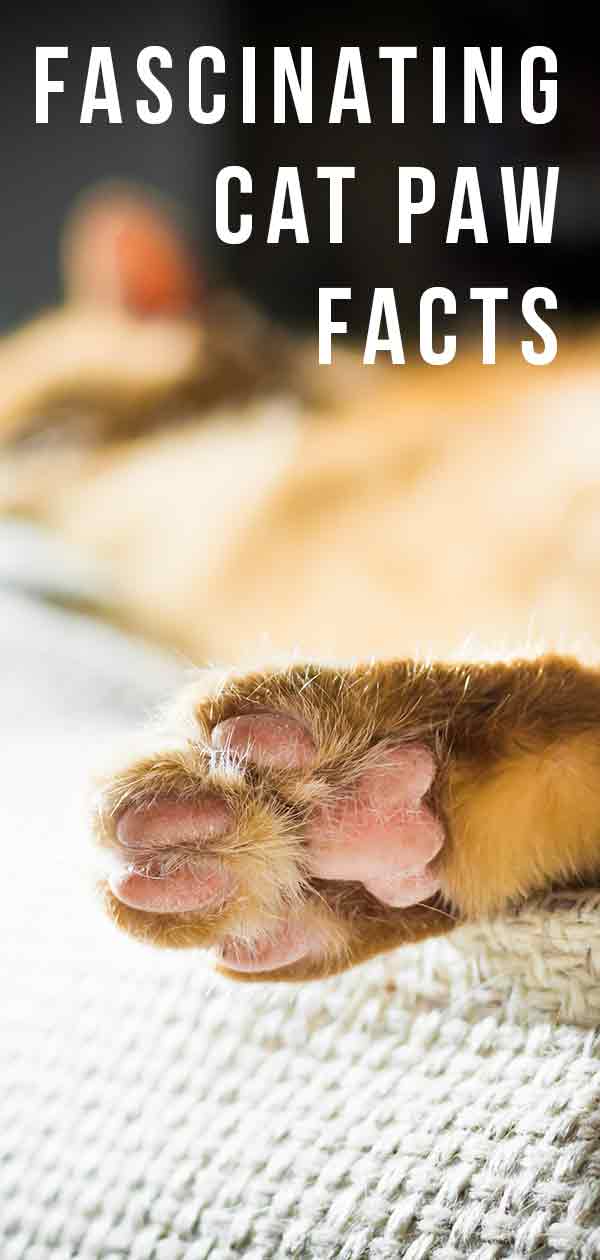 Each toes has a thick pad on the bottom, and the tip of each toe ends in a very sharp claw, that your cat can use for all sorts of tasks.
There is also a larger central pad underneath a cat's paw, in-between those four toes. And on the front paws, there's a fifth toe higher up on the side of each front paw which is the equivalent of your thumb.
Cat paws are perfectly designed for climbing, balancing and sneaking up on prey, and for self defence. There is a lot to know about your cat's feet so let's look at something we tend to think of as a human trait, and that's paw preference.
2. Cats Can Have a Paw Preference!
Several studies have looked into whether cats have paw preferences, just like humans have hand preferences.
Ocklenburg et al. suggested that 78% of cats they studied had a paw preference!
Wells and Millsopp suggested that cat paw preferences develop by the time your cat is a year old.
This is something you can try to observe by watching your own cats interact with objects around your home!
Does your cat have a paw preference?
3. Sex Can Affect Paw Preference
Looking into what affects a cat's paw preference can be really interesting.
Studies such as Ocklenburg et al. have suggested that a cat's paw preference could be linked to its sex.
They suggest female cats often prefer using their right paw, whereas male cats are more likely to prefer their left paw!
Other studies by people such as McDowell et al. and Wells and Millsopp also support this theory.
However this isn't a hard and fast rule!
Does your cat fit in with this pattern?
4. Cat Paw Pads Are Extremely Sensitive
Cat paw pads are very cute.
But cats' pads and their paws' hairy skin folds are also packed full of nerves, which makes them really sensitive!
This is why your cat might not like it if you try to play with its paws or give it a cat paw massage.
But these nerves are really useful for the daily lives of cats, who use their paws for everything from moving around to hunting for some extra food!
This sensitivity can mean we need to take extra care of our little pets' paws!
You should check your pet's paws regularly in case your cat cuts its paw or damages it in any way.
5. In Particular, Cat Paws Are Very Sensitive to Temperature
We know cats' pads are full of nerves and are very sensitive to touch.
They're particularly sensitive to temperature differences.
Finger and Norrsell used temperature differences of 1℃ in a maze with a food reward at the end.
They suggested cats were able to detect these temperature differences in order to solve this maze, whether the temperature was warmer or cooler!
They argued that a cat's temperature sensitivity may even be comparable to a primate's!
Which shows just how impressive our cats' paws are!
6. Cats Walk on Their Tiptoes
Cats are digitigrade mammals.
This means that they walk on their toes, and their heels don't touch the ground.
You might have thought that cats just had very small feet, but actually, their foot is longer than you might realise!
Cats aren't the only animals that are digitigrade.
Other digitigrade animals include dogs and rodents!
7. Cats Use Their Paws for Grooming
Cats use their paws for a huge variety of tasks.
One of these is cleaning themselves!
You've probably seen your cat spend a good amount of time each day using its paws to groom itself.
Cats use their paws to help clean places their tongues can't reach, like their ears and faces.
But this isn't the only task cat paws are used for!
8. Cats Paws Are Designed for Hunting
The anatomy of a cat paw is really interesting.
Cat paws are flexible and sensitive, which helps them when they're in the wild and hunting prey!
This flexibility and sensitivity can help them when chasing and stalking their prey.
They also have their sharp claws, which they use to catch the prey!
9. Cats Claws Are Retractable
Cats don't use their claws all the time.
When they're not using their claws, they retract inside protective folds of skin.
This isn't just the case for domestic cats, but for most wild, big cats too!
This means cats don't need to use their claws constantly.
It also means they're able to protect their claws from damage when they're not hunting or climbing.
10. Cats Shed Their Claws
A study by Homberger et al. has looked into the anatomy of the cat claw.
They've suggested cats shed their claw sheaths as a way to keep the "cutting edge" of their claw as sharp as possible.
However, they've also suggested it can be a way for cats to free their claws from their prey or other surfaces without ripping out the whole claw.
This can help our cats to maintain their sharp claws and helps them continue tasks like hunting and climbing whenever they need to!
11. Cat Claws Are Used for Climbing
Have you ever wondered how your cat manages to reach all sorts of high places?
Cats love climbing into trees, jumping onto high ledges.
Their claws are really useful for this!
Cats use their long curved claws to dig into things like tree bark, which helps them reach these high up spots.
12. Cats Have More Toes on Their Front Paws
Unlike humans, cats aren't born with an even number of digits on each paw.
Most cats have five toes on their front paws.
But they only have four toes on each of their back paws!
This means they have 18 in total.
Although having two fewer digits than us certainly doesn't stop them from living life to the fullest!
However, this is another rule that can vary depending on the cat…
13. Cats Can Be Born With Extra Toes!
Just like humans can be born with more fingers or toes than normal, cats can also be born with more than the normal number of toes!
This is a condition called polydactyly.
We've already seen that most cats have 18 toes in total.
However, cats affected with polydactyly can have up to eight toes on each paw!
Has your cat got any extra toes?
14. Cats Can Get Arthritis in Their Paws
Unfortunately, our cats can have cat paw problems, too.
Arthritis isn't just a health condition that affects humans.
It is also known to occur in cats and can affect the joints in their paws and legs.
If you're worried your cat is developing arthritis, you might notice that your pet isn't moving around as much or grooms their joints and paws a lot more than normal.
Arthritis can cause discomfort, so it's important to identify it as soon as possible to help ease your cat's pain!
15. Cat Pads Can Be Multicolored
Our little cat paw pads are adorable, and they don't come in set colors!
They can be pink, black, gray, or a mixture of different colors!
Usually, the color of your cat's paw pads correlate to its fur.
What color foot pads does your cat have?
16. Cat Pads Help to Absorb Shock
If you're a cat owner, you're bound to see your cat running and leaping around in the wilderness.
All this leaping, jumping, and running could be quite hard on our little pets' joints!
However, the pads on their paws are great at absorbing shock from these intense actions.
This helps our cats to run and jump around without injuring themselves.
17. Kneading Is an Instinctive Trait
When your cat is curled up on your lap, purring away, it might start to knead its paws.
This is an instinctive reaction that actually goes back to kittenhood!
Pushing their paws in and out of a soft object (like our laps!) has been explained with several different theories.
One suggests that kittens did this to stimulate milk from their mothers.
Another suggests cats did this to prepare an area for them to sleep in.
Either way, it is very cute!
18. Cats Have Scent Glands in Their Paws
This cat paw fact actually links to the previous one!
When cats knead their paws or scratch surfaces, they can communicate through the scent glands in their paws!
Kneading and scratching can be a way to release their scent and signal to other cats.
For instance, female cats can do this when in heat to show male cats they are ready to mate.
19. Cat Paws Sweat
The pads on cat paws actually sweat!
However, a study by Foster suggested that the rates of sodium, chloride, and potassium are a lot lower in cats than in humans.
This is actually the only place cats sweat.
Cats have even been known to leave little wet trails of cat paw prints in the summer when it's especially hot!
And even though this is a natural way to cool down, most cats love spending time in shady spots to chill out.
20. Cats Paws Are Designed to Grip Food
A study by Boczek-Funcke et al. used the various placements of foods to investigate a cat's grip.
They suggested cats don't always use the same strategies when grasping food.
The study used X-rays to see what each different toe was used for when taking food.
Some were used to establish contact, whereas others were used to stabilize the paw on the surface of the food!
How well can your cat pick up pieces of food with its paw?
21. Declawing Can Cause Unwanted Behaviors
Some people choose to get their cats declawed in an attempt to prevent their pets from scratching things they shouldn't.
Martell-Moran et al. has suggested that declawed cats have a higher chance of back pain and increased likelihood of periuria and aggression.
They concluded that this process can result in more unwanted behaviors than you started with and can cause your cat pain!
If you have a particularly destructive cat but don't want to declaw it, there are other options.
You can get all sorts of cat scratching posts that can help direct your cat's scratching elsewhere!
22. Cats Use Their Paws to Show Aggression
We've seen cats use their paws for a variety of things, including hunting and grooming.
They also use their paws in signs of aggression.
Cats often bat each other with their paws when fighting, as well as using their claws to strike one another.
Cats' paws and claws are their main weapon, other than their teeth!
23. Cats' Pads Can Get Sun Damaged
We've looked at how vulnerable cat pads can be to heat damage and temperature.
The hairless parts of cats are especially vulnerable to sun damage.
This means that if our cats spend too long with their paws exposed to the sun, they can end up really sore.
This can make any other activities more painful, even just moving around!
Therefore, it's important to take care of our cats' sensitive little pads!
24. The Smallest Cat Paws Belong to the Rusty-Spotted Cat
Cat paws aren't all the same size and vary massively depending on the size of the cat!
The smallest cat paws belong to the smallest cat species in the world – the rusty-spotted cat!
This is a wild cat so unfortunately can't be a domesticated pet!
But it can be found in Asia.
Even fully grown adults can be smaller than domesticated kitten breeds, making their paws extra small!
25. The Biggest Cat Paws Belong to the Liger
So we've looked at the smallest cat paws, but what about the other end of the spectrum?
This is a hybrid, a cross between the lion and the tiger.
Although it comes from wild parents, it is a zoo-bred cross.
Ligers tend to be bigger than their parents because they lack certain growth-limiting genes.
This means their paws can be huge!
Cat Paw Facts Summary
So there are 25 fascinating facts about our cats paws!
Do they all apply to your cat?
Can you think of anything else that could be added to this list?
References and Resources
D. L. Wells and S. Millsopp, "The Ontogenesis of Lateralized Behavior in the Domestic Cat," Journal of Comparative Psychology, 126:1 (2012)
Sebastian Ocklenburg et al., "Paw Preferences in Cats and Dogs: Meta-Analysis," Laterality: Asymmetries of Body, Brain and Cognition, (2019)
Louise Jean McDowell, "Lateralized Behaviour in the Domestic Cat (Felis silvestris catus)," EThOS, (2017)
Louise McDowell et al., "Lateralization of Spontaneous Behaviours in the Domestic Cat," Animal Behaviour, 135 (2018)
Satomi Ebara et al., "Three-Dimensional Analyses of Touch Domes in the Hairy Skin of the Cat Paw Reveal Morphological Substrates for Complex Sensory Processing," Neuroscience Research, 61:2 (2008)
Anthony Gough-Palmer et al., "Paws for Thought: Comparative Radiologic Anatomy of the Mammalian Forelimb," RadioGraphics, (2008)
Dominique Homberger et al., "The Structure of the Cornified Claw Sheath in the Domesticated Cat (Felis catus): Implications for the Claw-Shedding Mechanism and the Evolution of Cornified Digital End Organs," Journal of Anatomy, 214:4 (2009)
B. R. Lamichhane et al., "Rusty-Spotted Cat: 12th Cat Species Discovered in Western Terai of Nepal," Cat News, 64 (2016)
John P. Rafferty, "Liger," Encyclopaedia Britannica, (2018)
Alexia Hamelin et al., "Clinical Characterisation of Polydactyly in Maine Coon Cats," Journal of Feline Medicine and Surgery, (2016)
References and Resources Continued
S. Little, "Stiff, Sore Cats: Taming Feline Arthritis," World Small Animal Veterinary Association, (2015)
Signs of Arthritis in Cats, Ped MD
Philip Cohen and Douglas Ramsay, "Felis Punctatis: Cat Claw-Induced Punctures," Cureus, 9:12 (2017)
K. G. Foster, "Composition of the Secretion from the Eccrine Sweat Glands of the Cat's Foot Pad," The Journal of Physiology, 184:1 (1966)
A. Boczek-Funcke et al., "Shaping of the Cat Paw for Food Taking and Object Manipulation: An X-Ray Analysis," European Journal of Neuroscience, 10:12 (2001)
Stanley Finger and Ulf Norrsell, "Temperature Sensitivity of the Paw of the Cat: A Behavioural Study," Journal of Physiology, 239 (1974)
Katherine Grier and Nancy Peterson, "Indoor Cats, Scratching, and the Debate over Declawing: When Normal Pet Behavior Becomes a Problem," Animal Studies Commons, (2005)
Nicole Martell-Moran et al., "Pain and Adverse Behavior in Declawed Cats," Journal of Feline Medicine and Surgery, (2017)
Leslie A Lyons, "DNA Mutations of the Cat: The Good, the Bad, and the Ugly," Journal of Feline Medicine and Surgery, (2015)