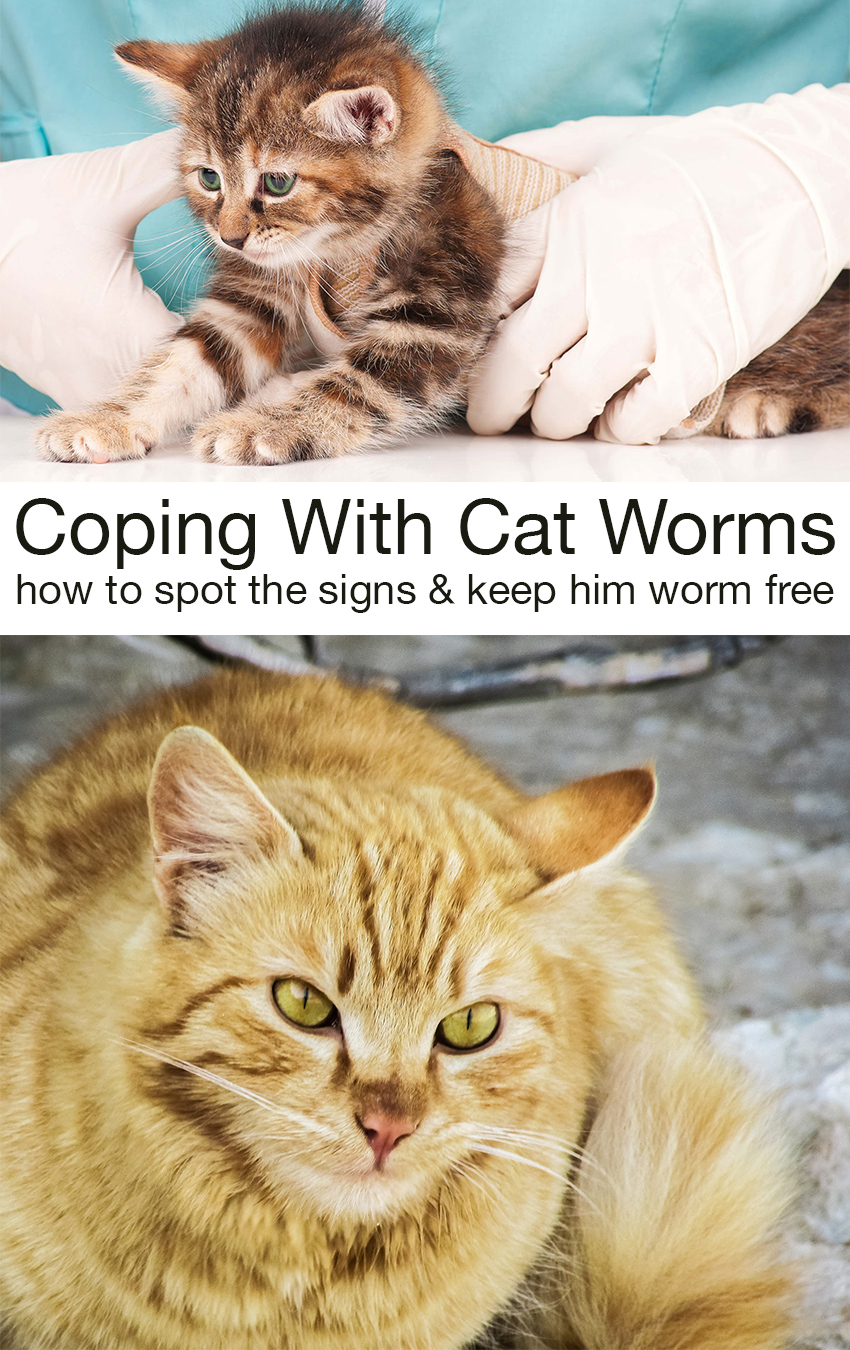 This article provides information about gastrointestinal cat worm infections in cats and kittens.
We'll be looking at the most common types types of cat worms, how to recognize the symptoms of infection, and typical treatments.
Cat worms: Background information
The risk of worms is part and parcel of being a cat.
No breed of cat is immune from them, and Cornell University College of Veterinary Medicine reports that in some populations, as many as 45% of cats have worms at any one time.
Nor are they exclusively cat parasites. If you keep horses, dogs, or rabbits as well, they can transmit worm infections too.
However, whilst cat worms are an unpleasant problem, the good news is they can be readily treated, and your vet will already have lots of experience of deworming cats!
There are also lots of smart steps you can take at home to reduce the chances of your cat catching worms, and we'll look at these later.
But first let's have a quick run down of the most common intruders hiding in your pets tummy.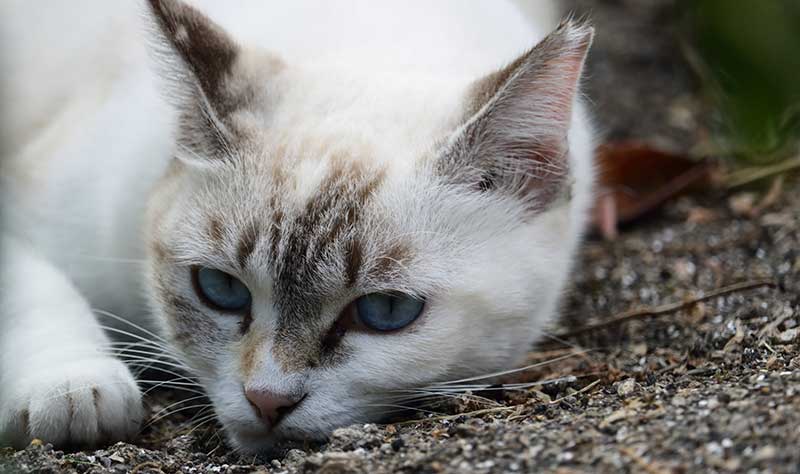 How do cats get worms?
Gastrointestinal worms in cats are usually one of three types:
roundworm
hookworm
tapeworm.
We'll look at how cats get each type of worm in order of how frequently they infect cats:
Roundworm in cats
Roundworms are the most common gastrointestinal parasite in both cats and dogs.
Fully grown, they are about four inches (ten centimeters) long, and roughly the same diameter as a piece of spaghetti.
Cats usually swallow roundworm eggs by eating contaminated poo, grooming fur which eggs have become stuck to (typically around the paws), or drinking contaminated water.
Roundworm eggs can also pass to kittens through their mother's milk.
Once in the gut, the eggs hatch into worms which survive by stealing nutrients from food eaten by the cat.
When the worms lay eggs of their own, the eggs are eliminated in the cat's poo, and so the infection spreads.
Hookworm in cats
In second place, hookworms are much smaller than round worms, usually less than an inch (two centimeters)  long.
Hookworm larvae either penetrate cats' skin, or the lining of their mouth. Unlike roundworm, hookworm can't be passed to kittens through their mother's milk.
Adult hookworms take up residence in cats' small intestines, where they latch onto the wall of the intestine and suck blood.
Hookworm infections are more common in dogs than cats, so your cat is more likely to catch hookworm if they also have canine companions at home.
Tapeworm in cats
Ask someone to name a stomach-dwelling worm (or perhaps not – they might think you a little strange), and the odds are they will say tapeworm first.
However cat tapeworm is less common than either roundworm or hookworm.
Tapeworms are four to twenty-eight inches (ten to seventy centimeters) long. Their bodies are flat, and broken into segments each a quarter of an inch in length.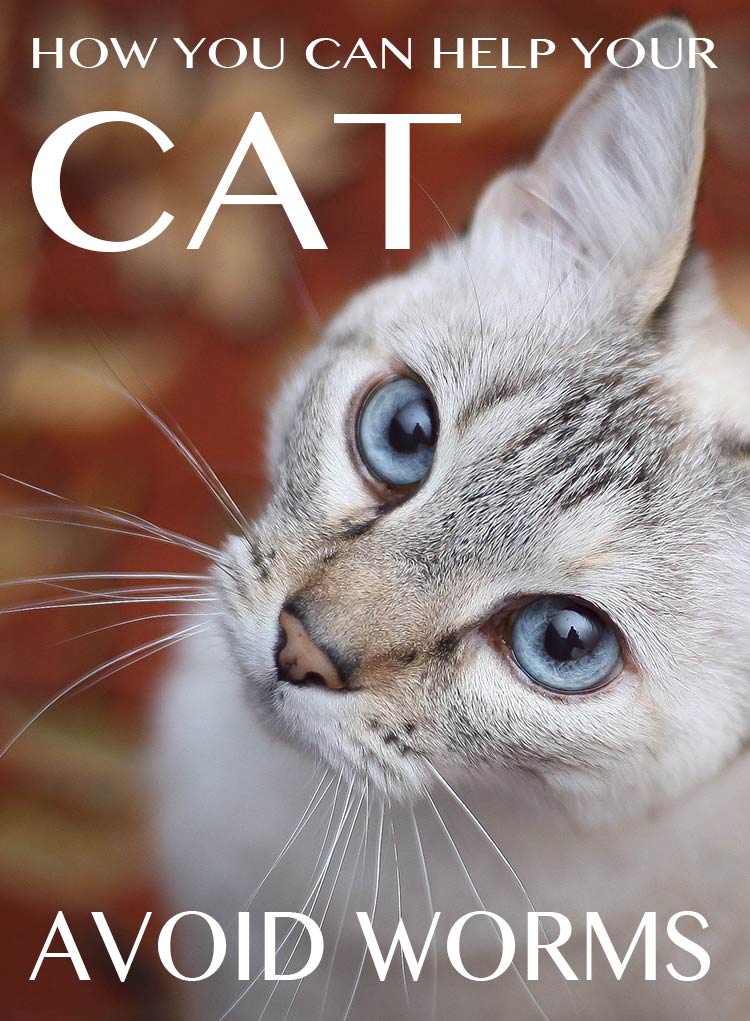 Inside a cat's tummy, tapeworms latch onto the wall of the intestine and absorb nutrients from the cat's own diet.
Cats pick up tapeworms by eating an infected intermediate host: usually lice or fleas, but sometimes rodents.
Cat worm symptoms
The symptoms of worms in cats can vary a great deal from case to case, but the signs to look for are the same for all three kinds of worm. The most common indicators are:
diarrhea or constipation
vomiting
worms visible in your pet's poo, vomit, or around their bottom
blood or mucous in their poo
weight loss
change of appetite (increase or decrease)
bloated or swollen tummy
wheezing or coughing.
Quite often, an otherwise healthy adult cat with won't show any symptoms at first. However this doesn't mean that the worms are doing no harm.
The worm population in their gut will still be taking energy from your cat's diet (if they are roundworms or tapeworms) or sucking their blood (if they are hookworms).
This can bring about malnutrition, dehydration or anaemia, making the cat vulnerable to more serious bacterial and viral infections.
Furthermore, a worm infection left untreated can spread into other areas of a cat's body, causing damage to the lungs, brain, liver and eyes.
That's why it's so important to stick to a regular course of worming treatments even if your pet seems completely healthy, and we'll revisit this in a minute.
Diagnosing worms in cats
If you suspect your cat has worms, you should seek proper diagnosis and treatment from your vet.
Remember visible worms are only one possible symptom, and they might not be visible in every case, so if you see any of the signs of worms in cats listed above, take your cat to the vet for a check up.
If you have found worms in your pet's poo or vomit, take them with you to the appointment, wrapped in a damp cloth or paper towel. Don't worry, your vet has seen it all and far worse before!
Deworming: cat worms treatment
If your vet confirms a worm infection, they are likely to advise a course of deworming treatment.
There are a wide range of deworming treatments on the market today, including pills, chewable tablets, pastes, liquid suspensions, and spot-on treatments which you dab onto their fur.
They act by killing the worms and their eggs living in your pet's intestine, so that your pet can pass them out with their poo.
Some deworming treatments work in a single dose, others have to administered over several doses.
Your vet will agree with you the treatment most suitable for your your pet, and guide you through how to administer it.
It's important to appreciate that treatment for one type of worm may not rid your cat of another type of worm.  A treatment for tapeworm, for example won't work on a roundworm infection.
So never attempt to treat a new infection with leftover medicines – always get a new diagnosis.
My cat has worms, will he be okay?
The good news is,worm infections rarely do any lasting harm to cats
As long as you have been following a regular worming routine, and seek treatment for outbreaks promptly, your cat should be fine
Cats normally  respond quickly to deworming treatment and make a full recovery.
Prevention – deworming cats
Prevention, as they always say, is better than cure. But in the case of cat worms "prevention" is actually bit of a misnomer.
It isn't possible to immunize or vaccinate your cat against worms, he can catch more worms at some point in the future.
So we recommend that you follow a regular routine of worming treatment as prescribed by your vet.
What does deworming achieve?
Worming treatments don't stop your pet getting worms, but they do eradicate any worms already living in their gut.
This keeps the parasite burden on your pet low, and protects them the health risks of carrying a lot of worms.
Furthermore, roundworms and hookworms are zoonotic, which means us humans can catch them too. This can largely be avoided by deworming pets regularly and practicing good hand washing though.
How often should I worm my cat?
Your vet will prescribe the most suitable deworming schedule and product for your cat, based on their age, diet, and habits, such as how much time they spend outside.
As well as following their advice to the letter, you can minimize the risk of infection by emptying your pet's litter tray regularly, washing your hands after playing with them, and disinfecting their food and water bowls regularly.
Since tapeworms are frequently transmitted by fleas, the risk of tapeworm infection can be reduced by following a regular flea treatment program.
Worms in kittens
Kitten worms are the same as worms in adult cats, but because kittens are so much smaller, they are far more vulnerable to malnutrition, dehydration and anaemia as a result of infection.
For this reason your vet will probably recommend worming your kitten every two weeks while they are really tiny, starting from when they are about two weeks old.
Your vet will help you decide the best worming schedule for a young kitten as they grow into adulthood.
Summary
There's no doubt about it, discovering your pet has worms is likely to make your skin crawl.
There's no need to panic or be embarrassed, they are a common problem which your vet will have seen a thousand times before and be able to treat quickly and easily.
But don't put it off.
An untreated infection could make your pet very ill, especially if they are very young or old. And some infections can also pass to humans, so nip it in the bud fast!
Has your cat had worms?
Knowing that it happens to us all is often a huge source of comfort to a pet owner who is feeling worried or guilty about discovering an infection for the first time.
Please share your story in the comments section below, and tell us your secrets for persuading your pet to take his worming treatment!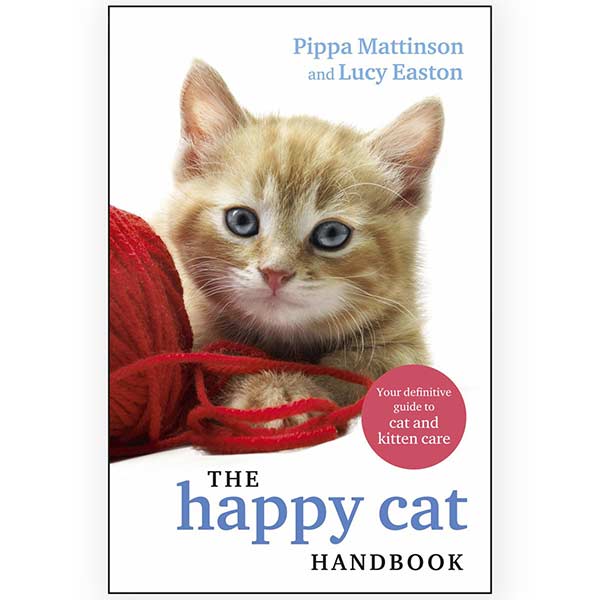 Today's article is by Sarah Holloway. Sarah holds a bachelors degree in Zoology and has a special interest in animal behavior and communication
Sources
American Society for the Prevention of Cruelty to Animals, (2016), "Common Cat Diseases", www.aspca.org.
American Veterinary Medical Association, (2010), "Internal Parasites in Cats and Dogs", www.avma.org.
Cornell University College of Veterinary Medicine, (2014), "Gastrointestinal Parasites of Cats", www.vet.cornell.edu.
Your Amazing Cat!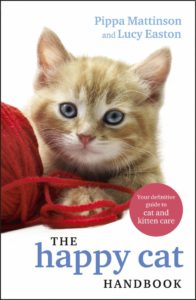 We are so excited to share our new book with you!
If you have enjoyed your visit to The Happy Cat Site we think you'll love The Happy Cat Handbook.
Written by the founders of this website including the author of the hugely successful Happy Puppy Handbook, it's packed with cat care information and fascinating cat facts.
Grab your copy today!
Free Updates For Cat Lovers!
Our cat care articles, tips and fun facts, delivered to your inbox