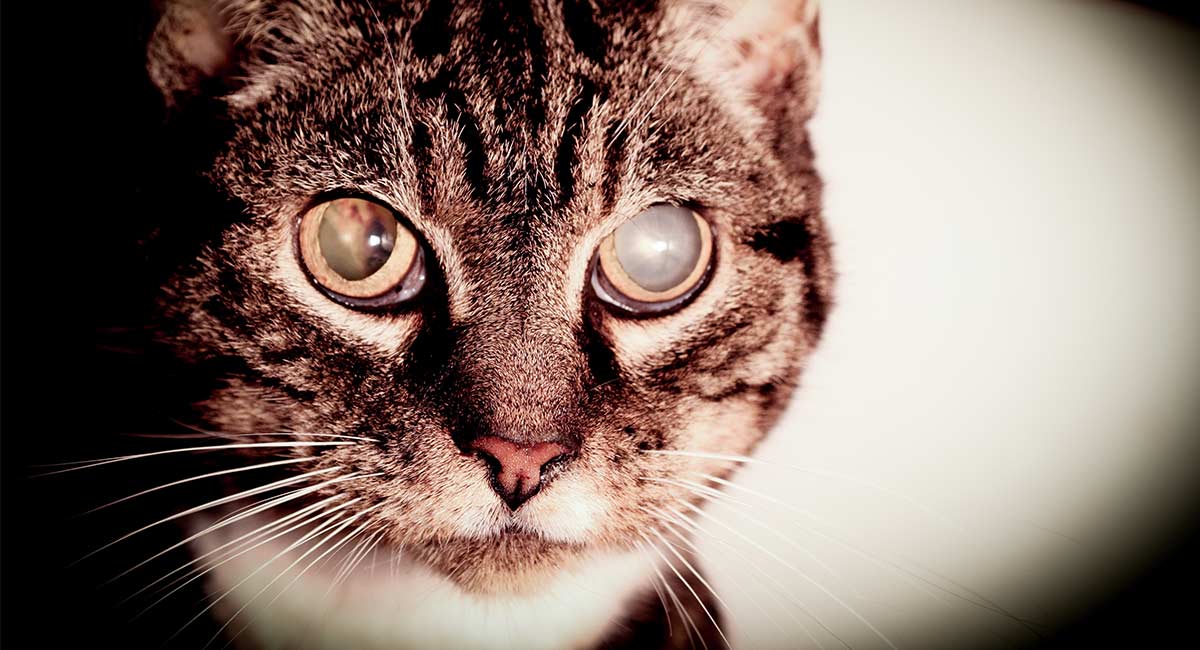 When we see signs of cataracts in cats, it can be unnerving. The first thing we want to do is ensure our kitty is safe, healthy and comfortable.
If you have a cat who is suffering from cataracts, or you simply want to learn what you can do to avoid cataracts in cats, you're in the right place.
Today, we have an article completely on cataracts in cats.
We'll look at what causes them, how to spot the symptoms of them, and whether they are treatable.
What Are Cataracts in Cats?
Can cats get cataracts?
While rare, cats can get cataracts.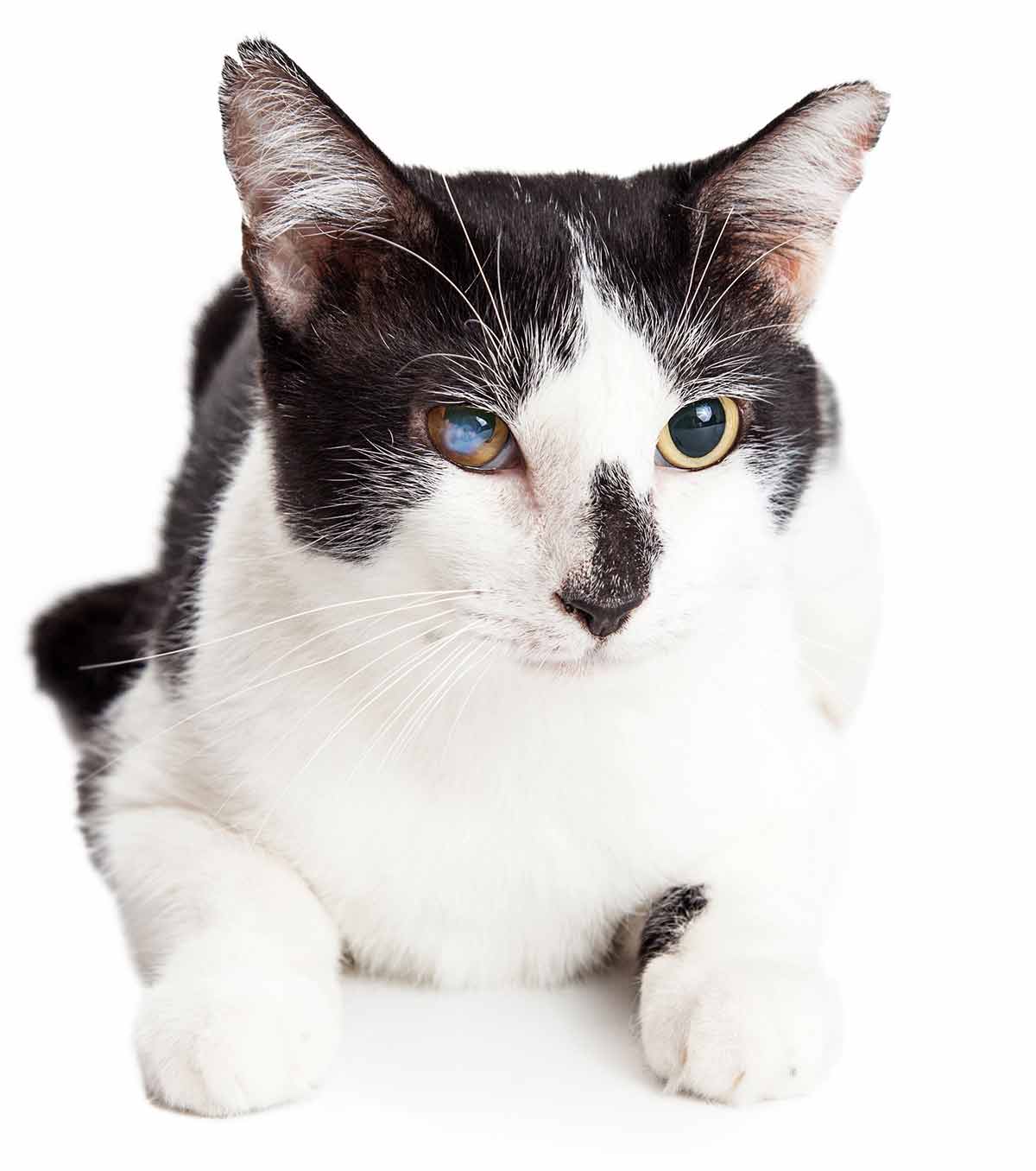 Feline cataracts occur when lens of the eye becomes clouded. When when it is cloudy or obstructed, partial or complete loss of vision occurs.
How so?
The lens sits within the pupil and focuses light onto the retina at the back of the eye.
When cats see normally, their brain is interpreting the patterns of light which reach the retina.
Cataracts block the light coming through the lens, so the retina receives less information for the brain to construct a picture out of.
Why Do Cataracts in Cats Occur?
Luckily, cataracts in cats are rare.
They can happen to any cat, but there are some factors which increase a cat's risk of developing cataracts:
Old Age
Failing eyesight is part of old age for most species, and cats are no exception.
Cataracts are more common in older cats than younger cats.
A 2006 study of 2000 pet cats at Cambridge University found that all of the cats over 17.5 years old had some degree of lens cloudiness.
Breed
All breeds of cats can get cataracts.
However, some breeds have a higher hereditary risk of developing cataracts.
Persian cats, Himalayans, and Birmans are all more prone to cataracts than the average cat.
These breeds all have a high frequency of cats carrying genes which can result in cataracts.
Health Conditions and Other Causes
Some health conditions can also increase the risk of a cat developing cataracts, for example diabetes or dehydration.
While inherited cataracts may be unavoidable, cataracts brought on by health problems and other factors might be preventable.
We'll look at this in more detail next.
Causes of Cataracts In Cats
These are some of the causes of cataracts which can be managed, either by prevention, or quick action when you spot them.
Uveitis
Uveitis, or inflammation of the eye, is one of the most common eye problems for cats.
It can be a cause of blindness and eye pain, as well as cataracts.
Symptoms of uveitis are similar to that of pink eye in humans.
Watch for redness, discharge, squinting, excessive tears, and a cloudy or dull eye.
If you suspect your cat may have uveitis, take him to a veterinarian immediately.
Diabetes Mellitus
Diabetes mellitus is the failure to generate the amount of insulin needed to regulate the glucose levels in a cat's body.
This is a serious condition not only causes cataracts but also weight loss, appetite loss, digestive discomfort, vomiting, dehydration, depression, and even death.
This is a very dangerous condition and if you think your cat has any symptoms of diabetes mellitus, take him to a vet at once.
Electric Shock
Cats are curious creatures who often spend a lot of time wandering about inside and outside our homes.
They are small enough to get into secure areas and it is not uncommon for a cat to chew wires, not realizing the dangers.
Electric shock in cats is not always fatal and can lead to serious health issues such as coughing, difficulty breathing, and cataracts.
Take your cat to the veterinarian if you believe he has suffered an electric shock.
Hypocalcemia
Sometimes, cataracts might be the first symptom of a problem that spreads beyond your cats eyes.
Hypocalcemia means "low calcium levels", and when it occurs your cat may seem restless, stiff, irritable, quivery, weak, or hypersensitive to touch or sound.
They might also develop cataracts, which is why it is important to always take your cat to the vet if you notice cloudiness in his eyes, vision impairment, or any of the above symptoms.
Radiation or Toxic Substance Exposure
Exposure to toxic substances can cause cataracts in your cat as well as other things.
If your cat has cataracts, your vet might test them to determine if they are a result of radiation or other toxic substance exposure.
Dehydration
Cataracts have also been linked to periods of extreme dehydration, for example due to kidney failure, or chronic vomiting and diarrhea.
Trauma
Cats can sometimes be scrappy, and trauma could include an injury from a fight with another feline or dog.
Trauma could also include an injury from a fall.
One of the leading causes of cataracts in cats is trauma, so it is important to treat any injuries your cat may have received as a result of trauma as soon as possible.
Old Age
Unfortunately, our pets are not immune to the aging process. Cataracts may just be a normal part of your aging cat.
Still, if you notice the symptoms of cataracts in your senior cat, take him to a veterinarian as soon as possible to ensure it is not the result of a more serious underlying issue.
Symptoms of Cataracts in Cats
If your cat is suffering from cataracts, the first thing you should know is that cataracts themselves are not painful.
The main symptoms your cat will experience from feline cataracts depend upon on the amount of vision impairment he is experiencing.
If there is less than 30% of vision impairment due to cataracts, it is likely your cat will not exhibit any symptoms – and you may not even be able to see the cloudiness in their eyes.
Cat don't rely on their sight in the same way we do, and their other senses will easily pick up the slack.
However, if the cataracts are more severe, you will notice that your cat is having trouble navigating.
Look out for:
bumping into walls
missing steps
misinterpreting object placement
and cloudiness in the pupil
If your cat has cataracts as a result of another medical issue such as diabetes, you might also notice increased thirst, more urination than usual, and weight loss.
If you notice any of the above symptoms in your cat you should take them to a veterinarian immediately.
Diagnosis of Feline Cataracts
Never ignore the signs of cataracts in cats, as they could be caused by more serious underlying issues that need to be addressed – visit a vet for a full diagnosis and treatment.
Your veterinarian will likely go over your cat's health history and ask questions that will help to determine when the symptoms began to occur.
They might also recommend an ultrasound or electroretinography test to determine whether your cat is suffering from cataracts and how severe the cataracts are.
If your vet believes your cat may have cataracts as a result of diabetes mellitus or hypocalcemia, he might recommend diagnostic tests for those conditions as well.
Once you know for sure you are dealing with cataracts in your cat and what the cause is, your vet will recommend a course of treatment.
Cat Cataract Treatments
Cat cataract treatment can be difficult, but the earlier they are diagnosed, the better the outcome can be.
Sometimes surgery is required to fix cataracts in cats, however, this is not always the case.
Many times, prompt treatment and a variation of medications prescribed by your veterinarian can help to postpone or even avoid the onset of total blindness as a result of your cat's cataracts.
Are Cataracts in Cats Curable?
Since cataracts in cats is usually a result of an underlying issue, it is common for cataracts to be treated completely, restoring your cat's vision and helping him to lead a normal, happy life.
If your cat is healthy and a good candidate for surgery, complete cataract removal is possible.
Other treatment options include eye drops and medications that not only resolve cataracts but also resolve the underlying issue that may have caused them.
In elderly cats or cats with hereditary cataracts, your vet might focus on managing cataracts, rather than curing them.
Are Cataracts in Cats Contagious?
While cataracts in cats themselves are not contagious, some of the underlying issues that can cause cataracts are.
Uveitis, for example, can be contagious.
If you have a cat who is experiencing any of the symptoms associated with uveitis, isolate him from other household cats until you are able to get him to a vet and get a diagnosis.
Cataracts In Cats – Summary
Cataracts are a cloudiness in the lens of the eye which impair cats' vision by blocking light to the retina.
Generally cataracts are rare in cats, but there are known factors which increase the risk of developing them, including old age, breed, some illnesses, and physical trauma.
If your cat has any symptoms of cataracts, take them to a vet. Many cases of cataracts are treatable or at least manageable with proper veterinary care.
You can also protect your cat with a good diet and regular health checks.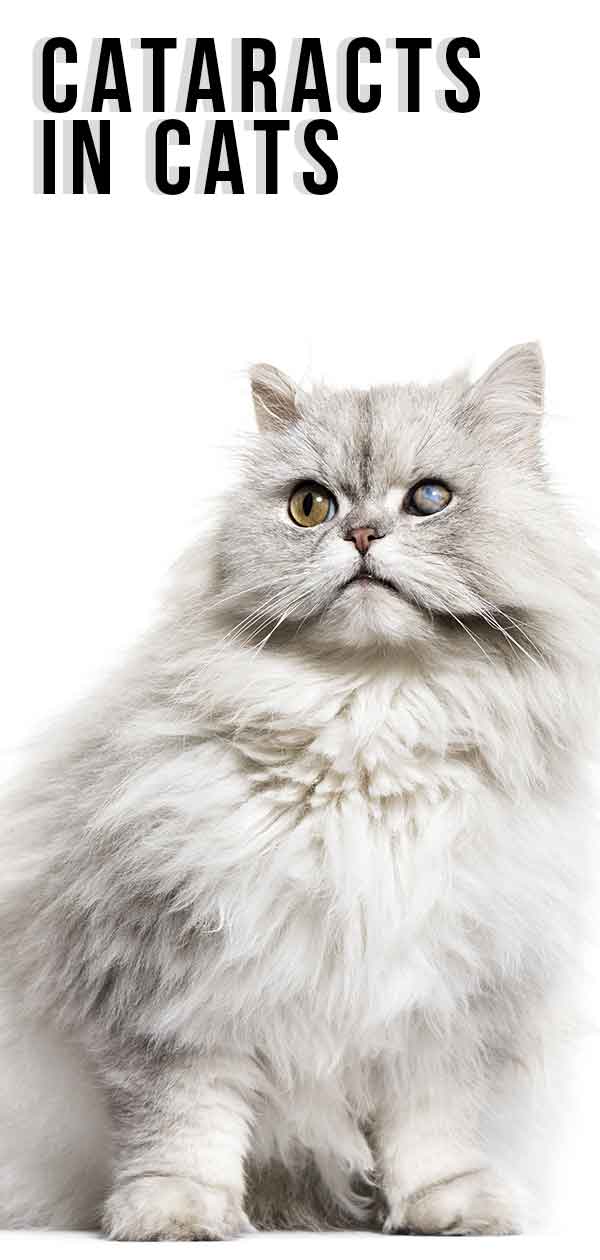 Does Your Cat Have Cataracts?
Do you know why they have them? How has your vet recommended treating them?
Share your story with other cat owners who may be just starting on this journey using the comments box.
References
David L. Williams, M. Fred Heath, Prevalence of Feline Cataract: Results of A Cross-Sectional Study of 2000 Normal Animals, 50 Cats With Diabetes and One Hundred Cats Following Dehydration Crises, Veterinary Ophthalmology, 2006.
Andrea Steinmetz, et al, Lens-Anomalies and Other Ophthalmic Findings in A Group of Closely-Related Angola Lions (Panthera Leo Bleyenberghi), Zoo Biology, 2006.
K Narfstrom, Hereditary and Congenital Ocular Disease in the Cat, Journal of Feline Medicine and Surgery, 1999.
Salgado D, Reusch C, Spiess B, Diabetic Cataracts: Different Incidence Between Dogs and Cats, Europe PMC, Life-Sciences Literature, 2000.
SI Thoresen, E Bjerkas, M Aleksandersen, Diabetes Mellitus and Bilateral Cataracts in A Kitten, Journal of Feline Medicine and Surgery, 2002.
Mary Rebecca Telle, DVM, Diane Hendrix, DVM, DACVO, Cataracts in Cats, Clinician's Brief, 2016.
Free Updates For Cat Lovers!
Our cat care articles, tips and fun facts, delivered to your inbox