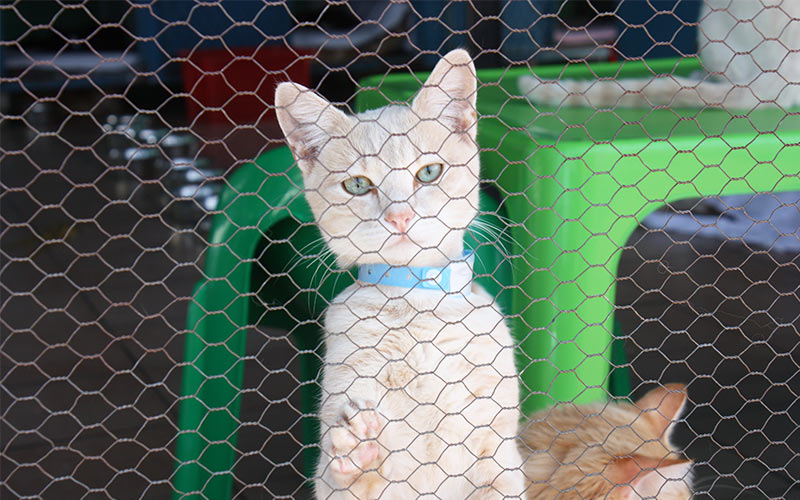 Welcome to our complete guide to catteries! The answer to what is a cattery might seem straight forward – but there are actually two types. Boarding catteries and breeding catteries.
In this article we will be giving you all of the information you need on both these rather different establishments.
Have you ever needed a place to house your kitties when you're out of town?
Have you ever considered purchasing a show-worthy, pedigreed cat?
In either case, you'll need the services of a cattery.
In this article, we'll explore both the boarding cattery and the breeding cattery.
As well as fair cattery prices, the best cattery cages, cattery design and what to look for in a top cat cattery.
What Is A Cattery?
A cattery is a place that houses cats.
If you are housing your cat temporarily, you will need a boarding cattery or cattery kennel.
If you are seeking to buy or breed pure-bred cats, you'll be using a breeding cattery.
First, let's take a look at what you need to know to choose the top cat cattery for boarding, then we'll explore breeding catteries.
Best Cat Cattery
I live in a large metropolitan area where the number of catteries, kennels, hotels and luxury condos for cats is dizzying.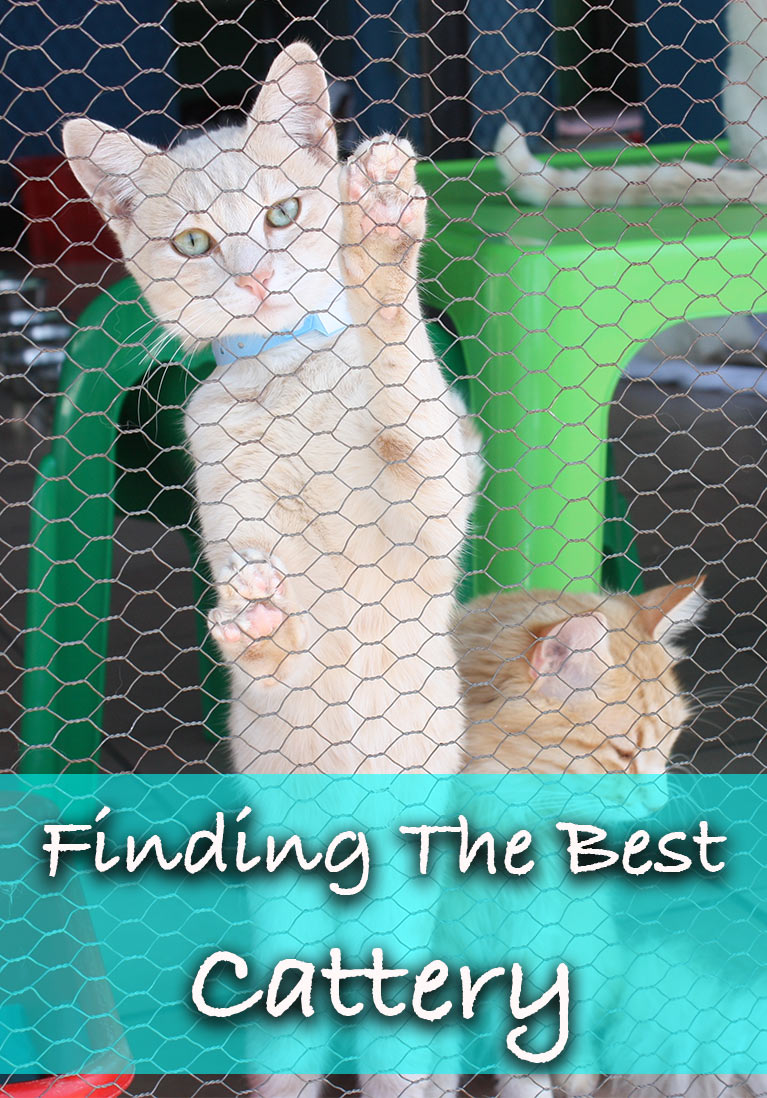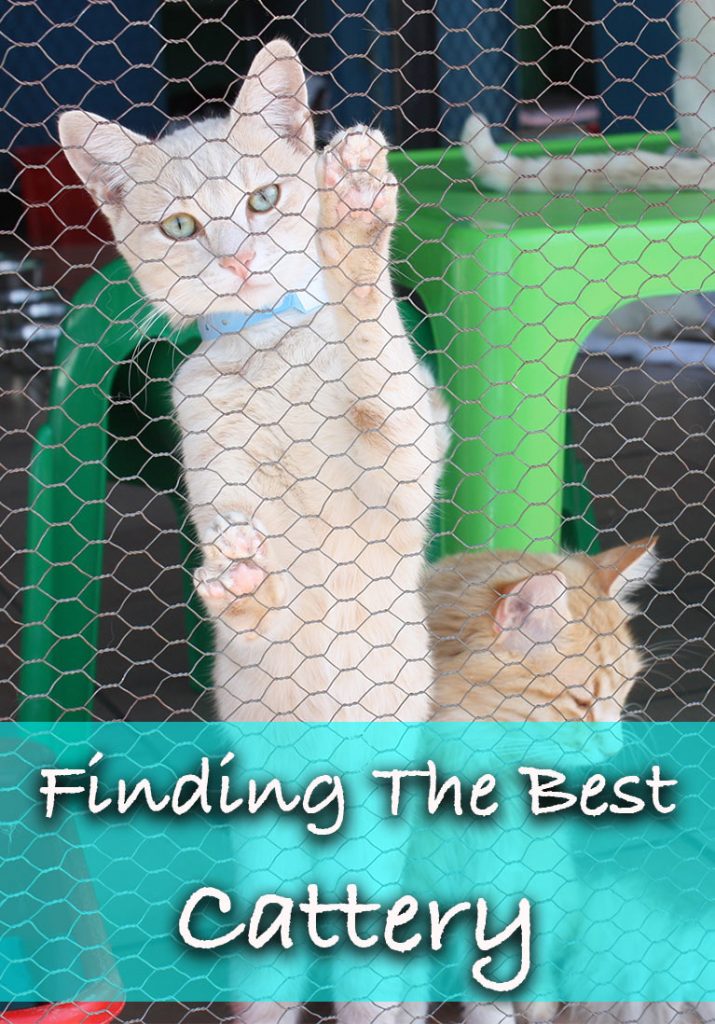 But whether you have lots of options or limited options, choosing the right match for your cat takes some investigating.
A good place to start is by asking trusted cat lovers or your veterinarian for suggestions.
Call the recommended catteries with some preliminary questions and plan a site visit.
Cattery fees start around $15 a night for boarding.
Additional costs may be assessed based on your cat's medical and dietary needs. Luxury cattery accommodations, holiday pricing or extra services such as nail trimming or bathing.
Key Questions For Boarding Cats
It's helpful to have a list of questions ready before you contact the cattery. Make sure every question is answered to your satisfaction. You don't want to be 100 miles away from kitty wondering if he's getting his medication on time or getting enough play or cuddle time.
Here are some Key Questions:
Is cattery space available for your required dates?
How many cats does the cattery accommodate?
If you have more than one cat, can they be housed together?
Do you need to provide documentation on vaccinations or registrations? (If required by your state).
Can the cattery administer medicine? If so, make sure to get a quote on additional costs.
Does the cattery offer grooming services? What are the costs?
Does the cattery provide food or should you bring your own food. Specialized diets may also incur additional costs.
Does the cattery keep records of behavior? The best catteries keep a log of feedings and potty time to document any irregularities and ensure cats remain healthy while in their care.
What does the cattery do in case of emergencies? Is there a veterinarian or veterinary facilities in house? How are cats transported if they have to be brought off site?
Are dogs or other animals housed at the same facility? Some boarding facilities cater to other pets as well as cats. This might be convenient if you are a multi-pet household. However, if your cats are not accustomed to other animals, look for strictly cattery housing.
A Visit To The Cattery
What is a cattery like to visit? And what should you look out for?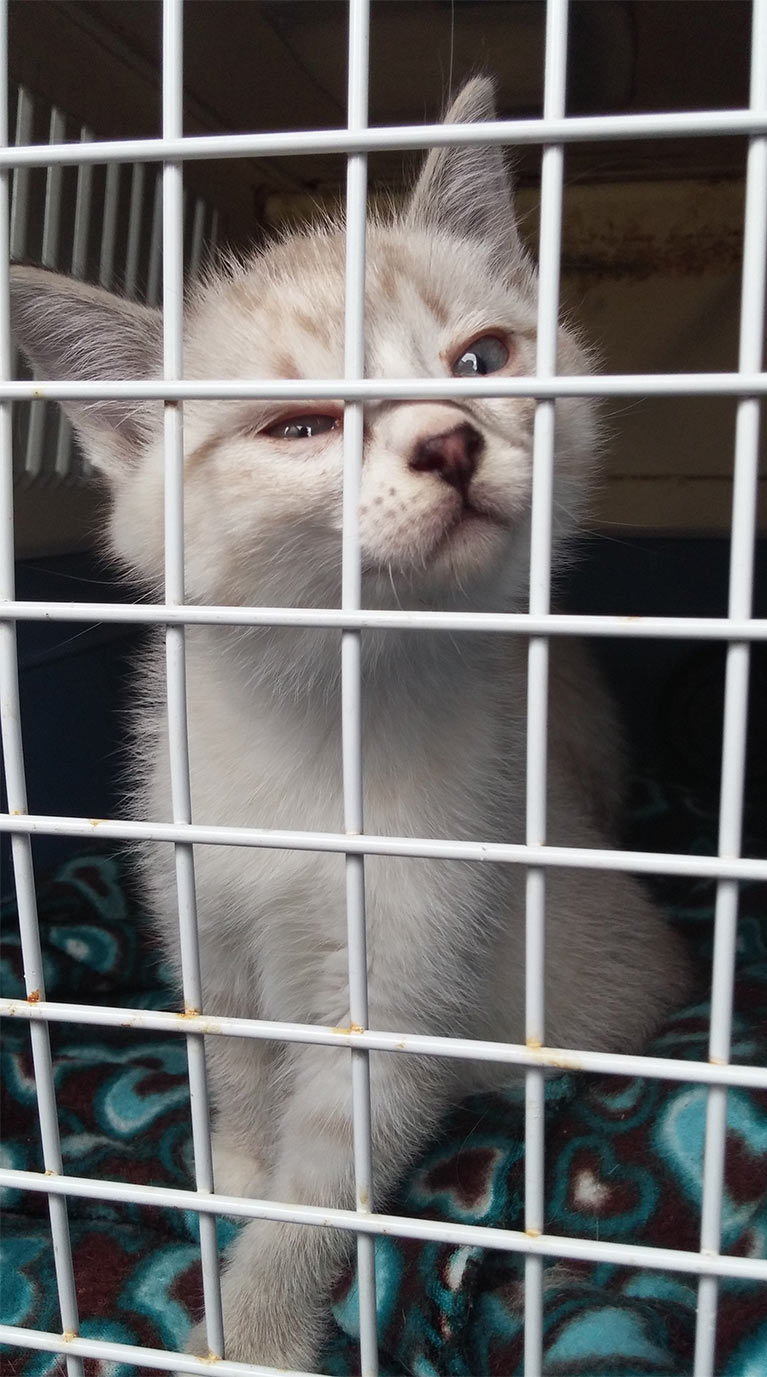 When questions have been answered to your satisfaction, schedule a visit to see the cattery.
Note, catteries try limit the amount of human to cat exposure for health reasons, and should maintain a sanitation protocol. Therefore, the cattery may not allow you to enter the housing area.
As long as you can ascertain the conditions, that's okay.
Things To Look For At The Cattery
If your state requires specific licensing or certification, the required documents should be clearly displayed and up to date.
Take note of the cage size. The American Society for the Prevention of Cruelty to Animals (ASPCA) indicates cats should have a "minimum of 30 cubic feet per cat." If cats cannot hold their tails erect without touching the ceiling, the cage size is inadequate.
Cattery cages should include elevated perching spots, lounging/playing areas and hiding places separate from feeding and litter areas. The ASPCA recommends "more than two feet of triangulated distance between litter box, resting place and feeding area."
Note the safety of the cages. There should be no materials (wires, metal bolts) that stick out and could injure your cat. The floor of the cage should not be constructed with exposed wire mesh.
Cats should not be able to get their paws or heads through any openings where they could potentially get stuck.
If cages are directly next to each other, they should be designed so that cats cannot come into contact with each other.
Take into account odor control, lighting (some sunlight is ideal), temperature and general cleanliness.
Ensure there are no egress points for kitty escape artists. This is particularly important if cats are housed outside.
You don't have to bring an ASPCA checklist, just make sure you get a good feeling about the staff and the overall boarding conditions.
Putting Cat In Cattery For First Time
My cats are always eager to climb in the suitcases when I'm packing for a trip, but this time, kitty is in for a surprise.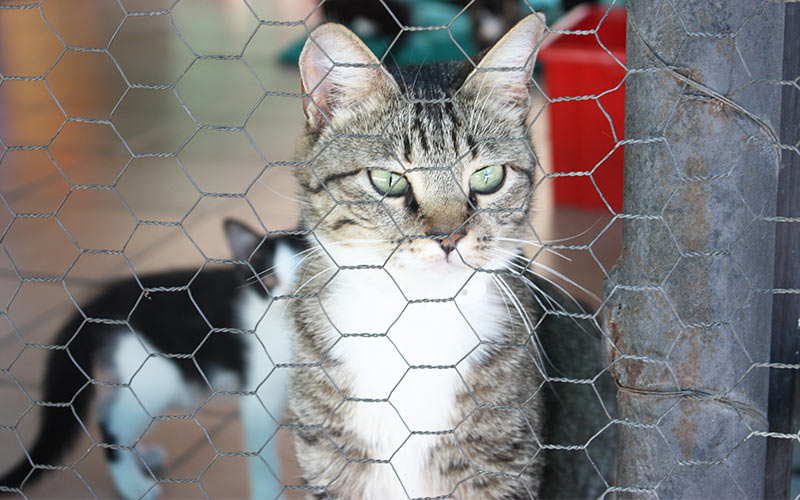 Here are some top tips to ease your kitty into the boarding cattery experience.
On the application, be as thorough as possible as to your cat's personality quirks, health concerns and special dietary needs. The more the staff knows, the easier it is for them to understand and respond to your kitty's needs.
It's well advised to board kitty for one or two nights the first time so that it is not a totally foreign experience for longer vacations.
When you drop off kitty, remind the staff about medications, special foods, etc.
Ensure staff has your contact information and a local emergency contact. Note: Most catteries do not have excess staff to handle lots of calls. After you've dropped off kitty, rest assured the cattery will contact you in case of emergency.
Say your goodbyes quickly and enjoy your vacation knowing kitty is doing the same.
Pros And Cons Of A Boarding Cattery
But what is a cattery going to do for your cat? And what are the potential downsides?
If you're tired of asking your friend or neighbor to watch your cat, or if you're not comfortable with a stranger from a cat sitting service entering your home while you're away, using a cattery is an ideal solution.
If you want to avoid the stress on kitty of a long car or plane ride, finding a hotel that accepts cats, and packing all your cat's needs when you go on vacation, you'll appreciate the services of a cattery.
On the other hand, some cats are just as stressed out by being housed in a new place with unfamiliar surroundings.
And, even in the best cattery, your cat will be exposed to other cat's germs.
Judge how well your cats (and you) handle a one or two night stay to decide if this is the right choice for you.
Now that you know about boarding catteries, let's take a look at breeding catteries.
Breeding Catteries
Breeding cats is big business and serious consideration should be given to opening a cattery or deciding to purchase a cat for show.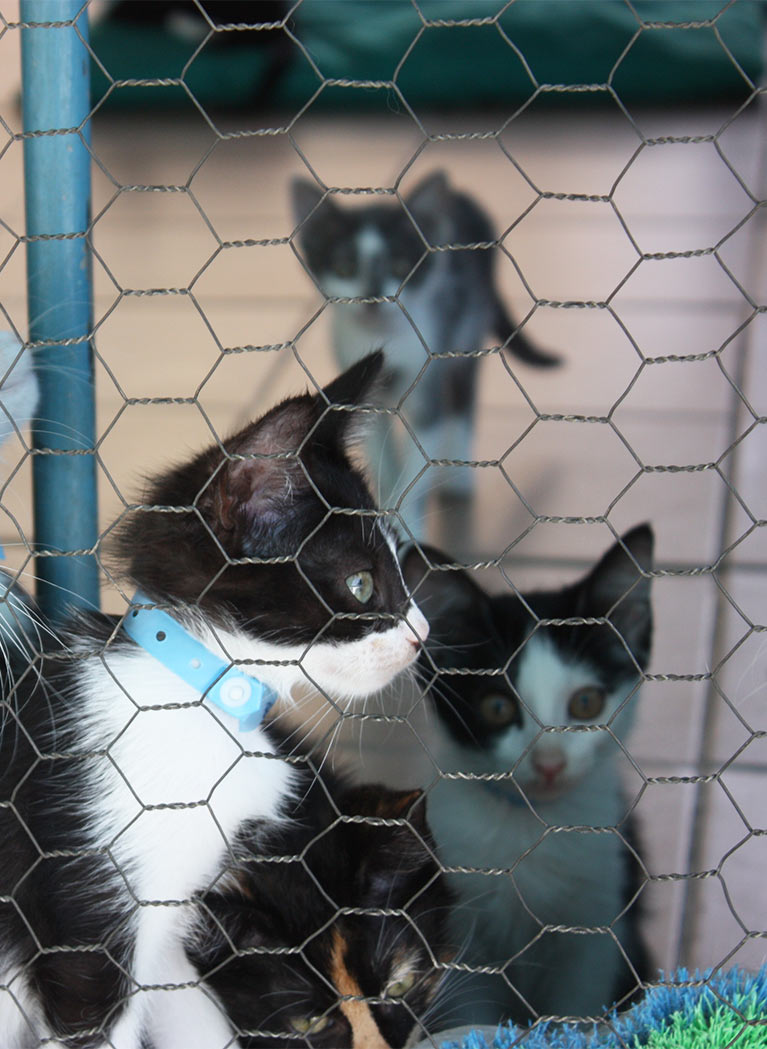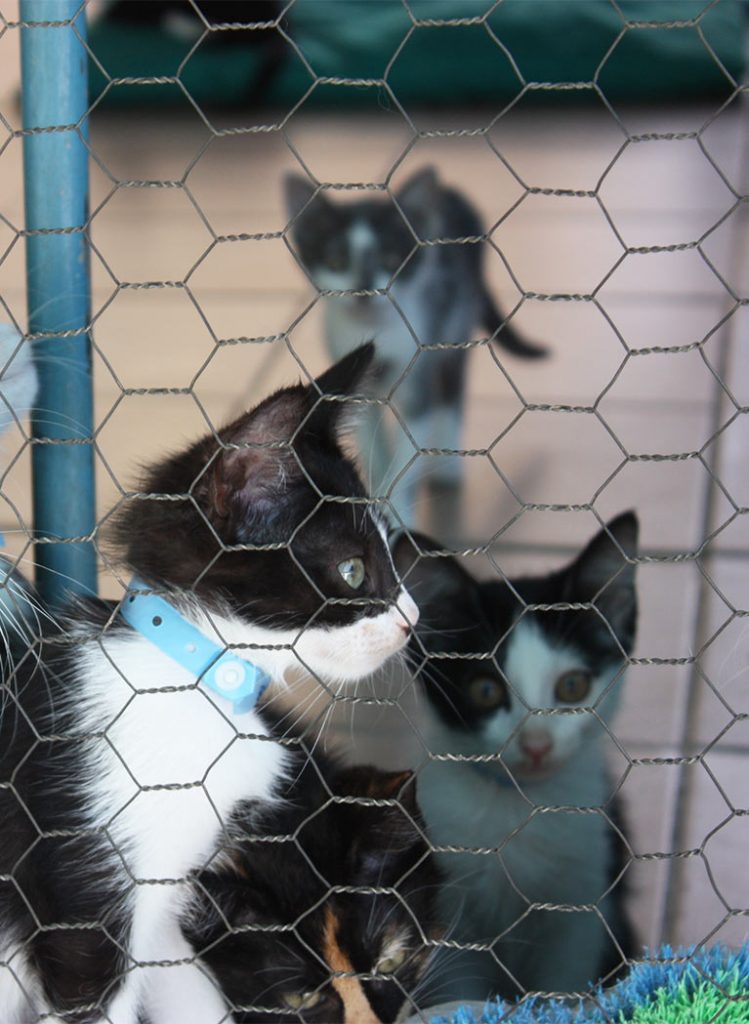 Although standards for catteries are well defined by The International Cat Association (TICA) and the Cat Fanciers Association (CFA), enforcement of standards is not well regulated.
Therefore, the responsibility falls to both the seller and the buyer to hold the cattery to the highest standards.
Extremely detailed guidelines for cattery design, ethical husbandry (producing litters), and cattery naming are available from both CFA and TICA.
Cat breeders should familiarize themselves with those guidelines before building a cattery business.
We will provide a simplified version to give you an idea of what you can expect from a good standard of cattery .
What Is A Cattery Like To Run For A Breeder?
What is a cattery like to run?
Running a cattery is a full-time job and no one should not enter into it thinking it is just a weekend hobby.
The owners need to feed and groom the cats. And ensure the overall cleanliness of the cattery is maintained.
And they need to have a good relationship or a contract with a local veterinarian.
What Is A Cattery's Space Requirements
One cage sized 42"L x 30"W x 42"H meets the minimum CFA recommended size (30 cubic feet).
Cages can be stacked for efficiency of space but must still allow for proper ventilation, heat and light to all cats.
The cattery room needs to be large enough to hold multiple cages, a grooming area and storage. It is recommended that the owner keeps all cattery supplies in the cattery to limit introduction of outside germs and bacteria.
What Is A Cattery's Focus Breed
What kind of cat does the owner breed? Good catteries tend to focus only on one breed, in order to give their cats the focus they require.
But even breed isn't that straight forward.
Let's say you want to breed ragdolls. This breed comes in four patterns, six colors and may have one of four point colors (color on tips of ears, feet, etc.)
It is important to know exactly what you have and what is desirable in the breed so that you can breed for the most advantageous results.
It may take years to acquire the breed knowledge necessary to breed kittens suitable for sale or show. A breed cattery owner will need to be a very experienced person in the world of cats.
Read all CFA and TICA guidelines and attend local cat shows to become more familiar with breeding and show requirements.
The Best Breeding Catteries
So what is a cattery like when it's the very best one?
The best catteries follow the same cage design standards as boarding catteries, namely, ASPCA minimum size requirements and litter, food and rest area spacing. They also have safe building materials (avoid wire mesh cage flooring), proper lighting and ventilation. Not to mention overall cleanliness.
Meeting and adhering to those ethical conditions is the only way you should ever run a cattery. This is the only kind of cattery you should therefore consider buying a kitten from.
Although inspection of a breeding cattery is not mandatory, in 1992 CFA established the Approved Cattery Environment Program (ACEP).
Following an inspection by a licensed veterinarian, the CFA may designate a cattery as "CFA Approved Cattery" or "CFA Cattery of Excellence".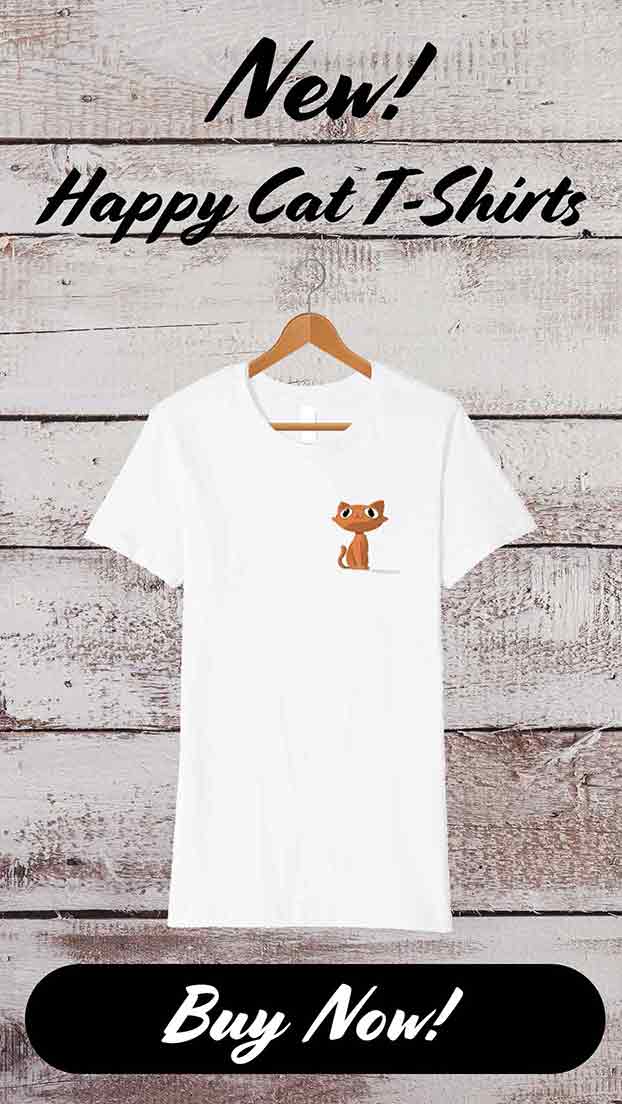 The cost to receive a designation is $20 paid to CFA, plus veterinarian fees which can vary dramatically depending on the size of your cattery.
The designation "CFA Cattery of Distinction" is granted to catteries that produce multiple
Grand Champions and Grand Premiers. There are 10 tiers within this designation, from Tier I – 10 Grand Champions/Grand Premiers to Tier X – 350 Grand Champions/Grand Premiers.
As a buyer, those designations are favorable to ensure you are buying a possible future champion who has been raised in ideal conditions.
As a cattery owner, those designations allow you to charge more for the kittens. For instance, a pet quality (not-show quality) pure bred kitten may fetch a price up to $1500 whereas a show quality kitten from a Grand Champion may command a price up to $15,000!
Buying A Pedigree Kitten
If you are looking to buy a purebred kitten, then you can check out our guides to some of the top breeds by following the links below: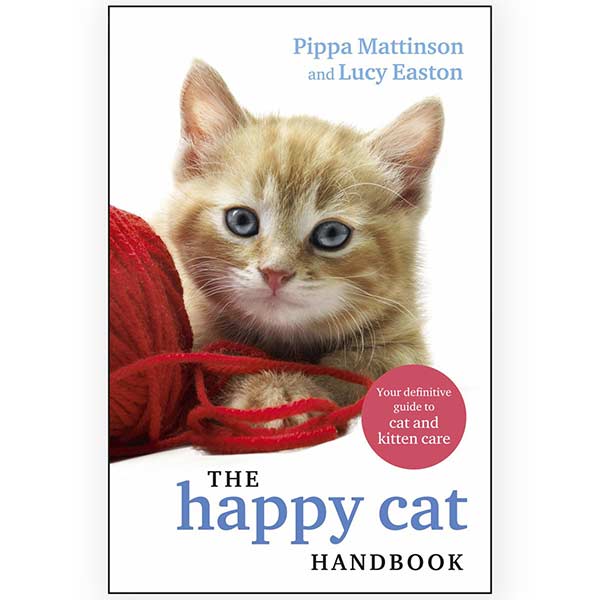 What Is A Cattery – Summary
So, what is a cattery?
Well, there are two types of catteries – boarding and breeding.
For boarding catteries, interview and inspect the cattery prior to making a reservation.
Try boarding for short stays to get kitty used to the cattery.
Once you've boarded kitty, let him have his vacation and you have yours.
For breeding catteries, you need to understand what you are looking at when you are choosing a kitten.
Whether your new friend is destined to be a Grand Champion or a common house cat, all cat should be housed in safe and ethical conditions.
For the love of cats, select your cattery under the recommended guidelines.
References
ASPCA, (2014) "Shelter Care Checklists: Putting ASV Guidelines Into Action"
Your Amazing Cat!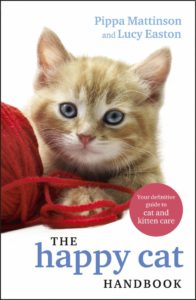 We are so excited to share our new book with you!
If you have enjoyed your visit to The Happy Cat Site we think you'll love The Happy Cat Handbook.
Written by the founders of this website including the author of the hugely successful Happy Puppy Handbook, it's packed with cat care information and fascinating cat facts.
Grab your copy today!