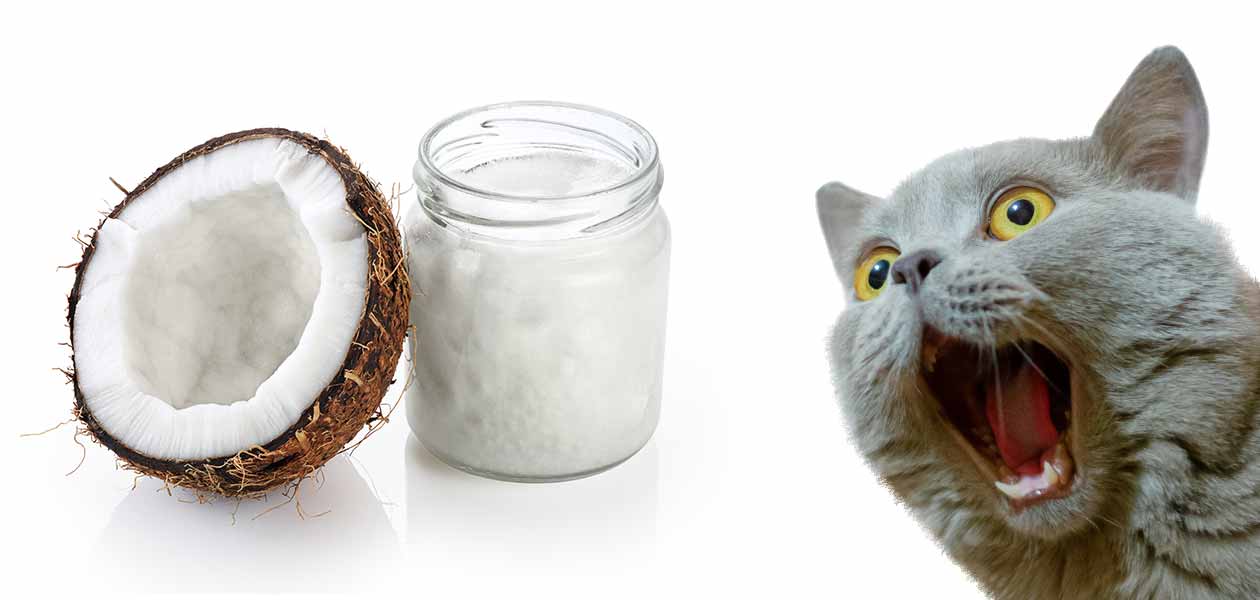 Coconut oil for cats is rumored to help with skin problems, dull fur, and to kill pests like fleas and ear mites.
However, there is little evidence to back this up in scientific studies. Coconut oil is high in fat, so it can worsen problems like pancreatitis and hyperlipidemia if ingested orally.
It's important to research the pros and cons of coconut oil before offering it or putting it on your cat. Never use it without checking with your vet.
Coconut Oil for Cats FAQs
Our readers often ask these questions about coconut oil for cats.
Click the links above to jump straight to the answers.
What is Coconut Oil for Cats?
Coconut oil is considered a superfood or 'miracle' food by many people. It's often advertised to support weight loss, lower cholesterol, prevent cardiovascular diseases, and to have an anti-inflammatory effect.
However, many of these claims are made by companies who would profit from the sale of coconut oil and are not backed up by consistent scientific evidence.
There are two main types of coconut oil. These are virgin coconut oil and copra oil. Both are made by extracting oil from kernels or pulp of mature coconuts.
Coconut oil for humans has become increasingly popular over the past few years. It's used as a supplement in people's diets, on their skin, and in hair.
But what do people use it for in cats?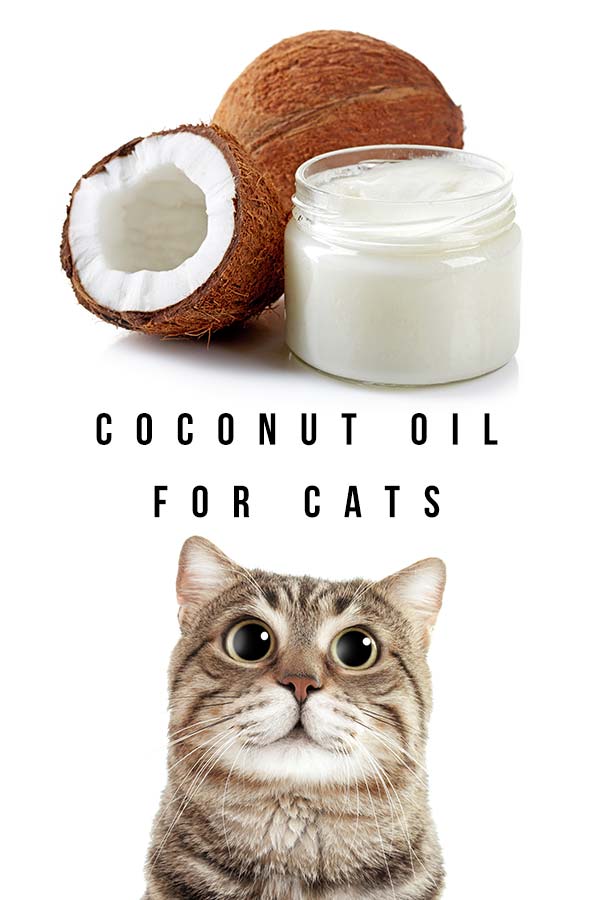 What is Coconut Oil Used for in Cats?
There's actually a rather long list of things coconut oil is used to treat or manage in cats. Some are similar to the problems it is used for in humans.
Let's take a closer look at the most common usages, and whether there's any truth to the claims.
Coconut Oil for Fleas on Cats
One of the major problems coconut oil is said to naturally cure is fleas. People use it by itself, or purchase flea shampoos with coconut oil listed as an ingredient.
Studies have suggested that virgin coconut oil shampoo is effective at eliminating or removing ectoparasites like ticks and fleas on dogs.
However, there are very few studies using cats. And canine study results aren't applicable to our cats.
Topical products like this can be problematic in cats, as they ingest it when they lick their fur, unlike dogs who usually just leave the product alone.
One study even looks at a cat who was treated using a pet shampoo containing coconut oil. The cat became very sick because of additional ingredients in the shampoo.
So, if you want to use a coconut oil treatment on your cat for fleas, the best person to speak to is your vet. They can make sure any products are safe for your cat to use.
You can also take a look at our complete guide to dealing with and preventing fleas.
Coconut Oil for Ear Mites and Infections
Another common parasite that many people claim coconut oil eliminates is the ear mite.
Unfortunately, whilst many coconut pet products claim to work on ear mites and ear infections, there is no consistent scientific evidence to support these claims.
And whilst some owners report success, others report no noticeable differences after using coconut oil for ear mites.
If you're tempted to try it as a solution, make sure to speak to your vet first.
Coconut Oil for Dermatitis
Studies have found that coconut oil can have a use in treating atopic dermatitis in humans.
However, the same cannot be said about coconut oil for cats.
There are simply not enough scientific studies to prove whether it works. For some cats, it may help to moisturize and ease symptoms of dry skin and flakiness.
But for others, it could cause more irritation, or make no change at all.
If your cat is suffering from dermatitis, speak to your vet about the range of treatments available to you.
Coconut Oil for Preventing Hairballs
Another big claim by coconut oil companies is that the product can prevent hairballs in your cats.
But, once again, this is a claim made with very little evidence to support it.
Studies have suggested that dietary adaptations can help reduce the number of hairballs regurgitated by cats. But, coconut oil has not featured in any of these trials.
If your cat has a lot of hairballs, you should speak to your vet. They could be a symptom of a more serious health issue.
Other Claims
There are many other claims for the miracles of coconut oil for cats. Some people say it aids digestion, and boosts your cat's immune system.
Others say it specifically targets your cat's liver and pancreas to support their overall health.
However, very few of these claims have any scientific evidence to back them up. It's really important to investigate this before testing coconut oil on your own cat.
Sadly, this product can do more harm than good in some cases.
Is Coconut Oil Safe for Cats?
Coconut oil is being used more frequently for our pets, and there are tons of pet products based around coconut oil.
But, the ASPCA actually lists coconut and coconut oil as human foods to avoid giving to your pets.
They point out that in small amounts, it's likely not going to cause any problems. But, coconut oil is very high in fatty acids. In large amounts, these can actually make your cat quite sick.
Coconut oil can cause problems like vomiting and diarrhea, as well as a general upset stomach.
If you have never tried coconut oil for your cat, please do not attempt it without consulting your vet, just in case any of these problems arise.
If your vet has approved the use of coconut oil, make sure to introduce it slowly to avoid upsetting your cat's stomach.
Saturated Fats
Coconut oil has a high level of saturated fats. So, it can be problematic for some cats, such as those with pancreatic inflammation.
It can also lead to weight gain if your cat's diet is not adjusted to allow for the extra fats.
Your vet will likely recommend that you cut back elsewhere in your cat's diet.
How to Give Coconut Oil to Cats
There are two main ways that your vet may recommend you give coconut oil to your cat. Firstly, it can be used as a dietary supplement.
This means feeding it to your cat, either by itself, or alongside their food. Some cats will not eat coconut oil alone, because they don't like the taste.
If this is the case, you might need to mix it with a smelly food that is more appealing to your cat.
Start by only giving very small amounts under the advice of your vet. This will help you avoid upsetting your cat's stomach.
Alternatively, they may recommend you put coconut oil directly on your cat's fur or skin. However, you must be aware that your cat may ingest the product when it grooms itself.
So, never use coconut oil products that contain ingredients that aren't cat safe.
Do You Need a Prescription for Coconut Oil?
Coconut oil is available in most stores and health shops. It doesn't cost much, and you do not need a prescription for it.
However, if you are buying coconut oil products that contain additional ingredients, make sure any extra ingredients are safe for cats.
If you cannot find out by yourself, check with your vet before buying the product.
The Coconut Oil Controversy in Cats
Coconut oil for cats is a debate that seems to be split down the middle. Some owners swear by this product, whereas others don't notice any benefits after using it.
The main problem with coconut oil for cats is the lack of evidence to back up claims made by coconut oil companies.
It may work perfectly and cure your cat's skin problems, or eliminate parasites on their bodies. But, it could also cause serious health issues and stomach upsets.
Currently, it is not recommended by the ASPCA to give your cat coconut oil or coconut. So, if you're considering this product, it's really important to discuss the risks and benefits with your vet.
They will also be able to advise you on the best products that include all cat-safe ingredients, and to monitor your cat with you after using the oil.
Alternatively, they may know of other ways to solve your cat's problems that are better rooted in scientific evidence.
Coconut Oil for Cats
Which side do you fall on in this debate? Have you used coconut oil with success for your cat before, or are you waiting until more research is released?
We would love to hear about your experiences in the comments.
Readers Also Liked
References and Further Reading