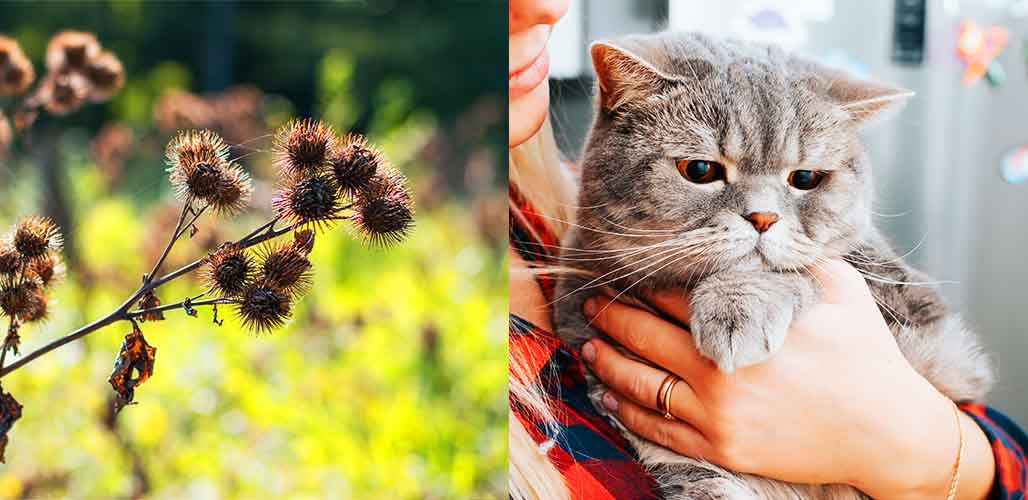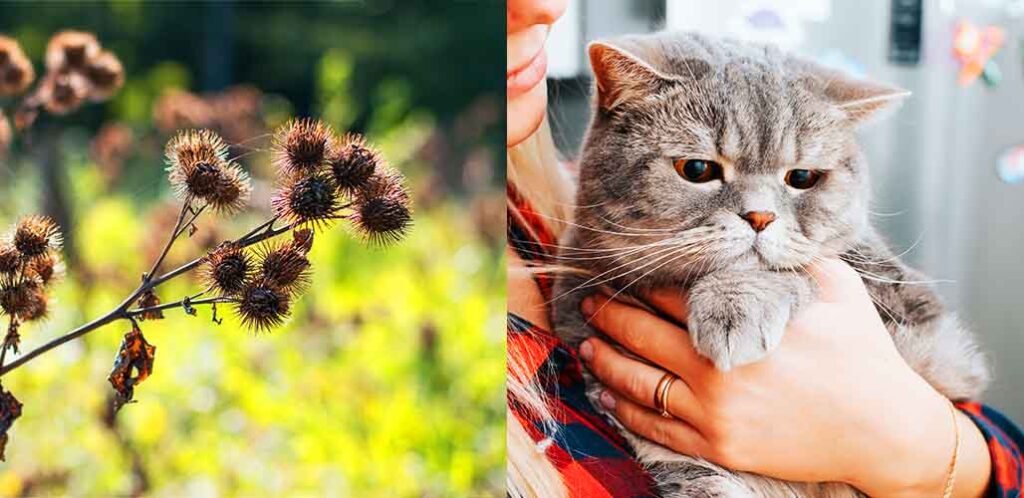 Do burrs hurt cats? If, like me, you have ever discovered your feline's fur is lumpy and matted after a day spent in the great outdoors, you'll know this worry all too well. Spiky seed heads don't just look unsightly when stuck to fur. If they are caught in just the right (or wrong) place, they definitely can cause your cat pain. Even small fuzzy burrs can turn into a pain in the fluff if you don't spot them quickly – because they have the potential to become the epicenter of a nasty mat. So this article is all about how to deal with hitchhiking seeds quickly, and painlessly!
Contents
In a hurry to locate specific information? This clickable list will take you there.
What Is A Burr?
A burr (which can also be spelled bur) is part of a plant. There are many different species of plants that produce burrs, which are tiny seeds covered in hooks or teeth. Burrs are often called cockleburs, sandspurs, stickers, prickers, pricklers, barbs or foxtails depending on which plant they come from.
Plants produce seed burrs as a method of reproduction. The little hooks that surround them are called barbules. Barbules are a clever adaptation – they snag into the fur of passing animals, who then carry the seed to a new location. This means that when the seed starts to grow, it isn't fighting with its parent plant for space, light, water or nutrients.
Do Burrs Hurt Cats?
Lots of burrs aren't painful to touch. Their hooks are so small that they feel fuzzy, rather than sharp. It's likely that your cat won't even notice the moment one lodges in their coat. Some burrs however do have long, tough spikes. These ones do cause immediate pain if they get caught between your cat's toes, for example. Seeds of all shapes and sizes can be painful if they get lodged in your pet's nose, throat, paw pads or inner ears.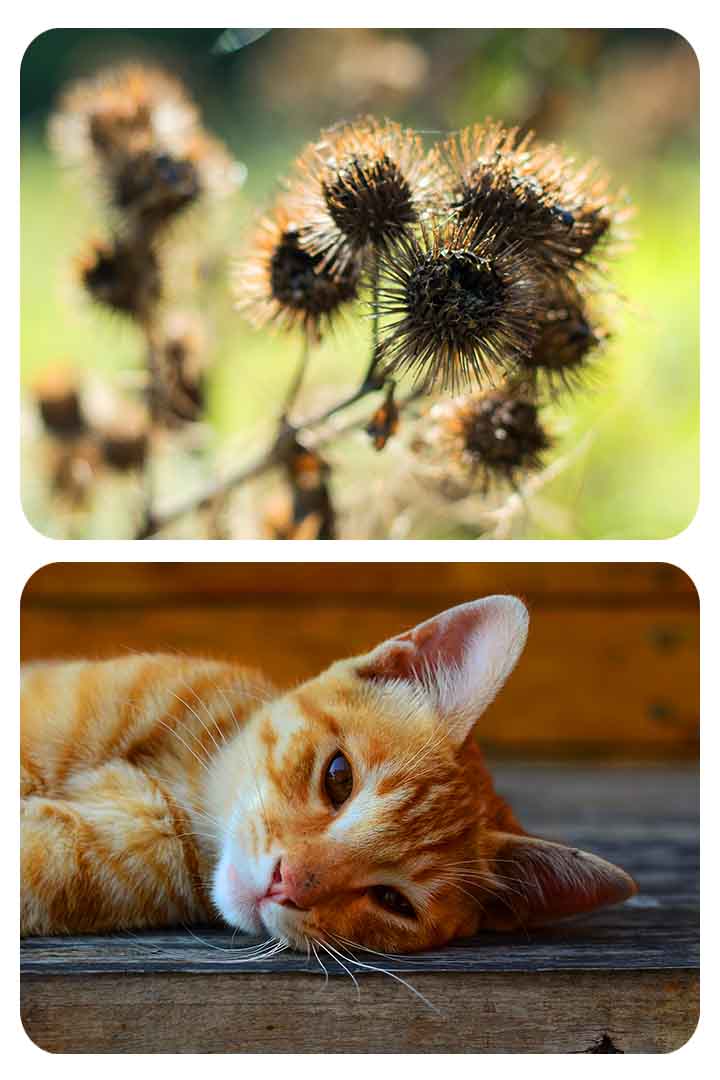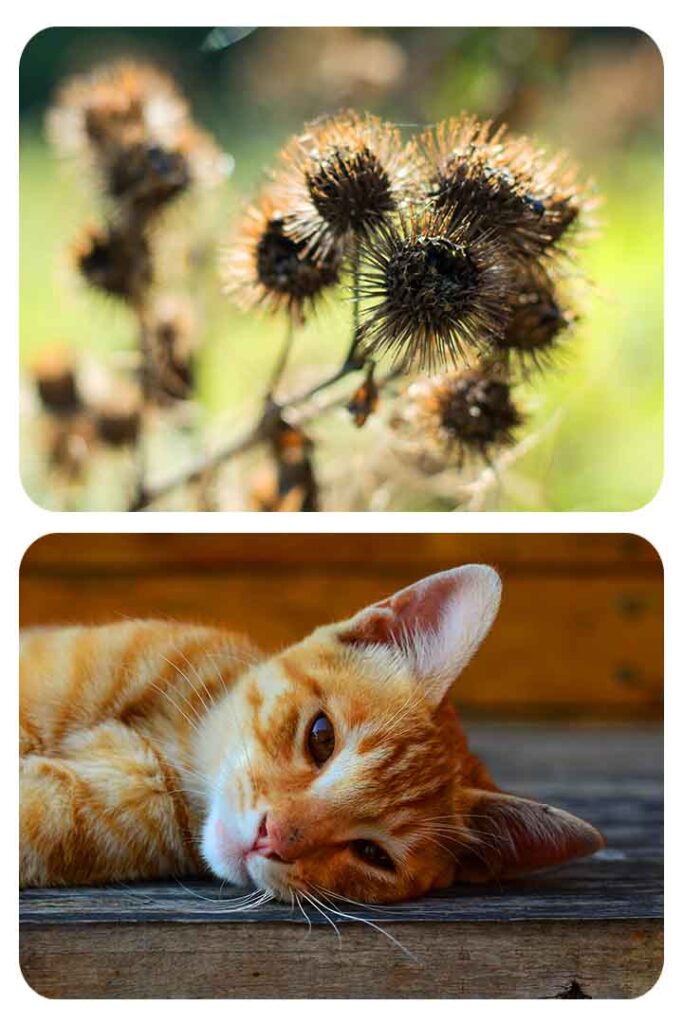 But possibly the most common way burrs end up causing discomfort is by acting as the catalyst for a mat to form in the fur around them. The surface of the seed case snags the surrounding fur, forming a small tangle. Then loose hair gets caught in the tangle and it sheds, and friction works in more hairs that are still attached at the roots. This causes a mat which tugs tightly against the skin, causing pain.
Are Burrs Dangerous For Cats?
So these hitchhiker seeds can definitely be uncomfortable or even painful for your cat. But can they even be dangerous? Unfortunately yes. If one gets stuck somewhere on your cat's body, it can create skin abrasions that invite infection. Even worse, if your cat swallows one, it can cause serious internal damage. Stories of burrs getting stuck in the lungs, intestinal tract or brain point to just how dangerous these prickly seeds can be to the cat that encounters them.
Plants that produce burrs may be perennials, annuals or biennials. In all cases, it is likely that the plant will not be producing seeds all year long. Rather, there will be periods of time when burrs seem to be everywhere. And there will be times when they're practically unheard of.
Learning about plant cycles in your local geographic area can help you identify times when you should check your pets' coats more regularly.
Why Has My Cat's Fur Gone Lumpy?
Seed burrs may initially hook into the ends of your cat's fur as they brush past the plant plant. But it typically doesn't take long for that little trapped stowaway to get well and thoroughly entangled in the surrounding hairs as well. The reason burrs get stuck in your cat's fur so easily is because they are literally surrounded with thorns or hooks. So the moment they make contact with the other surrounding hairs, it will latch onto those as well.
To make matters worse, many plants produce seed heads in clusters. These cluster formations nearly ensure that your cat won't come home with just one burr embedded in their fur. Instead, there will be several of the little thorny pods clinging to their fur. This can create a visual effect that some owners call "lumpy fur." When you run your hand over your pet, you can literally feel the little lumps, which are balls of fur that have formed around the pods.
Signs Of Burrs In Cats
Because burrs are often quite tiny and hard to spot, it is important to know the many additional warning signs of them troubling your cat. In fact, you may not see the burr at all. This is especially true if it has gotten stuck in your cat's mouth or ear canal or between the paw pads. But you will likely see these other warning signs:
Refusing to eat or drink
Limping or favoring one paw while walking
Mysterious whimpering or crying
Licking or pawing at an area of skin
Shaking their head or rubbing at their ears
Squinting the eyes or blinking repeatedly
Sneezing or discharge from the nostrils
Localized redness, swelling, seeping, color change or odor anywhere
Sudden change in behavior or daily habits
If you can't locate the burrs by yourself, or even if you can but they are lodged in a very sensitive area, the next best step is always to contact your feline veterinarian for help.
How To Get Rid Of Burrs For Cats
If you catch them quickly, it's usually quite straightforward to tease spiky seed heads out of your cat's fur with your fingers. Since it gets harder the longer they are left in place, it's a good idea to check your pet's coat every day for new hitchhikers in summer and fall. Professional pet groomers typically use special tools to deal with these pesky localized seeds. But you can also do a lot at home with a basic grooming toolkit.
A fine-tooth round-tip comb is a good tool to help you locate tiny tangles or mats. Be sure to comb your cat's fur very gently in small patches to avoid pulling on the fur and hurting your pet. If you find a large burr, you can crush it with pliers and then spritz on a bit of detangling spray or some neutral oil before combing it out. This way, it will come out more easily and you won't hurt your cat's skin or harm your own fingers while trying to work it out.
With larger tangles or mats, it is often advisable to use sharp round-tip trimming shears to cut out the affected section of fur. If possible, gently untangle as much fur as possible first, and slide a comb into the fur between the knot and skin, as a shield.
Do Burrs Hurt Cats – Summary
Burrs in cat fur are the seasonal bane of owners in many parts of the world. If your feline friend can tolerate staying indoors during burr season, they will be the safer for it. Otherwise, you can use the tips in this article to stay on top of any spiky interlopers they may encounter.
Do you have any good tips for removing cat burrs safely? We'd love to hear them – share your stories in the comments.
Don't Miss
Environmentally responsible ways to get rid of used cat litter
References