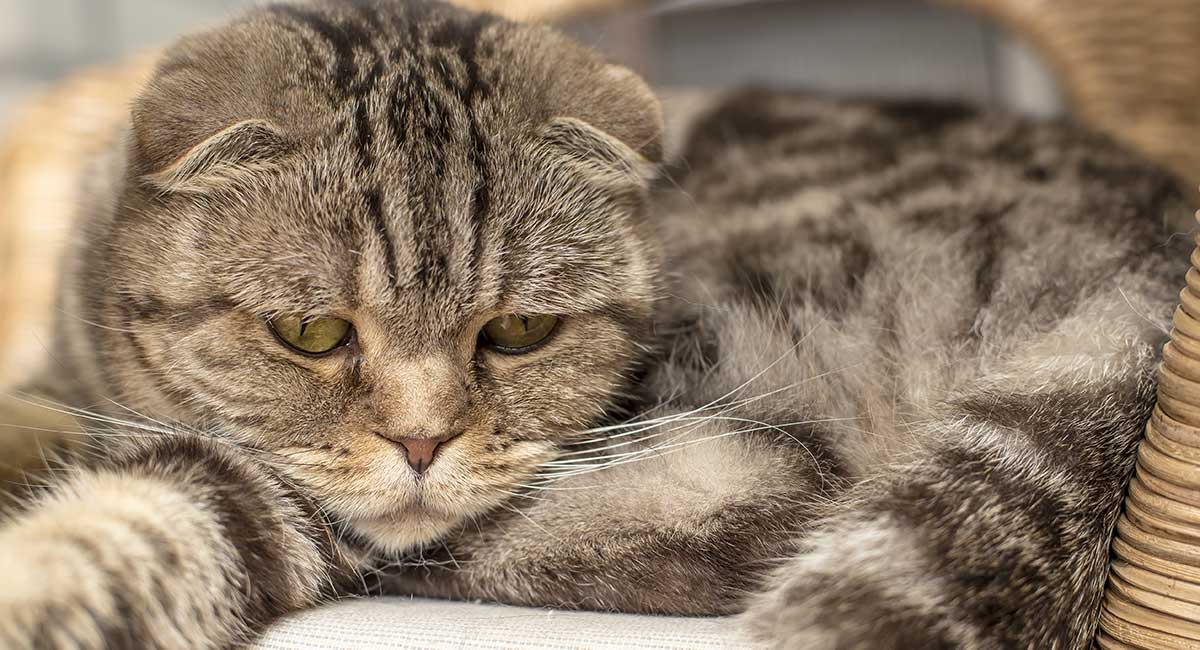 In this article we tackle the unpleasant prospect of feline herpes.
Finding out how your cat can get it, the ways their vet might treat it, and what you can do to protect them.
What is feline herpes?
Feline herpes is a common viral infection among cats, more properly known as Feline Herpesvirus 1, and usually abbreviated to FHV or FHV-1.
The word herpes is loaded with miserable connotations for us humans.
And feline herpes isn't a walk in the park for cats either.
But, the FHV virus is distinct from the human form, and the symptoms it causes aren't the same ones we'd recognize in ourselves.
In fact, the FHV virus is one of the leading causes of upper respiratory tract infections and blindness in cats.
Feline Herpesvirus 1
The FHV-1 virus was first isolated from an infected kitten in 1958, by researchers working for the veterinary pathology division of the US armed forces.
The "1" is in fact a bit misleading, as there aren't presently any other known types of the virus.
Today, scientists believe that a staggering 95% of the world's domestic cats have come into contact with the feline herpesvirus, and that more than 80% of cats carry the inactive virus in the nerve cells behind their eyes and mouth.
Does my cat have feline herpes?
Those statistics suggest there a high chance your cat carries the feline herpes virus, even if they've been vaccinated against it.
We'll come to how that can be possible a bit later.
Cats show only show symptoms of feline herpes when the virus is active inside their bodies.
Most of the time, a cat carrying the inactive (latent) virus won't show symptoms or experience any discomfort from it, and they won't be infectious to other cats.
But, if they are stressed, their immune system is weakened, or they're taking certain medications for other conditions (for example corticosteroids), the virus can flare up again.
This is known as shedding the virus.
How do cats get feline herpes?
If so many cats carry the FHV virus, how did they all get it in the first place?
As you've probably guessed, feline herpes is highly contagious.
FHV is spread in the discharge from the eyes, nose and mouth of a cat carrying the active virus.
This can happen when two cats share a food bowl, water bowl, toys or a litter box, or if they groom each other.
It is also easy for kittens to catch the virus from their mum while she washes them and takes care of them.
Because cats carrying FHV often shed the virus when they are stressed, it is a particular problem in catteries and animals shelters.
Feline herpes symptoms
The ASPCA lists the symptoms of feline herpes as:
sneezing attacks
discharge from the nose and eyes
pink eye (inflammation of the membrane which covers the surface of the eye)
lesions in and around the eyes
eye ulcers
congestion
fever
depression
loss of appetite
drooling
squinting
lethargy
It's quite a list!
But we can see there are two main places to look for warning signs.
First, the eyes.
Any sort of lesions or ulceration around the eyes, unusual discharge (either in appearance or volume), redness, inflammation, or an eyelid that won't fully open could be indicators of feline herpes.
And secondly the nose and mouth.
Look out for sneezing, a runny nose, drooling, or just the general appearance of being bunged up like a human with a cold.
Feline herpes virus: when to see a vet
If your cat has any signs of FHV, always call your vet for advice.
Because FHV is so infectious, its always best to start with phone call, rather than turning up at the surgery unannounced and potentially infecting other people's pets too.
The vet will ask lots of questions about your cat's symptoms and overall condition.
If your cat's symptoms are mild, they might prescribe topical remedies such as eye drops to soothe the discomfort, and ask you to keep an eye on them at home.
If your cat's symptoms are more severe, or their age or breed pus them at greater risk, they might advise your to come to the surgery straight away.
Diagnosing feline herpes
Vets rely on symptoms and your cat's medical history to diagnose feline herpes.
It is possible to conclusively establish presence of the FHV-1 virus using a technique called immunoflourescence, however it is rarely done.
This is because so many cats carry the virus that you're very likely to find it, but it doesn't necessarily follow that the FHV-1 virus, and not another virus or bacterial infection, is causing your cats symptoms.
Feline herpesvirus 1, Feline Viral Rhinotracheitis, and Cat Flu
Your vet might also describe illness caused by the FHV-1 virus as feline viral rhinotracheitis, or call it cat flu.
These are all different names for the same set of symptoms caused by the same feline herpes virus.
It can be a little confusing, so don't be afraid to ask your vet if you need clarification.
Treatment for feline herpes
Whether your cat has caught the FHV-1 virus for the first time, or is shedding it again later, treatment usually begins with relieving discomfort from the symptoms.
This means making sure they're well fed and hydrated, and giving them a calm place to rest so their own immune system can do most of the work.
Your vet might also recommend gently cleaning their eyes with boiled, cooled water and using eye drops to prevent the discharge forming a hard crust.
Antiviral medicines for treating the FHV virus are available, and your vet might prescribe them to help bring your cat's symptoms under control.
However, these medicines can only stop the active virus from replicating. So far there are no treatments available which kill the virus outright or eliminate it from your cat's body.
Finally, it's not uncommon for cats with the active FHV virus to contract a secondary bacterial infection while their immune system is compromised.
If your vet thinks this is the case for your cat, they may prescribe medicines to help shift it.
Antibiotics and antivirals for cat FHV
Your vet might prescribe antibiotics or antiviral medications to alleviate the symptoms of feline herpes.
Even though it's upsetting to see your cat unwell, please be patient and respectful if your vet errs against prescribing antibiotics or antivirals at the first consultation.
Widespread use of antiviral and antibiotic medicines when they could have been avoided is driving the spread of drug resistant bacteria and viruses.
Cat health experts have already raised this as a threat facing the treatment of feline herpes virus in the future.
By using antibiotics and antiviral medicines responsibly now, we can make sure they will still help our pets when they need it most for years to come.
L-lysine for cats
Up until the mid-2010s L-lysine supplements for cats were a popular complementary therapy to help treat feline herpes.
This followed early evidence that L-lysine stopped the herpes virus replicating in humans.
However, at least four studies have now been carried out which concluded that L-lysine doesn't protect cats in the same way that it protects humans.
This is because cats' diets are high in arginine, an amino acid which stops the L-lysine from working.
Feline herpes dermatitis
Very occasionally, the FHV-1 virus causes feline herpes dermatitis.
It's not uncommon for discharge from the eyes and nose to make your cat's face look rather crusty and unhealthy, but for this to progress to dermatitis is fortunately rare.
If it happens, your vet will discuss the treatment options with you.
If your cat has suffered from dermatitis in the past and you already have leftover medicines DO NOT use them while your cat has FHV symptoms.
Many commonly prescribed treatments for dermatitis contain corticosteroids, which make the FHV virus worse.
Caring for a cat with feline herpes
Frequently, the best medicine for a cat suffering with feline herpes for the first time, or shedding the virus later, is lots of tender loving care from you.
Naturally, begin by following your vet's advice to the letter.
Keep their home environment calm and restful, offer small meals at regular intervals, and make sure they're drinking plenty.
If they're congested, or coughing lot, putting a humidifier in the room they usually sleep in might help (if you don't have one, I remember my mum putting damp towels over the radiator instead when I was little!).
Feline herpes vaccine
The feline herpes vaccine is a component of the cat FVRCP vaccine (FVRCP stands for feline viral rhinotracheitis, calcivirus and panluakopenia).
The FCVRP vaccine is one of the core vaccines your vet will certainly recommend for your cat.
But how can so many cats be vaccinated, AND so many cats carry the FHV virus?
The vaccine contains inactivated copies of the virus, so that your cat's immune system can safely build up protection against it.
The vaccine cannot eliminate the latent virus from your cat's body altogether, but it is very successful in reducing how often cats shed the virus and how long it takes to recover when they do.
This means it is a still a very important vaccine for you cat to receive.
Feline herpes life expectancy
Looking to the future, what is the long term prognosis for cats with feline herpes?
Most cats fight off the active virus in two to three weeks.
With regular vaccinations and a happy and secure home life, many cats will never even shed the virus.
Knowing what symptoms to look for and what can trigger them means that if your cat does shed the virus, you can get them to the vet and help them overcome the virus again quickly.
The good news is that carrying the latent feline herpes virus does not affect your cat's life expectancy.
Feline herpes in kitten and older cats
For most cats, feline herpes needs to be treated seriously, but isn't life threatening.
But for some, FHV can be a more serious threat.
In young kittens, any respiratory tract infection has the potential to develop into pneumonia and overwhelm them with frightening speed.
If your kitten shows any signs of the symptoms listed earlier, and especially if they have any difficulty breathing, arrange for them to see their vet immediately.
Likewise, older cats might have more difficulty fighting off the active virus. Speak to your vet as soon as you spot symptoms, and monitor them closely for sudden deterioration in their condition.
Flat-faced cats and the FHV1 virus
Some cats, such as Persians, Himalayans and Exotic Shorthairs have flattened faces with very short muzzles.
These breeds are particularly prone to respiratory tract infections and secondary infections arising from the feline herpes virus because the size and shape of their airways doesn't offer them as much protection from airborne bacteria, and exacerbates the breathing difficulty caused by congestion.
These cats might need extra veterinary attention when they get feline herpes.
Can I get herpes from my cat?
No!
Human herpes and feline herpes are species-specific.
Cats with the active FHV-1 virus are only infectious to each other, and you can't catch feline herpes from your cat.
Nor can you pass your own cold sores on to your pet.
Feline herpes a summary
The vast majority of domestic cats carry the latent FHV-1 virus in their bodies.
If your cat has any symptoms of feline herpes, call you vet. They will make a diagnosis and recommend the best treatment.
Making sure your cat's vaccinations are up to date is the best way to protect your cat from the FHV virus.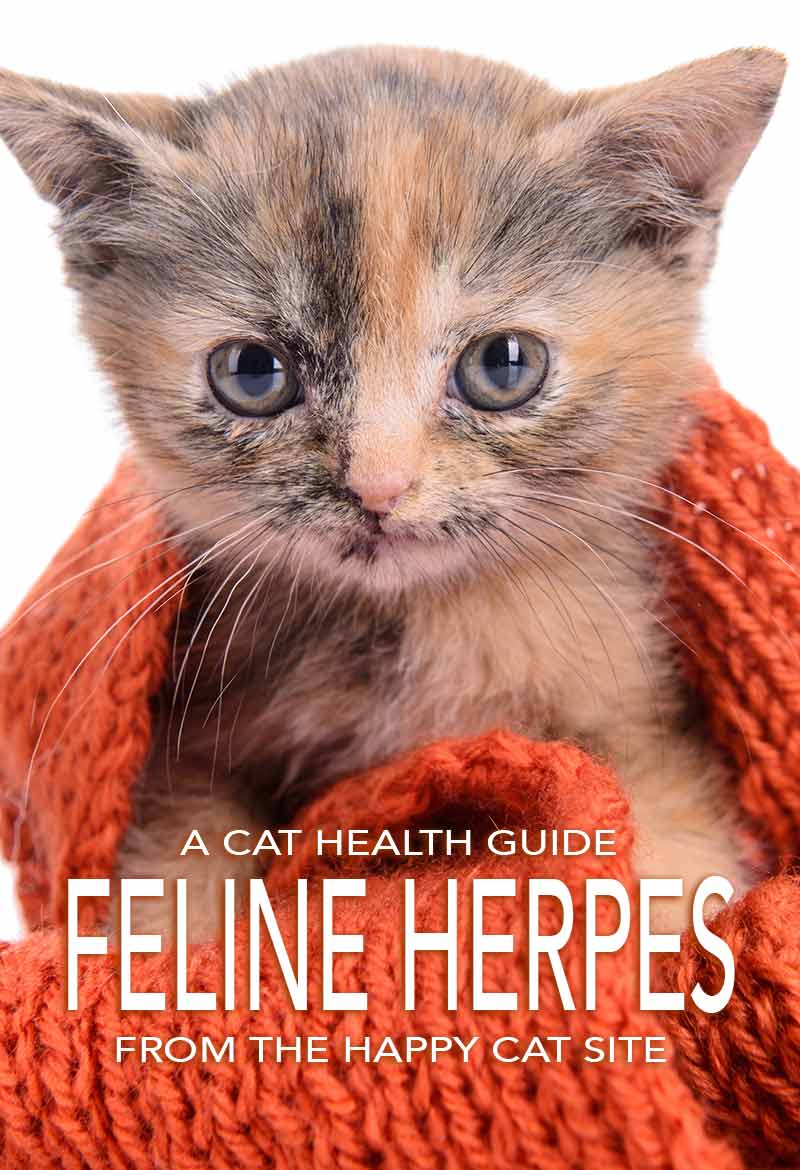 Luckily, most cats will shake off the symptoms and be back to normal in two or three weeks.
Does your cat suffer with the FHV virus?
Have they had it once, twice, or do they shed the virus frequently?
What strategies have you tried to prevent them shedding the virus, and which were successful?
Please share your experiences in the comments section to help other cats in the same boat!