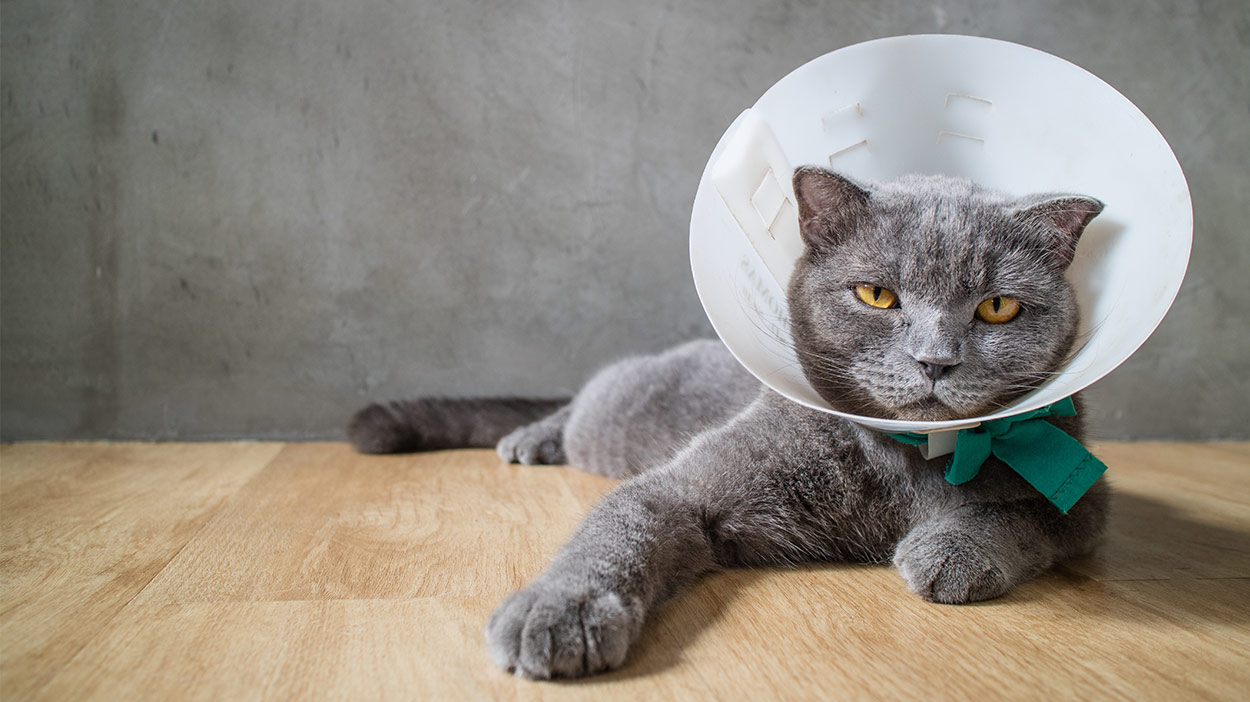 If your cat has a minor injury it is usually safe to treat it at home. I follow five simple steps when my cat gets himself into trouble. First, I secure him on my lap in a towel and inspect the area to see what type of wound it is and whether i'm confident I can safely treat it. Then I clean it, usually with salt water but there are some other options too. Next I make sure he can't tamper with the area as it heals, so I either pop him into the dreaded cone of shame or bandage it up if it's in the right sort of place. Finally I make a schedule to check it's healing up as it should. Today I'll share these steps in detail, answer your questions and help you to keep your cat safe and comfortable when they've been in a bit of a pickle!
Contents
We want our pets to go through life without picking up any bumps and scrapes. Your precious kitty may be the sweetest pet in the world, but the wildlife in your backyard may not think so. Cats fight, especially between themselves, and wounds are common. Few kitties go through life without picking up a few battle scars and usually we're able to treat them at home.
To Vet or Not To Vet?
Before you do anything else, you need to figure out if you should take your cat to an emergency veterinarian. Bleeding is an emergency, especially if your cat is losing blood in large quantities.
While humans have a total of five liters of blood or more, cats only have .25 liters. That means they don't have as much to spare. A further complication is that felines have a lower percentage of blood volume by weight than humans – 6.5% instead of 7.5% or 8%. So, basically, cats have far less blood to lose before shock sets in.
Watch Out For Shock
The symptoms of shock, or dangerous blood loss, include pale gums, rapid breathing, increased heart rate, and low blood pressure. If you notice these symptoms, seek emergency veterinary care immediately. Otherwise, if there appears to be no immediate danger, you can work through the home treatment steps.
How to Clean A Cat Wound At Home
You are faced with a wounded and probably distressed cat. What do you do? Well, the first important thing is not to panic. Your cat needs you to be clear headed and calm while you assess her condition. Here are a few steps you can work through, which we will expand upon later:
Secure your cat
Assess the Wound
Clean the wound with saltwater or other antiseptic
Tend the wound
Check the healing process
At any stage, if you think that the cat wound is worse than you thought, then maybe it is time to call the vet. It's probably best to err on the side of caution if you are not sure. We'll take a more detailed look at those steps later, but first let's explore when it should be OK to clean cat wounds yourself, and how to clean a cat wound like this.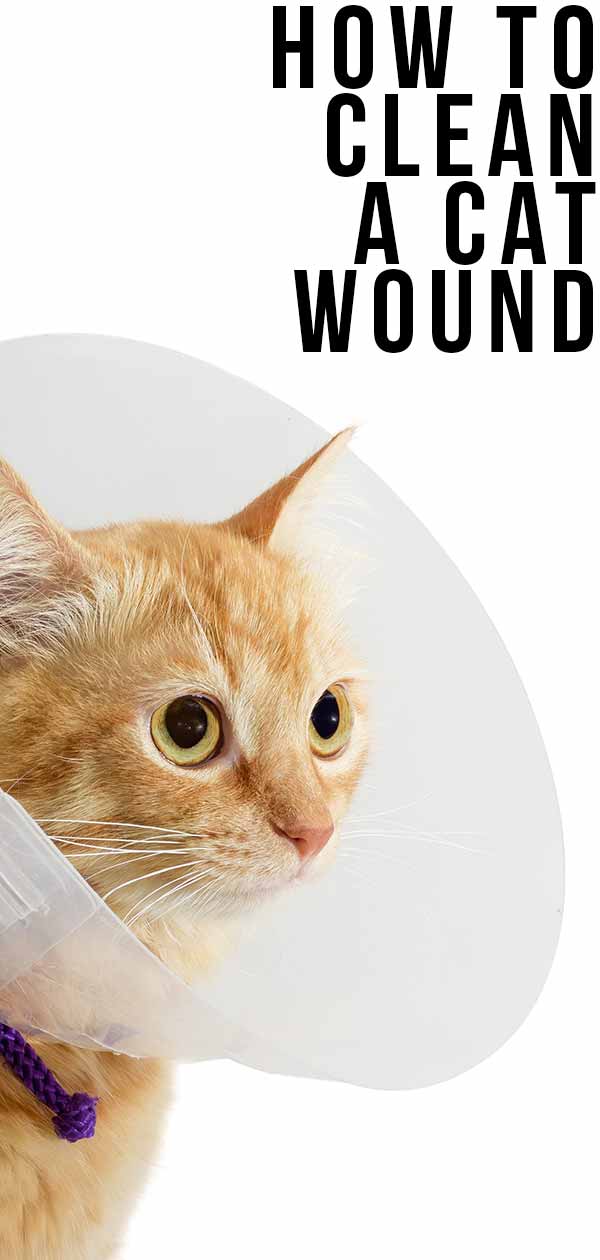 If you believe that your cat's wound is minor with minimal bleeding and no punctures, then you can treat the wound at home. Simply start following these steps and see how it goes.
Step One: Secure Your Cat
Start the treatment by securing your cat. A wiggling cat is impossible to treat and the movement may worsen the injury. In addition, your cat may scratch or bite, leaving you with wounds that will need cleaning.
Work with a family member to hold your feline or wrap them securely in a towel. Once your cat is secured, you can assess the wound before cleaning.
Step Two: Assess The Wound
What type of wound does your cat have. Is it just a small abrasion, is it a wide, gaping wound, or is it a puncture wound? The type of wound determines whether you can treat it at home.
Generally, large gaping wounds and deep puncture wounds may require the attention of a vet. To help you along, we will explain the different types of wound, any potential complications, and how to treat them at home.
Gaping
Bite
Scratch
Puncture
Gaping Wounds
Open, gaping wounds are usually an emergency. If your cat picks up a long and deep cat fight wound, it's probably best to seek help. These wounds can easily develop infections and often require stitches.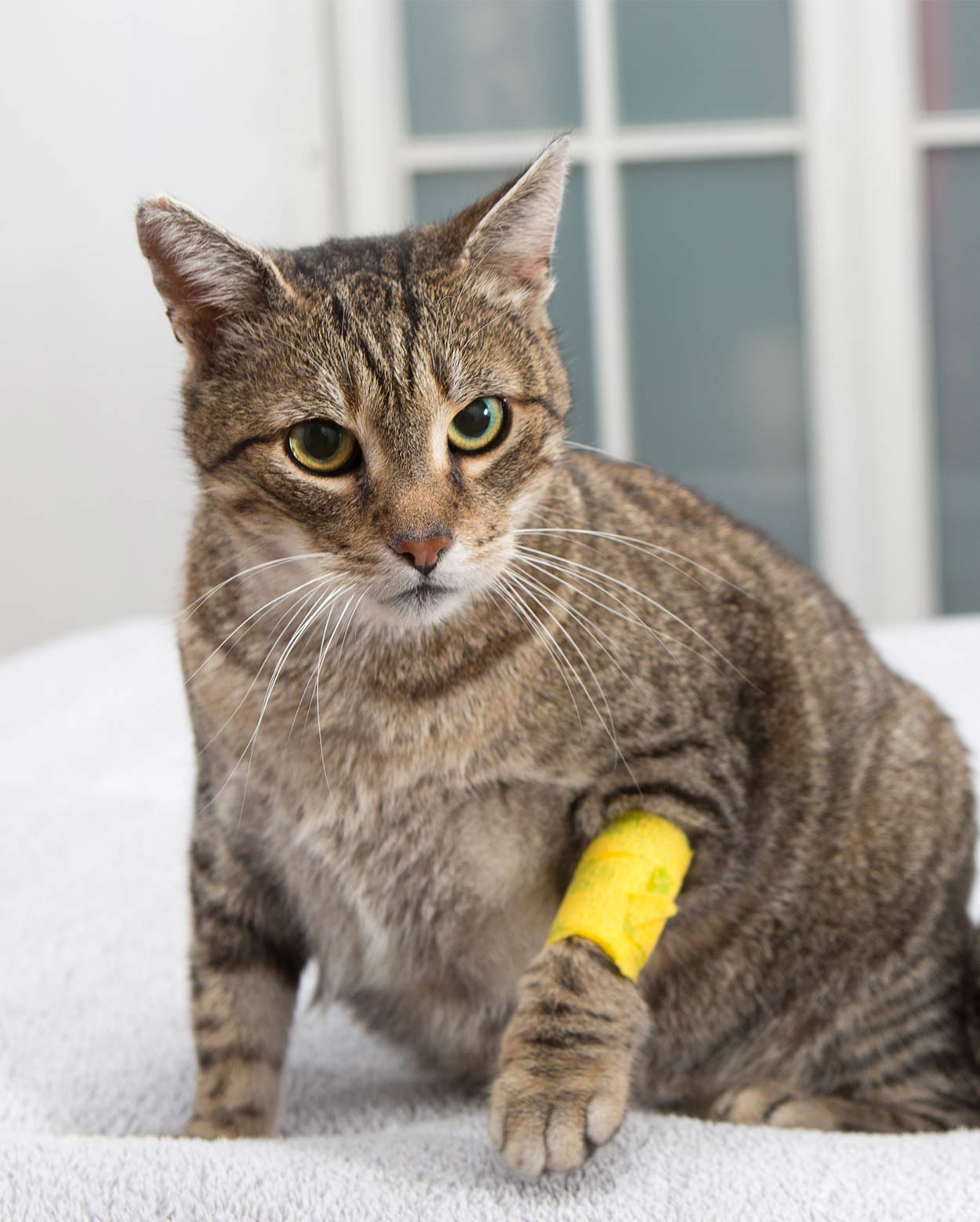 Bite Wounds
Cats have sharp teeth, and most will receive cat fight wounds at some point. Cat bites can cause gaping wounds, or they can cause deep puncture wounds that you might not even notice if your cat has thick fur.
Sometimes, you might not even notice that your cat has a bite wound until an abscess forms. Cat's teeth are covered with bacteria, so when a bite delivers these under the skin, an infection can start.
If a wound bleeds, it can often clean itself, but deep puncture wounds that seal up can see a sac with infection-forming bacteria grow under the skin.
If your cat is lethargic, feels sorry for itself, doesn't want to be touched, or hides away somewhere, it is worth checking them over for puncture marks, raised bumps suggesting an abscess, and any odors.
Scratch Wounds
Scratch wounds are very common, and cats can pick them up even when they are just play fighting with their siblings and other cats sharing their home.
Most scratch wounds are minor abrasions, so if your cat has been fighting, check all over for wounds, because fur can hide them. If you find any scrapes, decide if you can treat them at home, then follow the treatment steps.
Clean it with soap and water, and there is no harm in letting the cat clean its own wounds if they are minor. Minor wounds will usually clear up on their own, but keep checking them.
If the wound bleeds a lot, consider contacting a vet for peace of mind.
Puncture Wounds
Although anything with a sharp point can cause a puncture wound to a cat, most cat puncture wounds are caused by other cats and their sharp teeth. As described above, they can be deep wounds that can become infected.
Most puncture wounds can be treated very successfully if they are caught early enough, but they are notoriously hard to spot.
To help you look for them, cats usually receive puncture wounds when they are fighting toe-to-toe or when they are running away. Check around the head, ears, and back of the neck, before looking at the hind legs, rump, and the base of the tail.
While a puncture is not usually considered an immediate emergency, since bleeding is minimal, bacteria like Clostridium tetani or Pasteurella multocida may be present in the wound.
Clostridium tetani can cause tetanus infections and Pasteurella multocida can lead to the development of abscesses.
Veterinarians can flush out wounds to remove the bacteria and they can also prescribe antibiotics to kill pathogenic microorganisms that remain in the wound.
As long as a wound is relatively minor and not infected, you may be able to clean them yourself. Sometimes, saltwater is an excellent for cat wound care.
Step Three: Clean Cat Wound With Salt Water
You will need a syringe, like an oral syringe you use to give animals medication. Use plain, sterilised water in the syringe to flush out debris from the wound, or a saline solution. Plain water will not kill bacteria, so a saline rinse is a better option.
You can purchase a saline solution at your local pharmacy or you can make one easily at home. Add about one tablespoon of salt to one quart of boiled warm water.
To clean cat wound with salt water, simply fill the syringe and release the water across the wound. Do this several times.
You might also want to try to use something stronger to help the cleaning process.
Can Chlorhexidine Clean Cat Wounds?
If you want a more aggressive antiseptic for cats wounds, then you can use chlorhexidine diacetate. You can find this at your local animal supply store. It's essential to use the rinse solution, not the scrub product.
Chlorhexidine is safe and effective as an antimicrobial agent for use on animals. In fact, it is often used for treatment of feline skin and gum infections.
While chlorhexidine is safe for use as an antimicrobial rinse, you do want to dilute it further, because dilution will keep the healthy skin cells around the wound from becoming damaged. Add one tablespoon of the antiseptic to one gallon of water, then use the solution to rinse the wound with your syringe.
Can Iodine Help Cat Wounds?
It is not as effective as chlorhexidine at cleaning wounds, but you are more likely to have a plain old bottle of iodine laying around the house than to have a chlorhexidine solution. Create a 50/50 iodine and water mixture to use the iodine as a rinse. Use a sterile piece of gauze to pat the wound dry when you are done.
Step Four: Stop Cat From Licking Wound
Once you have cleaned the wound, if there is little sign of bleeding and healing progresses normally, then you will undoubtedly see your cat licking the wound.
Licking is a natural instinct that helps with cleaning to remove bacteria and debris. The wound is probably pretty itchy too. However, if you cleaned the wound properly, then your cat is more likely to introduce bacteria to the area instead of removing it. So, you need to keep your cat from licking the wound.
This is definitely harder than it sounds, but there are a few good tactics you can use. You can purchase a traditional cone and place it on your feline's neck. For something like a cat wound on its neck though, this may not be a good solution, and many crafty felines find a way to take them off.
For situations where a cone will just not do, you can purchase an anti-lick spray or ointment. Ask your veterinarian for suggestions, as the topical product is often used around spay incisions to prevent cats from ripping out their stitches.
Once you have done your best to clean the wound, it's important to monitor it and check that the healing process progresses smoothly.
Should I Bandage An Open Cat Wound?
Once the wound has been cleaned, you may be tempted to place a bandage on the wound. However, you can skip the band-aids and gauze because they can do more harm than good. Securing a bandage on a feline is not an easy task, and many people will wrap bandages too tightly. This can cut off circulation and lead to healing issues.
Thankfully, cat wounds heal better when they remain uncovered, as long as they are small. If the wound is large, then ask your vet how to bandage a cat wound and advise whether this is necessary when it comes to an open wound on cat skin.
Step Five: Check The Healing Process
The most important thing is to look for infection. Obvious signs include a red and swollen wound, the formation of pus, a foul odor, and a low-grade fever. Your feline may be lethargic and irritable as well. If you suspect an infection, contact your veterinarian immediately.
Cat Wound Healing Stages
If the wound heals on its own, then you will see it going through a few distinct stages. You will be watching it go through the repair and maturation stages. Typically, non-serious wounds will heal within about five to seven days. During this time, a scab will develop. Underneath the scab, collagen will form that closes the open wound.
As new tissues develop and move towards the surface, the scab will fall off. When the scab falls from the skin, you will see new, pink, and smooth tissues. This is the newly formed collagen and you should see hair starting to regrow along the wound area within a week or two.
Alternative Ways To Heal
Some people swear by natural products such as honey, apple cider vinegar, and aloe vera. There are many products containing these, which may be good antiseptic sprays for treating cat wound care naturally, but it's best to check with your veterinarian first.
Does Hydrogen Peroxide Help Cat Wounds?
If you have a cut or scrape, you might reach for some alcohol or hydrogen peroxide. So, can you use peroxide on cat's wounds? As a simple answer, no, you probably should not.
Hydrogen peroxide is a strong antimicrobial agent that is capable of killing a wide range of microorganisms. However, it will damage the healthy cells around the perimeter of the wound, too. Specifically, studies show that the application of hydrogen peroxide on a wound will result in the delayed formation of connective tissue. Connective tissue is needed to heal and close the wound.
However, the same studies show that low concentrations of hydrogen peroxide can actually help with the healing process. This is very confusing, we know! Accordingly, it is best to leave the hydrogen peroxide flushing to your veterinarian. Animal professionals can best decide if the antimicrobial power of the fluid is worth the possible cell damage, and choose the right concentration.
Is Rubbing Alcohol Suitable For Cat Wounds?
Under no circumstances should you use rubbing alcohol. Isopropyl alcohol is toxic to most animals, including cats. In fact, it is much more toxic than ethanol (the alcohol you drink). So, it is best to keep rubbing alcohol away from your pets to avoid possible ingestion issues.
Can Ointment Help Cat Wounds?
You may also want to know what to put on a cat's wound? While some ointments used for humans may be safe to use in cats, it's probably best to seek advice from a professional before trying it out. Cat's are susceptible to many substances that cause no harm to humans.
It may be much safer to use a wound ointment specially designed for cats. Cat wound sprays can be even better. It's sometimes easier to use these sprays since they can be sprayed directly on the wound without having to secure or hold your feline.
Most wound sprays contain an antimicrobial agent called benzalkonium chloride. This heavy-duty sounding compound is actually a mild antiseptic agent commonly called a quat (short for quaternary ammonium compound).
Quats are safe, long-lasting, and effective ingredients for cleaning and disinfection. Most importantly, they will not make your feline sick if your cat decides to lick the wound.
You can usually use the wound spray a few times a day, but you should ask your veterinarian what is best based on the type, depth, and location of the wound.
Does Neosporin Help Cat Wounds
One treatment that provoked some controversy is Neosporin, an antibiotic ointment with a triple action intended for humans. There has been debate about whether it is safe for felines, and some experts suggest it is fine to use on cats.
It's all very confusing? Can you use neosporin for cat wound care?
The simple answer, at present, is no, you can't, unless specifically told by a vet. For a start, in many countries, including the US, it is illegal to use any medicine in a way not described on the label. Because Neosporin contains no guidance for use with cats, it's against the law to use it on felines.
There are reasons for this. Neosporin contains three active ingredients:
Neomycin
Polymyxin B
Bacitracin
Polymyxin could be dangerous to cats, because it can provoke an allergic reaction and cause death by anaphylactic shock.
Cats have very unique metabolisms and are susceptible to many substances that cause absolutely no harm to humans. You should never give human medicine without veterinary advice.
How To Clean A Cat Wound
Fights, scuffles, and minor injuries are common in the life of a cat, and you can successfully treat minor scratches and scrapes at home. As always, if you have questions or concerns then contact your veterinarian for advice.
Is your feline often in a scrape? Or do you know exactly how to spot a cat infected wound? Do you know what to put on a cat's wound to promote healing? Why not share your experiences in the comments section below!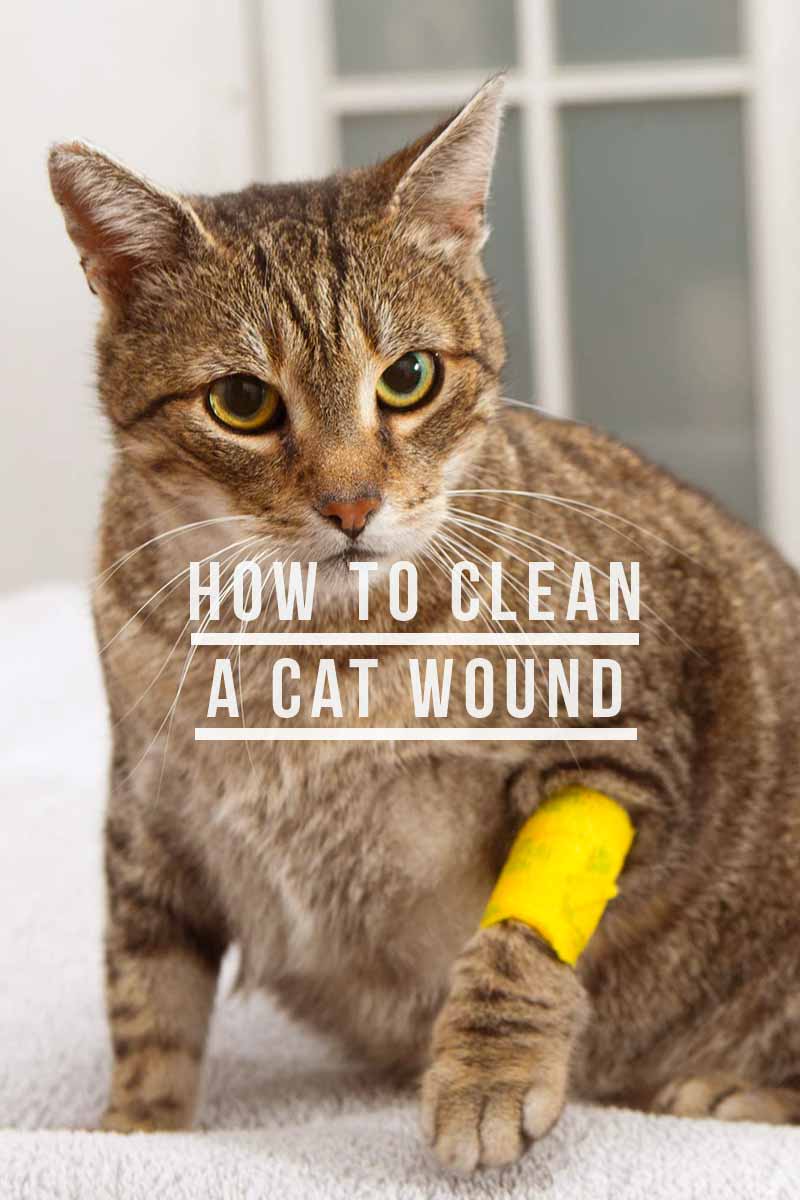 References