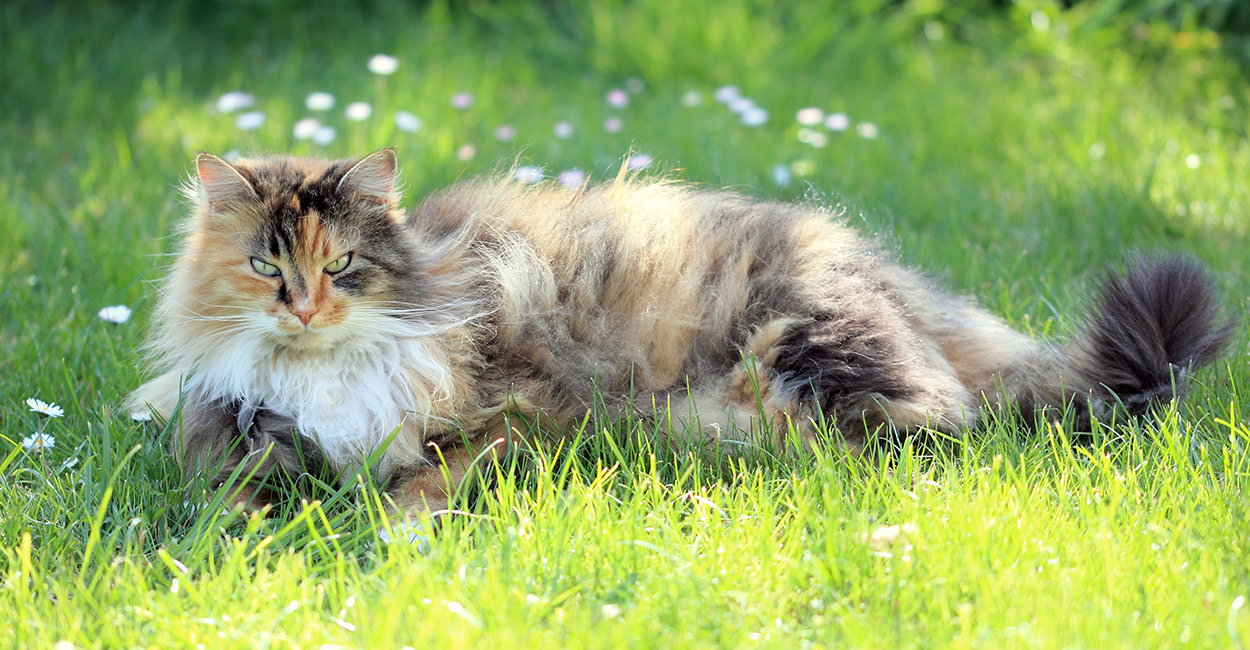 Tanya Clark makes a dreaded task easy today, as she tackles how to get mats out of cat hair.
If you've ever had to deal with a kitty who has matted cat hair you know that matted cat hair removal is not a fun endeavor for either you or your cat.
While you have the option of taking your cat to a professional "cat mat remover" aka, groomer, you may decide that cat matted fur removal is a job best done at home.
As most cat owners know, myself included, most cats are loathe to leave home, travel in the car, meet someone new, and have a procedure performed on them.
Since taking them to the groomer usually entails all of the above, many owners decide to literally take matters into their own hands when it comes to taking care of a matting cat.
My cat's fur is matted, help!
Don't panic.
Here we're going to review the tools necessary to safely and gently remove cat mats.
The implements you need to de-mat your kitty's fur and get her looking fine again are not complicated.
A typical cat dematting tool box will include a mat comb for cats, cat clippers for matted fur, and a dematting brush for cats.
But before we examine the nuts and bolts of bringing your cat's fur back to its natural state, it's important to understand why fur clumps, and mats form, in the first place.
Why is my cat's fur matted?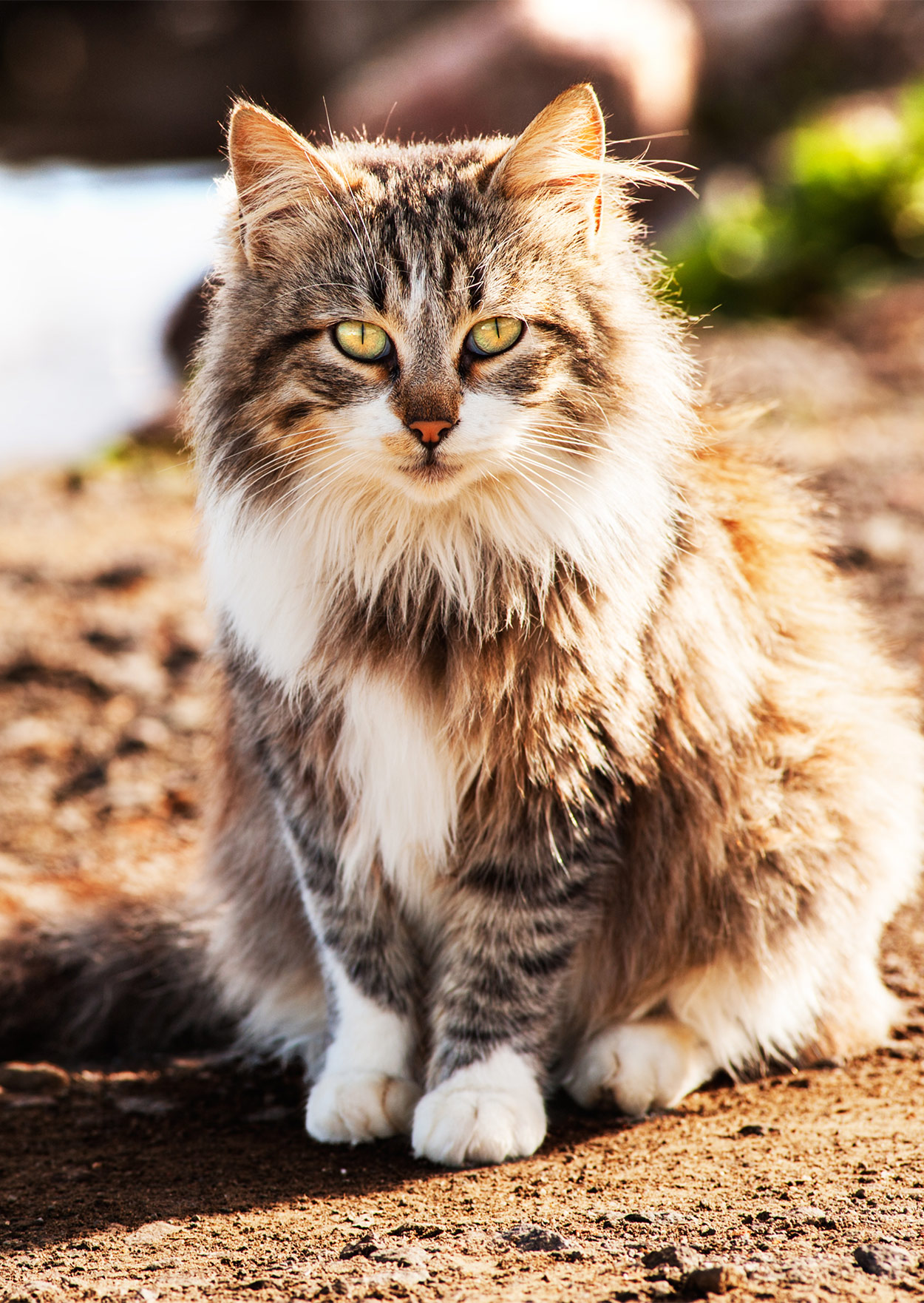 There are many causes as to why a cat's fur mats.
First off, it's a problem inherent to long haired breeds for the obvious reason: lang hair tangles more easily.
Persian, Angora and Maine Coons are among the cats who have gorgeous, yet high maintenance, long fur.
But even short haired cat breeds can, and do, develop pesky hair mats.
Among the innocuous reasons, mats develop where there is friction such as under a collar, or when hair comes loose naturally, due to shedding.
Then there are more serious reasons for matted cat fur.
Matted cat fur as a symptom of illness
Usually knots and mats are part and parcel of being a cat.
But sometimes they can hint at a more serious underlying problem.
Cat's are fastidious groomers, so if they lack the energy to groom themselves it could be that they've been laid low by and infection.
For cats with arthritis, their range of movement becomes limited, and some areas might get matted because your cat can't reach them anymore.
Even obesity can play a role: a fat cat might not be able to reach all areas to wash.
If your cat's fur mats regularly, it's best to consult with your vet about the problem so they can investigate underlying causes.
But if your fur baby has a simple mat that you feel comfortable tackling, we have some great suggestions to help you start the process!
How to get mats out of cat hair
If you notice a fur knot on your cat, it's time to take action!
The mat will not untangle itself; it will just get bigger and the potential for more serious problems can increase.
For example, while matted fur is an unappealing situation for cats, it's an attractive place for pests and parasites to hang out.
The clumps can damage the skin by keeping air shut out and moisture shut in, as well as irritate the skin by putting pressure on it.
If your cat's mats have damaged their skin by the time you find them, then ask your vet to help remove them.
They may recommend pain relief or some form of anesthesia during the procedure, and/or antibiotics to protect against infection afterwards.
Tackling matted cat hair
Before we review the tools you can buy to help keep your moggie mat-free, we recommend taking a look these videos that show professionals removing actual cat mats.
They describe how to use the tools safely, explain the process and their advice will go a long way toward dispelling any jitters you feel if you've never de-matted before!
In our first video, vet Krista Magnifico explains why cat fur mats as she gently helps out Lucy, a chubby cat who can't reach all of the areas that need to be self-groomed.
She also explains why you should never use scissors to try and cut out matted cat hair!
Using scissors is far more likely to result in an injury to your cat, something she says she sees a lot.
Instead she recommends using clippers if you need to cut mats out – but of course you can ask your groomer or vet for help if you're not confident doing this!
And in this longer video, a veteran groomer demystifies the process of long haired cat grooming and talks us through his tool.
Plus he shares his most important tip to successful grooming: a nice kitty hug to start off the process!
Now that you've seen some pros in action, let's find the products you'll need to tackle your own cat's sticky situation.
Dematting comb for cats
If you notice a mat, first try to unwind it with your fingers by gently twirling the fur between your fingers taking care not to pull the hair outward from the skin.
If this doesn't work, it's time to break out the tools!
First, you'll want to get a good detangling comb that has narrow wide-set teeth to cut through tangles, but soft ends that are gentle on sensitive skin.
GoPets Dematting Comb with 2 Sided Professional Grooming Rake
This double-sided detangling comb can be used two ways.
The lower density side can be used as a rake on more tangled knots.
The higher density side can be used on a regular basis to thin out hair as well as untangle it.
A non-slip silicone gel filled handle eases hand fatigue and the product comes with a refund or replacement guarantee.
Pat Your Pet Pet Grooming Tool – 2 Sided Undercoat Rake
Hundreds of happy pet parents endorse this dual sided, stainless steel comb.
Nine sharp teeth will slice through hard mats while the 17-tooth side is great for thinning thick hair.
It has a soft ergonomic grip and the rounded outside teeth provide a gentle massage for kitty.
Dematting brush for cats
Brushes cover a wider area than a comb, without the sharp edges.
These are a great choice for wiggling out tangles that haven't had a chance to really clump yet.
Use a brush on a regular basis to maintain a mat-free coat.
K9KONNECTION Self Cleaning Slicker Brush for Dogs and Cats
The brush's flexible and high density bristles combined with a large surface will make quick work of mats while removing excess fur.
A push button retracts the bristles leaving the hair mass loose for easy removal.
Pin Brush by Hertzko – For Dogs and Cats with Long or Short Hair
This pin brush features knobby ends to massage sensitive skin as it reaches down to remove dirt and debris and at the same time detangling knots.
Best cat clippers for matted fur
If you'd like to use an electric clipper for snipping out mats, these are two highly recommended options:
Sminiker Low Noise Rechargeable Cordless Cat and Dog Clippers
This deluxe electric clipper kit has all the bells and whistles needed to get, and keep, kitty's fur mat free. Included are scissors and comb.
A precision motor features low vibration and a quiet hum (50 db) to keep kitty calm while you use the titanium and ceramic blades (plus multiple size guide combs) to trim out knots.
A special design prevents accidental cuts to your cat's skin.
Bojafa Professional Dog Cat Horse Grooming Clippers Kit
Hundreds of satisfied pet parents recommend this all-in-one set that includes a rechargeable unit with backup battery.
Titanium blade clippers (with four attachments), stainless steel comb and scissors, and a user guide are all included.
Detangler for cats for matted hair
A detangling solution helps to loosen the mat prior to brushing or combing it out.
Most options include a convenient spray bottle for hitting just the right spot!
John Paul Pet Detangling Spray
This convenient 8 ounce bottle of conditioner penetrates knots for easy untangling.
You can also use it prior to regular brushing to help the brush glide through long fur, and leave the hair soft and silky.
TropiClean D-Mat Pet Tangle Remover
This soap-free tangle remover is recommended for severe mats and can be used both before and after bathing.
Active ingredients include chamomile and kiwi fruit extracts as well as vitamin E to support healthy skin.
How to get mats out of cat hair… is olive oil the answer?
If you're cat has never had matted hair before, there's a strong urge to reach for whatever's nearest to dislodge the first one you encounter.
Which leaves a lot of cat parents wondering if olive oil or coconut oil are safe, natural lubricants to ease out matted cat hair.
The idea is to saturate the mat with the oil, allow it to penetrate, and then loosen the tangle.
We don't recommend these techniques without consulting your vet first.
I know that my cat would immediately try to lick the oil off, possibly resulting in an upset tummy, and pulling on the mat can damage the skin.
If you'd like to see an animal behaviorist in action using olive oil on what she describes as a knotty (or naughty, I can't tell which!) cat, check out this video:
How to get mats out of cat hair
We hope you enjoyed our information on how to get mats out of cat hair.
Why does cat hair mat? In the case of long haired cat breeds such as Persians, it's simply the nature of the beast!
Regular brushing will keep mats at bay and remember to check problem areas such as under the collar for mats.
If your cat's hair mats regularly, raise it with your vet at their next check up incase there's a more serious underlying cause.
And don't be embarrassed to ask your vet or a pro groomer to talk you through dematting your cat for the first time if you're not confident!
If you'd like to see some more products we recommend for grooming longhaired cats, have a look at our feature on the best brushes and grooming products for Persian cats.

Do you have any tips for matted cat hair removal?
What about a favorite cat dematting tool?
Please share your tips and product recommendations in the comments section!