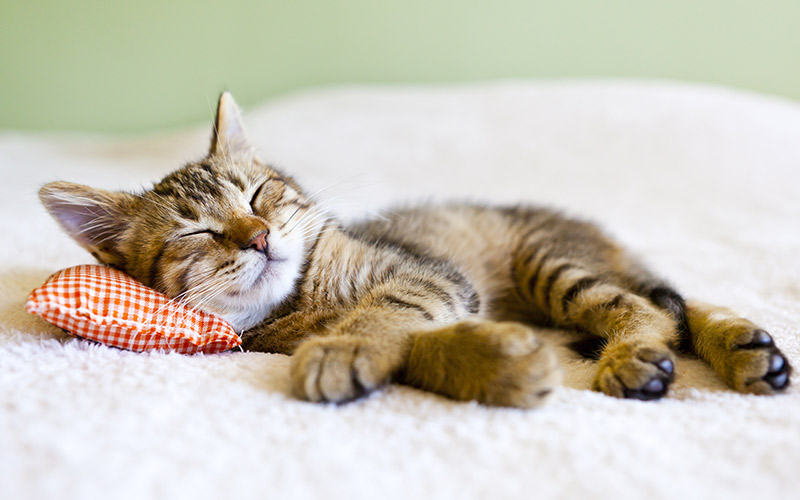 Welcome To Our Complete Guide To Lavender Oil And Cats! Is Lavender Oil Safe For Cats? Does It Have A Calming Effect? Can It Repel Fleas Or Even Cats Themselves? Let's Find Out!
We're all happier when are pets are relaxed and feel at home.
Many products claim to have a calming effect on our animals.
They might also be advertised as a miracle flea cure.
Some may even claim to be a tried and tested cat repellant.
With all this conflicting information, it's difficult to know what works and why.
Recently, people have been interested in the possibility of using Lavender oil on cats.
In this article we'll look at this essential oil and it's supposed benefits for our pets.
We'll also answer the most important question; is lavender oil safe for cats?
Why do people use lavender oil for cats?
Lavender oil has been used in medicine and aromatherapy for years, with varying degrees of success.
Its treatment of anxiety in humans has been the focus of numerous studies and trials.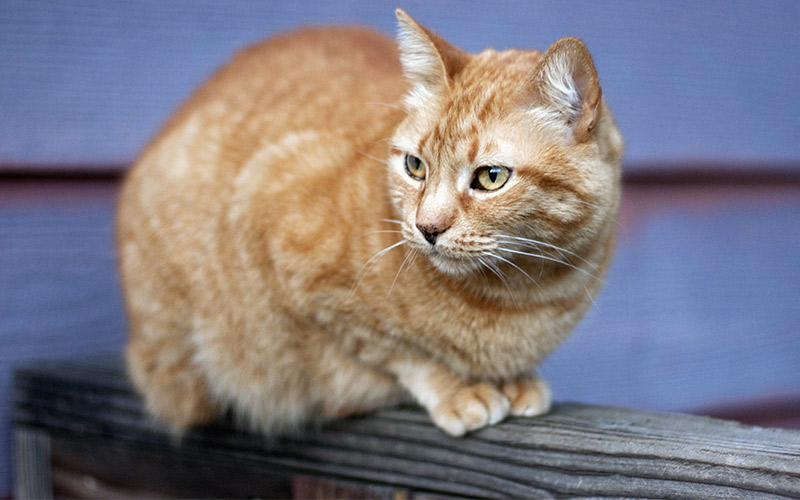 One recent study showed a lavender oil derived capsule to be very effective in treating generalized anxiety disorder, when taken orally.
When something works for us, we'd like to think it will work for our cats.
After all, it's only natural to think what's good for us is good for them.
It doesn't always work like this, however.
Cats often deal with substances and chemicals in a different way to us.
We'll explore this a little later, when we look at whether we can safely give cats lavender oil.
But first let's look at why we might want to.
Aromatherapy For Cats?
Aromatherapy is the practice of diffusing and inhaling essential oils. Proponents claim it can have a wide range of benefits, but it's normally focused on people.
Essential oils, in an aromatherapy context, have shown a limited effectiveness in relaxing rats in trials.
It is important to keep in mind no tests have been carried out with cats to determine lavender oils safety or efficacy when diffused.
Is lavender oil safe for cats?
To answer the question 'is lavender oil safe for cats' we need to define what we mean by safe.
Safe when applied topically? Or safe taken orally? Safe to inhale as a mist?
All of these can have different answers.
We'll look first at the effects of oral consumption.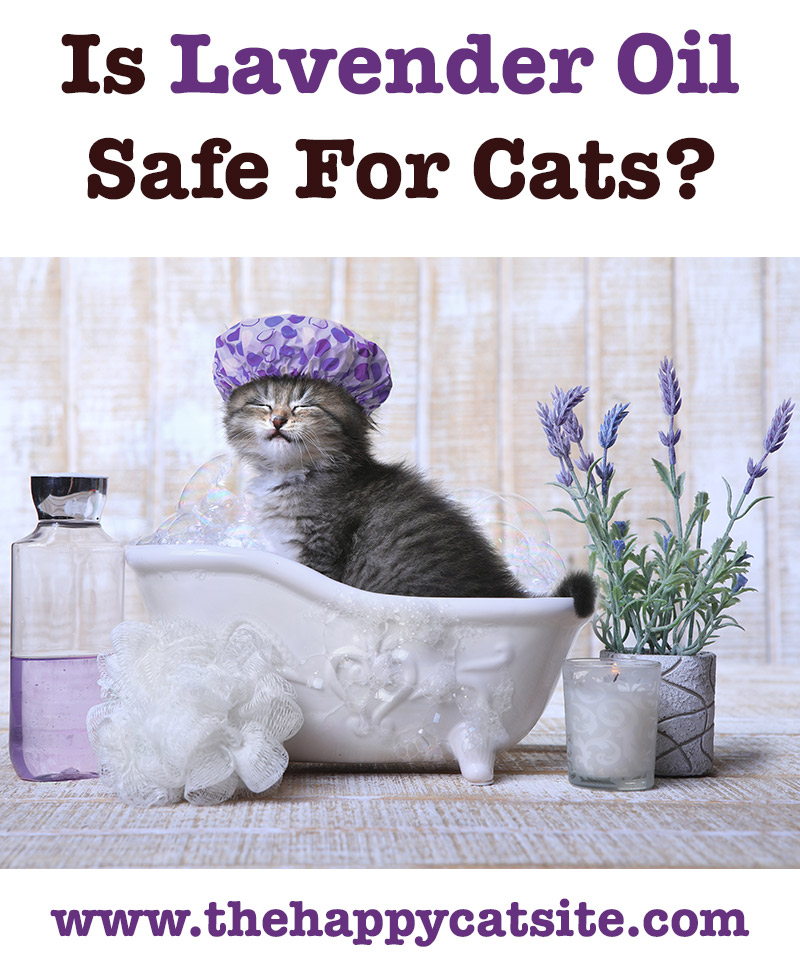 The ASPCA lists lavender plants as toxic to cats.
Symptoms of lavender poisoning include nausea, vomiting and loss of appetite. These are not things any of us want to inflict on our furry friends.
The reason lavender has this effect is the chemical linalool.
Linalool can make up as much as 49.47% of essential lavender oil.
This dangerous concentration of linalool only becomes more of a risk when the lavender is presented in oil form. Around 220 pounds of lavender are used to make one pound of oil.
Needless to say, nobody should be feeding their cats lavender essential oil. (Or feeding it to any other animal for that matter).
So lavender oil is definitely not safe for cats to ingest, and there is no evidence to support the many claims of its calming effects. But could it be useful in another way?
Most prominently, lavender oil has been suggested as a flea repellant, with numerous products labelling themselves a safe alternative to current pesticides.
Is lavender oil safe for cats to use on fleas?
Lets take a look at why lavender oil and cats might not be a match made in heaven.
Lavender oil for fleas on cats
Interestingly, the same chemical that makes lavender oil potentially dangerous to your cat could make it a potent flea poison.
Linalool is not only toxic to cats, but in the right concentration effectively kills pests.
A study published in the journal of medical entomology showed its ability to kill all life stages of fleas and ticks.
This makes it possible that after coming into contact with lavender oil, cats fleas might be effectively controlled.
Linalool solutions have been used in tests to successfully treat cats with fleas.
The cats involved exhibited no adverse effects afterwards.
When it comes to home blended or unregulated lavender oil, cats might not be so lucky.
This is because lavender oil is not consistent.
From batch to batch it can differ hugely in composition. So finding the right concentration of linalool in a domestic setting would be almost impossible, not to mention dangerous.
It may be tempting to use lavender oil as you might do a normal flea treatment. These are potentially harmful, but with the correct placement are usually okay to use.
The real problem is that commercial products are carefully controlled.
Your homemade dilution of lavender oil will not be.
There is no real way of knowing just how much linalool is on your cat with lavender oil.
Using lavender oil on cats for fleas domestically is therefore a possibility, but not advisable.
Solutions containing linalool are currently in use as commercial pesticides. But they are treated with caution, and the subject of strict safety protocols.
Linalool, and therefore lavender oil, has a demonstrated effect on fleas and ticks. However, it still seems unsafe to use lavender oil for fleas on cats. Could cats and lavender essential oil ever mix?
Is lavender oil toxic to cats?
The simple answer is yes, lavender oil is toxic to cats.
As we've mentioned before, lavender oil contains linalool. This is what makes lavender oil toxic to cats.
Essential oils are concentrated solutions of the chemicals found in a plant. As such, anything potentially harmful in the original ingredient will be even more potent.
So, can you use lavender oil on cats?
From what we know at the moment, it's probably best not to. Using lavender oil for cat fleas may effectively kill the fleas, but could also harm your cat.
There's not been a lot of research into cats and lavender oil, when applied to their fur.
We know it can produce skin irritation and allergic reactions in humans and rats. It's probably best to wait until we know more before you go rubbing it into your cats coat.
It's also important to remember that cats clean themselves regularly. Anything applied to your pets fur may find it's way to their mouth in no time at all!
Any lavender essential oil cats accidentally ingest, would expose them to linalool.
Natural does not necessarily mean safe
It's easy to think that because a product is natural, it should be safe for your pet. Sadly, this is often untrue.
A great number of plants contain chemicals that could harm your cat. This becomes a serious concern when the chemicals are concentrated into an oil.
Concentrations can vary depending on the lavender itself, or the method of processing. So you can never be sure what you're exposing your cat to.
If you're ever in any doubt you should ask your vet if a remedy will be safe.
Lavender oil cat repellent
A lot of people would rather neighbors cats didn't come on to their property. Or you may be at your wits end trying to keep your pet off of kitchen surfaces. To try and help with this, a number of products have sprung up.
Cat repellents boast the ability to keep cats away from certain areas, without hurting them.
The claim is that certain smells keep cats away. Most commonly, these sprays and pellets are citrus or vinegar based. There are a few available, however, that contain lavender oil.
While some claim that lavender oil has a calming effect on cats, others argue the opposite. There are a number of such repellants claiming that lavender oil is their main ingredient.
Lavender oil cat repellants may boast great effects, but there's not a lot of proof.
As with cat aromatherapy, there's very little to go on here. There have been no scientific studies into the use of lavender, or lavender oil, as a cat repellent.
Is lavender oil safe for cats
It's safe to conclude, that lavender essential oils and cats don't really mix.
Your cat is unable to metabolize the linalool, and this could make them very sick indeed.
A lack of research means it's safer to err on the side of caution, and steer clear of lavender oil.
Although there is some evidence to suggest lavender oil can have some effects on cat fleas, it's not worth the risk of attempting to use it in this way at home.
Steer clear of lavender oil to keep your kitty happy and healthy. And check out our guide to Cat Anxiety if you are looking for ideas to help your cat relax
References and Further Reading