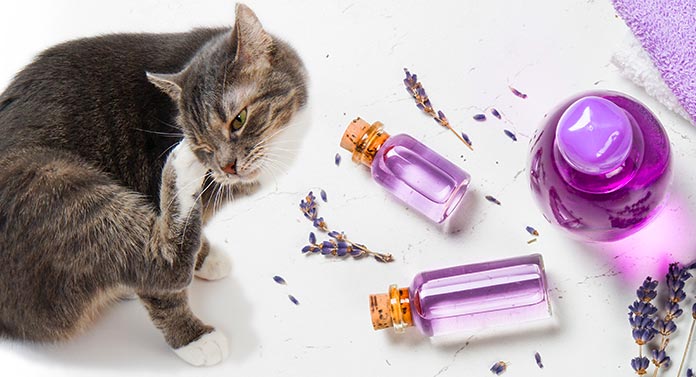 There has been a lot of chat lately about the use of lavender essential oil for fleas on cats. And yes, lavender essential oil contains a chemical called linalool, which can be toxic to fleas and ticks. Sadly, it doesn't necessarily mean you can use it as an at home treatment. Lavender plants aren't just toxic to bugs and mites, they can be dangerous to your precious kitty too.
Contents
What is Lavender Essential Oil?
Lavender oil has been used in medicine and aromatherapy for years, with varying degrees of success. Its treatment of anxiety in humans has been the focus of numerous studies and trials. Essential oils are concentrated solutions of the chemicals found in a plant. As such, anything potentially harmful in the original ingredient will be even more potent.
Fleas on Cats
Cat fleas are small parasitic insects that most owners struggle with at some point in their cat's life. They live deep in your cat's fur, and survive by drinking your cat's blood. So, it makes sense that people will try almost anything to get rid of them!
There are a lot of flea treatments on the pet market that try to deal with the problem. It ranges from essential oils like lavender oil, to collars and shampoos. But, just because a product claims to work, doesn't mean it always does. And, it doesn't automatically mean it's safe for your cat.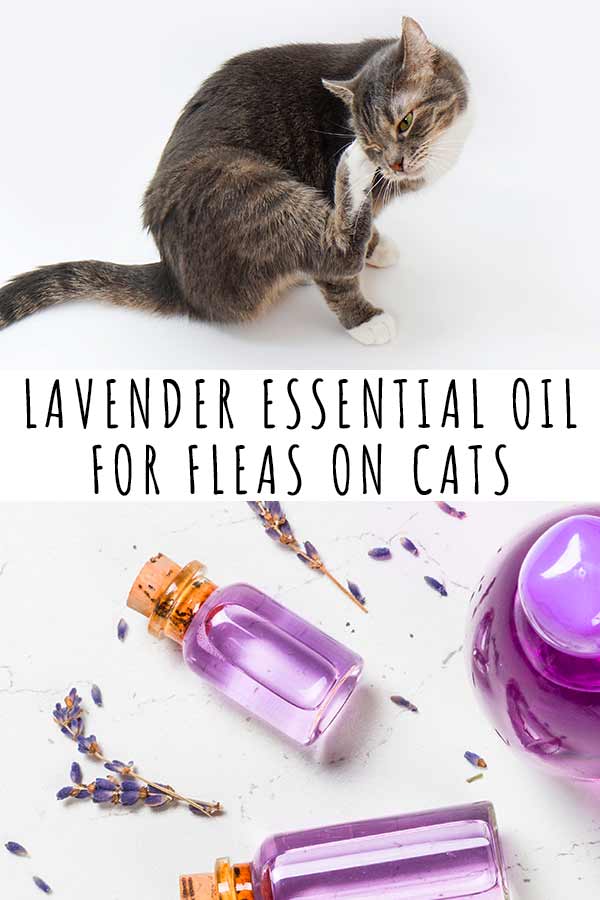 Does Lavender Essential Oil Get Rid of Fleas on Cats?
Lavender essential oil has been shown to kill pests and parasites such as fleas and ticks. A study published in the journal of medical entomology showed its ability to kill all life stages of fleas and ticks. This makes it possible that after coming into contact with lavender oil, cats fleas might be effectively controlled.
However… the chemical that has an effect on these pests can also be toxic to cats, in the right concentration. So yes, you might get rid of the fleas by using lavender oil. But you could also end up with a very sick cat.
How Does Lavender Oil Work?
Lavender essential oil contains a chemical called linalool. Linalool can make up as much as 49.47% of essential lavender oil. So, the same chemical that makes lavender oil potentially dangerous to your cat could make it a potent flea poison. Linalool is not only toxic to cats, but in the right concentration effectively kills pests.
Linalool solutions have been used in tests to successfully treat cats with fleas. The cats involved exhibited no adverse effects afterwards. But, when it comes to home blended or unregulated lavender oil, cats might not be so lucky.
This is because lavender oil is not consistent. From batch to batch it can differ hugely in composition. So finding the right concentration of linalool in a domestic setting would be almost impossible, not to mention dangerous.
Is Lavender Essential Oil Safe for Cats?
To answer the question 'is lavender oil safe for cats' we need to define what we mean by safe. Safe when applied topically? Or safe taken orally? Safe to inhale as a mist? All of these can have different answers.
Lavender plants are toxic to cats. Symptoms of lavender poisoning include nausea, vomiting and loss of appetite. These are not things any of us want to inflict on our furry friends.
A dangerous concentration of linalool only becomes more of a risk when the lavender is presented in oil form. Around 220 pounds of lavender are used to make one pound of oil.
Natural Does Not Necessarily Mean Safe
It's easy to think that because a product is natural, it should be safe for your pet. Sadly, this is often untrue. A great number of plants contain chemicals that could harm your cat. This becomes a serious concern when the chemicals are concentrated into an oil.
Concentrations can vary depending on the lavender itself, or the method of processing. So you can never be sure what you're exposing your cat to.
Potential Problems
There's not been a lot of research into cats and lavender oil, when applied to their fur. We know it can produce skin irritation and allergic reactions in humans and rats. It's probably best to wait until we know more before you go rubbing it into your cats coat.
It's also important to remember that cats clean themselves regularly. Anything applied to your pet's fur may find its way to their mouth in no time at all! Any lavender essential oil cats accidentally ingest, would expose them to linalool.