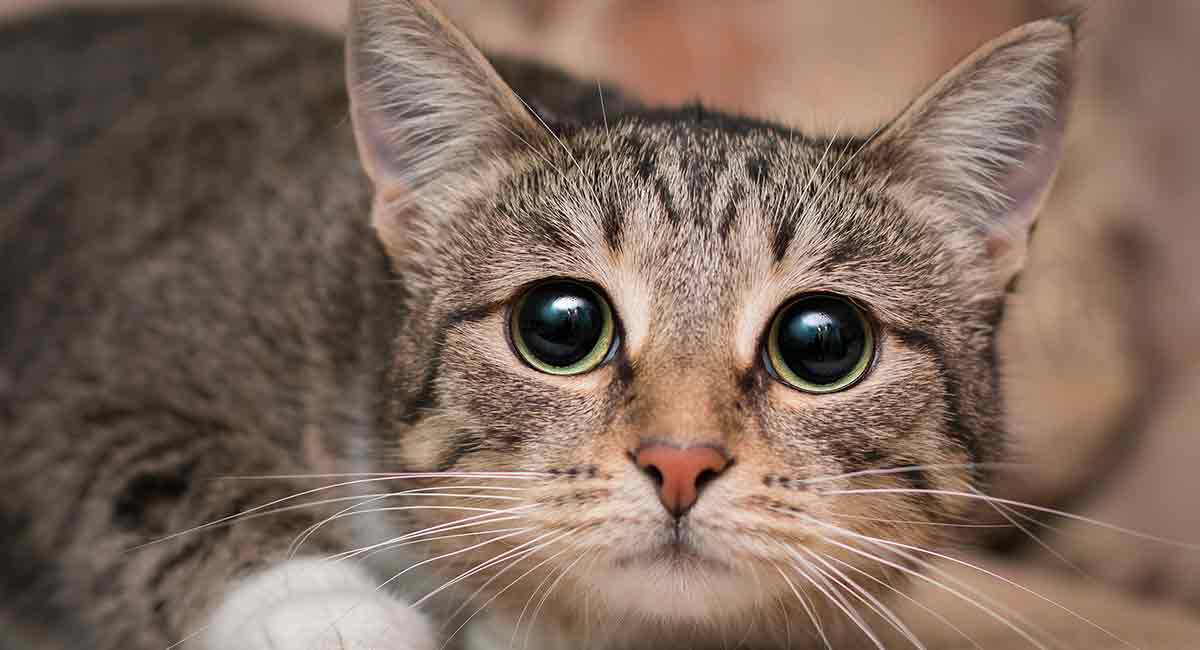 If you've ever had to deal with a diagnosis of kidney disease in cats, you know it can be very nerve-wracking.
Your cat's kidneys are obviously very important.
They
remove waste from your cat's blood
make hormones
regulate blood pressure
and stimulate the bones to make more red blood cells.
Kidney disease in cats, then, can be very distressing for you and your pet.
Just like with any diagnosis, it is common to have lots of questions. That's exactly why we've written this article.
We'll explore kidney disease in cats in depth, answering all your questions and more.
What Is Feline Kidney Disease?
Kidney disease in cats is characterized by a cat's kidneys not functioning as well as they should.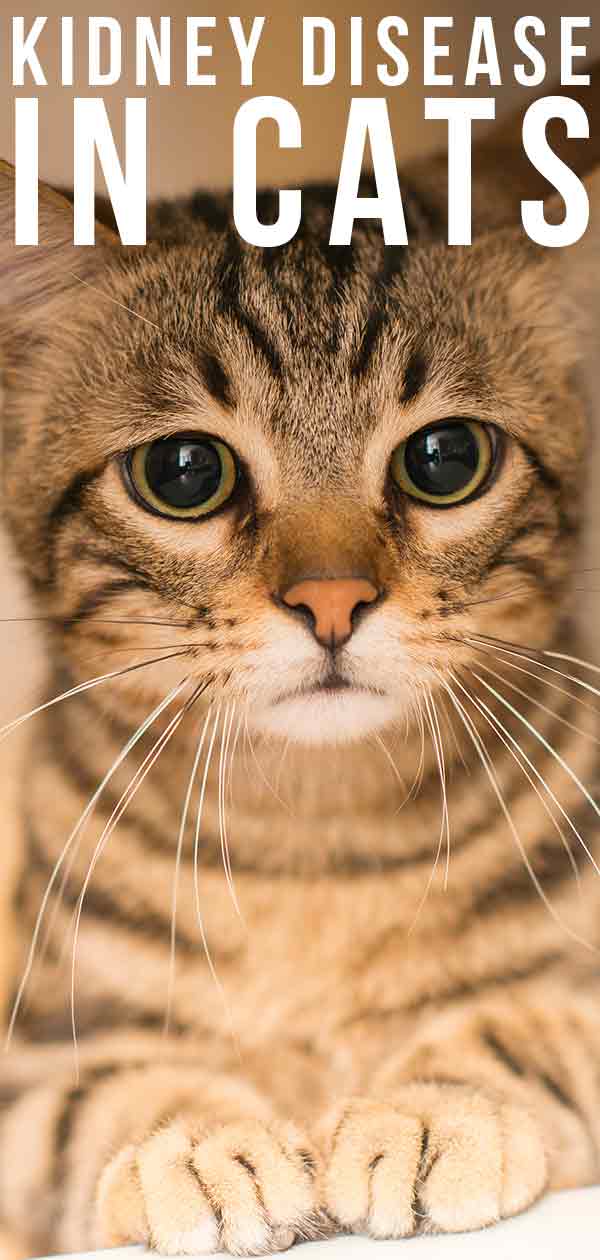 When this happens they filter out toxins from the bloodstream less efficiently. Which leads to a build up of toxins in the circulation.
Blood pressure can also become a problem, and it is not uncommon for a cat's hormone production to also suffer.
As you can see, kidney disease in cats is very serious.
The kidneys have a very important role to play in the body, and things can get quite out of whack when they aren't working properly.
There are three main types of kidney disease in cats – acute, chronic, and polycystic.
Acute Kidney Disease in Cats
Acute kidney disease in cats develops very suddenly and can happen in a cat of any age.
The biggest causes of acute kidney disease are
poisons
trauma
infections
and rapid dehydration.
If caught early enough, this type of kidney disease in cats can usually be treated and reversed.
Once the underlying cause is treated, the kidneys will usually begin functioning well again in time.
Chronic Kidney Disease in Cats
Chronic kidney disease is somewhat different.
It is caused by a specific event or reason but is usually the result of many small factors building up over time.
Factors that increase a cat's chance of developing chronic kidney disease include
the cat being too thin
having periodontal disease or cystitis
being a neutered male
being dehydrated.
Sadly, chronic kidney disease is usually not treatable or reversible.
However there is a lot you can do to manage the symptoms and prevent the condition worsening.
Polycystic Kidney Disease in Cats
Polycystic kidney disease in cats is another type of kidney disease.
It is an inherited disorder that leads to the development of fluid-filled cysts in a cat's kidneys.
These cysts can lead to feline kidney failure even while the cat is still generally young.
Persians and Exotic Shorthair cats are extremely prone to this disease and are known to commonly inherit it.
Cat Kidney Disease Stages
There are four stages of chronic kidney disease in cats.
Your cats prognosis post-diagnosis depends a lot on the stage at which the disease is detected.
Stage 1
Kidney function starts to decline, protein begins to build up in urine, and blood pressure may increase.
This stage can be diagnosed by blood or urine analysis, but most cats don't show any outward symptoms to warrant these tests.
The best way to protect your cat is to take them for annual health checks with their vet.
This is the most likely way to pick up early indicators of cat kidney disease, like high blood pressure.
Stage 2
Once about two thirds of the kidney tissue is damaged, it is harder for your cat to conserve water.
You might notice them drinking more or peeing more frequently now.
Stage 3
Stage three begins when three quarters of kidney function has been lost.
By now, your cat's kidneys will be struggling to filter out all the toxins they ought.
As these nasties accumulate in the bloodstream, you'll start to notice more urgent symptons, such as weight loss.
Stage 4
Sadly, chronic kidney kideny disease is a progressive disease.
Eventually the kidneys fail completely.
For many cats in the final stage of kidney disease, there comes a point when euthanasia is the kindest course of action.
At this time, your vet will help you make the best choices for your cat, and judge when the time is right to say good bye.
Symptoms of Kidney Disease in Cats
Whatever type of kidney disease your cat has, their future is brightest if you catch it early.
These are the symptoms to look out for:
appetite loss
weight loss
vomiting
lethargy
dehydration
a change in water consumption
bloatedness
pain in the kidney area
bloody urine
mouth ulcers
stumbling
litter box aversion.
Diagnosing Kidney Disease in Cats
How does a veterinarian go about diagnosing kidney disease in cats?
Normally, a veterinarian will get a pretty good indication of the status of your cat's kidneys by running blood and urine tests.
If something seems off and kidney disease is expected, an ultrasound, radiograph, or even biopsy may be performed for confirmation.
Other tests, such as the ultrasonography, might also be used to get detailed information about your cat's kidney disease.
Cat Kidney Disease Treatment
If you cat has acute kidney disease, the focus will be on treating the underlying problem, which should cause the kidney disease to correct itself.
Chronic kidney disease cannot be cured completely, but it can be managed to give your cat as much pain-free time as possible.
One study found that dietary treatment was very effective.
Your vet can recommend a suitable diet for cats with kidney disease – it might be one of the meals we've reviewed here.
Your vet might also recommend increasing water intake and using drugs to increase urine production.
It is important to keep an eye out for diseases that often occur along with kidney disease in cats, such as urinary tract infections and degenerative joint disease.
Stem cell treatment might be used, but it is controversial.
Some studies point towards its effectiveness, while others do the exact opposite.
Work with your vet to find the perfect treatment plan for your cat.
Kidney Disease in Cats Life Expectancy
The life expectancy of a cat diagnosed with kidney disease is highly unpredictable.
One study of 211 cats with chronic kidney disease found that of the 52 diagnosed during stage two of the disease, their survival after diagnosis ranged from two days to ten years.
Cats diagnosed earlier will live longer than those who are already in a later stage when they are diagnosed.
In the same study, those diagnosed at stage two survived over a year longer on average than those diagnosed in stage three.
Kidney Disease in Cats
There are three types of kidney disease in cats.
Acute, which is treatable.
Chronic, which is progressive and can be managed by not cured.
And polycystic, which is hereditary and progressive.
Early diagnosis is the key to keeping this disease at bay.
So it is always important to take your feline to regular checkups.
Does Your Cat Have Kidney Disease?
Have they been defying the odds an soldiering on regardless?
What vet-recommended treatments have been most effective for them?
Please share you experiences with other cat owners who might just be setting out on their own journey, using the comments box.
References and Further Reading
Greene, Joseph. "Risk factors associated with the development of chronic kidney disease in cats evaluated at primary care veterinary hospitals." Journal of the American Veterinary Medical Association. 2014.
Biller. "Inheritance of Polycystic Kidney Disease in Persian Cats." Journal of Heredity. 1996.
Walter. "Applications of ultrasonography in the diagnosis of parenchymal kidney disease in cats: 24 cases." Journal of the American Veterinary Medical Association. 1988.
Ross, Sheri. "Clinical evaluation of dietary modification for treatment of spontaneous chronic kidney disease in cats." Journal of the American Veterinary Medical Association. 2006.
Mayer-Roenne, Bettina. "Urinary tract infections in cats with hyperthyroidism, diabetes mellitus and chronic kidney disease." Journal of Feline Medicine and Surgery. 2007.
Marino, Christina. "Prevalence and classification of chronic kidney disease in cats randomly selected from four age groups and in cats recruited for degenerative joint disease studies." Journal of Feline Medicine and Surgery. 2013.
Quimby, Jessica. "Evaluation of intrarenal mesenchymal stem cell injection for treatment of chronic kidney disease in cats: A pilot study." Journal of Feline Medicine and Surgery. 2011.
Quimby, Jessica. "Safety and efficacy of intravenous infusion of allogeneic cryopreserved mesenchymal stem cells for treatment of chronic kidney disease in cats: results of three sequential pilot studies." Stem Cell Research & Therapy. 2013.
Boyd. "Survival in Cats with Naturally Occurring Chronic Kidney Disease." Journal of Veterinary Internal Medicine. 2008.
King, Jonathan. "Prognostic Factors in Cats with Chronic Kidney Disease." Journal of Veterinary Internal Medicine. 2008.