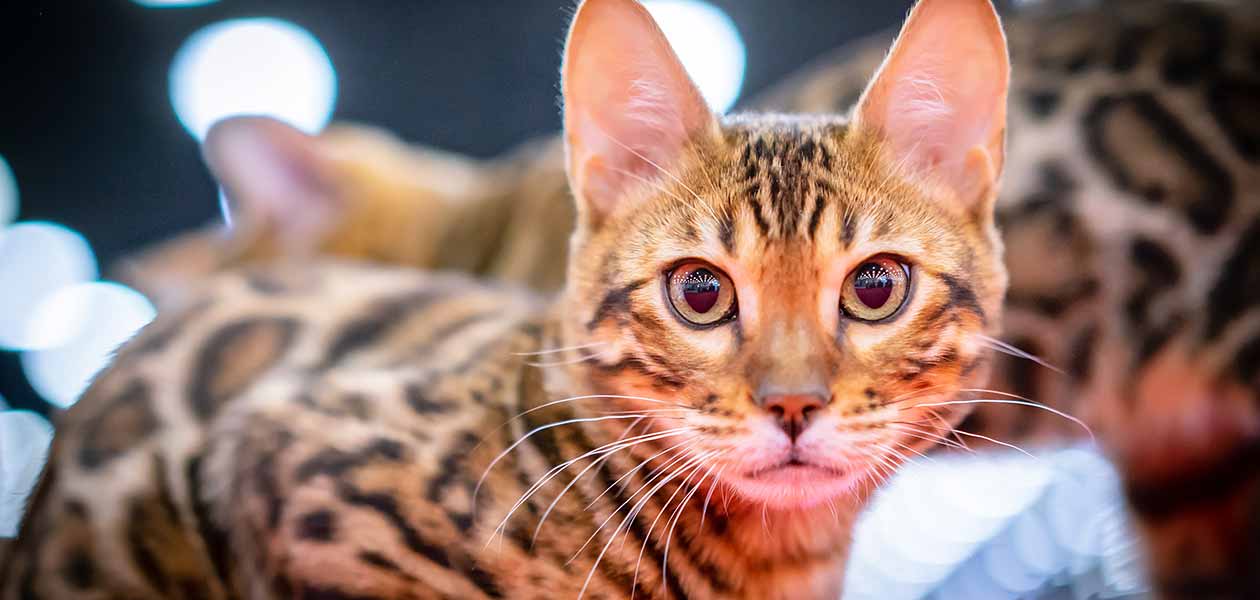 A leopard house cat has beautiful spots or rosettes in their coat. Their size or build frequently evokes the graceful presence of a wild leopard too.
Of course, leopard house cats are not really descended from leopards at all.
Rather, they are selectively bred from domestic cat breeds to look as if they were.
We take a look at the house cats which look like leopards, and what you need to think about when choosing one.
Top 8 Leopard House Cats
If you can't resist the idea of a miniature live-in leopard, these are the top cat breeds we think you ought to know about:
What Is A Leopard House Cat?
A leopard house cat is a domestic cat which has been bred to look like a small pet leopard.
They aren't related to leopards at all, but some are descended from domestic cat and leopard cat hybrids.
What's the difference between a leopard and a leopard cat??
Good question!
Leopards (Panthera pardus) are big wild cats closely related to lions and tigers.
They're probably the species you've been picturing whilst reading this article so far.
Leopard cats (Prionailurus bengalensis) are small wild cats, which look a bit like miniature leopards.
But despite having similar names and patterns in their coats, they're actually relatively distant cousins.
What do leopard house cats look like?
It's fair to say that most people seeking a leopard-like house cat have one thing in mind in particular: spots!
Wild leopards aren't actually spotty though.
Cheetahs and servals have spots. Leopards and leopard cats have rosettes. (And jaguars have rosettes with spots inside!)
If you'd like an exotic looking cat to grace your home, there are domestic cat breeds which have all of these patterns.
Some of them also have plush coats or lithe, athletic bodies which look especially leopard like.
Are leopard house cats good pets?
But we think there's a leopard-esque companion for every cat lover.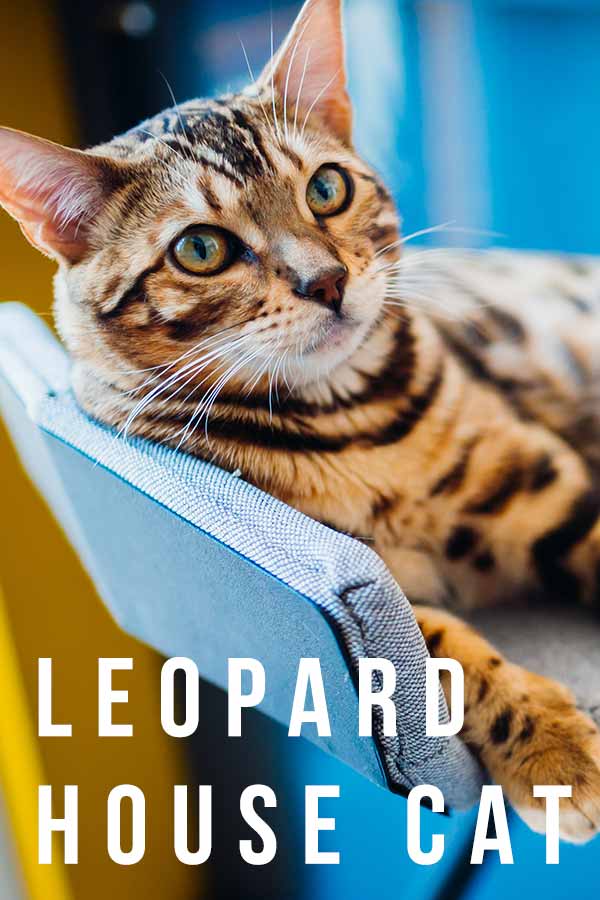 But not every leopard house cat is a good fit for every home.
So let's kick start our review of the most famous ones, and the homes they suit, right now.
1. Bengal
Bengal cats are the quintessential pet leopard.
In fact they are descended from leopard cat and domestic cat hybrids.
And they are even still sometimes advertised for sale with a filial number, which describes how many generations removed they are from their closest leopard cat ancestor.
Bengal cats can have spots or rosettes in their coat, on a background of brown, blue, silver or white.
They are muscular and athletic cats weighing a larger-than-average 8 – 15lbs. Which just adds to the impression of having recently strolled in from the jungle!
At home, they are extremely playful and sociable. This is great for households with a lot of capacity for interacting with their Bengal.
But Bengals left alone in empty homes all day often resort to destructive behavior – not for revenge, but simply out of boredom and needing something to engage them.
The popularity of Bengal cats has soared in recent years, so it's usually quite easy to find litters for sale.
Always purchase Bengal kittens from parents who have been health checked for heritable heart diseases, eye diseases and joint disorders.
2. Ocicat
Ocicats are so called because they resemble ocelots – mid-sized American wild cats with high contrast spots, streaks and swirls in their coats.
But Ocicats' coats usually have a more regular, and leopard like, pattern of oval spots.
This breed is so incredibly friendly and people-focused that they're regularly described as 'dog-like' in nature.
They thrive on company and playing games with their human family.
So like the Bengal, they're best suited to households where somebody will be around to keep them company for most of the day.
Ocicats were created in the mid-20th century by mixing Abyssinians, Siamese, and domestic shorthairs.
At the time of writing, they appear to be generally healthy, with no notable disease predispositions.
But mature Ocicats should still receive a bill of good health from their vet before they're used for breeding.
3. California Spangled
Alongside the Bengal and the Ocicat, the California Spangled cat was one of the first domestic cats bred to look like a leopard.
In fact their origin story is quite remarkable:
They were developed by a Hollywood scriptwriter named Paul Casey, in response to heavy poaching of wild leopards for their fur.
His philosophy was that if people could keep a small leopard as a pet in their home, they wouldn't want to wear the fur of a wild one, and poaching would decrease.
Casey spent in the region of $200,000 (well over £600,000 in today's money) developing the breed, and staged an unprecedented marketing campaign in the Neiman Marcus Christmas catalogue.
Despite the catalogue campaign being criticized as crass or unethical by many detractors, California Spangled cats enjoyed huge initial success.
Sadly however, this leopard house cat is no longer available.
Throughout their existence, Casey maintained scrupulous breeding standards, so the health and quality of his new cats was beyond reproach.
But as Bengals and Ocicats became more widely and cheaply available, more and more kitten purchasers turned to these breeds instead.
We still think they're a fascinating part of cat breeding history though!
4. Egyptian Mau
Back into the realms of extant cats, next up is the Egyptian Mau.
Whilst some spotted cats succeed in looking exotic because they are also quite large, the Egyptian Mau weighs just 6 – 14lbs.
Very much within the normal weight range for pet cats.
But they have slightly longer back legs than front legs, giving them a distinct athletic 'cheetah gait'.
In fact they can reach speeds of up to 30mph!
Egyptian Mau colors include bronze – which perfectly mimics classic leopard coloring – and silver, which is evocative of snow leopards in Russian and Siberian mountains.
At home, Egyptian Maus are affectionate and vocal. They love to play, ride around on their owners' shoulders, and they're even chatty.
They're prone to a small number of hereditary genetic disorders, so be sure to find Egyptian Mau kittens from a responsible breeder who screens their breeding cats.
5. Savannah
Savannah cats are another exotic spotted breed with a direct link to a wild ancestor.
They were originally founded by breeding domestic cats to African servals.
Their spotted coat in earthy tones, and long, slender physique is still very reminiscent of leopards and other wild cats.
The suitability of Savannah cats as pets depends upon how far back their closest wild relation is.
Savannah cats with a closely related serval ancestor will retain lots of wild instincts, and are unsuitable for most domestic settings.
They're also eye-wateringly expensive!
But Savannah cats several generations removed from servals retain only a small fraction of serval DNA.
They have striking leopard-like looks, but fully domestic cat personalities.
6. Serengeti
Serengeti cats are one of the most recent breeds accepted by The International Cat Association (TICA).
The were created to look like servals, but unlike the Savannah, they don't carry any wild cat DNA.
Instead, their founder Karen Sausman founded Serengeti cats by crossing Bengal cats with Oriental Shorthairs.
Their short coat is golden, with widely spaced black spots.
Since they don't have any serval heritage, they should be reliably friendly, and keen on interaction with people.
Since they're so new as a breed, we don't have much data yet for evaluating the breed's overall health.
But as Sausman is a conservation biologist, and we're hopeful that her cats' health will be top priority!
7. Cheetoh
Cheetoh cats are an incredibly recent take on the leopard house cat.
They're a mix between Bengal and Ocicats, and they're currently only recognized as an experimental breed by TICA.
As a recently developed hybrid which is still open to outcrossing, Cheetohs may have any mix of traits from Bengal and Ocicat cats.
Since they are both very friendly, people-oriented breeds, the Cheetoh is likely to be as well.
But they might also be vulnerable to the health conditions of Bengals and Ocicats, including the the Bengal's predisposition to heart disease.
They might also be very difficult to find.
7. Australian Mist
The Australian Mist cat is a cross between the Abyssinian and Burmese cat breeds with other non-purebred cats.
Neither are known for their spots, but the leopard-like Australian Mist has such perfect spots that it was originally known as the Spotted Mist!
They are called Mist cats because as well as leopard-like spots and marbling, these pretty felines also have random areas of ticking in their coat.
Which creates the illusion of being surrounded by mist, or wearing a very fine veil!
Like many of the spotted breeds in this article, they are such a recent addition to the feline population that information about their overall health hasn't had much chance to accumulate yet.
It's reasonable to foresee that they might be vulnerable to some of the same health issues which affect Abysinnian and Burmese cats though, namely:
In Abysinnians:
The kidney disease renal amyloidosis.
The knee disorder patella luxation.
Pyruvate kinase enzyme deficiency, which leads to chronic anemia.
And dental problems, especially gingivitis.
In Burmese cats:
8. Spotted Tabby
Finally, we must include a shout out to all the spotted tabby cats who embody the poise and confidence of tiny house leopards.
Spotted tabby isn't a breed of cat – it's a pattern which many purebred and non-purebred cats can have.
Spotted tabbies can have long or short coats, in gold and black like a leopard, or different colors like smokey grays and fiery reds.
Their personalities are less predictable than cats from closed pedigrees, but their health and life expectancy often benefits as a result of increased genetic diversity.
Which Leopard House Cat Is Right For You?
As we've seen, lots of pet cats bear more than a passing resemblance to the stunning wild leopard.
Their size, personality, and even life expectancy depend upon factors like how much wild cat ancestry they have, and which other purebred cats contributed to their make up.
This means not all cats with look like leopards are well matched to every home.
What's more, some of these breeds are so new, and still undergoing development, that they might be difficult to find.
But we think nearly every cat has the confidence of a leopard inside of them.
So whether you can commit to a bouncing Bengal, a shy Savannah, or a just-happy-to-be-here domestic shorthair with tabby spots, it's bound to feel a bit like having your own jungle beast at home.