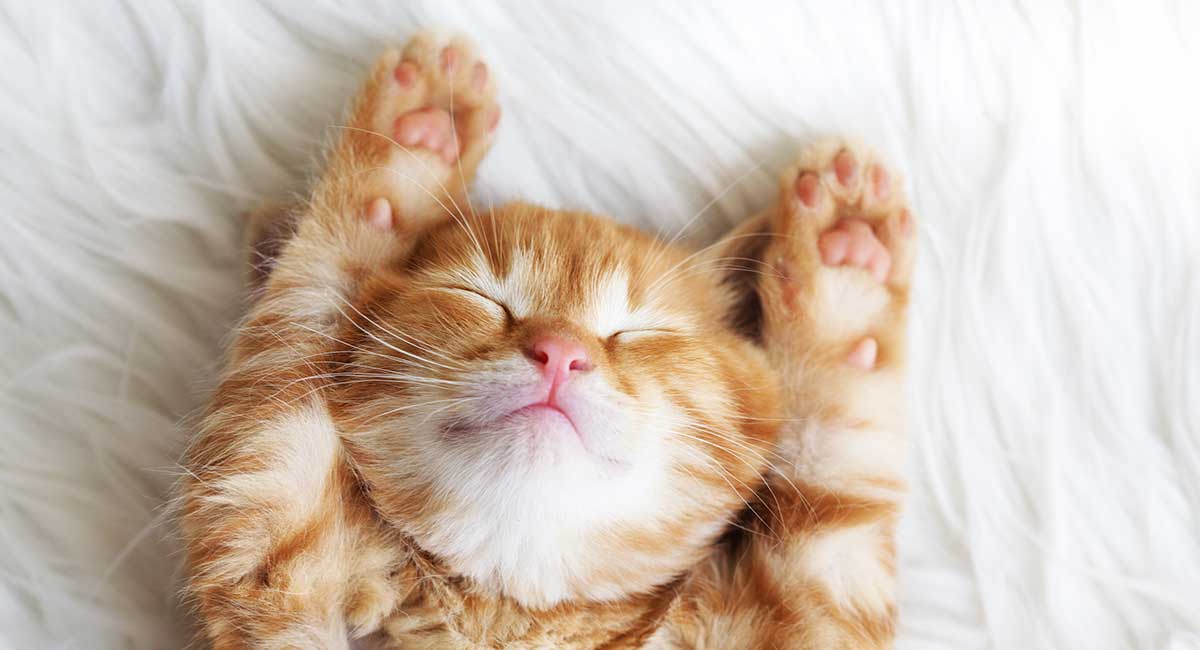 An orange and white cat carries the genes for red coat pigment (pheomelanin) and white spotting. All orange and white cats have tabby markings in their orange fur, even if they're too subtle to make out. Due to the special way coat color is inherited about three-quarters of orange and white cats are male.
Contents
The orange and white cat is something cats lovers encounter fairly often – but many people don't know much about these tiger-like kitties. We'll answer all these questions and more, right here!
The Orange and White Tabby Cat
You may have met several orange and white tabby cats. But did their matching coats mean they're all the same breed? In fact, no.
Tabby is not a breed, but a term to describe a certain coat pattern in domestic cats. A tabby is any cat that has a pattern of dots, stripes, swirling or lines on their coat. These patterns are usually accompanied by unique identifiers like the forehead mark that resembles an "M". There are different types of tabby cats, including:
And each tabby's marks have a unique pattern, like a fingerprint. Tabby markings can come in a whole array of colors, and thus, the "tabby" distinction is about coat pattern and not coat color.
Orange and White Tabby Cat Genetics
There are however some interesting parallels to color. For instance, the same gene that makes cats orange or cream colored is the same gene that makes the tabby pattern visible. This is why orange and white cats are almost always tabby-patterned. You'll rarely if ever see an orange and white cat that doesn't have any sort of tabby markings in its orange fur.
In fact, even if you have what looks like a pure-orange cat, genetically it's still a tabby! ALL orange cats are tabbies, even if the signature tabby patterns aren't visible because the ticking pattern is so fine, or the color contrast is very low.
Interested to learn more about the science behind tabby coat patterns? This scientific study explores the concept in detail.
The Myth of the Orange and White Cat Breed
There's a common assumption that a white cat with orange patches represents a specific breed. This is untrue! In fact, many breeds of cat can display orange and white coloring. That orange and white cat next door could be an American Bobtail, a Persian, a Munchkin or even a Maine Coon!
Their orange color comes from a predominance of a pigment called pheomelanin. This is the same pigment that makes some humans "redheads". So, when you look at a white orange kitten the only things that you can immediately know for sure are that
it is a tabby and it has the genes for the pigment pheomelanin.
The Genetics of Color
Cat genetics are somewhat complex, but we can learn some interesting things from the genetics of their coat color. For instance, did you know that among all cats, there are only two types of coat pigment?
Pheomelanin, which we've already encountered, is a reddish pigment. The other, eumelanin, is a black pigment. All cat colors, including the creams, grays, and browns, are a combination of these colors in different ratios. White, of course, is a lack of either pigment.
Orange Pigment is Dominant
Orange coloring can also "mask" other colors, including black. That's because the orange pigment gene – called O – is dominant. If a kitten inherits the O gene from just one parent, he will certainly have some orange coloring somewhere – although it might not be a fully orange coat.
Even light cream-colored cats have the orange gene. But they also have a dilution gene which limits how much red pigment is produced. So there are a lot of variations that can contribute to the coloring of a cat, and the permutations are quite complex – but fascinating!
Are Orange and White Cats All Male?
Another misconception is that all cats with white and orange spots, or any mix of orange and white coloring, must be male. This is not true – but we can see why people think this. Approximately 75-80% of orange cats are indeed male.
How could this be? Again, it's a matter of genetics. The O gene for orange pigment is contained on the X chromosome, which links it to sex as well.
Male cats only have one copy of the X chromosome, and if it carries the O gene, they'll be orange. Females have two X chromosomes, which means they can have the O gene on one, and the B gene for black pigment on the other. When this happens, they become a beautiful calico cat!
Of course, they could get two copies of the O gene, and be completely orange, but because they have more options, they end up comprising a smaller proportion of orange cats.
What About a White Cat with Orange Patches?
Does it matter if your cat looks orange with white markings, or white with orange patches? Where does the white come from anyway? White and orange cats owe their white bits to the White Spotting gene, which overlays pigmentless areas on top of the tabby orange base.
These pigmentless areas can cover most of a cat's body, or just the classic feet, bib, and tail tip. So technically, all orange and white cats are orange with white bits, and not the other way around.
Orange and White Cat Personality
Since orange white tabby kittens and cats look similar, many people assume that they might also have similar personality traits to one another. This is largely untrue. Personality and temperament is more closely linked to breed than color.
Personality is also a product of how the cat is raised – and indeed, there seems to be a somewhat random element to it, as well.
Cats are very unique and independent creatures, and they tend to behave however they want to behave, really! This is part of why we love cats so much – their independent, spunky nature makes them constantly entertaining and quirky.
Whether you fall for a white and orange tabby kitten or adopt an adult white cat with an orange tail, there's lots of scope for their personality to surprise you.
Exploring Links Between Cat Color and Personality
With all that said, there are certain characteristics that may be more common in orange and white cats, although not much scientific evidence to support them yet. For example, an online survey of 189 cat owners found that orange cats were most likely to be described as friendly.
Anecdotally, many orange cat owners also report that their feline companions are a bit lazy, highly snuggly, and very chatty!
Orange felines may also be prone to greediness (remember Garfield's affinity for lasagna?) But the problem with all these reports is that they're based on human perception, which can be flawed and prone to bias.
Final Thoughts on the Orange and White Cat
There is no specific breed associated with orange and white coloring, and indeed many cat breeds can be orange and white. All orange and white cats are orange tabbies underneath, with white patches overlayed on top. It's one of the most distinctive and admired cat fur patterns there is.
There's a much higher likelihood of an orange cat being a male, due to the genetic roots of the orange coloring trait. And lastly, each orange and white kitty is a unique little creature!
There's no putting this cat in a box (although they love boxes!) We often associate them with specific character traits, but there's no evidence of a biological mechanism underlying this.
Do You Have an Orange and White Cat?
Are they a boy or a girl? Do you think they're extra friendly? Tell us about them in the comments! Make sure you also check out our funny cat quotes!
Resources