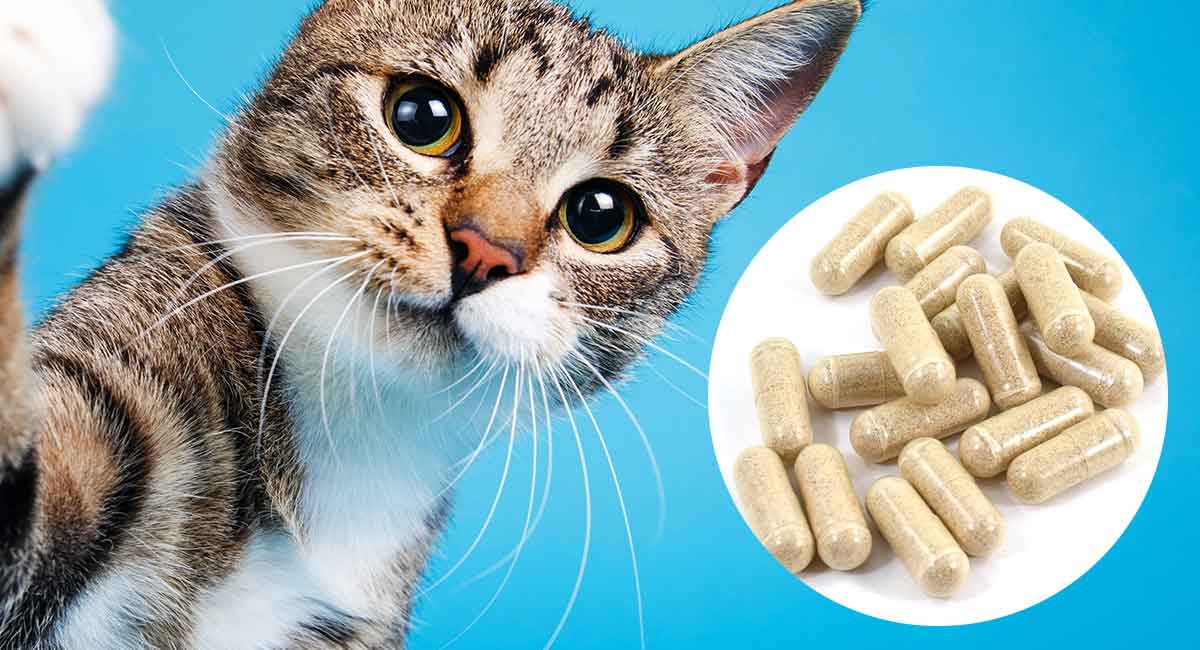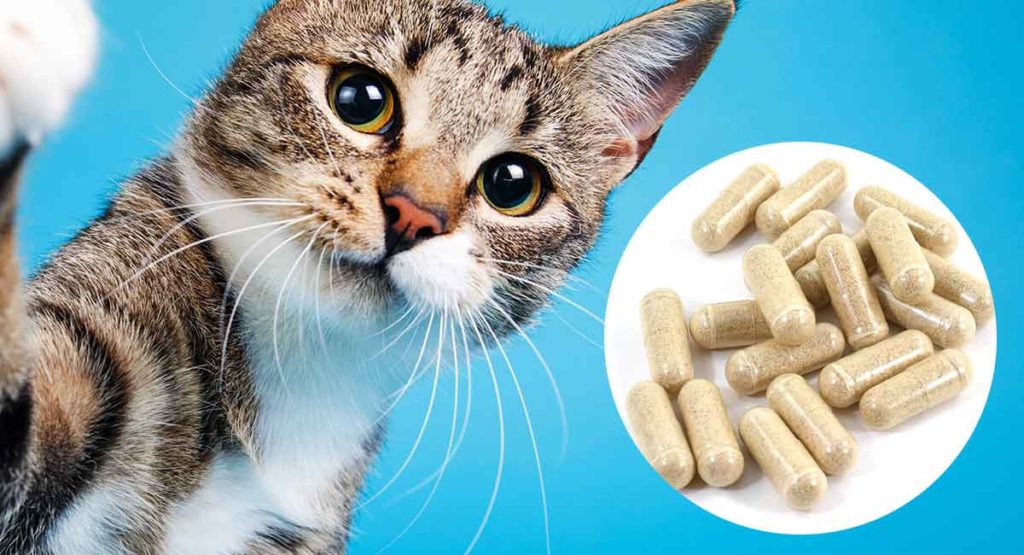 Probiotics for cats is a supplement that introduce healthy bacteria into your cat's digestive system.
Some of the potential benefits of probiotics for cats are to regulate digestion and to help with gastrointestinal illnesses, such as diarrhea.
However, it's important to choose the correct probiotic, with the safest bacteria for cats. Giving the wrong sort of probiotic can make your cat's gut less balanced.
Products included in this article were carefully and independently selected by the Happy Cat Site team. If you decide to make a purchase from one of the links marked by an asterisk, we may earn a small commission on that sale. This is at no extra cost to you.
The Benefits of Probiotics For Cats
Possible benefits of probiotics for cats may include:
Regulating digestion
Help with gastrointestinal diseases, like diarrhea
Improve overall health.
Probiotics for Cats FAQs
Our readers' often ask these questions about probiotics for cats.
What are Probiotics for Cats
Recently, probiotics for cats have become increasingly popular.
Just like humans, cats' digestive tracts contain many trillions of microbes which contribute to digestive health and support their immune system.
So, having a balance of good bacteria goes a long way to keeping your feline healthy.
Probiotics do just that – they introduce healthy bacteria into your cat's digestive system.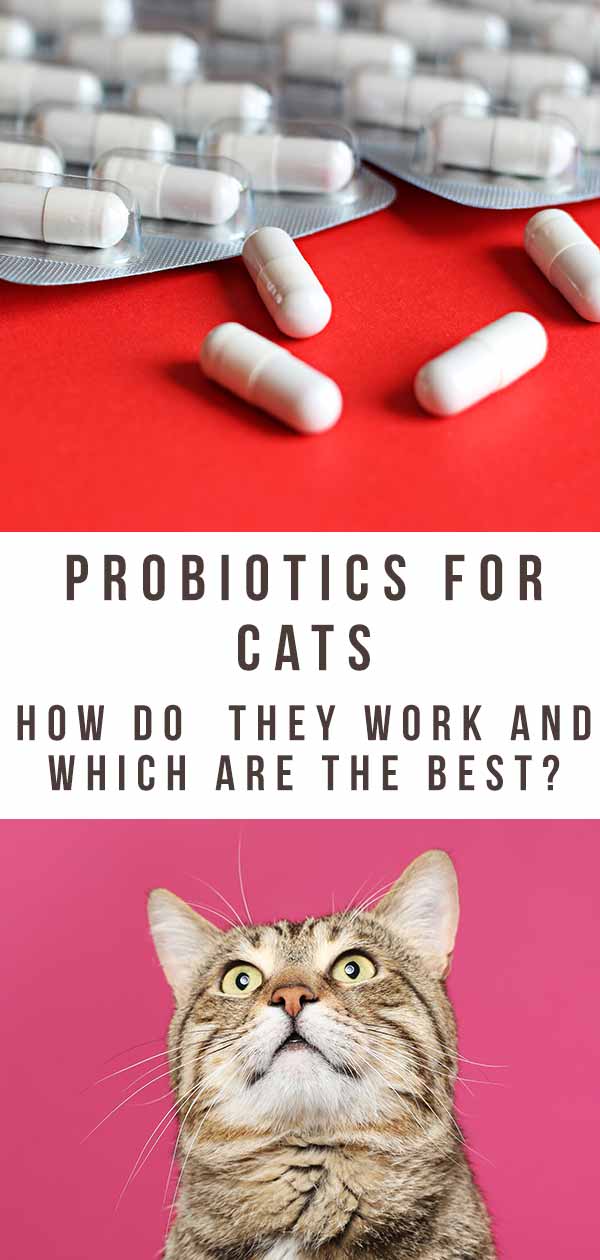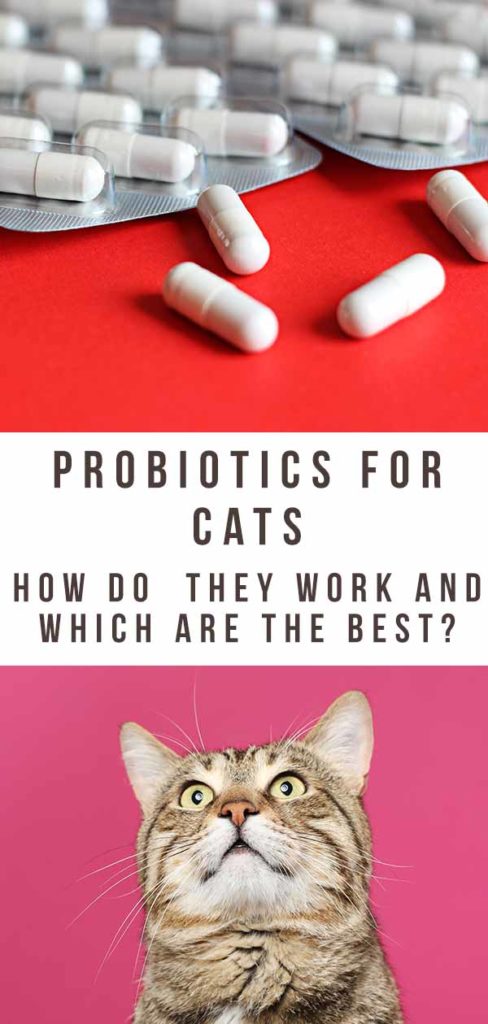 Are Probiotics Good for Cats?
Probiotics for cats can help regulate digestion and improve overall health.
Probiotics are even said to greatly improve a number of illnesses in cats, especially diseases associated with the gastrointestinal tract.
One of the most promising discoveries, however, is the extent that probiotics for cats can affect diarrhea.
Probiotics are commonly used to treat the symptoms of diarrhea in cats. But we will look more at this later.
Are Probiotics Safe for Cats?
As long as you are using the correct probiotics for your cat, it will be safe.
But, using the wrong type of probiotics can cause problems.
For a probiotic to work, it has to contain bacteria that is healthy for a cat's digestive tract. Not just any probiotic will do.
Giving the wrong type of probiotic can make your cat's cut less balanced.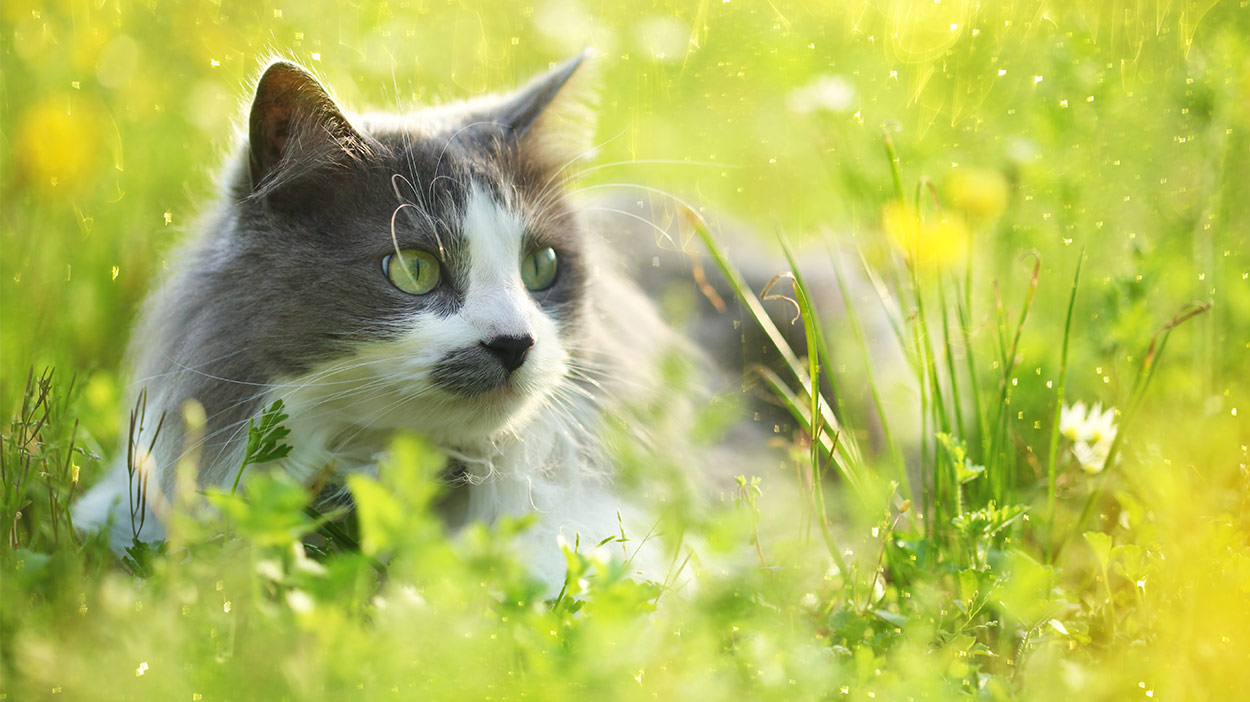 Side Effects of Probiotics
Whenever your cat tries something new, there are bound to be some side effects. Giving your feline probiotics for the first time is no different. Although studies have found most cats experience no major side effects in the long run.
Whenever your cat first starts taking probiotics, there might be a short "adjustment phase" as the good bacteria starts sticking around in the gut and your cat's intestinal bacteria makeup changes.
This adjustment phase can include symptoms such as diarrhea or just a generally "icky" feeling.
This should pass quickly, but if you have any concerns speak to your vet straight away.
It might simply be a case of trying one or two different products until you find the right one for your pet.
Some brands of probiotics simply work better for some cats than others!
Using Probiotics to Treat Cat Diarrhea
Probiotics have been hyped up as practically curing diarrhea in our furry friends, but how true is this?
One study done in 2012 sought to find out.
In this study, cats with chronic diarrhea were given probiotics, and then their owners reported any kind of stool change after 21 days.
No other changes were made to the cats' diets, and they were all screened for parasites and other illnesses before the test began.
The cat's diarrhea was assessed using a standardized scoring chart.
The Results
After the 21 day period, nearly all the cats' diarrhea slightly improved.
It wasn't a huge leap, no doubt, but it was a significant, measurable change.
Furthermore, 72% of owners reported that they noticed a substantial improvement to their cat's chronic diarrhea.
This indicates that probiotics can, at least somewhat, improve diarrhea in cats who are otherwise healthy.
Probiotics Dosage for Cats
The ideal probiotics dosage for cats will depend on the size of your cat, and the type of probiotics they are taking.
Probiotics for cats come in a huge number of forms, such as pills, sachets, and liquids. But, most of these will have instructions for dosage on the side of their packaging.
For example, some may come in a tub, but others may come in individual sachets.
Most brands will recommend 1 scoop or sachet per feeding. However, some may even have a helpful dosage chart, to break down the correct amount for your cat's weight.
If you're at all unsure about the recommended dosage, your vet will be the best person to ask.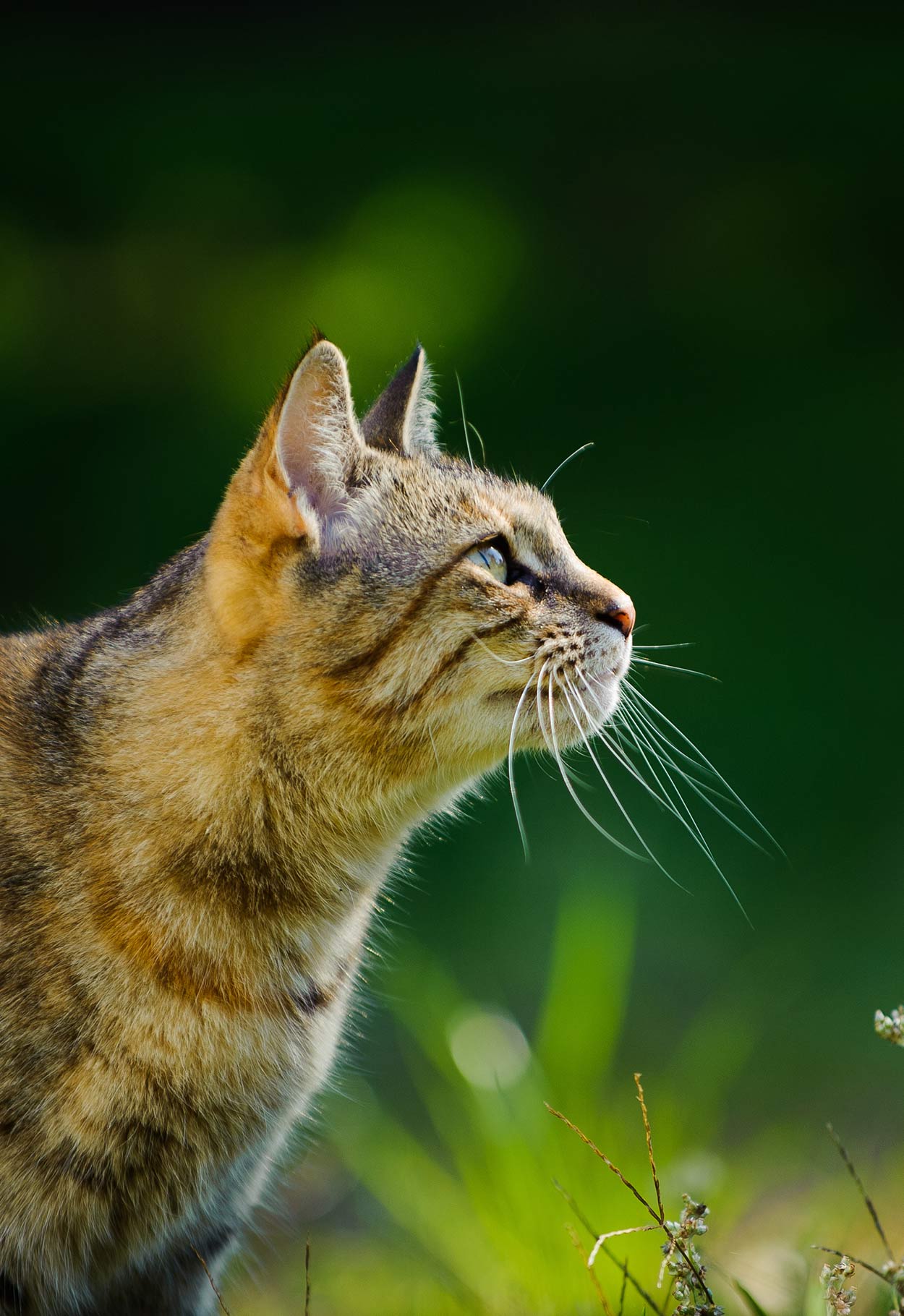 Best Probiotics Dosage for Cats
It's wiser to purchase a probiotic supplement which hasn't been sterilized and has a short shelf life.
Your vet can recommend a top quality product best suited to your cat's unique biology and nutritional requirements.
We always recommend consulting your vet before making any changes to your cats diet, especially if you're trying to target a specific health concern.
These are some examples of the kind of probiotics for cats your vet might suggest:
Pet Ultimates Probiotics for Cats
This product contains twenty different species of good bacteria*.
The specific bacteria your cat will benefit the most from depends on a lot of factors. So, this variety is really important.
Furthermore, it also does not contain sugar or grain maltodextrins in large amounts like many probiotics for cats.
Premo Probiotic PROBIOTICS FOR CATS
This probiotic contains no artificial flavors, wheat, dairy, or cheap fillers.
It really is just probiotics*.
It is also, of course, formulated especially for cats.
Purina Fortiflora Nutritional Supplement for Cats
This probiotic from cat food mega-brand Purina* was specifically created to improve diarrhea in cats.
So if your feline has that issue, this might be a solution your vet suggests.
It also comes in super convenient, single serve packets, so there is no measuring necessary.
Natural Probiotics for Cats
What about these things called natural probiotics? Are they the answer? And are they any different from, um, UN-natural probiotics?
Natural probiotics are basically naturally occurring good bacteria. These types of bacteria are commonly found in yogurt, as well as fermented vegetables.
There are some drawbacks to attempting to feed your feline probiotics in this state.
I don't know about your cat, but mine definitely are not touching any sort of vegetable. (They will hardly eat cat treats half the time but that's beside the point…) Plus, some cats cannot stomach dairy products including yogurt.
The foods that natural probiotics occur in simply aren't the foods that most cats would normally eat.
Because of this, it is often impossible to use probiotics in this natural form. Some yummy-for-cat supplement is nearly always necessary.
Probiotic Cat Food vs Probiotic Supplements
If you go shopping for probiotics for cats, you won't have to look long or hard to find a glut of choices.
Perhaps since probiotics have caused such a buzz in our own food, it's not surprising that pet food manufacturers have been keen to leap on board the bandwagon too.
So you'll find a wealth of probiotic cat foods and supplements such as liquid probiotics for cats.
Does it matter which you choose? Yes!
Probiotic Pet Food
For a start, probiotics can't survive the canning process, or be added to a sealed can, so avoid any canned food claiming to contain probiotics.
Secondly, pet food is typically formulated and packaged to have a long shelf life – often up to and over a year. This means we can buy in bulk and always trust that we've got a stockpile in the pantry, without worrying about it on a weekly basis.
BUT, probiotics are living organisms, and it's unlikely they will go on living all that time too.
In fact, one 2003 evaluation of probiotic pet foods – carried out before they had gone out of date – found that no product on the market actually contained all of the healthy bacteria they claimed to.
And 26% actually didn't contain ANY good bacteria at all!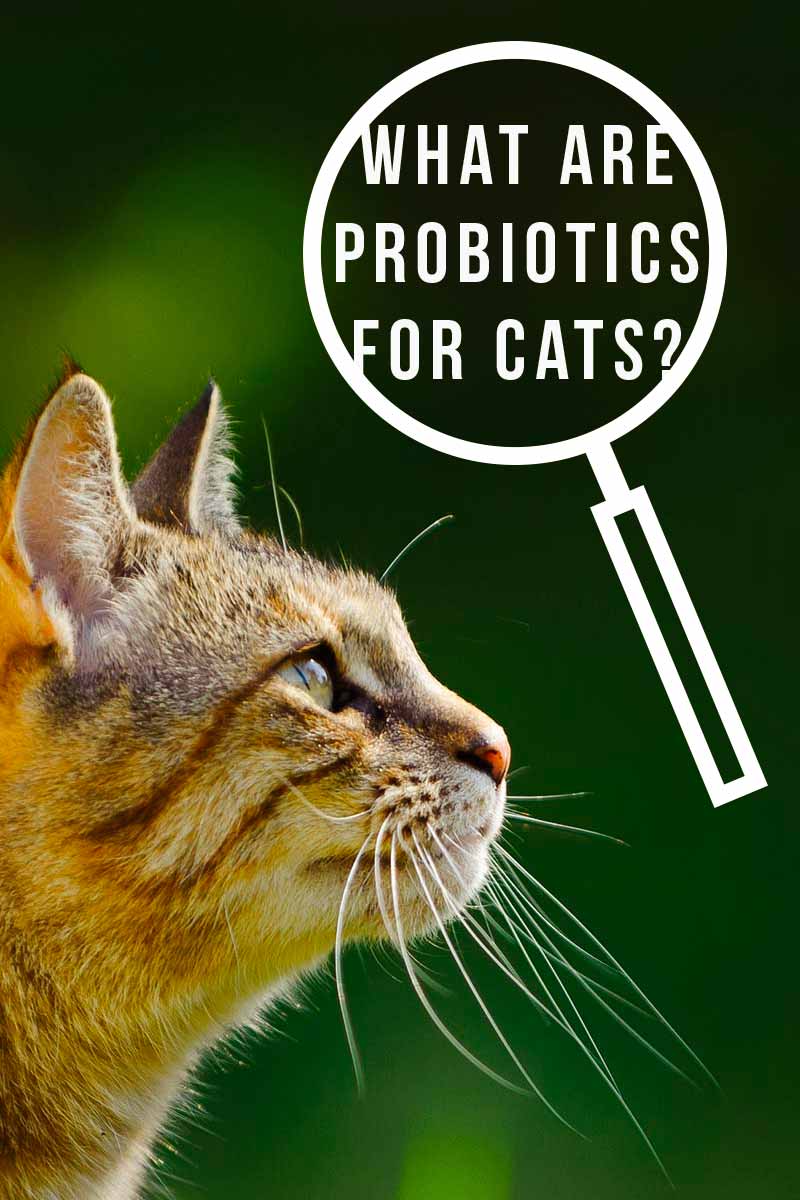 Wider testing of probiotics for cats and humans carried out by the same team also found a staggeringly high rate of labeling errors – including 15 products claiming to contain probiotic species that don't even exist!
Human Probiotics for Cats
You might be thinking, "if probiotics are so great for cats, I'll just give my feline some of mine."
Not so fast.
Probiotics have been shown to improve a cat's digestive health. But this does not mean that just any probiotic will do.
Choose the Right One
In order for a probiotic to even have a chance at affecting our felines' wellbeing, it has to be the correct probiotic.
It has to contain bacteria that is healthy for a cat's digestive tract.
The bacteria our cats need is very different from the bacteria that we need.
Specifically speaking, the dominant good bacteria in humans are of the Bifidobacteria group.
However, it is the Lactobacillus group that are most significant to cats.
So giving your feline probiotics intended for humans will make their gut flora more unbalanced, not less.
Finding the Right Probiotics
On top of this, the specific good bacteria a cat needs also changes with his or her particular diet!
A 2009 study at the University of Illinois found that the proportion of protein in a cat's diet affected the bacterial profile of their poop.
So the right probiotic to promote balance depends upon what else they're eating.
Human probiotics, then, simply will not do for our furry friends. They need a probiotic specific and healthy for them.
Alternatives to Probiotics for Cats
If your cat is suffering from diarrhea, you might want to try other alternatives before using probiotics.
There are plenty of changes your vet may suggest. These could include:
Introducing more fiber
Cooking bland food, such as rice and chicken.
Probiotics for Cats
There's no doubt that at the time of writing, probiotics are enjoying a real moment of glory in our own diets and our cats' food too.
There is some evidence that probiotics for cats can help with digestive upsets like diarrhea, and rebalance our cats' gut bacteria population if it is disrupted.
But choosing the correct probiotic can be confusing.
Many products simply do not contain all of the good bacteria they claim, and human probiotics are a no-go.
Remember, however, before radically switching your feline's diet, such as introducing a probiotic, you should always consult with your vet.
They can let you know which probiotics are best for your cat's specific situation, and can also help you ensure that now is the right time to begin trying probiotics for you cat!
Giving Probiotics to Your Cat
Have you tried giving your cat probiotics?
Any brands you absolutely love (or absolutely don't love)?
Let us know in the comment section below!
Affiliate link disclosure: Links in this article marked with an * are affiliate links, and we may receive a small commission if you purchase these products. However, we selected them for inclusion independently, and all of the views expressed in this article are our own.
References and Further Reading