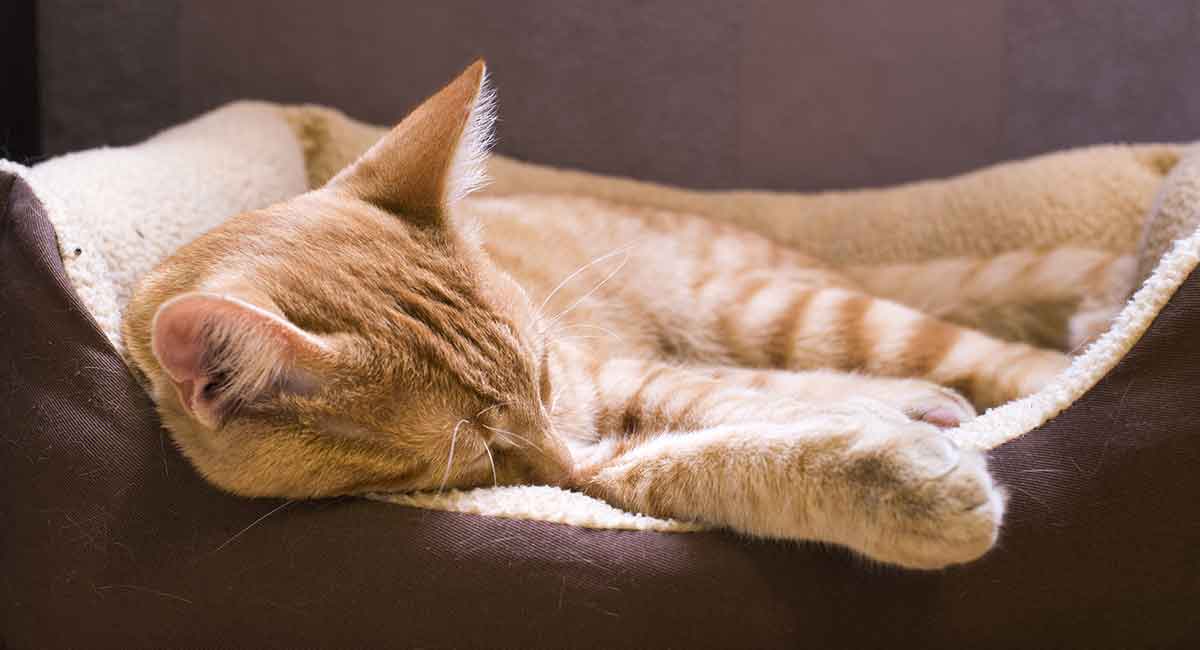 Are you worried you may have a sick cat on your hands?
Welcome to our complete guide to common cat illnesses, answering that all important question: Is my cat sick?
As our pets are unable to talk to us, detecting an unwell kitty is often a difficult task for owners.
Cats are classed as predators but are also easy prey for larger animals, so have a good survival instinct.
Like most prey species, a sick cat hides any illnesses or injuries to avoid being a vulnerable target.
It is essential, therefore, that you observe your kitty's regular behavioral patterns and appearance along with her usual eating, drinking and litter tray habits.
Any changes may indicate a sick cat, requiring veterinary treatment.
You should also check your kitty regularly for any abnormalities on her body like lumps or injuries.
How do you know if your cat is sick?
In this article, we provide information about sick cat symptoms and getting a diagnosis, along with the possible treatments your vet may recommend.
How to tell if your cat is sick
If you believe you may have a sick cat, there are few clues you need to look for first.
Some of the signs your cat is sick include:
• Sleeping excessively
• Hiding away
• Changes in appetite and drinking habits
• Litter tray issues
• Changes in appearance
• Mobility issues
• Changes in behavior
• Labored breathing
• Sneezing
• Coughing
• Licking one area continuously
If you notice any changes in your kitty, however slight, it is possible you may have a sick cat. If so, you should take her to the vet straight away.
Common Cat Health Problems
Although cats seem independent, they are very much dependent on us to keep them in good health and seek veterinary advice when they are ill.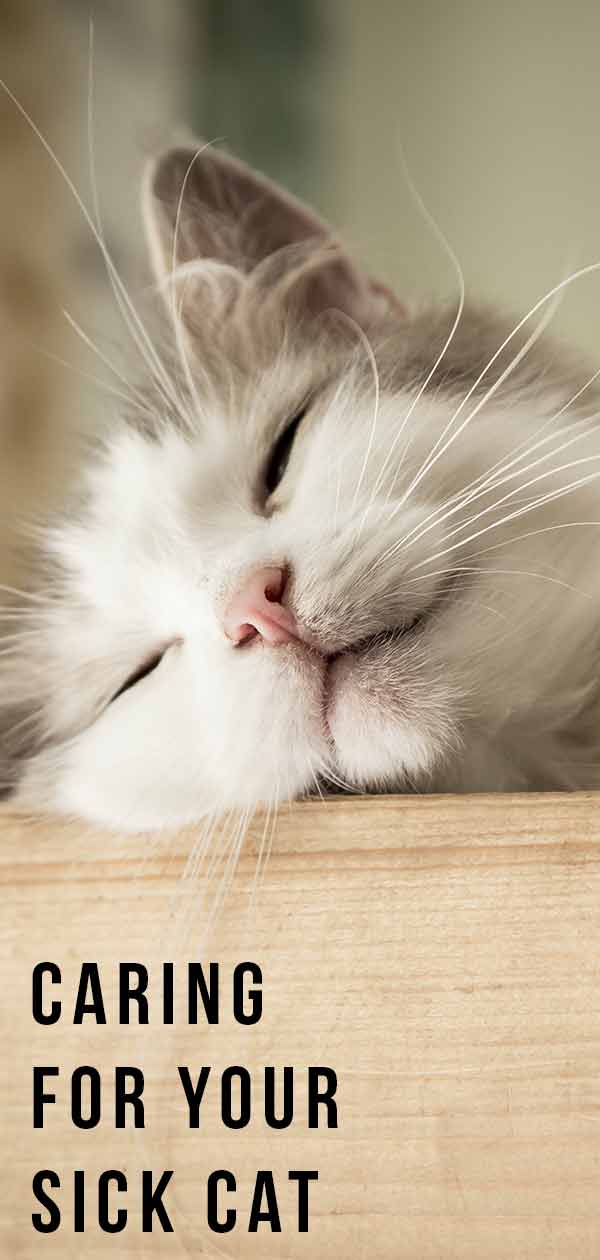 Understanding some of the common ailments in felines and how to recognize the signs of a sick cat enables you to take the right action for your kitty.
Vomiting in cats
It is quite common to see your cat being sick occasionally and is usually no cause for alarm.
However, you need to observe your pet, since vomiting can also be a symptom of a more severe condition, which could result in a very sick cat.
Symptoms
• Continuous vomiting
• Lethargy
• Dehydration
• Blood in vomit
• Weight loss
• Diarrhea
• Changes in appetite and drinking
• Pain and distress
Causes
• Hairballs
• Tumours
• Changes in diet
• Diabetes
• Hyperthyroidism
• Kidney disease
• Liver disease
• Poison
• Foreign body
• Parasites
• Intestinal obstruction
• Neurological disorders
• Food allergy or intolerance
• Overeating
If your cat keeps being sick and shows other symptoms, take her to the vet immediately.
Diagnosis
If you can, bring a sample of your cat's vomit to the vet for testing.
Your vet will conduct a clinical examination on your pet and ask you questions about her medical history.
Diagnostic tests may also be required, such as:
• X-rays
• Ultrasounds
• Blood tests
• Urine tests
• Fecal examination
• Sonogram
Treatment
Treatment may include:
• Intravenous fluids
• Antibiotics
• Medications to control vomiting
• Surgery, if the cause is a tumor or foreign body
It is common to withhold food and water for two hours after vomiting, then gradually feed the pet a bland diet, such as rice, potatoes, and skinless chicken.
Observe your cat and return to your vet for a follow-up evaluation if her condition does not improve.
Prevention
You cannot always prevent your kitty from being sick, but you should keep her away from food that could be harmful and ensure she has a proper, quality diet.
Regular brushing of her coat helps remove excess hair that your cat might otherwise ingest while grooming, helping to prevent hairballs.
Feline Lower Urinary Tract Disease (FLUTD)
FLUTD defines many conditions that affect both the bladder and urethra.
Symptoms
• Straining to urinate
• Urinating outside litter tray
• Blood in urine
• Little or no urine
• Frequent visits to litter tray
• Crying out during urination
• Constant licking of the genital area
• Lack of appetite
• Dehydration
• Vomiting
• Depression
Causes
Issues such as:
• Environmental or emotional stress
• Multi-cat households
• Sudden changes
Other possibilities include:
• Bladder stones
• Blockage
• Urinary infection
• Kidney disease
• Hyperthyroidism
• Diabetes
• Overweight
• Dry diet
Diagnosis
FLUDT is usually a diagnosis of elimination, meaning your vet must rule out other diseases before finding the cause.
Your vet will perform a physical examination based on your cat's symptoms and medical history and may recommend diagnostic tests.
These include:
• Urinalysis
• Blood tests
• X-ray
• Ultrasound
Treatment
Treatment will depend on the identified cause but will likely include:
• Pain-relieving medications
• Nutritional supplements
• Wet food diets
• Clean litter tray
• Opportunities for playing and mental stimulation
Prevention
Depending on the cause, specific methods of prevention can reduce the chances of reoccurrence:
• Always provide clean, fresh water
• Feed wet food diet
• Provide adequate litter trays in quiet areas
• Keep litter trays clean
• Minimize major changes
• Reduce stress levels
• Provide cat trees and scratching posts
Dental disease in cats
Dental disease in cats is particularly prevalent in felines over the age of four and can often lead to other conditions.
Symptoms
• Pawing at mouth
• Head shaking
• Bad breath
• Excessive drooling
• Difficulty eating
• Loss of appetite
• Swollen or bleeding gums
Causes
Dental disease is the result of a build-up of plaque in the cat's mouth which turns into tartar. It is mainly due to insufficient oral hygiene practices.
Diagnosis
Your vet will examine your kitty's mouth, looking for clinical signs such as bad breath and bleeding gums. She may have to go under anaesthetic, depending on the severity.
X-rays may also be necessary to evaluate the dental issues.
Treatment
The treatment your cat receives depends on how severe the gum disease is, and ranges from:
• Preventive dental care
• Deep cleaning
• Surgery
• Extraction of teeth
Your vet may prescribe antibiotics, and you should schedule follow-up appointments following treatment.
Your cat will require soft food to make eating easier.
Prevention
Practise good oral hygiene with your cat by brushing her teeth regularly and including dental additives in her drinking water along with annual check-ups with the vet.
Diarrhea in cats
Diarrhea is a frequent loose motion from the bowels and should be treated by the vet if the condition persists after 24 hours.
Symptoms
• Loose, watery stools
• May contain blood or mucus
• Lethargy
• Dehydration
• Vomiting
• Fever
• Loss of appetite
• Weight loss
Causes
• Change in diet
• Food intolerance
• Infection
• Internal parasites
• Liver or kidney disease
• Foreign body
• Cancer
• Colitis
• Hyperthyroidism
• Certain medications
Diagnosis
Your vet will perform a complete examination and will want to know your kitty's medical history.
Recommended diagnostic tests may include:
• Blood count
• X-rays
• Ultrasound
• Urinalysis
• Biopsy
• Endoscopy
Treatment
If your sick cat has severe diarrhea, she will most likely be hospitalized, and fluid and electrolyte therapy may be pursued.
Often a cat will need to:
• Fast for between 12 and 24 hours
• Eat a bland diet
• Have medications as prescribed by the vet
• Have surgery to remove a foreign body
Prevention
• Avoid dairy foods
• Make any food changes gradually
• Regular worming program
• Keep cat away from garbage and harmful food
Feline Leukaemia Virus (FeLV)
After trauma, FeLV is the second major cause of death in cats and is a highly infectious disease.
Young cats and males are particularly prone to the virus.
Symptoms
• Loss of appetite
• Weight loss
• Poor coat
• Fever
• Pale gums
• Diarrhea
• Vomiting
• Eye problems
• Enlarged lymph nodes
• Behavior changes
• Seizures
• Lethargy
• Respiratory, skin and bladder infections
Causes
• Cat-to-cat transmission through saliva
• Grooming
• Sharing dishes and litter trays
• Bites
• Mother cat transmits to kittens at birth or through her milk
Diagnosis
Your vet will first eliminate other possible infections as well as non-viral cancers.
There are simple blood tests available to determine if your sick cat has FeLV.
Treatment
Sadly, 85% of cats with the virus die within three years of being diagnosed, and there is no treatment or cure.
Medications are prescribed by the vet to treat the symptoms of your cat and hospitalization may be necessary.
Sometimes emergency blood transfusions are required.
If your kitty has FeLV, you will need to observe her for signs of infection. Your cat may have an average lifespan if she can avoid other illnesses and diseases.
Prevention
Keeping infected cats indoors and away from healthy cats is the only way to prevent transmission of the virus.
There is a vaccination for FeLV, but your cat will need testing beforehand in case she is infected with the virus already.
Can cats get sick from humans?
It is possible that we can give flu to our cats.
The first case was recognized in Iowa in 2009 after identifying a cat with the H1N1 strain.
Although it is quite rare, if your kitty did catch the flu from you, the symptoms would be the same as in humans:
• Sneezing
• Coughing
• Fever
• A runny nose
• Tiredness
• Lack of appetite
If your sick cat displays any of these symptoms, it could signal a more severe condition, so she should go to the vet for treatment.
The only way to prevent your cat from catching flu from you is to not go near her.
Also, cover your mouth or nose when coughing or sneezing to prevent the spread of germs and wash your hands frequently.
What to do about a sick cat
It is essential that you observe your cat regularly, noting any changes in her habits and behaviors along with checking her body for any abnormalities.
If you do notice anything different, always seek veterinary advice from someone who can address your concerns.
Make sure your cat's vaccinations are kept up-to-date, and follow a strict worming program along with yearly check-ups with your vet.
Also, always feed a balanced diet, keep litter trays clean and practice regular dental hygiene.
Proper management in a clean environment is the key to keeping your kitty in good health and help prevent you having a sick cat.
Have you had to nurse a sick cat? What condition did they have? Has your cat ever caught flu from you? Share your sick cat stories with readers.
Extra Reading/References
Vomiting and Reflex Vagal Relaxation of the Stomach Elicited from Heart Receptors in the Cat
Martha Cannon, Hair Balls in Cats: A normal nuisance or a sign that something is wrong?
Danièlle A Gunn-Moore*, Feline lower urinary tract disease
Clinical evaluation of cats with lower urinary tract disease
2013 AAHA Dental Care Guidelines for Dogs and Cats*
S.N. Bybee, Effect of the Probiotic Enterococcus faecium SF68 on Presence of Diarrhea in Cats and Dogs Housed in an Animal Shelter
Biology of Feline Leukemia Virus in the Natural Environment
Feline leukemia virus infection and diseases
Feline leukaemia. ABCD guidelines on prevention and management
Antibodies to influenza A virus (H1 and H3) in companion animals in Iowa, USA
Acute bronchointerstitial pneumonia in two indoor cats exposed to the H1N1 influenza virus