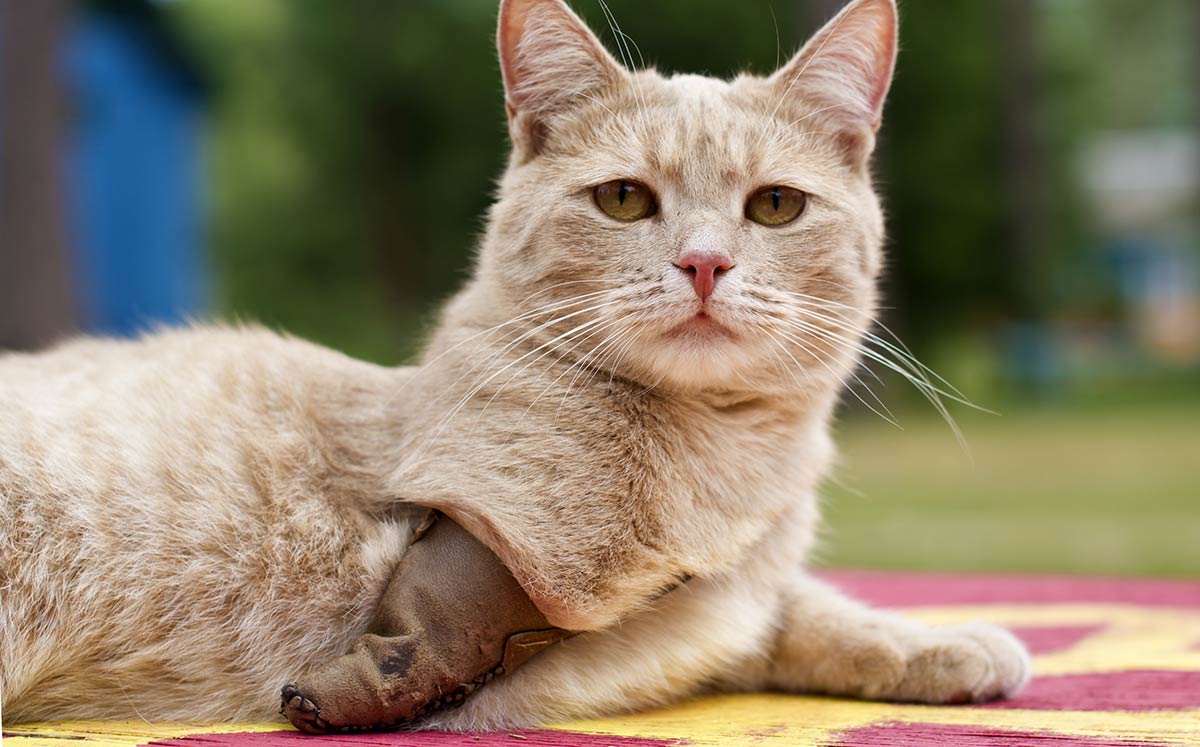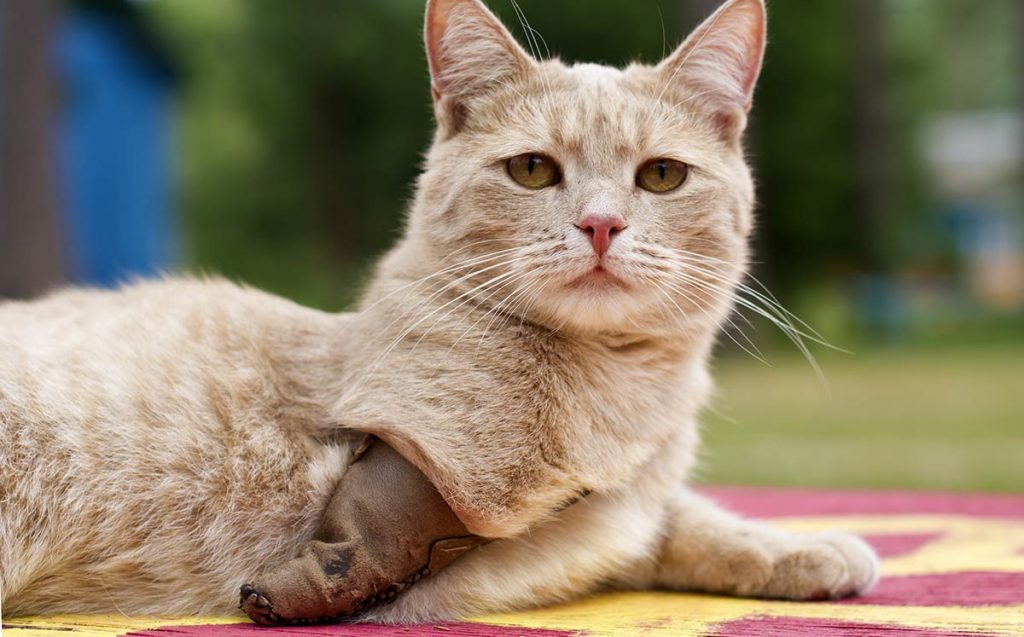 Three legged cats are just as adorable as their four legged friends. But owning and caring for a 3 legged cat can be understandably daunting.
Known affectionately to their owners as 'tripod kitties,' three legged cats can have some special requirements and you will have a lot of questions.
How do you give them the best care they need?
How will this affect their quality of life?
Are there dangerous complications to the surgery?
Amputation surgery is a decision no cat owner wants to make. Sometimes, however, we have no choice.
Here is what you need to know.
Cat leg amputation surgery
In cats, the most common reasons why your veterinarian might recommend a cat leg amputation are trauma and cancer.
Amputation is usually a last case resort once all other options are exhausted. The good news is that cat amputation surgery is a relatively straightforward procedure.
There are several different ways your veterinarian can amputate your cat's leg. The exact surgical procedure they choose depends on the damage to the limb and the limb itself.
Cat front leg amputations are usually performed by removing the entire limb along with the shoulder blade. This procedure leaves your cat with a well-padded amputation site, and complete removal of the leg helps ensure ease of movement post-operation.
There are two main techniques used to amputate hind legs.
The first leaves a small stump midway through the femur. This is preferable to some owners, as it leaves your cat's rump looking normal and provides your cat with padding.
The second technique removes the entire leg at the hip joint.
This is typically done when there is disease or severe damage to the thigh.
In some trauma cases, especially with car accidents, there might be more damage that your veterinarian needs to address before they can perform the surgery.
In almost all cases, however, your veterinarian will want to run bloodwork to make sure your cat is not at an increased risk of complications during surgery.
Cat leg amputation recovery
After the surgery is done, the real work begins.
Humans take much longer to adapt to amputations than cats. It probably helps that cats start out with two more legs than we do, but whatever the reason, cats recover very quickly from cat amputation surgeries.
Here is what you can expect.
Depending on your cat's health and your veterinarian's preferences, your cat may be hospitalized for a day or two following surgery.
When your cat does come home, it is very important for owners to keep their cats calm. Your veterinarian will most likely send your cat home with an Elizabethan collar, also known as the infamous 'cone of shame,' to prevent your cat from irritating the surgery site.
Your cat will also come home with painkillers to help manage the postoperative pain. In some cases, your veterinarian may prescribe antibiotics to minimize the risk of infection, or to control any existing infection.
Three Legged Cat Post Surgical Care
Whenever possible, try to keep your cat off slippery or uneven surfaces until she has figured out how to walk steadily on three legs. Stairs are also a risk for new amputee cats to navigate.
Your cat will have to go back to the veterinarian to have his sutures removed a few days after surgery. This is a great time to ask your veterinarian any questions, and allows them to make sure there are no complications developing.
Most cats make complete recoveries and adapt very well to life with three legs. In a survey of owners of cats undergoing leg amputations, 89 percent of the owners thought their cats regained a normal quality of life. Those are pretty good odds.
Cats carry most of their weight on their front limbs. It might take a cat with a front leg amputation a little longer to recover than those with hind limb amputations.
It can also take older cats longer to adjust to an amputation than it does younger cats, but with time, they too should regain full mobility.
Cat leg amputation complications
There is no such thing as a totally safe surgery. There are risks any time an animal is under anesthesia. Veterinarians do their best to identify some of these risks through pre-surgery bloodwork.
However, cat leg amputation surgery is a relatively low risk surgery, as far as surgeries go.
The biggest cat leg amputation complications, besides the risks of general anesthesia, are hemorrhaging, postoperative infection, and wound breakdown.
In some cases, additional surgery may be required to deal with complications.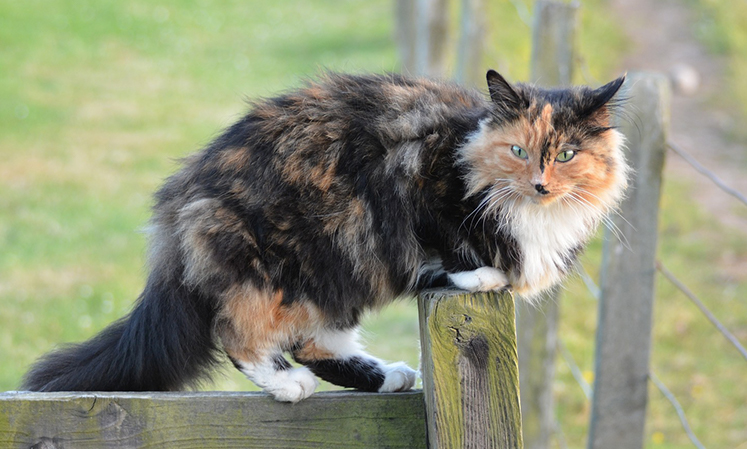 Along with these risks, owners could see some bruising and fluid accumulation along the incision. This should improve after several days, and your veterinarian may recommend using hot packs a few times a day.
In rare instances, nerve damage can result in a painful condition called neuroma formation that may require an additional surgery or pain medication.
There is little as an owner that you can do to prevent complications during surgery. To reduce your three legged cat's risk of developing complications after their surgery, however, make sure you follow your veterinarian's instructions, and don't hesitate to call with questions or concerns if something doesn't look, feel, or smell right.
Three legged cat care
Once the surgery is over, recovery beings. Here are some tips for three legged cat care for post-surgery and the rest of their lives.
Overweight cats are at an increased risk of developing joint diseases like arthritis, not to mention other conditions like diabetes.
It is even more important that your three legged cat stays slim, as this will reduce the wear and tear on your cat's remaining limbs.
In fact, the most important thing you can do for a cat with three legs is keep them on the thinner side of normal, according to veterinarians.
You can help your cat stay trim by feeding an appropriate diet and engaging them in play.
Just because they have three legs doesn't mean they won't enjoy chasing a favorite toy, so help keep your three legged cat walking, running, and jumping with a little play time.
While cats typically manage very well with three legs, there are some things you can do to make their lives easier.
Making It Easy For Your Three Legged Cat
Place food, water, and litter boxes in convenient locations for your cat, instead of in hard to reach or elevated areas.
Learning to use the litter box with only three legs can be a challenge.
You can help with this by keeping the litter box very clean and by getting a litter box with higher sides to accommodate any changes in habits.
Your cat may need some assistance grooming, at first.
Grooming is a great bonding experience with your feline, and will help your cat feel better.
If your cat struggles to reach her favorite spots around the house, consider installing a ramp or her very own 'catwalk' to make it easier for her.
The most important thing you can do as an owner of cat with 3 legs, aside from weight management, is observe.
If your cat appears depressed, lethargic, or changes his grooming, eating and elimination habits, it could be a sign of discomfort or pain.
Your veterinarian may be able to help ease your cat's discomfort.
Taking on a three legged cat for adoption
If you're considering adopting a tripod kitty, you're probably wondering if there are any additional considerations that come with 3 legged cats.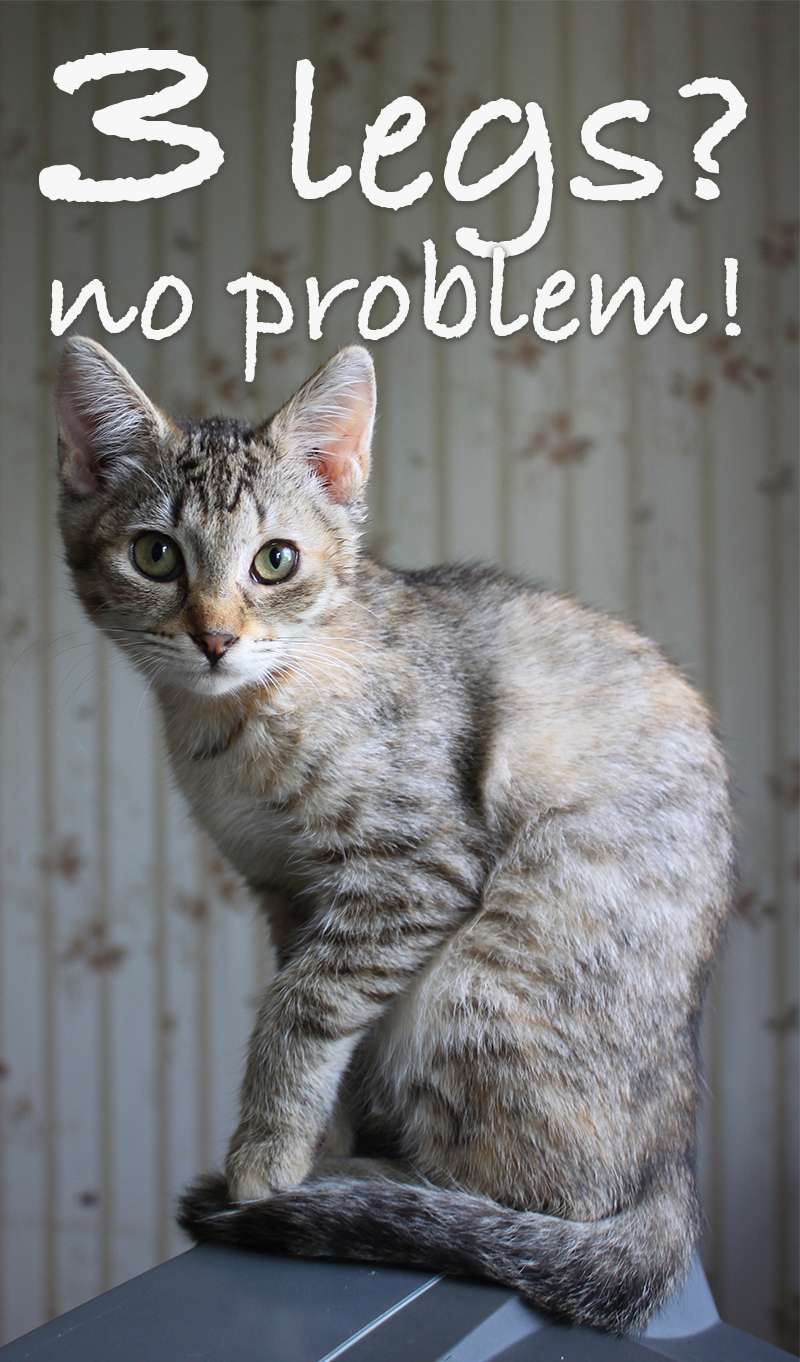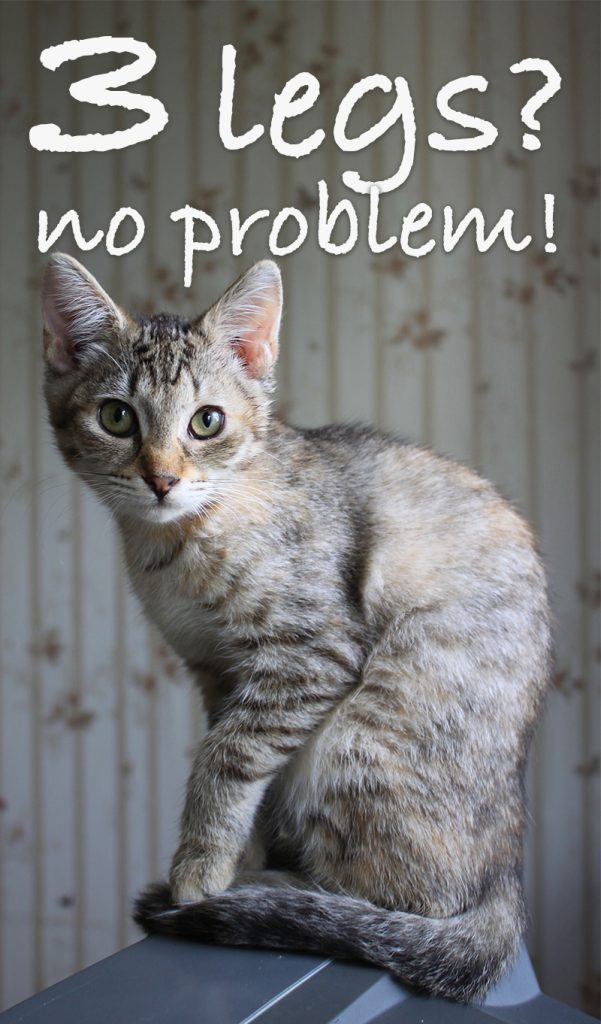 The good news is that most cats with three legs make a full recovery and adapt to life as a tripod kitty easily.
Your new friend should not have any problems performing normal cat behaviors like jumping, running, and playing.
You may find your three legged cat tires a little faster than a four legged cat, and if they have had a hind limb amputation, their jumping range might be a little diminished, but there are no serious concerns about mobility.
Three legged cats can use a litterbox, eat, groom themselves, run, play, sleep, and perform all the regular functions of four legged cats, although this adjustment process can take time.
Three legged cats should also be kept indoors or outside only when supervised to prevent further injury and to keep them safe from neighborhood predators.
Adopting a special needs pet is rewarding, and will probably save their life. If you see a 3 legged cat for adoption at your local shelter, talk to your veterinarian for any further tips on how to keep your new best friend happy and healthy.
Three legged cat problems
You may find that your cat develops some physical or behavioral problems during their recovery.
It can take a while for some cats to figure out how to walk on three legs, and resuming normal activities like grooming and using the litter box pose challenges.
Be patient with your cat and help when you can. Experiment with different litter boxes, and keep some baby wipes on hand to help clean your cat's rear area if urinating or defecating are difficult at first.
Obese three legged cats are at risk of hurting their other limbs. Most cats adapt very well to life on three legs, but they prefer to leave life on two legs to humans. Keep your cat trim to avoid jeopardizing any of his other limbs.
Three legged cat life expectancy is the same as any other cat, as long as the condition that necessitated the amputation does not cause additional problems.
For the most part, life with a three legged cat is no more challenging than life with an ordinary cat – not that there is any such thing as an ordinary cat!
Three legged cat prosthesis?
Humans can have prosthetic limbs, but what about cats with three legs?
Currently, prosthetic limbs in cats are rare. Since cats recover so well from amputation, part of the lack of prosthetics could be simply that most cats don't need them.
If your cat is missing two legs, however, they may require additional help. Wheelchairs are available for cats and dogs, but prosthetic limbs are not.
This may be about to change. Scientific advances in the last decade in connecting living tissue with artificial implants are helping veterinarians figure out how to make prosthetics for cats more successful – and more affordable.
Hopefully, these new discoveries will help scientists and veterinarians overcome the obstacles of infection and implant longevity, shaping the future of animal prosthetics.
For now, however, options are unfortunately limited.
Three Legged Cat
Life with a tripod cat might seem daunting at first, but your three legged friend is not very different from the other felines on the block.
Cat amputation surgery is generally low risk, and cats recover remarkably quickly to their new lives.
Your cat's surgery will ultimately help her get back on track after an illness or injury.
You may even find that life with a tripod kitty is more rewarding than you imagined.

Further Reading and Resources
'Limb Amputation.' American College of Veterinary Surgeons.
Iowa State University. 'Cat receives prosthetic legs, makes strides in recovery.' Science Daily. 2015.
Forster, L. M. et al. 'Owner's observations of domestic cats after limb amputation.' Veterinary Record. 2010.
Grimm, K. DVM, MS, PhD, DACVA, DACVCP. 'Anesthetic risk management (Proceedings).' DVM360.com. 2010.
Seim, H. DVM, DACVS. 'Surgeon's Corner: Forelimb Amputation.' Clinician's Brief. 2013
Smeak, D. DVM, DACVS. 'Forelimb Amputation.' NAVC Clinician's Brief. 2012.
Tremayne, J. 'Prosthetics Advance With Osseointegration.' Veterinary Practice News. 2009.