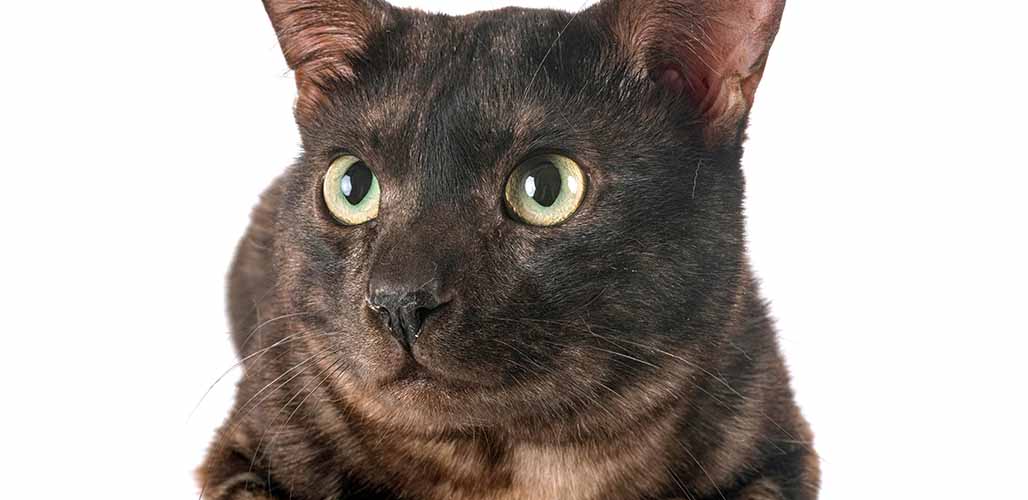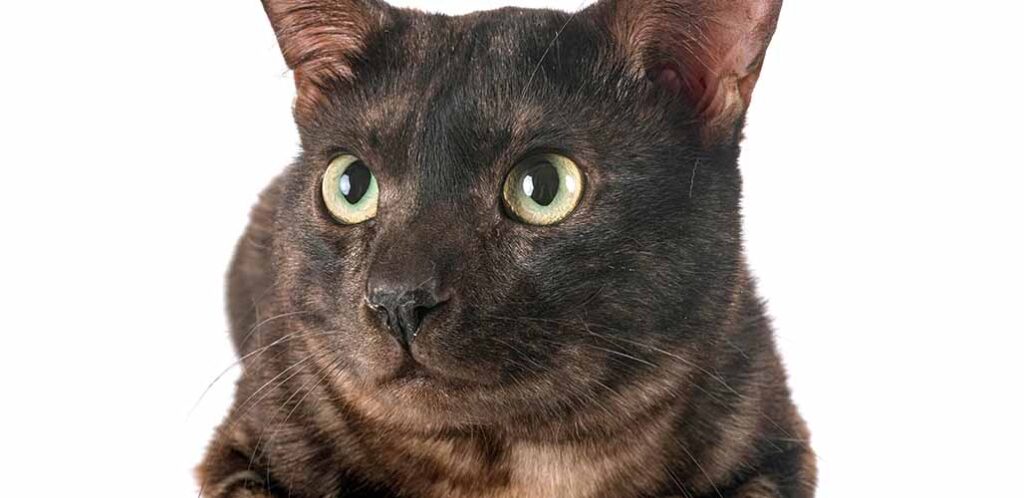 The black Bengal cat is often known as the melanistic or ghost Bengal. Melanistic is for the gene that causes this distinctive dark color, and ghost is because of the impact it has on their pattern. The Bengal cat breed usually looks pretty exotic with their spotted coat and large eyes. But, those spots can be hard to see in certain colors. A black Bengal has black spots on a black background, so at a glance, they appear to be solid in color.
Contents
This coloring is not an official registered Bengal shade, but is popular nonetheless. Today I'll check out the traits, characteristics and behaviors of a black Bengal cat. And find out whether despite their unique coloring, they'll have the same inquisitive, energetic personality as any other Bengal shade.
What is a Black Bengal Cat?
The Bengal cat breed's exotic appearance makes sense when you look at its early origins! This breed originated in the 1960s, when breeder Jean Mill crossed domestic cats with a small wild cat species, the Asian Leopard Cat. Since then, Bengals were standardized, and were accepted as an official breed by The International Cat Association in 1986.
The closest TICA accepted color to black in the Bengal breed is charcoal. This coloring can be spotted or marbled. But, there is an unofficial shade known as black or melanistic Bengal. These cats have black spots over a black background, making them appear as solid black.
What Do They Look Like?
The Bengal breed is quite a large cat. This means that it can take up to 2 years for them to reach their full adult size! Like most breeds, females are usually smaller than males. As adults, this breed can range between 6 and 15 lbs. They have short coats that don't shed frequently.
Bengals have large, oval eyes, and an overall muscular physique. This breed is often described as having an exotic, or wild appearance. Which is mostly down to their coat and its pattern. Bengals have spots or rosette markings on their coats. The markings are usually darker against a lighter background. But, since black Bengals have black markings against a black background, it can be quite hard to distinguish their markings from the rest of their fur.
There is usually a slight contrast between a black Bengal's markings and their base fur. But, you might only notice this contrast in certain lights. This is why these markings are sometimes called "ghost spots". These cats won't have warm tones in their coats. They will usually have hazel, gold, or green eyes.
What Causes Black Fur in Bengal Cats?
The black Bengal cat is slightly different to the charcoal coloring. Charcoal coloring is an incomplete melanism, whilst a black Bengal cat is fully melanistic.
The allele that causes melanistic coloring is recessive. So, kittens must inherit a copy from each parent in order to show up as fully melanistic. This allele is portrayed as 'a', so a fully melanistic Bengal will be aa – with two copies of the recessive gene.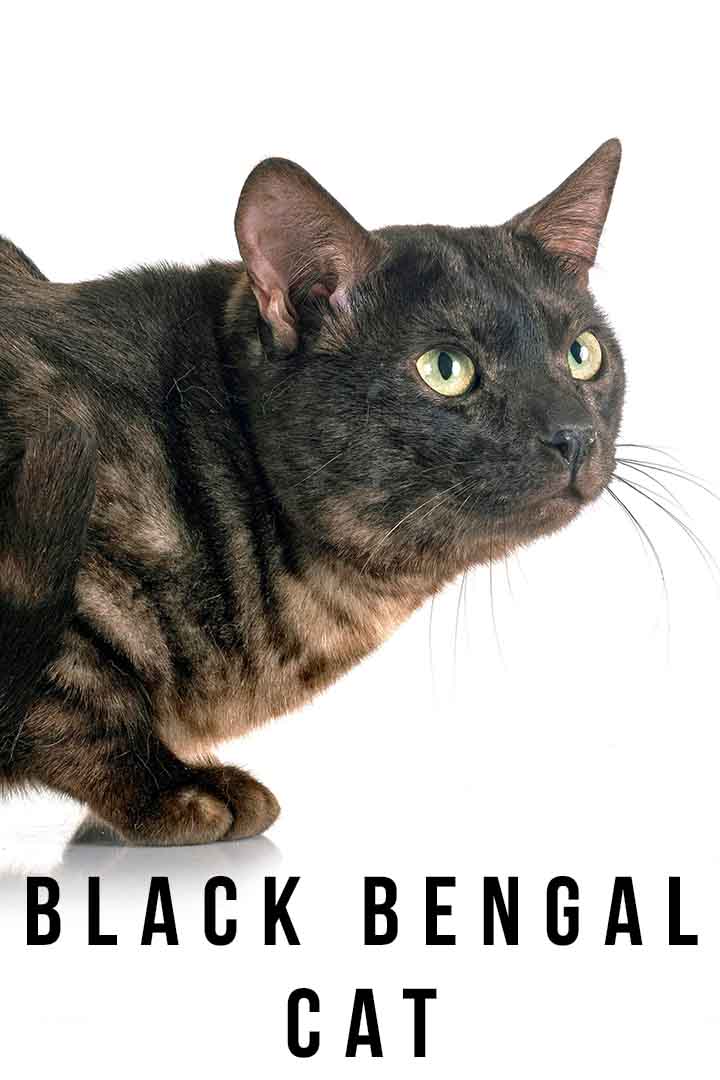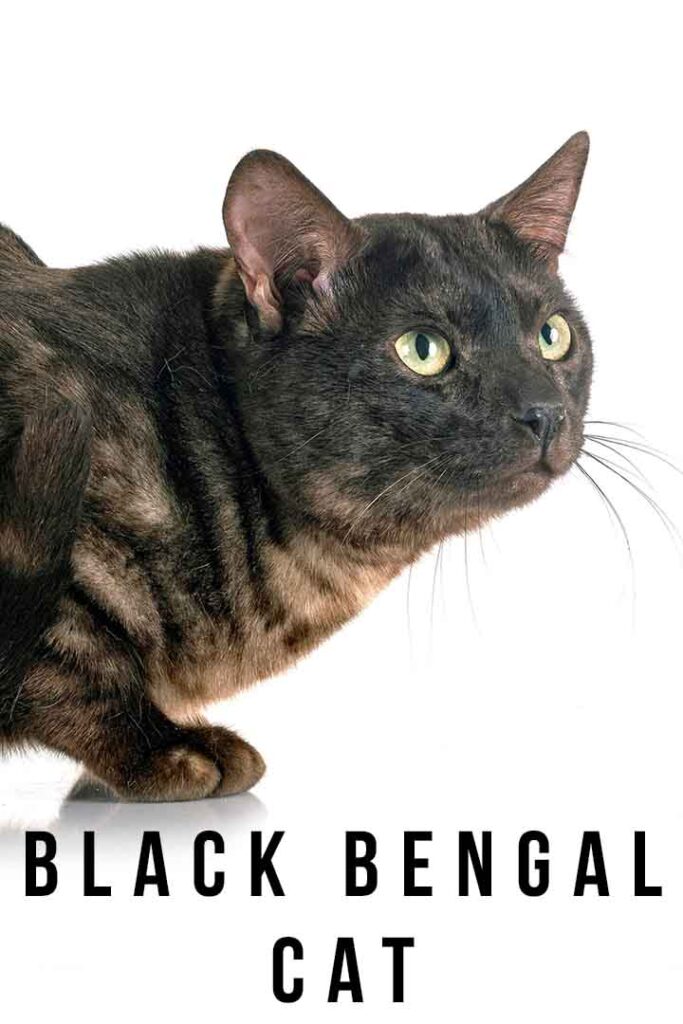 Are Black Bengal Cats Rare?
A fully melanistic Bengal cat is relatively rare for two reasons. Firstly, this coloring is caused by recessive genes. So, kittens must inherit two copies of the gene – one from each parent. If they receive a dominant gene, they won't be fully melanistic.
On top of this, black is not an official Bengal cat color. So, many breeders will choose to stay away from this shade. They may, instead, stick to officially accepted shades, such as brown and charcoal. You can find some breeders who will specialize in melanistic Bengal cats, but there is often a high demand for their kittens. So, you may need to go on a waiting list.
Black Bengal Kittens
Bengal kittens of all colors are very popular, because many owners want a cat that looks as exotic as the Bengal breed. This can have pros and cons for you. On the one hand, it can be easier to find breeders, since demand is relatively high for these cats. But, on the other hand, kittens are usually sold very quickly. Some breeders will even have waiting lists for future litters, because demand is so high.
Above all else, it's important to find a reputable breeder. The Bengal cat is prone to some serious health issues, including eye issues like cataracts and Progressive Retinal Degeneration. Good breeders will do all they can to avoid these issues and only breed from the healthiest cats.
If you can't find a Bengal cat from a breeder, or waiting lists are too long, you should also search at rescue centers near you. Bengals are energetic cats with a high prey drive. It's not uncommon for families to give them up when they realise how complex this cat breed's care needs are. Bengals in rescue centers may be cheaper than kittens from breeders, but may also be a little older.
What Is The Cost?
The price of Bengal kittens will range depending on a number of factors. This can include location, litter size, demand, and of course, coat color. Black is not an officially accepted color. So, black kittens will not qualify for show. However, it is quite a popular shade, since these cats look just like miniature wild panthers!
As a general rule, Bengal kittens usually cost at least $2000. But, some can be as much as $4500. This only accounts for the fee of purchasing the kitten, too. You should also consider ongoing care costs, including food, toys, vaccinations, and so on.