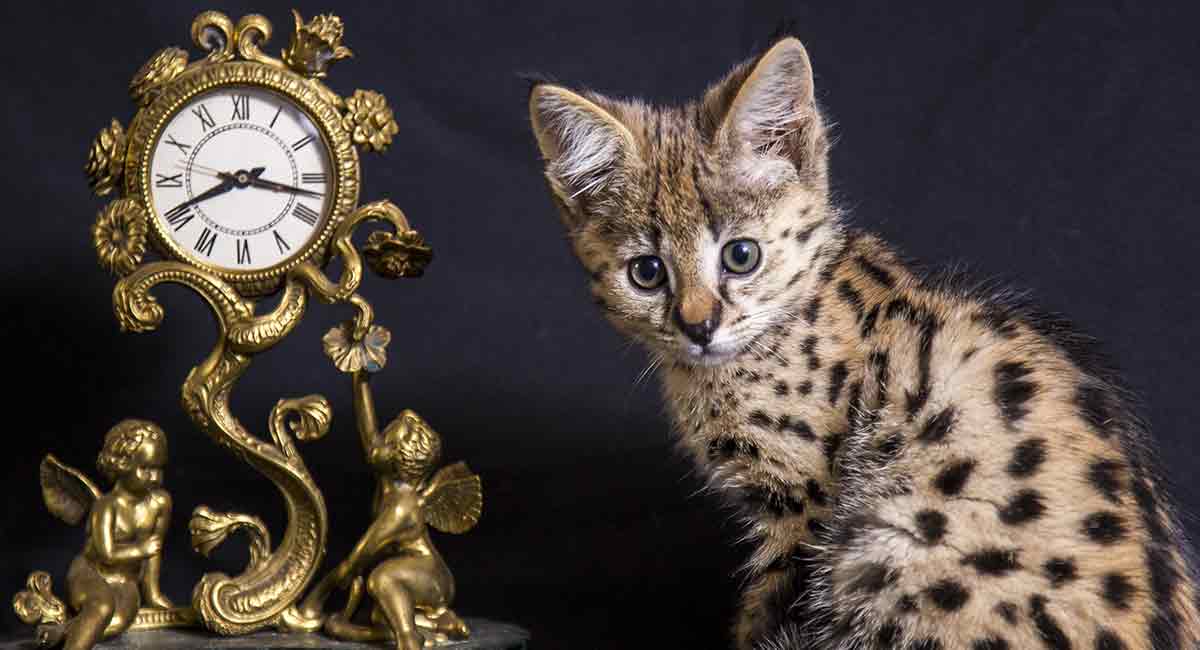 Interestingly, Savannah kittens are one of the few modern pet cats that also carry wild cat genes!
If you are just starting to research Savannah cat kittens, you are about to learn just how unique the Savannah cat breed truly is!
In this in-depth article, find out all about Savannah cats' early lives, and where to get Savannah kittens.
What is a Savannah kitten?
A Savannah kitten is a very special breed of cat! Savannah kittens arise from a mating between a domestic cat and a wild African serval cat.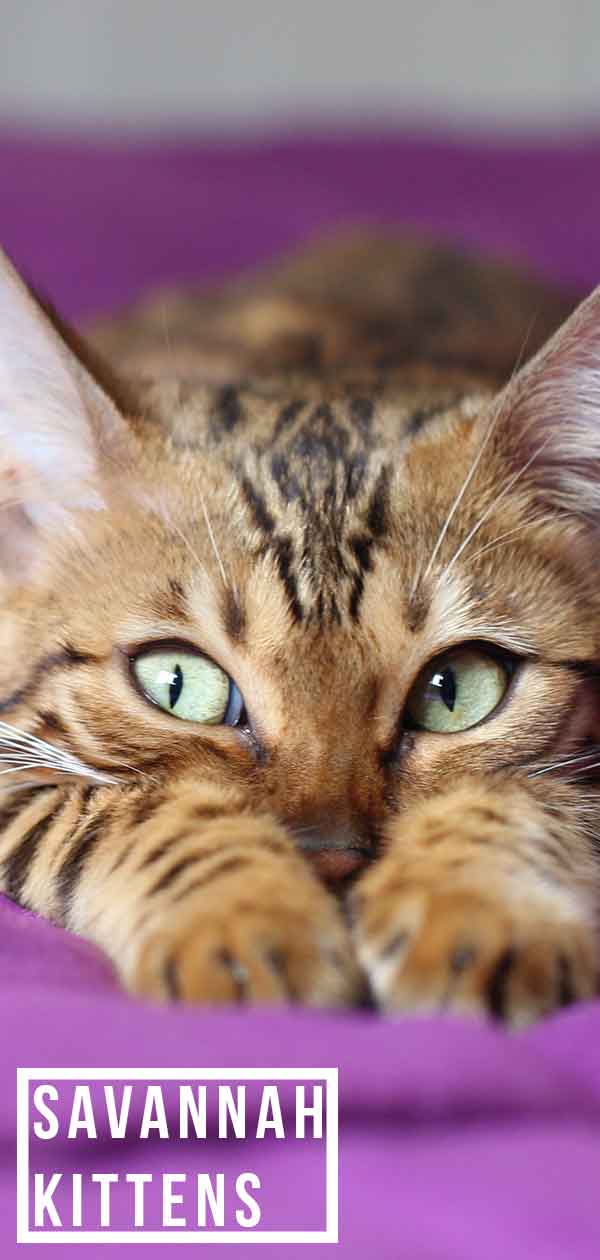 However, only the F1 generation of Savannah kittens has a serval parent.
In the F2 generation, a Savannah kitten has a grandparent. An F3 Savannah kitten has a serval great-grandparent, and so on.
Your Savannah kitten's personality can be very different depending on his generation.
It is vital to learn about the differences between F1 Savannah kittens and later generations so you can pick the best kitten for your situation.
Savannah kittens – How wild are they?
Here is an overview of some differences between generations of Savannah kittens to help you focus your efforts on the right kitten for you!
F1 Savannah kittens
The F1 is the first Savannah generation.
Individual cats in this generation are also the largest – these cats are genuine Guinness Book of World Record holders for "tallest cat!"
F1 kittens have one African serval parent (usually the father) and one domestic cat parent.
F1 Savannah kittens have 50% serval DNA. The retain a lot of wild physical and behavioral characteristics.
Consequently they need a lot of specialized care – they are not for the inexperienced or the faint-hearted!
To gain some insight into what we mean, take a look at this article about Boomer, an African serval living with a couple who breed Savannah cats.
F1 kittens will typically bond closely with only one family member and disappear if guests come to visit.
Expect to invest between $15,000 and $20,000 for an F1 kitten.
F2 Savannah kittens
F2 Savannah kittens have a serval grandparent.
Their mother is an F1 Savannah, but their father is usually another domestic cat, or a Savannah cat from a lower generation. (Savannah males are usually infertile until around the F4 generation, thanks to phenomenon known as Hybrid Male Sterility.)
F2 Savannah cats are the most variable in their personality and temperament, with some exhibiting the F1 traits and others exhibiting more "pet cat" traits.
An F2 kitten will generally cost you between $4,000 and $11,000.
F3 Savannah kittens
With the F3 generation of Savannah kittens, you will start to see more of the "domestic cat" personality emerging.
These kittens, whose closest serval relative is a great-grandparent, will be able to bond with multiple family members and generally also tolerate guests well.
However, the number and strength of "wild" traits they display can vary immensely, as can the exact amount of serval DNA they carry.
An F3 kitten cost typically ranges from $1,500 to $6,000.
F4+ Savannah kittens
Starting with the F4 generation, you will see increasingly more domestic cat and less serval influence.
These cats can finally make great family pets in the right home. They tend to be more high energy than the typical pet cat and are very smart.
You can expect to spend anywhere from $1,500 to $9,000 for an F4 or later Savannah kitten.
Savannah kittens colors and markings
Savannah kittens may or may not look like their wild African serval relatives.
Cat breeding genetics can be a complicated business, especially when different breeds of domestic cats are bred to a wild serval!
The good news is that there are so many beautiful Savannah colors and markings that you are likely to wind up sharing your life with a very lovely and unique looking cat!
You will also have lots of colorful inspiration for choosing your Savannah kitten's new name!
Snow
Snow Savannah kittens represent one of the rarest colors. These Savannahs have striking blue eyes to complement their very softly cream/silver coat and black spots.
While snow Savannah kittens are very popular with pet cat owners, if you want to show your Savannah, it is important to know that snow is not a recognized TICA (The International Cat Association) color.
Brown/Gold
The brown or gold spotted tabby Savannah is the color pattern that most closely matches the serval.
This color tends to be most vibrant during kittenhood and will become paler and more muted as your Savannah grows up.
Silver
The silver coat color with black markings can range from a very light icy-white to a much darker charcoal.
These cats typically also have a charming black nose.
Smoke
A smoke colored Savannah kitten will often have white hair roots!
The white does tend to show through even though it occurs closest to the skin, giving these kittens a very unique and remarkable coat.
Black
Black in a Savannah is a melanistic coat color, which means it is the exact opposite of albinism.
What is so interesting about black Savannah kittens is that they still have the characteristic serval spots, but you just can't see them unless you have a certain kind of light and look at the coat just-so!
Lavender
The only coat color in Savannah kittens that is rarer than snow is lavender. A lavender coat is the result of a very specific combination of recessive genes, which is easily masked by other genes.
While TICA doesn't recognize this coat color for show purposes, pet owners love it!
The lavender color on a Savannah is actually a soft-grey that complements the black markings especially well.
Markings
Markings on a Savannah kitten can range from classic round or oval serval spots to rosettes and marbling (larger spots).
If you are interested in participating in cat shows, it is worth noting that only the spotted pattern is accepted by TICA.
Savannah kittens personality and temperament
As you just learned while we studied Savannah kittens genetics, the Savannah cat temperament and personality can vary quite a bit from one generation to the next.
F1 kittens
F1 Savannah kittens are not recommended for most people.
They can be amazing feline companions, but their care needs are very precise and they will only bond with one person in captivity.
Their personality is very much a genetic lottery.
You can be sure that there will be a lot of wild influence in this generation – they are half serval after all – but there's no way of predicting which wild traits and domestic traits they will inherit.
This is just one reason an F1 Savannah is not suitable to live indoors with children or other pets!
F2 kittens
This generation shows the most variability in personality and temperament, and you won't know for sure what your F2 Savannah will be like until she grows up.
You could find yourself loved up with a cat who's energetic and excitable but also charming and cuddly, or in a more keeper-like relationship with a cat who's more wild animal than pet.
F3 kittens
F3 Savannah kitten temperament is gradually becoming more reliable.
This is partly because they have mostly domestic cat DNA now, and hopefully because your breeder has made careful and clever breeding choices.
These kittens are likely to resemble a rambunctious regular cat on long legs. They are playful explorers, happy hunters, and very people-centric.
They are the first safe choice if your family includes older children who can be taught how to handle and interact with your pet cat appropriately.
F4+ kittens
If your family includes young children and/or other pets, your only really safe choice for all family members' sake is an F4 or later generation Savannah cat.
These cats are typically delightfully sociable, playful, cuddly and will bond readily with multiple family members and tolerate guests quite well.
Savannah kittens size – these are big kitties!
The Savannah cat is definitely a giant feline!
Savannah kittens, like most larger breed pets, grow and mature slowly.
Your Savannah kitten may take up to four years to reach his full adult height, weight and size!
F1 Savannah kittens will be the most sizable at maturity. Males can weigh up to 25 pounds and females up to 19 pounds. They can stand up to 18 inches high and be as long as 24 inches.
F2 Savannah kittens can stand up to 18 inches and be as long as 22 inches. Males will weigh up to 20 pounds and females up to 16 pounds.
F3 and later generation Savannah kittens may stand up to 17 inches tall and measure up to 21 inches long. Males can weigh up to 20 pounds and females up to 13 pounds.
Later generations of Savannah cat are comparable in size to normal domestic cats – it's their long legs which continue to give them away!
Do Savannah kittens make good pets?
If you are searching for an unusual and exciting pet cat for your family, you may be wondering if a Savannah kitten would be a good choice!
If anyone in your family has pet allergies, you may also be wondering if a Savannah kitten would trigger those allergies.
Here are some things to consider.
Are they legal?
First and foremost, did you know that it's illegal to keep Savannah cats in some states?
Some states, and even regions within states have an outright ban on keeping all generations of Savannah cat.
Other states and regions only ban the F1 and F2 generations, and still others require you to apply for a licence to keep Savannah cats.
Check the local laws in your area before you pay a holding fee for a Savannah kitten, or you might discover you can't bring them home after all!
Do they make a good family pet?
A well-trained and socialized F3 or later generation Savannah kitten can be a great family pet!
These cats are smart, sociable, easily trainable, very playful and eager to be with their family at all times.
However, they demand a lot of time and attention, so they are usually best suited to households with older children who are starting to become independent.
Are they hypoallergenic?
Because the Savannah cat breed is known to shed somewhat less than a fully domestic pet cat, some people think they are hypoallergenic.
Unfortunately, there is no truly hypoallergenic cat breed, since the Fel D 1 protein that actually causes allergy symptoms exists in a cat's saliva and urine as well as in shed hair.
The Savannah cat probably won't shed as much as many other cat breeds, but unfortunately the Savannah isn't a hypoallergenic cat breed.
Savannah kittens training and play
Savannah kittens are very smart and typically take to training right away.
You can even train your Savannah cat to walk on a leash if you want to.
Your Savannah kitten will need lots of enrichment and playtime, plus plenty of interactive and solo play toys that give your kitten the chance to "hunt," pounce, climb, jump and stay active and fit.
If your Savannah kitten won't be allowed to roam outside as they grow up, then you might also consider building an enclosed outdoor area for them to play in.
These big cats need a proportionately large amount of space to exercise properly in!
Savannah kittens diet and care
With the right diet and care, Savannah cats can live from 12 to 20 years.
Unlike African servals, Savannah kittens do not need to be fed a raw meat diet, although many breeders consider this the optimal diet choice for Savannahs.
Whenever possible, opt for a grain-free, protein rich kitten food for your Savannah kitten.
Your Savannah kitten may seem petite when she first arrives home, but that won't last long.
You will want to make sure the Savannah cat litter box you choose is sufficiently long, tall and wide to accommodate your kitten as she grows.
Savannah kittens health issues and veterinary care
Because of the Savannah kitten's unique parentage, this cat breed may be more sensitive to domestic pet medications, including anesthesia.
Before bringing a Savannah kitten into your family, you should locate a local veterinarian who is trained to treat exotic pets and will know how to adjust medications if your Savannah cat ever needs medical treatment.
This is especially vital for F1 and F2 generation Savannah kittens!
The same caution holds true for your kitten's vaccinations.
Your Savannah kitten will likely fare best using killed rather than live vaccines, since these kittens mature more slowly and their immune system will still be developing.
You may want to delay vaccinations by a month or so as a safety precaution. Talk with your kitten's breeder and your vet for the best guidance.
Finding healthy Savannah kittens
As you now know, Savannah kittens arise as a result of breeding an African serval to a domestic cat.
The breed of domestic cat may vary quite a bit because servals and F1 Savannah females can be picky in choosing partners!
This can make it challenging to determine what health issues to watch for in Savannah kittens.
Be sure to get as much information as you can from any prospective breeder about their kittens' family tree.
A good breeder will know exactly which breeds of cat have contributed to their litter's ancestry.
Next you can use our breed directory to research health issues of the domestic cats and ask the right questions before making a commitment to a kitten.
Where to get Savannah kittens
Savannah kittens are becoming more popular today than they have ever been before!
This means you will likely have more choices for where to get Savannah kittens as more breeders are starting Savannah breeding programs.
TICA and the Savannah Cat Association both have resources on their websites to match you up with local Savannah cat breeders.
As with any purebred domestic pet, any breeder you work with should demonstrate a health-first breeding philosophy.
Ask for verification that parent cats have been tested and cleared of all known health issues.
The breeder should also offer you proof of all required vaccinations, an initial guarantee of health and a take-back option if your new Savannah kitten does not work out for any reason.
Savannah kittens – is now the right time for your family?
No pet should be brought home lightly. If you already have other cats, make sure to read this article before getting a kitten.
But Savannah kittens, with their wild ancestry, require even more careful consideration.
These cats are big, energetic, and come with a degree of unpredictability.
But in the right home situation, a Savannah kitten can thrive and also bring you so much joy!
Did you choose a Savannah kitten?
What drew you to them, and did you have any reservations?
What advice would you offer to someone looking for their first Savannah kitten?
Please let us know in the comments box!
Sources
Tuck, M., "Savannah Cat – Size, Diet, Temperament, Price," F1Hybrids Savannah Cats, 2018.
Fulton, D., "About Savannah Cats," A1 Savannahs, 2018.
Dana, P., et al, "Savannah Introduction," The International Cat Association, 2018.
Smith-Lemire, L., et al, "Savannah Cat History," Savannah Cat Association, 2018.