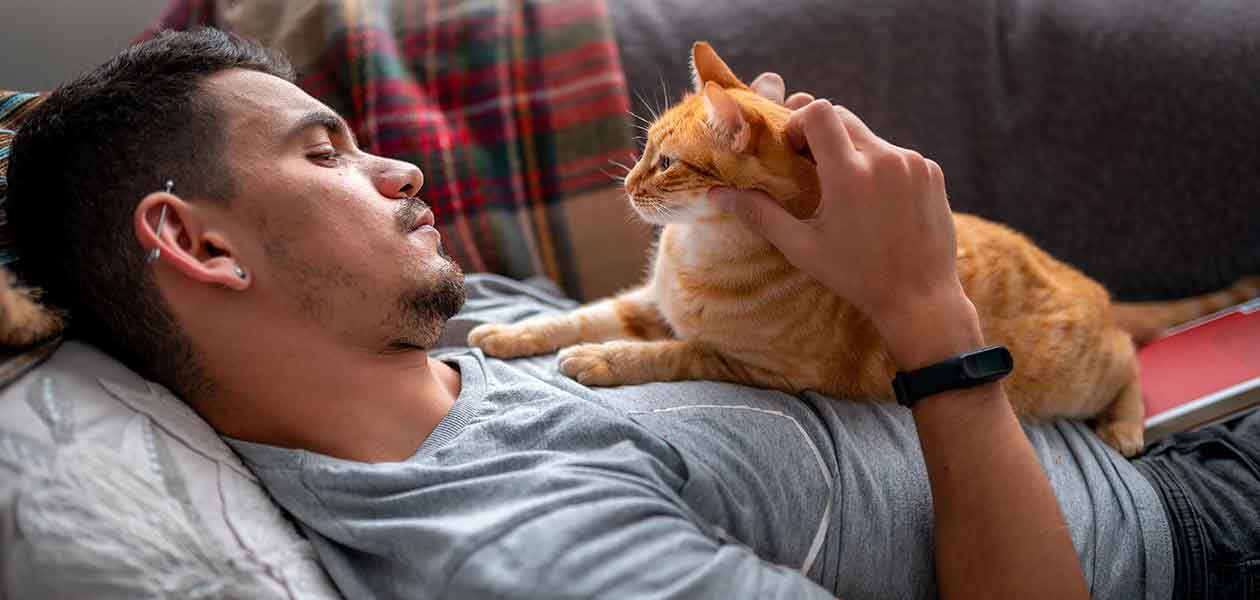 Why are orange tabby cats so affectionate? Orange tabbies have a reputation for being the friendliest cats.
But, there is no proven link between orange tabbies' coat color and their temperament.
Many people are interested to find out if choosing an orange tabby cat is a sure fire way to secure a devoted new pal.
In this article, we find out if the reputation is true.
Why Are Orange Tabby Cats So Affectionate?
Do you know an especially big hearted orange tabby cat?
Perhaps there are several living on your block, each one friendlier than the last.
For some people, the thought of a ginger tabby cat is synonymous with warm greetings, purring, and cheek rubs.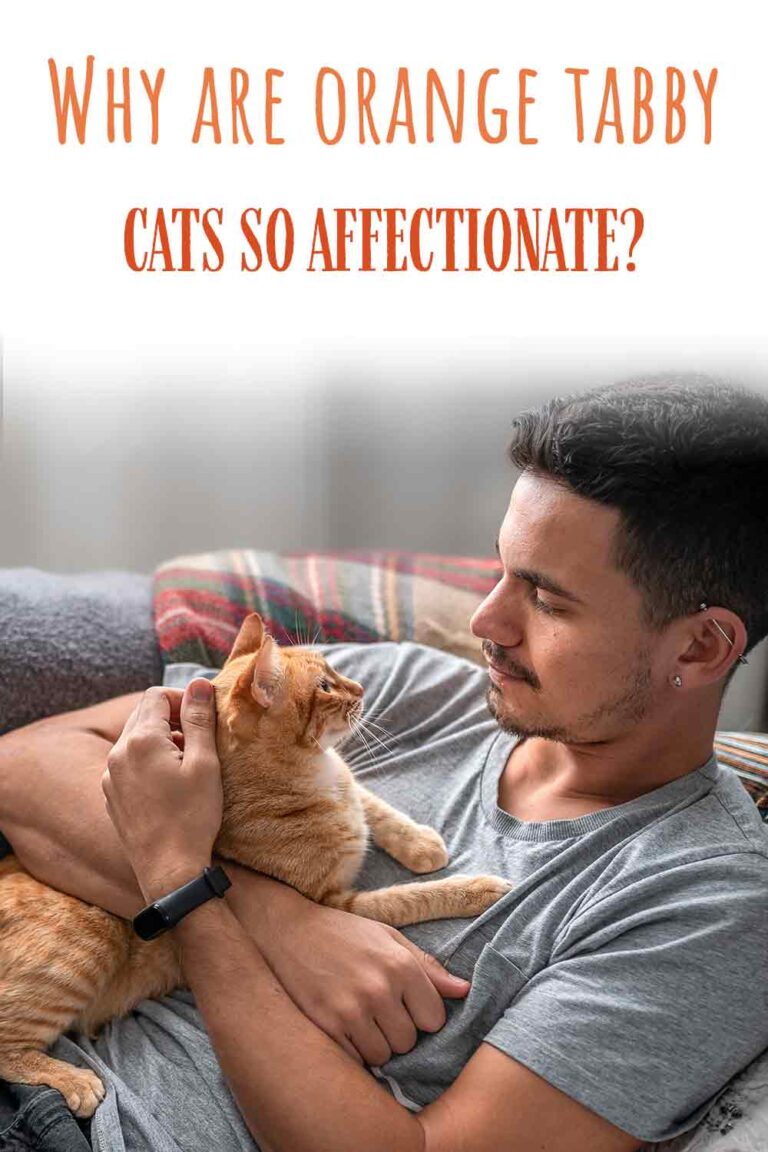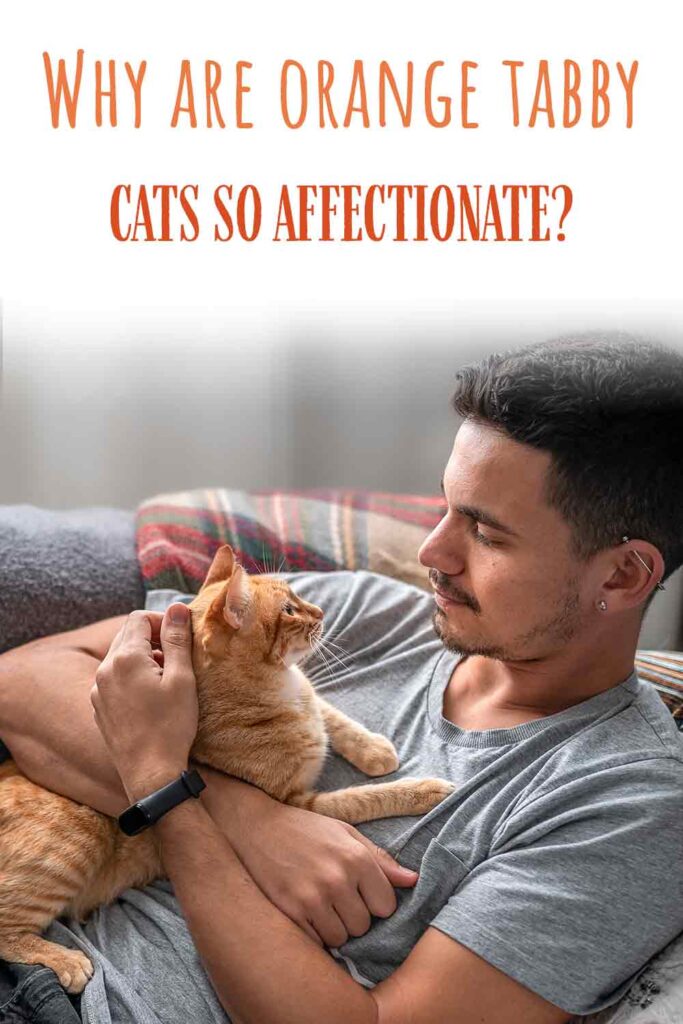 But is this image really representative of all orange tabby cats? Why are orange tabby cats so affectionate?
Are they all affectionate? And if so, is it something about their coat which makes them that way?
Affection In Cats
We humans have been sharing our hearts and our home lives with cats for thousands of years.
But despite this, there's been relatively little research conducted about what makes them tick.
In 2017, a team of scientists in Australia proposed that cats' personalities are made of of five elements:
Openness
Conscientiousness
Extraversion
Agreeableness
Neuroticism
Other Opinions
Whilst a rival team in the same year identified six dimensions of feline personality:
Playfulness
Nervousness
Amiability
Dominance
Demandingness
Gullibility
Affection consists of extraversion and agreeableness in the first study, and falls within amiability in the second study.
Unfortunately though, neither study looked for a connection between those traits, and cats' coat color.
Which begs the question…
Are Orange Tabby Cats More Affectionate?
Before we ask why are orange tabby cats so affectionate, we need to learn if this reputation is actually true.
In a survey of just under 200 people, orange tabby cats were more likely than any other color to be described as friendly.
But despite this, there isn't presently any evidence proving a link between coat color and personality in cats.
Which isn't to say that one definitely doesn't exist.
Links Between Coat Color and Other Traits
In Cocker Spaniel dogs, evidence has been put forward of a link between brown coat color and increased aggression.
And in other cats, white coat color is linked to deafness, which can indirectly shape their temperament too.
So without further research it's impossible to say whether our perception of orange tabbies is collective human bias, or a genuine phenomenon. And if it is real, what causes it.
But we can speculate about some things which might be responsible, and some other things which definitely aren't.
The Significance Of Sex
It's a quirk of cat color genetics that around three quarters of orange tabby cats are male.
That's because the genes for coat color are carried on the X sex chromosome.
Male cats only have one copy of the X chromosome, and if the color gene on it produces orange fur, they'll be an orange cat.
Female cats have two X chromosomes. And if both carry the gene for orange coat color, they'll be orange.
But if one carries the orange gene, and one carries genes for black/brown fur instead, they turn out tortoiseshell!
So most orange tabby cats are male, but are male cats more affectionate than females?
There's very little evidence to prove this either way.
One study has suggested that spayed females are more demanding, needy and loud than non-neutered males.
But there weren't enough non-spayed females or neutered males included in the study to state the impact of sex for sure.
And many vets and animal agencies agree that there are no consistent differences between the sexes.
Why Are Orange Tabby Cats So Affectionate – Is It Their Breed?
Could it be that orange tabby cats are so affectionate due to their breed?
Well, in fact the orange tabby is not a cat breed in it's own right.
Several of our best loved cat breeds can have orange tabby coats, including Persians, Maine Coons and British Shorthair cats.
Furthermore, Domestic Shorthair and Domestic Longhair cats – which don't have pedigree heritage, but make up the vast majority of pet cats – can also have orange tabby coats.
A Closer Look
In purebred orange tabby cats, their breed will be a better predictor of their character than their color.
Persian and British Shorthair cats for example have been specifically bred as companion animals for generations. They are particularly affectionate to their human family.
Temperament is much harder to predict in Domestic Shorthair and Longhair cats.
An ultra-affectionate orange tabby Domestic Shorthair might owe their good nature to genetics, or the way they were raised.
So we'll look at the importance of how they're raised next!
The Role Of Socialization
Socialization in pet cats describes the way that their earliest experiences shape the way they react to those things for the rest of their lives. This includes interactions with different types of people, places, and other pets.
For example, imagine a kitten who meets lots of men, women and children of all ages, and has a rollicking good time with all of them. Playing games and receiving treats, and never hurt or pushed into anything which frightens them.
They are likely to grow up with a positive impression of people generally, and greet most people they meet with warmth and affection
This is true of all cats, including orange tabbies of every breed.
And the best thing is that it's something you can secure for any kitten of yours as well.
In the great 'nature vs nurture' debate, socialisation is nurture, and the way you raise a kitten will shape how affectionate they are as an adult.
But there is still one last thing to consider when answering why are orange tabby cats so affectionate?
Maybe It's Just Them
Just like humans, every cat is an individual, with their own unique and infinitely complex inner world.
Some cats are inclined to be introverted and rather self sufficient.
Others are naturally genial extroverts, who regularly seek out company and cuddles.
This is true of all breeds, all coat colors and all patterns.
Some factors, like the temperament of their parents, the overall characteristics of their breed, or the way their raised will shape and influence how a cat turns out.
But sometimes there remains a part of them which is just totally intrinsic.
And that's equally true in orange tabby cats.
Why Are Orange Tabby Cats So Affectionate?
Orange tabby cats have a reputation for being among the most loving felines.
But there's no scientific evidence which links the orange tabby coat to having a more doting personality.
And it's certainly not the only thing which affects a cat's personality.
Which means that whether you choose an orange tabby or not, if it's a lovebug you're looking for, you're just as likely to get one!
Do You Have A Cuddly Orange Tabby?
Or perhaps they express their devotion in some other way?
Let us know about them in the comments box down below. What do you think made them so affectionate?
Readers Also Liked
References & Further Reading