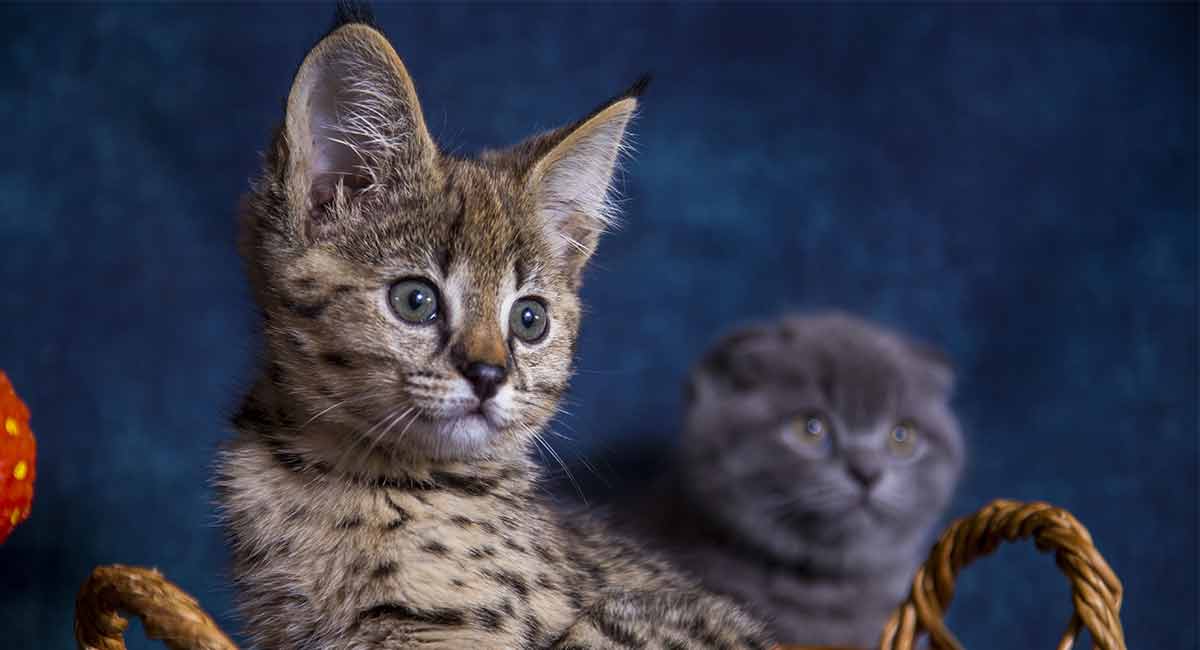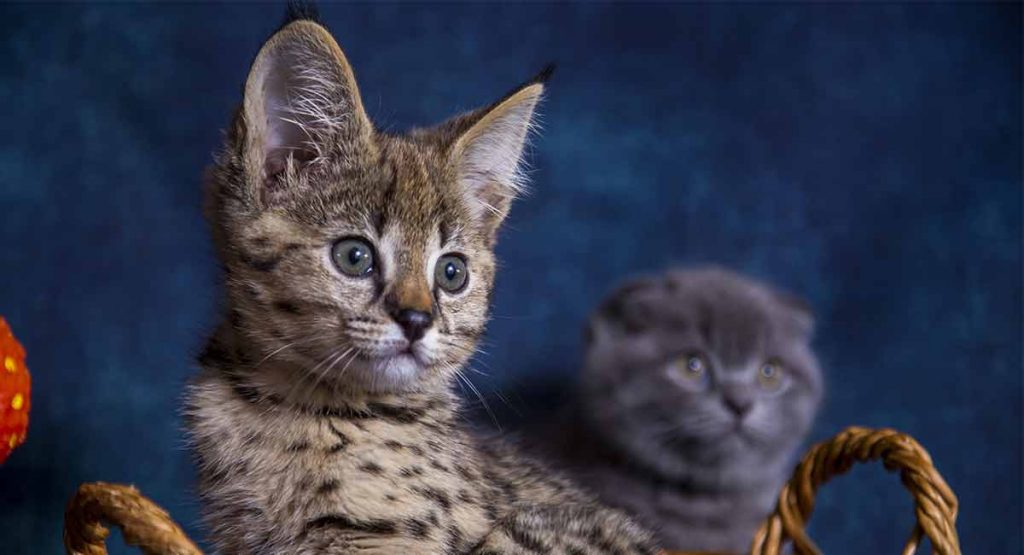 Are Savannah cats hypoallergenic? The answer is a lot more complex than you might think.
Firstly, Savannah cats are magnificent creatures.
They're a type of hybrid cat, a crossbreed between a domestic feline and a wild serval, and have lately begun soaring in popularity.
Their growing popularity has led many to wonder whether or not they are hypoallergenic.
Before we answer "Are Savannah cats hypoallergenic?" let's take a look at what hypoallergenic means.
Savannah Cat Hypoallergenic
About 10% of all people are allergic to some type of household pet. However, cat allergies are about twice as common as canine allergies. Because of this, it is common for hopeful, would-be pet owners to seek "hypoallergenic cats."
The exact meaning of "hypoallergenic" is somewhat debatable. At its very base, the term hypoallergenic means something that is less likely to cause an allergic reaction.
The key phrase to remember here is "less likely."
No cat will never cause an allergic reaction.
Cats are cats, after all. If you're allergic to cats, then you are allergic to all cats.
However, some cats are less likely to cause a reaction than others.
These cats are termed "hypoallergenic cats," and are sought out by many people who want to own a feline despite being allergic to them.
The key to whether or not a cat is hypoallergenic or not lies in how cats cause allergies in the first place.
Savannah Cat Allergies
While many people might think that it is cat hair itself that triggers allergic reactions in humans, this is not completely true. It is a protein called Fel d 1 that causes most of these reactions.
Bad news: every cat is covered head-to-toe in this protein.
It can be found in the sweat and saliva of every cat.
Coming into contact with a cat without touching any of this protein is impossible unless you wear a hazmat suit.
Good news: a cat's fur is the number one carrier of this protein.
If you cut down on the amount of cat hair floating about, you'll cut down on the number of allergens you're exposed to.
Therefore, low-shedding cats are more hypoallergenic than cats who shed a ton.
This means that you can significantly cut back on allergens by simply choosing a cat breed that doesn't shed very much.
So, what about Savannah cats? How much do they shed? How hypoallergenic are they?
Are Savannah Cats Hypoallergenic?
The answer to "Are Savannah cats hypoallergenic?" is "well, somewhat."
Savannah cats have been reported to shed less than their purely domestic counterparts.
Even though they are low shedding you can still have an allergic response to their dander.
It appears that while Savannah cats shed less than some other cat breeds, they are still probably not the best option if you're looking for a hypoallergenic cat.
If you only have slight allergies, it might be worth giving a Savannah cat a try.
However, due to their price tag, we recommend spending some time with a Savannah to see if it elicits a reaction before committing.
Hypoallergenic Cats
So, what are some hypoallergenic cats for those with more serious allergies?
This might seem like an obvious answer, but hairless cats are some of the most hypoallergenic around!
After all, if shedding increases allergic reactions, no hair means the fewest possible reactions!
Of course, "hairless" cats do have some fuzz-like hair and are not completely hypoallergenic.
The Fel d 1 protein can still be found in their saliva and sweat, and you can still come into contact with it.
However, no hair means that you won't find the allergen floating around your home or embedded in your carpet.
We recommend buying a female cat if you are allergic to cats, as they produce less of the Fel d 1 protein than male cats.
There are other low-shedding cat breeds as well. You can read our complete list of hypoallergenic cats here.
Hypoallergenic Savannah Cats
Okay, so Savannahs aren't exactly the most hypoallergenic cat around.
They do shed less than some other cat breeds, yes. But they still shed quite a bit.
A Savannah cat might be okay for you if you only have minor allergies.
However, there are more hypoallergenic cats out there for you to pick from.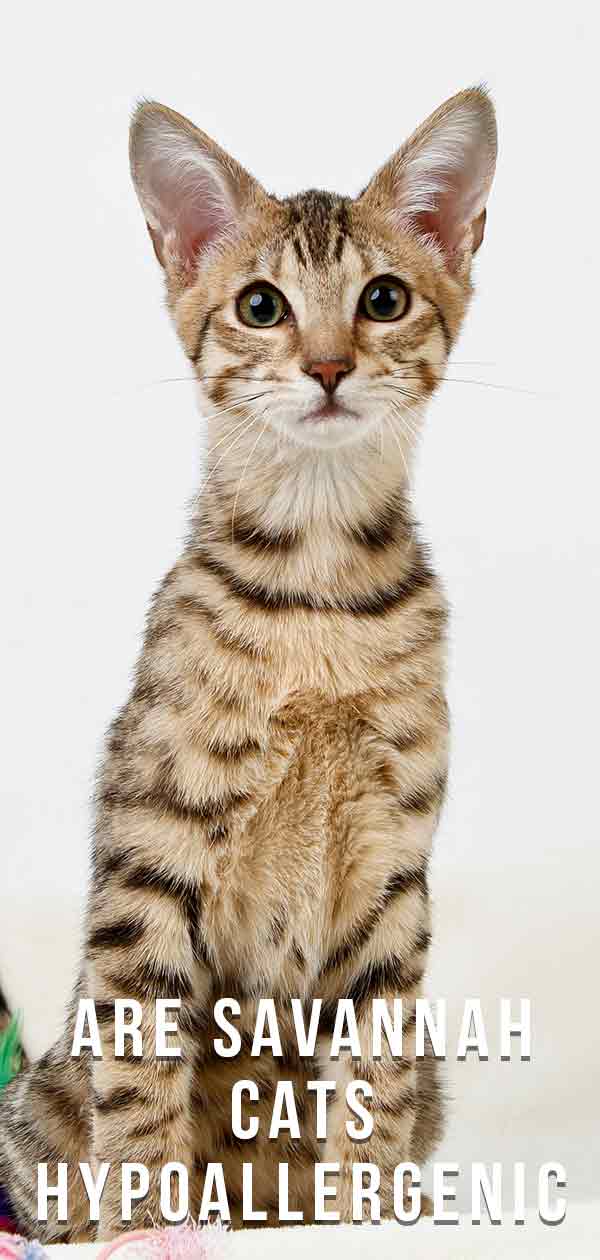 References and Further Reading
Jalil-Colome. "Sex difference in Fel d 1 allergen production." The Journal of Allergy and Clinical Immunology. 1996.
Becker. "Allergic to Cats but Love Them Anyway? Try This." Mercola.
Gronloud. "The major cat allergen, Fel d 1, in diagnosis and therapy." International archives of allergy and immunology. 2010.