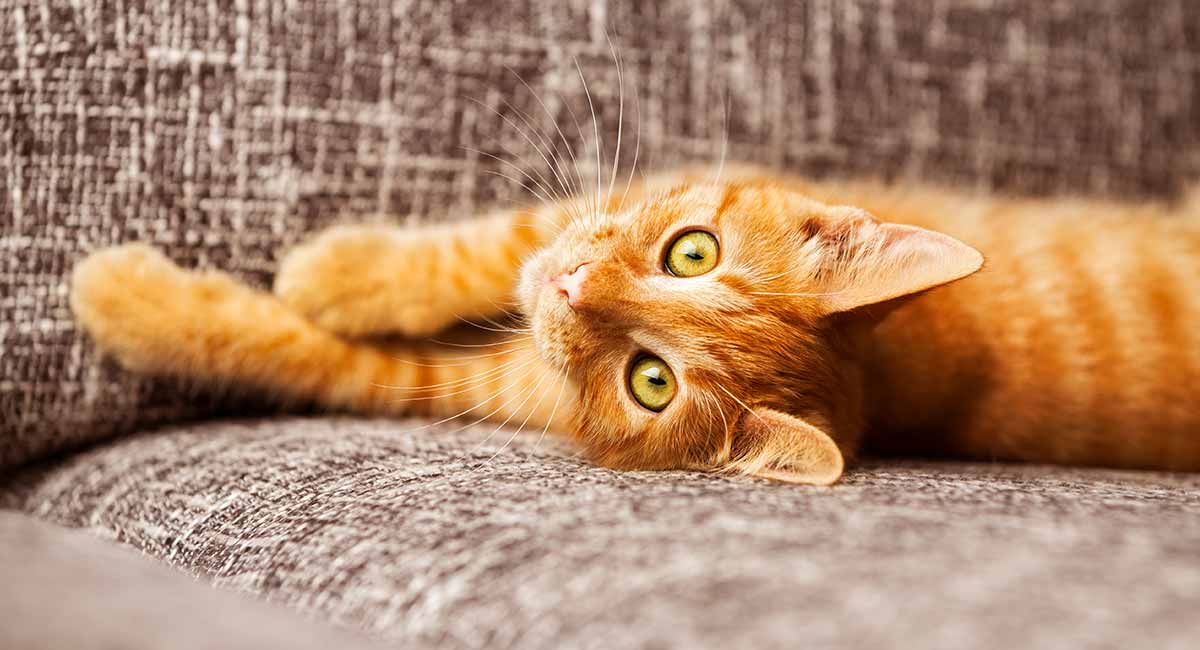 Where would we be without the wisdom of cats, bestowed upon us through cat quotes?
They can show us just how cute, funny, and lovable our cats can be.
The Best Cat Quotes
Here are five of our all time favorites:
From a purely geometrical point of view a cat is only a tube with a door at the top – Terry Pratchett
Cats seem to go on the principle that it never does any harm to ask for what you want – Joseph Wood Krutch
Authors like cats because they are such quiet, lovable, wise creatures, and cats like authors for the same reasons – Robertson Davies
For a man to truly understand rejection, he must first be ignored by a cat – Anonymous
Each cat will live about twelve years, I can't wait for that! And each cat has nine lives! That's… four times twelve… multiplied by nine times… no, it's less than that – Walt Disney, Aristocats
More Cat Quotes
Cats are such mischievous, characterful creatures that nonetheless ooze wisdom and intelligence. We have much to learn from them, by studying their teachings through cat quotes.
Some of the earliest writing and literature ever known makes references to cats. From ancient Chinese proverbs to obscure hieroglyphs, the cat has left its pawprint on human history and culture.
Changing throughout the ages, depictions of cats began with drawings and hieroglyphs. Later, cat quotes appeared in proverbs, then literature. Today, funny cat captions are popular on social media. But though our technology has evolved, the cats themselves have stayed the same.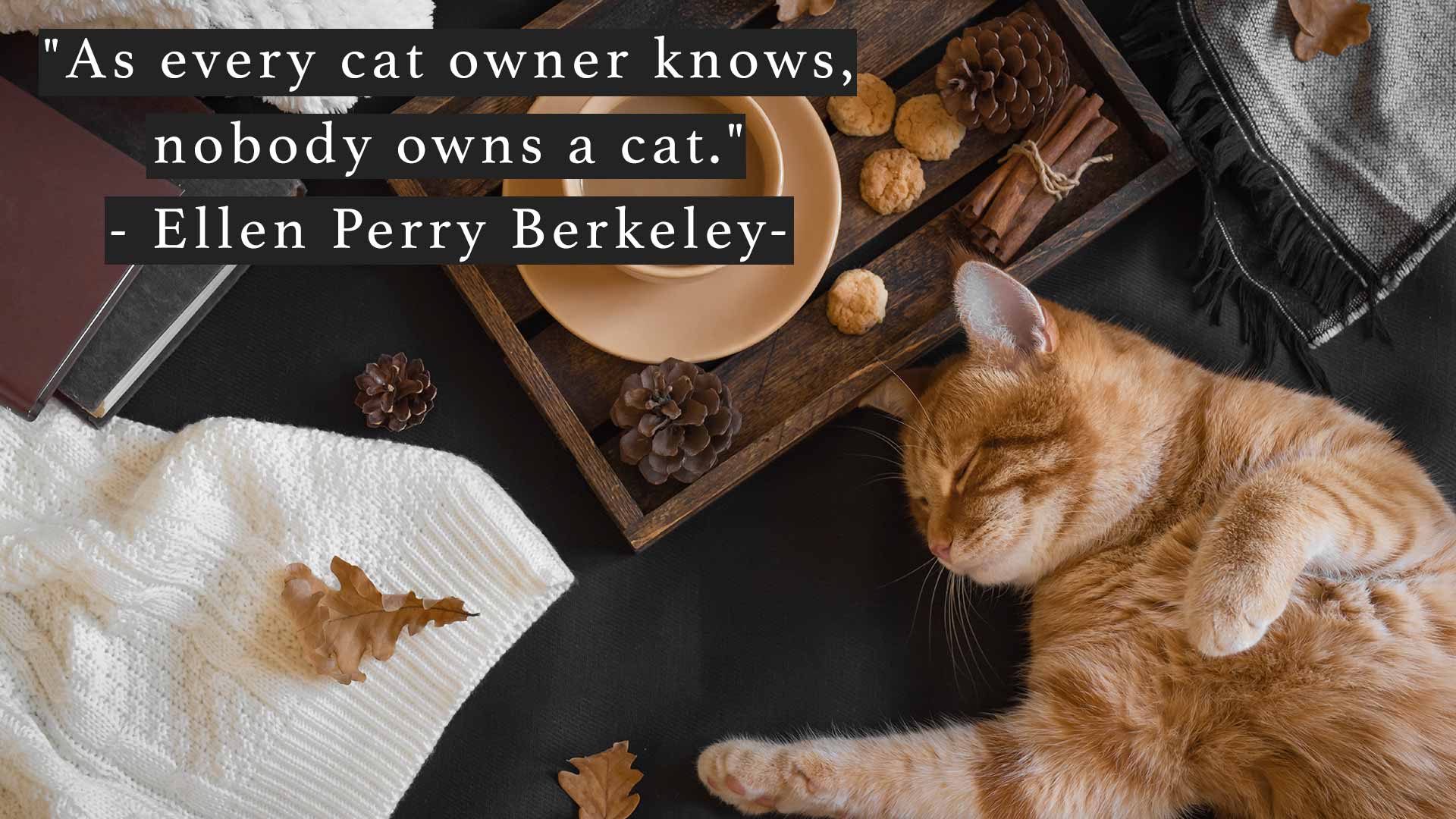 Internet Cats!
Since the early 2000s, cats have taken over the internet. Funny cat captions were some of the first internet memes, and the ubiquitous funny cat videos is known throughout the western world. Cats, and their opinions and personalities, are here to stay.
Cat quotes may be funny, lifting us up when we are sad. They can be an inspiration just when you need it. But mostly, they help us celebrate the true nature of cats. Here are some of our favourite cat quotes to brighten your day.
Funny Cat Quotes
There's no doubt about it: cats are hilarious. Their serious but lovable expressions are like medicine if you're feeling down.
While no substitute for an actual cat, cat quotes can remind you of your cat's antics when you're away from work. If you have no cat of your own, reading funny cat quotes can help fill that cat-shaped hole in your heart.
Our favourite cat captions and quotes are those that celebrate the cat's comical side. Here is a generous helping of cute cat quotes to brighten your day.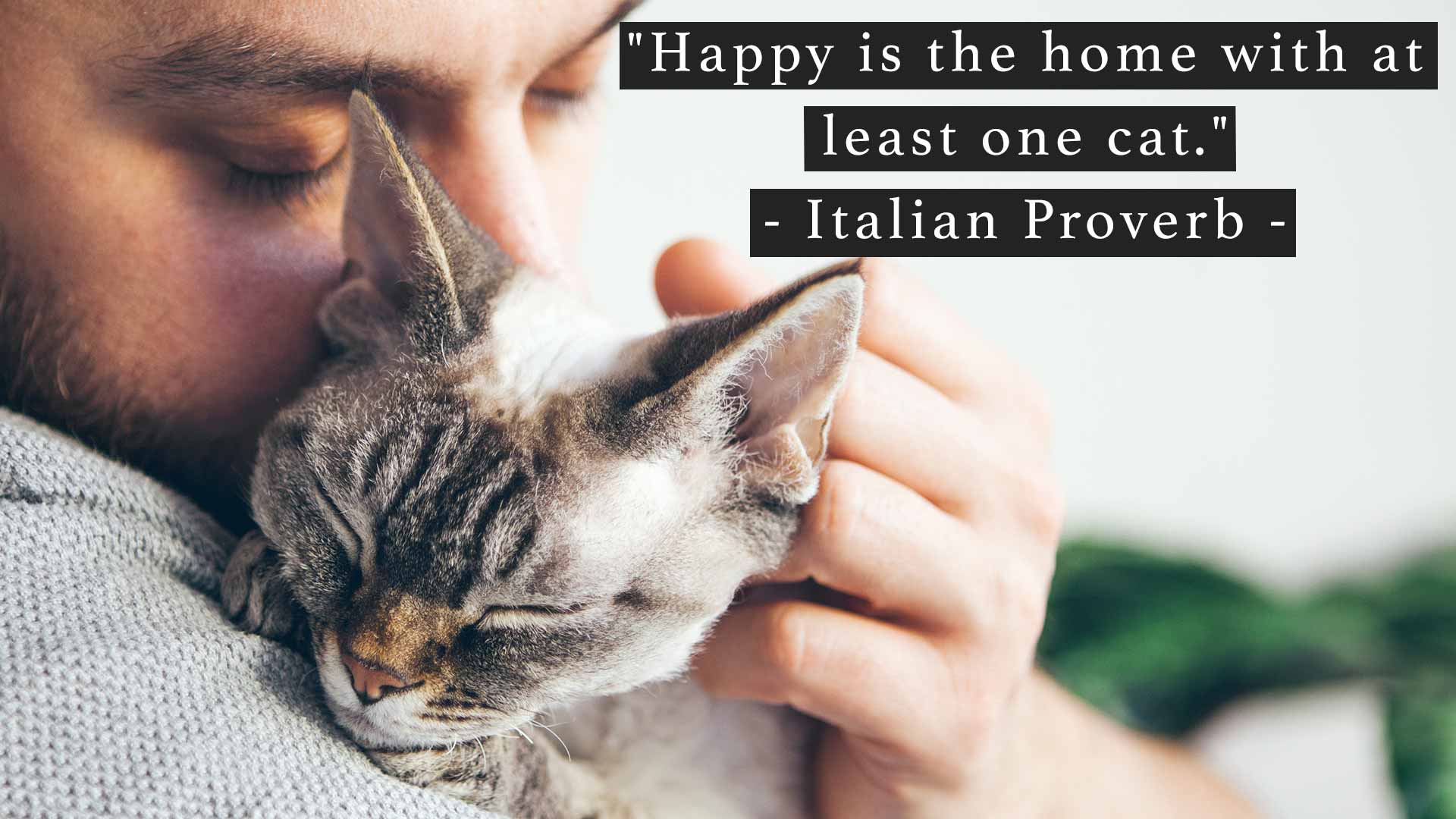 Take a Look
I think all cats are wild. They only act tame if there's a saucer of milk in it for them – Douglas Adams
"Boot-faced cats aren't born but made, often because they've tried to outstare or occasionally rape a speeding car and have been repaired by a vet who just pulled all the bits together and stuck the stitches in where there was room." – Terry Pratchett
A recent census among cats shows that approximately 100 percent are neurotic. That estimate is probably on the low side – Stephen Baker
Kittens are born with their eyes shut. They open them in about six days, take a look around, then close them again for the better part of their lives – Stephen Baker
Real cats are not simply self-possessed. Nor are they simply neurotic. They are both, at the same time, just like real people – Terry Pratchett
On the average, cats need 24 hours of sleep a day. Some need more than that – Stephen Baker
"Meow" means "Woof" in cat – George Carlin
Dogs often pretend they are beside themselves with joy at being noticed by their masters. Cats find such unabashed displays of emotion beneath their dignity – Stephen Baker
Cats will amusingly tolerate humans only until someone comes up with a tin opener that can be operated with a paw – Terry Pratchett

Inspirational cat quotes
As funny as they are, cats are also inspiring creatures. Their brutal honesty and quiet wisdom have been inspiring humans for thousands of years.
Start each day with some cute cat quotes, and you may find yourself absorbing the wisdom of the purry ones. Here are some cool cat quotes that illustrate the cat's unique take on life.
Meow – Harry the Cat
A Real cat's aim is to get through life peacefully, with as little interference from human beings as possible. Very much like real humans, in fact – Terry Pratchett
All cats can see futures, and see echoes of the past – Neil Gaiman
A cat knows how to anticipate – Roger Caras
The cat is not in the long run anxious to please – T. O. Beachcroft
Cats have it all—admiration and an endless sleep and company only when they want it – Rod McKuen
I'm flat broke, but I don't care; I strut right by with my tail in the air – Stray Cats
If cats looked like frogs we'd realize what nasty, cruel little bastards they are. Style. That's what people remember – Terry Pratchett

Cat sayings
Cats have lived alongside humans for around 8,000 years. They've had plenty of time to infiltrate our language and inspire cat quotes. Wise and funny cat sayings are plentiful in every culture. The original sources for most of these ancient phrases are lost in time.
All cats love fish but fear to wet their paws – Chinese Proverb
Cats leave paw prints in your heart, forever and always – Unknown
When the mouse laughs at the cat, there is a hole nearby – African proverb
To kill a cat brings seventeen years of bad luck – Irish proverb
When the cat's away, the mice come out to play – Unknown
Beware of people who dislike cats – Irish proverb
In a cat's eye, all things belong to cats – English proverb
I gave an order to a cat, and the cat gave it to its tail – Chinese proverb
A cat has nine lives. For three he plays, for three he strays, and for the last three he stays – English proverb
Care'll kill a cat – Ben Jonson (modern version: Curiosity killed the cat, but satisfaction brought it back).
Cat love quotes
Cats are not as demonstrative in their affections as the average dog. Their subtle, strange love has to be earned. Those who don't love cats may see them as rude, cruel, and callous; but those of us who love them appreciate their tender side.
Sometimes, your cat may seem to ignore you completely; other times he may scratch you or even bite. Impervious to your pleas, a cat may seem distant and aloof. Once you have gained the love of a cat, however, you will realise it is worth all the effort. Here are some "I love my cat" quotes for those rare moments.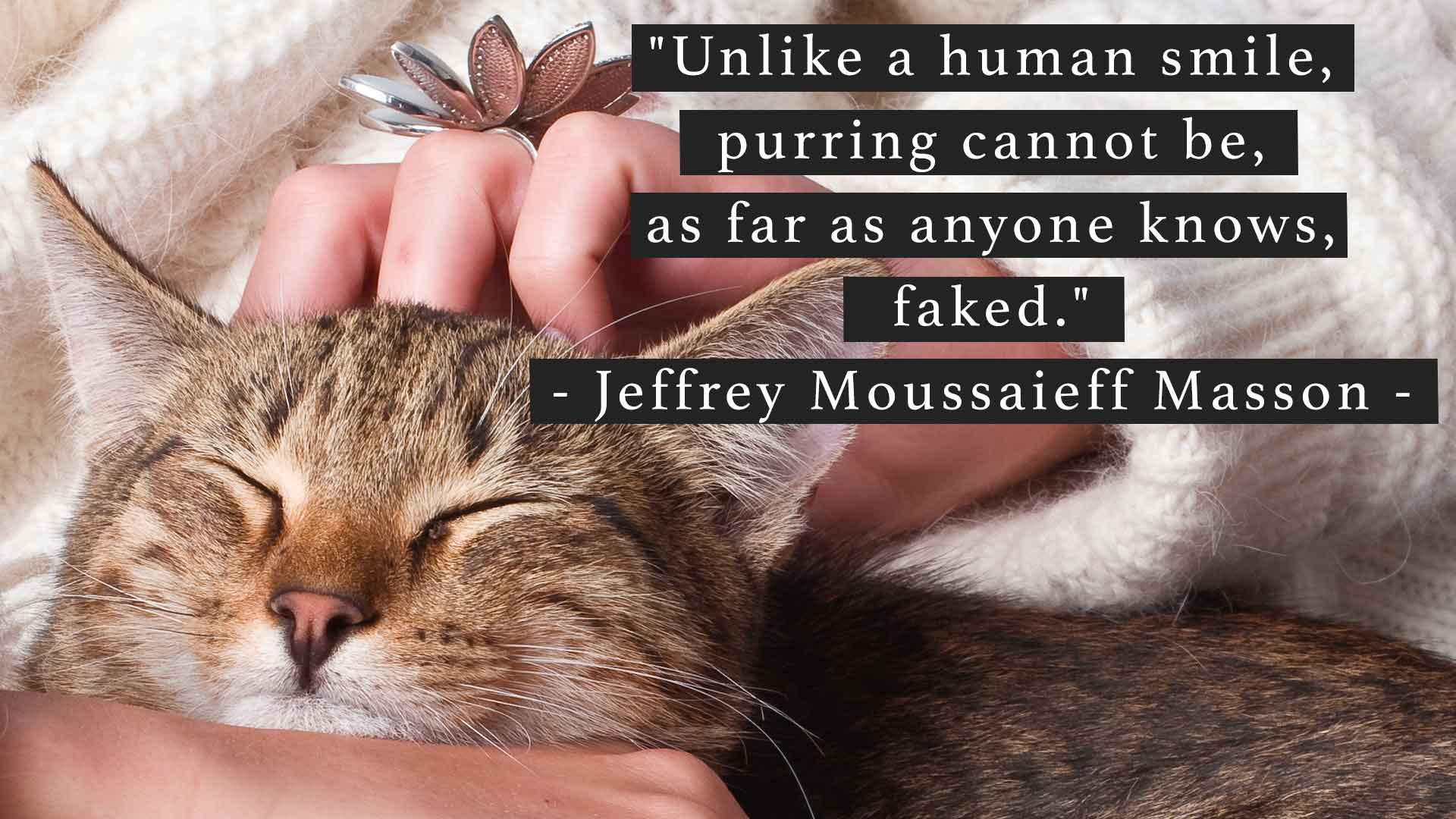 Let's Take a Look
Blessed are those who love cats, for they shall never be lonely – Anonymous
I have felt cats rubbing their faces against mine and touching my cheek with claws carefully sheathed. These things, to me, are expressions of love – Attributed to James Herriot
What greater gift than the love of a cat? – Attributed to Charles Dickens
"I meant," said Ipslore bitterly, "what is there in this world that truly makes living worthwhile?"
Death thought about it.
CATS, he said eventually. CATS ARE NICE.
– Terry Pratchett
Famous cat quotes
Cats are plentiful in movies and literature. Their stylish, glamorous profiles seem made for the silver screen. Their distinctive personalities lend themselves well to written prose.
From Lewis Carroll's beloved Cheshire Cat to the lesser-known characters of the movie Felidae, here are some well-known cat quotes from movies and literature.
In ancient times cats were worshiped as gods; they have not forgotten this – Terry Pratchett
Time spent with cats is never wasted – Unknown (often attributed to Sigmund Freud)
Evolution has created an astounding number of various creatures. Not one however deserves the respected wonder the genus Felidae has earned – Trickompany, Felidae
When they reach the scene of crime, Macavity's not there – T. S. Eliot, Macavity the Mystery Cat
He's broken every human law, he breaks the law of gravity.
His powers of levitation would make a fakir stare – T. S. Eliot, Macavity the Mystery Cat
I growl when I'm pleased, and wag my tail when I'm angry. Therefore I'm mad – the Cheshire Cat
Need More Quotes?
We hope that the above cat quotes have lifted your spirits, inspired you, or helped you find what you are looking for. You may also find interest in these similar articles, which celebrate the charming and lively contribution which pets make to our language and culture:
Your Amazing Cat!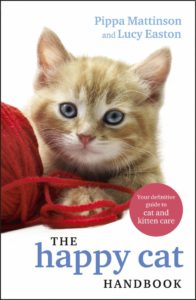 We are so excited to share our new book with you!
If you have enjoyed your visit to The Happy Cat Site we think you'll love The Happy Cat Handbook.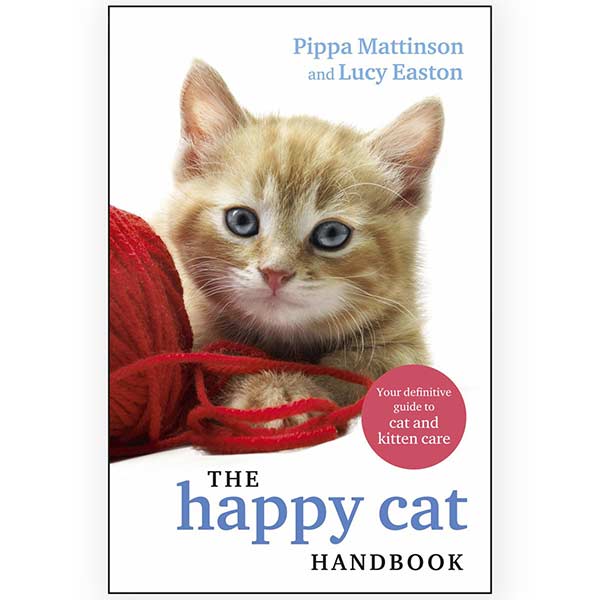 Written by the founders of this website including the author of the hugely successful Happy Puppy Handbook, it's packed with cat care information and fascinating cat facts.
Grab your copy today!
Free Updates For Cat Lovers!
Our cat care articles, tips and fun facts, delivered to your inbox