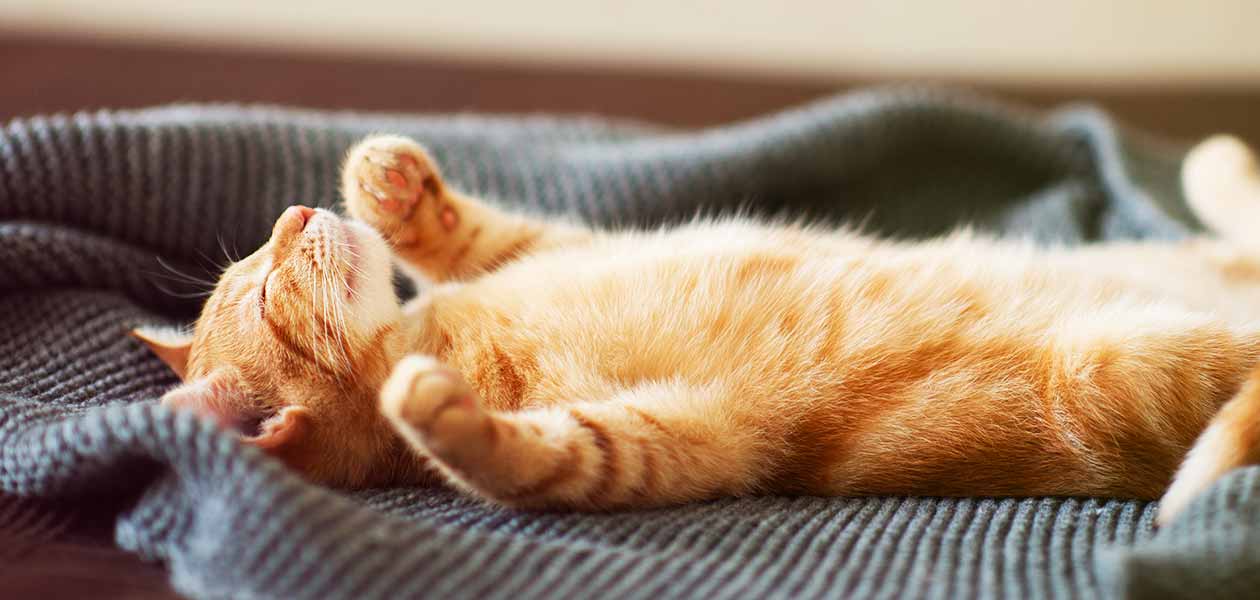 Do cats dream? Cats have dreams just like people and many other mammals.
There's evidence that cats dream about their everyday experiences such as exploring, stalking prey, and interactions with their owner.
But even more interesting is what cats' dreams can tell us about our own sleep and health.
Do Cats Dream?
Cats spend between one half and two thirds of their life asleep.
And whether your cat sleeps like a log, or you've witnessed the tell-tale twitches of an exciting dream sequence unfolding, it's likely you've wondered what's really going on in their head while they slumber.
Do cats dream?
And if they do, are their dreams like ours?
Could it even be possible that they dream about us?
Luckily, sleep researchers have published a wealth of information about animal sleep in recent years. Including numerous studies specifically about cats.
The Sleeping Life Of Cats
Cats spend most of the day snoozing. This is a behavioral throwback to the days before domestication. Wild cats sleep a lot to conserve energy for hunting.
Scientists first identified that mammalian sleep cycles between several distinct phases in the early 1950s.
One of those phases is 'active sleep'. Active sleep is defined by rapid movement of the eyeballs behind the closed lids, loss of muscle tone and wake-like brain activity.
Due to the characteristic rapid eye movements, active sleep is also widely known as REM sleep.
Cats spend three to eight hours a day in REM sleep.
That REM sleep doesn't all happen at once though, cats cycle through multiple short periods of active REM sleep and inactive non-REM sleep during every nap.
Do Cats Have Dreams During REM Sleep?
By the late 1950s, researchers were confident that the REM phase of sleep was the period when adult humans experienced dreams.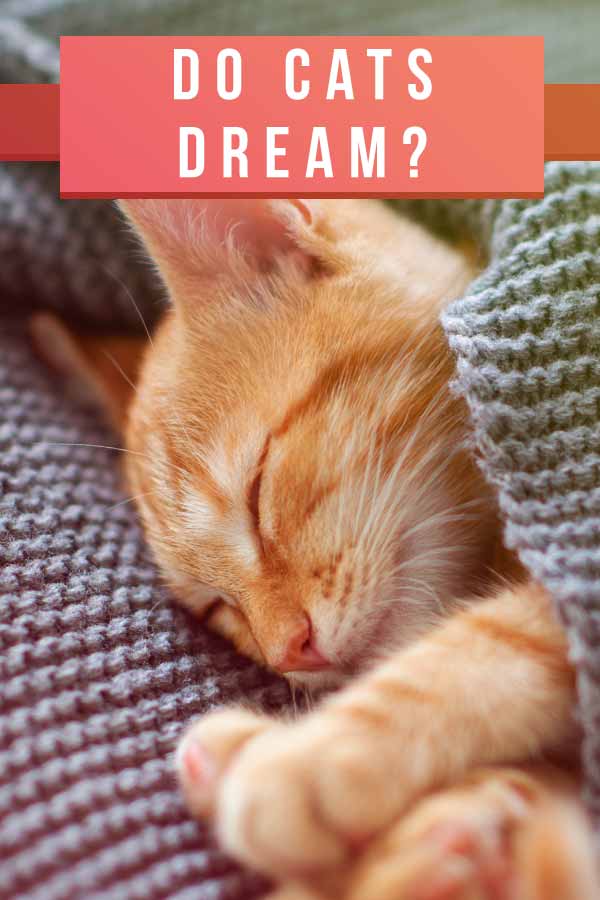 They worked this out by the highly sophisticated method of waiting for a sleeping person to enter REM sleep, then waking them up and asking them if they were dreaming!
These days our understanding of REM sleep has advanced somewhat. We actually have studies of animals including cats to thank for much of what we know about human sleep too.
Unlocking The Secrets Of Cats' Dreams
Our dreams can feel so vivid, it's as if we're really participating in them.
But other than the odd twitch or mumble, few of us actually carry out all the movements we make in our dreams.
Why is that?
Enter the pons. The oddly-named pons is a structure at the top of the brainstem in all mammals, and one of its roles is to stop us acting out our dreams.
In the 1960s, researchers discovered that cats with lesions in their pons acted out the motions they were dreaming about.
Bringing their dreams to life in an observable way, without waking up.
What Do Cats Dream About?
Those cats performed movements and behaviors including jerks, hisses, pouncing, attacking non-existing prey, walking, and running.
In other words, they did all the same things they did when they were awake. This suggests that their dreams were reenactments of the things they were used to doing while they were awake.
Then in 2001, researchers at MIT managed to refine our understanding of animals' dreams even further.
First they recorded the brain waves in the hippocampus of rats completing a new maze. The hippocampus is the part of the brain responsible for memory and learning.
Next they recorded the hippocampal activity of the rats in REM sleep.
The patterns of activity matched so closely that the researchers weren't just convinced the rats were completing the maze again in their sleep. They could predict exactly which point in the maze they believed a sleeping rat had reached!
This study was both a fascinating insight into the minutiae of animals' dream lives, and also an important milestone in understanding how REM sleep might contribute to learning and memory.
Do Cats Dream In Color?
We tend to think of dreams as very visual experiences. The dream phase of sleep is even named after the eye movements which accompany it.
But an interesting question still occupying scientific research is how connected our eyes and brain really are during dreams.
For example rapid eye movement sleep isn't limited to animals that can see.
Newborn kittens with their eyes still sealed shut already experience REM sleep patterns. But of course there won't be images to accompany their dreams.
In humans, there's no firmly established link between our eye movements, and the direction in which we're looking in our dreams.
But overall, it's very likely that cats "see" their dreams in a very similar way to us. Although of course their eyesight is rather different.
Cats Have A Different Perception
Cats cannot distinguish between as many colors as we can, or see them as vibrantly.
It's possible that they can't perceive red or pink tones at all.
And the colors they see in their dreams will reflect that, and be limited to the colors they can see while awake.
Do Cats Dream About Their Owners?
All the evidence we have suggests that cats dream about the same things they encounter when they're awake.
Including interactions with other animals, including prey, predators, and adversaries.
So it's very likely that they also dream about the people they're familiar with while they're awake.
Including their owners.
Unfortunately we'll probably never know if you're just going about your day to day business, or part of some surreal dream narrative though!
Do Cats Have Bad Dreams?
Just like us, cats are probably prone to the odd nightmare too.
One of the behaviors recorded in the cats from earlier who acted out their dreams was piloerection.
Piloerection is when tiny muscles called arrector pili at the base of each hair contract, causing the hairs to stand on end.
Cats do this to trap a layer of warm air close to their skin in cold weather. But also to make themselves look bigger if they feel threatened.
The sleeping cats also hissed in their dreams, a sure sign that they were experiencing an unwelcome encounter.
Should You Wake Them?
If you think you're witnessing your cat having a bad dream, it's usually best to let it take its course.
After all, a dream can't hurt them.
But if you must wake them, do it by calling their name softly from a distance.
Do Cats Realise When They're Dreaming?
And do cats remember their dreams when they wake up?
These are big questions which unfortunately we're nowhere near answering yet.
We humans rarely recognize our dreams for what they truly are whilst we're experiencing them.
And we have mixed success at recalling them afterwards, although we are aware that we have dreams.
But there's no way of asking cats what they understand out their own dream lives.
So these mysteries will continue to endure for a while longer yet.
Using Cats' Dreams To Better Understand Our Own
Finally, scientists have come to realize that cats' dream lives are so much like our own, that they can be an invaluable model for better understanding our own sleep.
By studying cats' sleep, we now have a clearer understanding of the neurological mechanisms which control our own sleep and dreaming, and the roles different hormones play in them.
Cat's dreams have also become a useful research model for understanding human sleep disorders, such as REM Sleep Behavior Disorder (RBD), where people act out their dreams.
Cats and other animal models might also make it possible to better understand an observed link between RBD and Parkinson's Disease.
Which is rather remarkable to think about next time you watch your cat catching a siesta.
Does Your Cat Dream?
Can you tell when your cat is dreaming?
What are the tell tale signs, and what do you think they're dreaming about?
Let us know in the comments box!
Looking for More?
The cat facts don't stop there! Click on these guides for more reading.
References And Further Resources
Lai et al, Animal Models of REM Sleep Behavior Disorder, Rapid Eye Movement Sleep Behavior Disorder, Springer, 2018.
Costa et al, Distribution of MCH-containing fibers in the feline brainstem: Relevance for REM sleep regulation

, Peptides, 2018.

Peever & Fuller, The Biology of REM Sleep

, Current Biology, 2017.

Arnulf, The 'scanning hypothesis' of rapid eye movements during REM sleep: a review of the evidence

, Archives Italiennes de Biologie, 2011.

Goldman, What Do Animals Dream About?

, BBC Future, 2014.

Louie & Wilson, Temporally Structured Replay of Awake Hippocampal Ensemble Activity during Rapid Eye Movement Sleep

, Neuron, 2001.

Cat Communication, International Cat Care

, 2018.