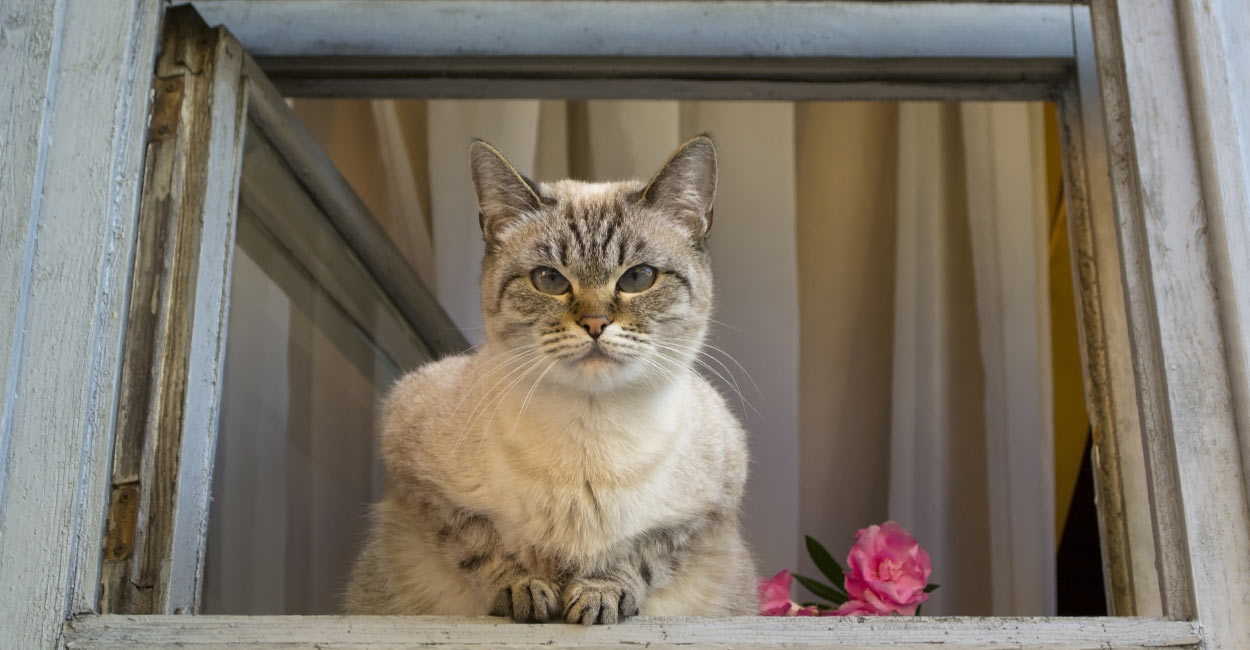 In this article, our cat behaviorist Clare Hemington answers the question "why does my cat stare at me?"
Tyger! Tyger! burning bright,
In the forests of the night…

… In what distant deeps of skies
Burnt the fire in thine eyes?
William Blake was referring to a powerful and majestic tiger in this famous poem.
But I'm sure most cat owners are equally beguiled when their very own little tiger gazes up at them with their unblinking feline eyes.
However, being on the receiving end of a cat staring is not always the most comfortable of experiences.
Cat Staring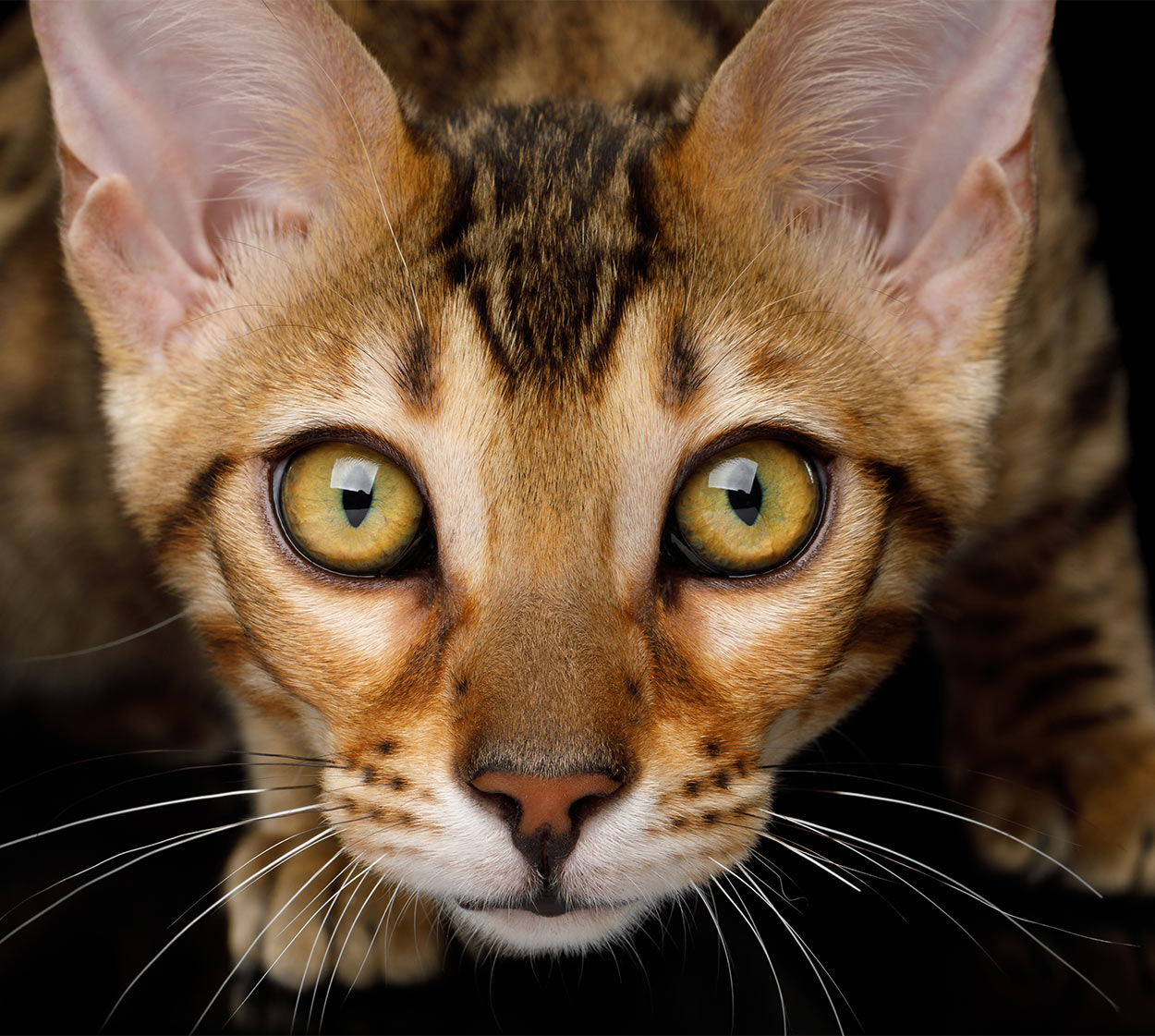 I suspect I'm not the only cat owner who feels just a little uneasy to have their family feline member scrutinise them when they're attending to a call of nature!
Perhaps our discomfort arises from the fact that, as members of the human species we consider ourselves of superior intellect and think it's us who should be scrutinising our cats and not the other way around!
But could it be that behind those seemingly inscrutable eyes they are simply trying to communicate or connect with us in some way?
In this article we'll answer the question 'why do cats stare at you?' as well as looking at why cats stare at other cats and why cats sometimes seem to stare at nothing!
Through a Cat's Eyes
To answer some of these questions it might be useful for us to take a closer look at our cats' eyes.
We first get to see our kitten's 'baby blues' when they start to open at seven to ten days of age.
All kittens are born with blue eyes, but this gradually changes over the following weeks until they end up with their final color at 12 weeks of age.
Cats eyes are large in proportion to their head, which may be part of the reason why they're so irresistible to us.
Behind Your Cat's Stare
Cats are nocturnal hunters and for this reason their vision and eyes are very different to ours.
When fully dilated their pupils are nearly twice as large as ours, to allow them to see in semi-darkness.
In fact, cats can see in approximately one sixth of the light needed for human vision.
Bright light however, can cause discomfort for cats, so as a protective measure under these conditions, their pupils will constrict to tiny slits.
Cats have a reflective membrane at the back of their eye called the tapetum lucidum which makes maximum use of low light conditions.
This helps them find and stalk their prey and is what makes most cats eyes appear silvery green if light is shone into them at night.
The exception is the Siamese whose eyes glow red instead!
Understanding Cat Staring
Another significant difference between cats' eyes and our own is the nictitating membrane, more commonly known as the 'third eyelid'.
This acts a bit like a windshield wiper, removing dirt and debris as well as moistening their eyes, saving the need to blink.
This allows them to focus on their prey for long periods without looking away.
This might also help to answer the question 'why does my cat stare at me without blinking'?!
What Does Cat Staring Say About Their Mood?
It's not only light conditions that might affect cats' pupil size but their mood.
Narrow pupils may indicate that they're feeling angry, whilst wide eyes with fully dilated pupils are sign that they are frightened or excited by something.
So, could what to us seem like an unwavering stare, just be something cats are capable of doing as a result of their biology?
We'll look at this in more detail later.
Firstly, let's take a look at why cats stare at other cats.
Why Does My Cat Stare at Other Cats?
It's easy for us to notice when our cats are being actively confrontational with each other.
The vocalisation, swiping of paws and chasing are obvious signs.
What we might not notice so readily are the subtler tactics used by some cats to intimidate others.
One of these is the stare.
Amongst cats staring is an assertive and threatening behaviour.
Why Do Cats Stare At Each Other?
In multi-cat households a cat can use staring as a way of deterring other cats from accessing what he considers to be 'his' litter tray, food station, cat flap or any space that's important to him.
Where two cats encounter each other in what could be an inflammatory situation, such as territorial disputes, they will initially avoid looking directly at each other.
This is because they would rather try and diffuse the situation than fight. For cats, getting injured is a threat to their survival, so fighting is usually a last resort.
So, a cat whose eyes are fully open, unblinking and focused on his feline adversary is mounting a significant challenge!
Why Do Cats Stare?
We've established that cats can stare at other cats and at their prey, but do they really stare at us, and if so, how do we explain cat staring behaviour?
As mentioned in my article 'How Do Cats Communicate',  we humans have a habit of attributing human traits, emotions and intentions onto our cats.
So, we might see a cat 'staring' at us and as a social and emotional species interpret it as something akin to love.
However, as a naturally curious species, the cat may just be watching you and taking note of what you're up to.
So, let's explore in more detail what it means when a cat appears to stare at you and under what circumstances they might do it.
Why Does My Cat Stare at Me?
Cats talk with their eyes, but to understand what they're saying we need to take a closer look at the appearance of their eyes in the context of their overall body language.
We also need to consider what's going on around them and what we happen to be doing ourselves at the time.
For example, is their gaze intense, or haphazard?
Where is it focused?
Are their pupils dilated or constricted?
Is their fur standing on end?
Does the position of their tails and ears give anything away?
(You'll find more information on how cats use other parts of their body to communicate in my 'How Do Cats Communicate' article).
Each of these signs give us a clue as to our cats' intentions when looking at us.
So, let's investigate what these could be.
Why Is My Cat Staring at Me? …Curiosity
Cats are notoriously curious creatures, so what might look like a disconcerting stare may just be them using eye and head movements to track our activity.
Cats are also very sensitive and can easily pick up on changes in our body language.
So, they might be watching us because we're behaving differently or because they're learning from what we do.
The type of watching described above differs from staring behaviour in that it isn't necessarily focused on our eyes.
My Cat Stares at Me To Say 'I Want Something'
Throughout their lives cats are learning from their experiences and this includes learning the behaviours that are likely to get them what they want from us, their owners.
After all, as providers of their food we are a very important resource!
This type of learning is called operant conditioning.
For example, if you give your cat a treat every time he looks up at you with fully dilated pupils, making his eyes seem huge and pleading, he'll learn that this is an effective way to get treats.
He may even throw in a miaow for good measure.
He might use the same tactic to get you to open a door, feed him, or play with him.
Cat Staring for Attention
And if you ever wonder 'why does my cat stare at me and purr' don't forget, he may be using his special solicitation purr!
Some cats also use the 'I want something' stare to solicit attention.
Social breeds such as the Siamese thrive on eye contact and use it all the time to try and stop us focussing on anyone or anything else but them.
As well as fully dilating their pupils when anticipating something good, cats will also dilate them when they are anticipating something bad.
What Does It Mean When a Cat Stares at You? …Fear
You'd be forgiven for thinking that a cat that is staring at you with fully dilated pupils, his face and body tense, ears rotated backwards, tail lashing and possibly hissing, is acting aggressively.
However, these physical responses are not based on aggression, but on fear.
If a cat perceives an approaching human as a threat adrenaline will be released and their fight, flight or freeze response will be activated.
So, for his sake as well as for the sake of your bodily parts, either indicate that you are not a threat by slowly blinking at him, or completely steer clear.
Why Does My Cat Stare at Nothing?
I'm sometimes asked this question, as well as 'Why Do Cats Stare at Walls?'
Along with the fact that cats have better peripheral vision than us, a 2014 study suggests that both cats and dogs see some spectrums of light that we humans don't, such as ultraviolet (UV) light.
So, they may just be picking up movements that we can't detect.
Their far superior hearing may also explain why they fixate on a particular spot.
For example, if you see a cat staring at a wall, he might just be detecting sounds on the other side of it that we can't hear.
Or perhaps there are some things that spark their curiosity that we don't perceive to be interesting and therefore don't 'see', such as movements of light and shadow.
There's still a lot for us to learn about the way their brains work, but if a cat keeps staring at the wall, or appears to be staring at nothing, it's more likely that we're the ones not seeing!
Medical Causes of Cat Staring
It's important to be aware that there are some chronic medical conditions that may be associated with cat staring such as heart disease, kidney failure and untreated hyperthyroidism.
Although quite rare in this context, if your cat staring is a new behaviour and he is showing other symptoms of being 'off color', it's probably worth discussing it with your veterinarian.
Why Does My Cat Stare At Me?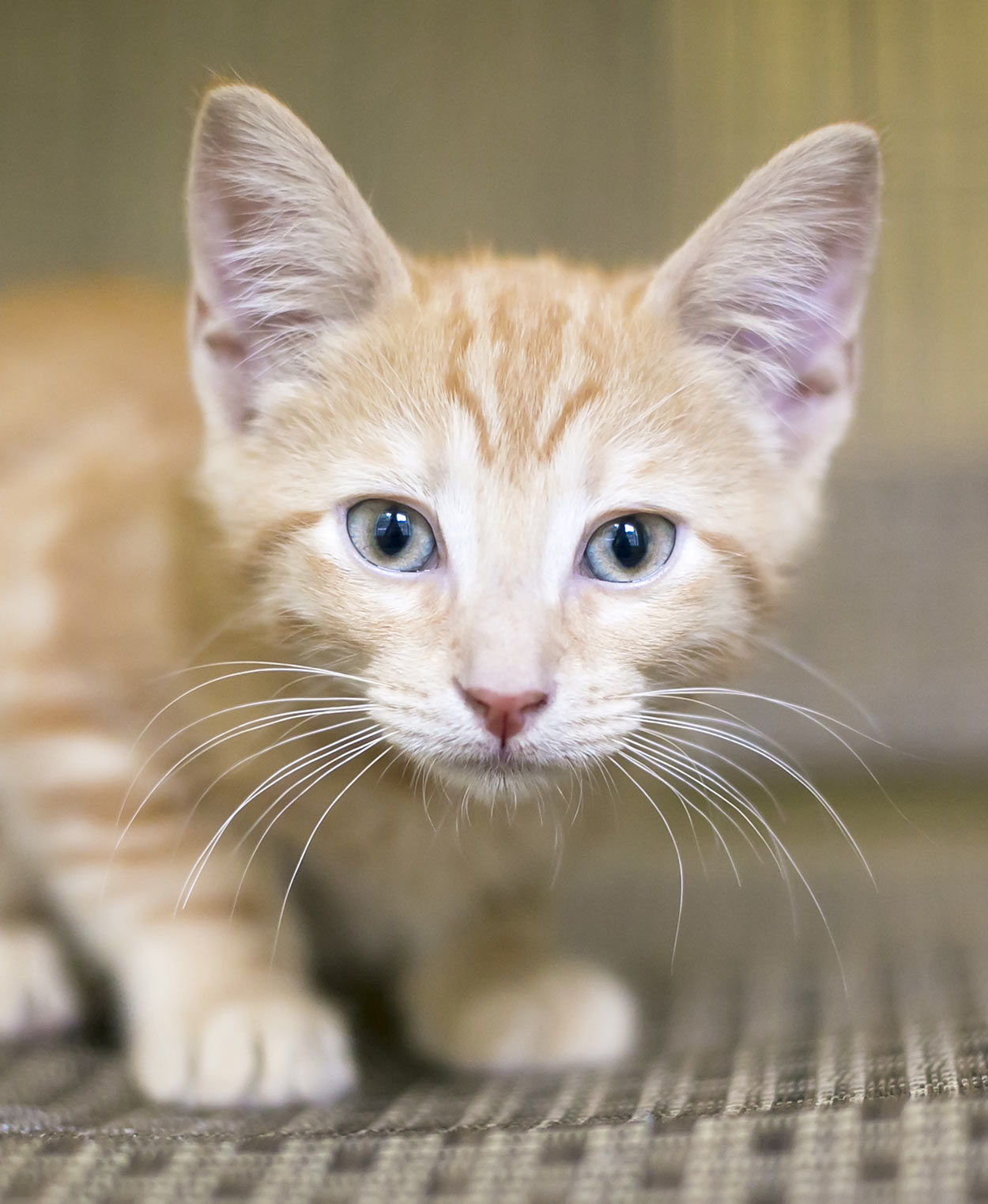 As a rule, cats don't generally use fixed eye contact when they're feeling relaxed.
So, if a cat stares at you it's usually because he wants something from you, or because he's frightened.
This is different from when cats watch you.
Watching shows they're curious about what you're doing and are probably learning from you.
Looking at the context and body language a cat uses is not only the key to understanding the difference between the two behaviours but will help us understand how to respond.
Cats hate being stared at, just as much as we do!
And whilst they might make us feel a bit ill at ease when they watch us, it's also true that we might, without realizing it be making them feel uncomfortable by spending more time focussing on them than is strictly necessary.
There is one particularly sociable cat of my acquaintance who also happens to currently be on a diet, and who stares at me more than any other cat I know.
Funnily enough his name is Tiger, but unlike the subject of William Blake's poem, I'm pretty sure I know what his eyes are trying to tell me…

Does you cat have his eye on you?
Does your cat stare at you?
Has this article helped you work out why?
Please let us know in the comments section!
References
The Secret Life of Your Cat, Vicky Halls, Hamlyn, 2010
The Domestic Cat: The Biology of its Behaviour, Dennis C Turner & Patrick Bateson, Cambridge University Press, 2000
Northern Illinois Cat Clinic, 2014
The spectral transmission of ocular media suggest ultraviolet sensitivity is widespread among
mammals. R. H. Douglas, G. Jeffery, Proceedings of the Royal Society B, 2014
The Trainable Cat, John Bradshaw & Sarah Ellis, Basic Books, 2016