How smart are cats?
Cats are often perceived as not being as intelligent as dogs.
There's no doubt that when it comes to bonding and communicating, cats and dogs behave quite differently.
Felines are mysterious creatures.
They're certainly much more independent and less inclined to please people than their canine counterparts.
Does this mean that your cat understands what you're saying but is simply choosing to ignore you?
In this article we'll look at what science says about the intelligence of cats.
Are Cats Clever?
It's not as easy to determine how smart cats are.
This is, in part, due to a lack of scientific studies on intelligence in cats compared to the amount done on dogs.
But felines themselves are partly to blame for the absence of hard evidence, since many have been reluctant to participate in studies.
Some simply walk away in the middle of an experiment!
Cats are curious, particularly about anything that moves.
This is from their natural hunting instincts, something they share with larger feline species.
As domestic pets, cats spend much of their time lazing around the house, but further inspection reveals that they're anything but lazy.
Cats are very smart and deliberate creatures who have a high level of alertness, even when they appear to be resting.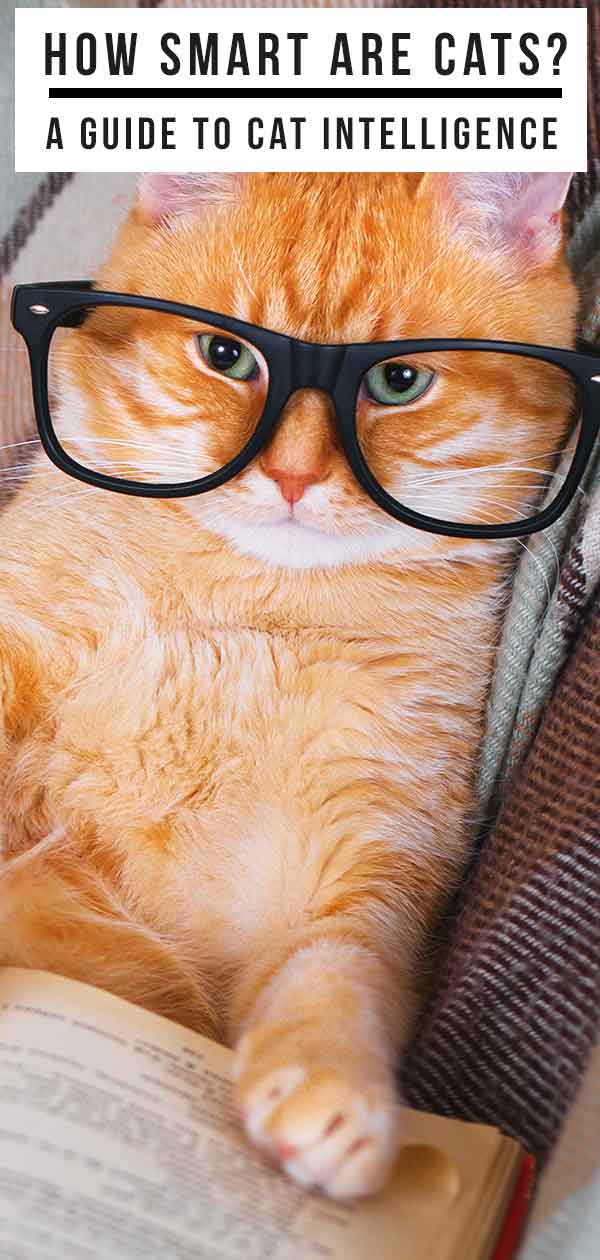 How Do We Measure Feline Intelligence?
Remember: every cat is an individual with a distinct personality.
Intelligence is nuanced and can vary from one feline to another.
But we can learn a lot about how smart cats are by looking at their brain.
Size
According to this 2013 article published in Psychology Today, a cat's brain comprises about 0.9% of their body mass.
That's less than half of the approximately 2% total body mass that our brain occupies.
However, when it comes to brains, it's not necessarily size that matters.
Structure
Surface folding and structure are more important.
And in terms of structure, it may surprise you to learn that a cat's brain is 90% similar to yours.
Analysis has shown that a cat's brain is divided into many specialized areas.
They are interconnected and share sensory information.
The ability of the cat's brain to process sensory information allows them to have a comprehensive perception of the real world.
Therefore, they're able to understand and even manipulate their environment.
How Smart Are Cats?
Intelligence is difficult to assess, particularly in animals.
For one thing, there are different kinds of intelligence that can be measured in various ways.
Scientific research shows that cats are smart animals.
For example, this study of 20 domestic cats found that they were able to recognize their owner by distinguishing between different human voices.
They're also able to understand the pointing gesture.
Cats may not be as good as dogs when it comes to counting.
They can be trained to determine the difference between two quantities by making use of visual cues, though.
Cats are able to follow human gaze, one of the more demanding visual signals of human-animal interactions.
Learning
Cats learn by observing.
If your cat is able to open cupboard doors, it's because he's watched you and figured out how to do it for himself.
Cats learn to perform an act more quickly whenever they've watched another cat perform the same function.
Why Are Cats So Smart?
If we look at the history and evolution of the cat, we can see how their brain has developed to make them successful predators.
It's believed that all cats share a common ancestor that lived in Asia approximately 10 million years ago.
As the species migrated to different parts of the world, they evolved into a wide array of feline types and sizes.
Widespread relocation was likely made possible by their natural inclination to be solitary creatures.
They pursued their own territory and hunted for prey by themselves.
Domestic Cats
Like all cat species, domestic felines are predatory hunters with a keen sense of sight, smell, and hearing.
When people began to store grain approximately 10,000 years ago, it attracted an abundance of rodents.
They're useful in getting rid of the unwanted rodent population.
That is likely the reason humans domesticated cats in the first place.
Overall, cats' appearance and behavior has not undergone major changes, and they remain similar to their ancestors.
Even today, they continue to be able to survive in the wild and can revert to a feral existence if they're lost or abandoned.
Are Cats Smarter Than Dogs?
Dogs are often perceived as being smarter than cats.
But it's virtually impossible to say which species is smarter, since cats and dogs are intelligent in different ways.
When we look at history, dogs were domesticated long before cats were.
They're more trainable and people used them for hunting.
Social Intelligence
This is in large part due to the fact that dogs are much more sociable than cats.
They are descended from wolves, who lived and hunted in packs.
They enjoy forming social bonds and cooperating with human handlers.
This has a lot to do with why dogs are so trainable and excel in service work, such as search and rescue and police and military roles.
Cats are far less concerned with impressing us.
They're much more independent and able to take care of themselves.
Cat vs Dog Brains
Dogs have a larger brain compared with cats.
However, relative brain size isn't necessarily the best indicator of intelligence.
The cerebral cortex is a part of the brain used for
decision-making
problem-solving
understanding language
short-term memory
long-term memory.
Cats have 300 million neurons in their cerebral cortex.
Until as recently as 2016, scientists believed dogs had only 160 million neurons there.
However, this newer study shows that dogs actually have 530 million cortical neurons.
How Diet Affects Your Cat's Brain
A diet that's formulated to support cognitive function can improve a cat's mental processes, such as memory and learning.
Food that's rich in omega‐3 and ‐6 fatty acids and antioxidants are key components for a cat's brain health.
Fish and fish oils provide a good source of omega-3 fatty acids and meat and eggs offer omega-6 fats.
Taurine is also essential in a cat's diet.
A lack of this amino acid can result in problems in the cerebellum and visual cortex.
Training Your Cat
Just because they're not as trainable or eager to please as dogs, doesn't mean that you can't train your cat.
Positive, reward-based training is the most effective and humane way to teach your cat good behavior and cute tricks.
Food is a good motivator for most cats.
Use the same favorite treat consistently.
You may be trying to get him to use a scratching post or teaching him to come when called.
Either way, you want your cat to be able to associate the correct action with the reward.
Be Consistent
Cats learn from experience and have short attention spans, so timing and consistency are crucial.
Give him the treat immediately after he performs the desired task or behavior so that he knows what he's being rewarded for.
Training a cat requires patience and should only be done in short sessions.
If they're not having fun, there's a good chance they'll simply walk away to find something that's more interesting.
Never punish or force your cat to do something.
Not only can it frighten them, causing stress that leads to health and behavior problems, it simply won't work.
How Smart Is My Cat?
Are you wondering how clever your cat is?
A cat's intelligence has been compared to that of a two- or three-year-old child.
One common way to test a cat's intelligence is to hide one of his favorite toys or a treat behind a solid object like a book.
Make sure he gets a good look at it and sees where you hide it, then take the cat to another room.
If he can find it upon his return, then your cat's level of intelligence is comparable to that of an 18-month-old toddler.
You can also test your cat's intelligence by putting an unopened can of food near their bowl.
If they look back and forth between the can and you, it shows they have the ability to reason.
How Smart Is Your Cat?
Are they able to do tricks?
Tell us about them in the comments section.
More Cat Guides
If you've loved this article, be sure to check out some of our other great cat guides below:
References and Resources
Miklosi, A., et al., "A Comparative Study of the Use of Visual Communicative Signals in Interactions Between Dogs (Canis familiaris) and Humans and Cats (Felis catus) and Humans," Journal of Comparative Psychology, 2005
Brogaard, B., "How Smart Is Your Cat?" Psychology Today, 2013
Saito, A., et al., "Vocal recognition of owners by domestic cats (Felis catus)," Animal Cognition, 2013
Miklosi, A., et al., "A comparative analysis of animals' understanding of the human pointing gesture," Animal Cognition, 2006
Etel Pisa, P., et al., "Quantity discrimination in felines: A preliminary investigation of the domestic cat (Felis silvestris catus)," Journal of Ethology, 2009
Pallaud, B., "Hypotheses on mechanisms underlying observational learning in animals," Behavioral Processes, 1984
Chu, S., et al., "Computational Intelligence Based On The Behavior Of Cats," International Journal of Innovative Computing, 2007
Zamora-López, G., et al., "Exploring Brain Function from Anatomical Connectivity," Frontiers in Neuroscience, 2011
Pongrácz, P., et al., "Cats (Felis silvestris catus) read human gaze for referential information," Intelligence, 2019
Potter, A., et al., "Domestic Cats (Felis silvestris catus) Do Not Show Signs of Secure Attachment to Their Owners," PLOS One, 2015
Dicke, U., et al., "Neuronal factors determining high intelligence," Philos Trans R Soc Lond B Biol Sci., 2016
Jardim-Messeder, D., et al., "Dogs Have the Most Neurons, Though Not the Largest Brain: Trade-Off between Body Mass and Number of Neurons in the Cerebral Cortex of Large Carnivoran Species," Frontiers in Neuroanatomy, 2017
Gunn-Moore, D., et al., "Cognitive dysfunction and the neurobiology of ageing in cats," Journal of Small Animal Practice, 2007
Ripps, H., et al., "Review: Taurine: A 'very essential' amino acid," Molecular Vision, 2012