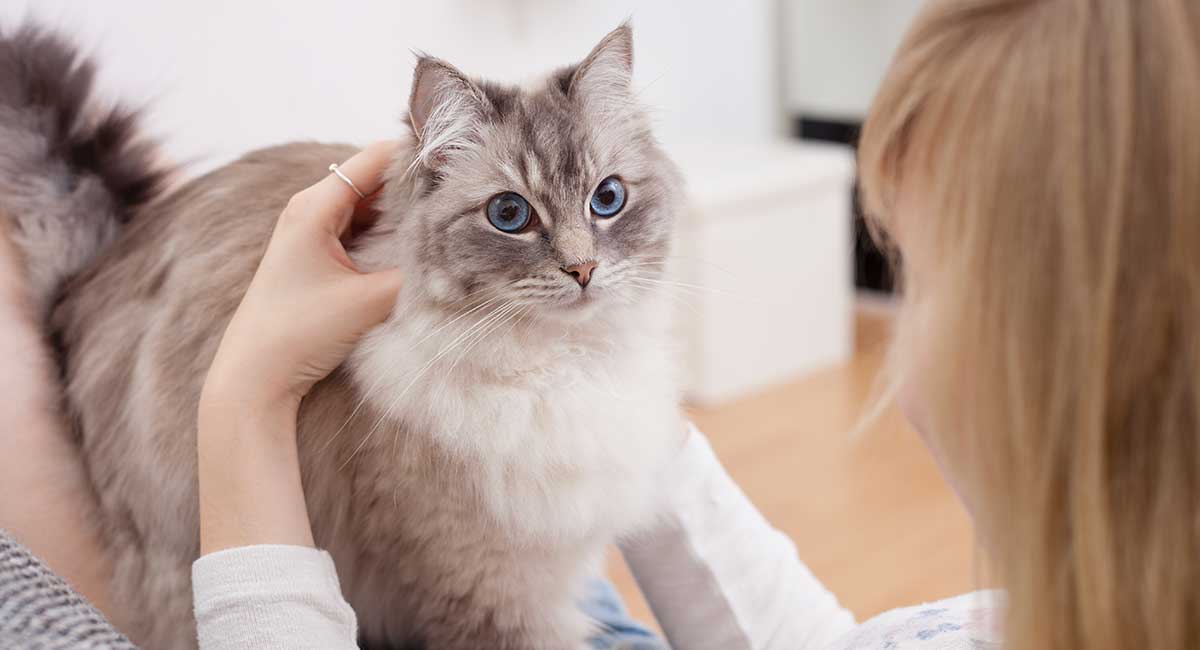 Cats are popular pets, which means that if you are wondering "why does my cat knead me?" you are definitely not alone!
Cat kneading is a behavior that begins very early in life and typically continues all throughout adulthood.
Many cat owners love it when their cats knead, while others may find it frustrating or even painful.
In this article, we take a close look at what feline researchers and veterinarians say about what kneading means to a cat, and techniques to stop or redirect this common cat behavior if it bothers you.
What is cat kneading?
Cat kneading is a specific behavior that most felines engage in.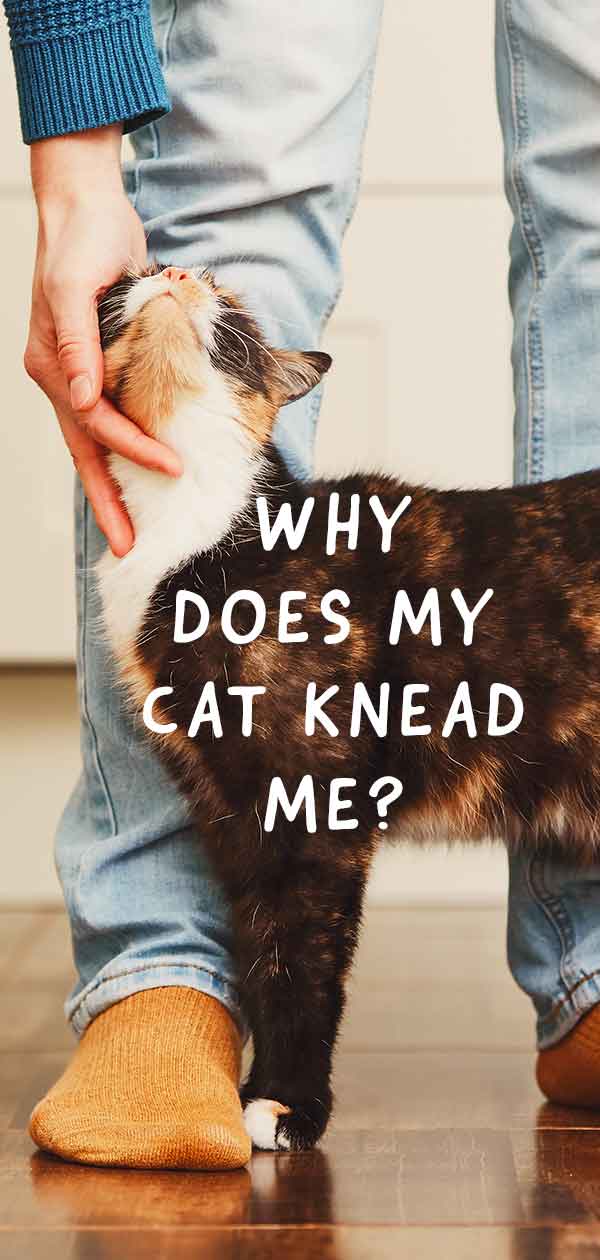 When you see a kitty pushing with her front paws on a soft surface such as a pillow or blanket in a way that is regular and rhythmic, this is kneading.
What does cat kneading look like?
If you are a brand-new cat owner or simply aren't sure whether what you are witnessing or experiencing is cat kneading or not, this section is for you!
This short compilation video showcases a number of cats kneading.
You will notice there are many different methods that cats use.
Some keep their eyes open, some close their eyes, some stand up, some lay down, some purr and some are silent.
There are some that even bite or suck at the area being kneaded!
And some cats will also extend their claws while they are kneading, while other cats will keep their claws retracted.
Why do cats knead?
So why do cats pad, exactly? Padding is another word for kneading, pumping, cat massage, or "making biscuits."
Cat massage or kneading begins during early kittenhood, when the kitten quickly learns that pushing her tiny forepaws against her mom's tummy activates the mammary glands and gets the milk flowing.
Feline researchers don't know precisely why kneading continues throughout life, but they have developed several intriguing theories!
Cat kneading releases scent hormones through the paws
One promising theory is that kneading behavior releases semiochemicals from between your cat's toes.
Semiochemicals are substances animals make to send messages to other animals.
For your cat, these toe chemicals (more formally known as interdigital semiochemicals) are one way they mark their territory.
Your cat kneading you is one way of saying "this spot is taken" and "you belong to me".
Kneading is a response to feeling safe and comfortable
Perhaps the most compelling theory is that the kneading behavior is a learned response to feelings of comfort and satiation.
In kittenhood, kneading produced milk – yum!
Now, anytime your cat feels (or wants to feel) full, safe, comfortable, happy, the kneading behavior spontaneously begins.
Cat kneading is a way that cats show their affection
Cats may also knead to show their affection – in this way, it may be similar to when you walk up to someone you really like and give them a big hug.
This is a kind of combination and extension of the first two reasons.
Your cat feels safe and comfortable with you, not to mention a bit possessive – you're theirs and they love you!
Kneading may be related to being in heat and ready for breeding
Kneading may also occur in unfixed cats close to breeding time.
For a female cat, the kneading may be a way of marking to let male cats know she is ready to make kittens.
By kneading to deposit her scent (those interdigital semiochemicals again!), male cats can "follow the map" to find her to mate.
Kneading may help a cat make a suitable bed or nest site
Yet another theory is that kneading evolved during the earliest days when the wild ancestors of today's modern pet cats would pat down grasses and earth to make a soft, smooth bed or nest.
Ultimately, there is more still to learn about cat kneading behaviors, including figuring out why does my cat knead me!
What does cat kneading mean?
Until we figure out how to speak "cat," we may never be able to answer this question with 100 percent certainty.
However, based on the current working theories of dedicated feline researchers (as well as the many stories of doting cat owners), we can make some general assumptions about what cat kneading may mean to a cat.
Here are the most likely answers to "why does my cat need me?"
I love you.
I'm so comfortable.
I want to make kittens with you.
I'm claiming this turf for myself.
This is a good spot for my next nap.
I'm hungry.
I'm happy.
I am relaxed (or I'm trying to relax).
Does cat kneading hurt?
While some cat owners do love it when their cat kneads them, this isn't true for everyone.
What is true is that even if you love cats, you may not love cat kneading.
For starters, cat kneading can hurt!
This is especially true if your cat needs a pedicure, but different people have different pain tolerances, and you may also just be more sensitive to the sensations of having your cat knead you.
Also, some cats do a lot of kneading at night (patting down their bed area, perhaps?) and this can keep you awake!
Plus, if your cat loves to knead your favorite blanket or another fragile furnishing, you may want to stop the behavior to keep that item intact.
The good news is that if cat kneading is not a behavior you want to encourage for whatever reason, there are some things you can do to redirect the behavior without upsetting your cat.
Can cat pumps be stopped?
One fact we know for sure is that kneading is an important way that felines communicate with each other and with people.
Once you know that, figuring out why does my cat knead me – and what you can do to get it to stop, or at least redirect it away from your lap or thighs or face – can become quite a bit easier.
For example, you can start to observe more closely what happens just before your cat begins kneading and what causes the behavior to cease.
You may even want to keep a few notes to see if you can detect patterns to the behavior!
This can be useful because, just as not all people are equally prone to giving hugs or shaking hands and other physical behaviors, not all cats will knead as frequently or for all of the same reasons.
The best way to start to figure out why your cat kneads is to watch him closely and try to "think like a cat."
How to stop cat kneading
While there is clearly more research yet to do into the origins of and reasons for cat kneading, one thing we think we know is this: cats knead when they are happy or comfortable.
In other words, kneading is not a behavior cats will typically engage in when they are angry, afraid or stressed out.
Why is this important? Because if you don't inhibit or redirect your cat's kneading behavior appropriately, the end result will be that you are punishing your cat for feeling happy and expressing affection!
So rather than trying to stop the kneading, it is best to try to redirect it away from you or the furnishing that is in peril.
First, notice if your cat prefers to knead in certain places (such as your lap) or on certain surfaces (such as your grandmother's heirloom wool blanket).
If your cat kneads on your lap, place some extra padding, such as a blanket or pillow, on your lap to cushion yourself from the discomfort.
For a cat that clearly prefers certain types of surfaces, try adding those materials to your cat's bed and transferring her there to do her kneading.
Adding treats, such as catnip or kibble, to the newly designated "kneading area" can provide further incentive for your cat to do more kneading there and less kneading elsewhere in the future!
Why does my cat knead me?
Learning more about "why does my cat knead me?" is just one of the many educational adventures you and your cat will have as you share life together.
The better you can understand the world from your kitty's perspective, the better care you can provide for your cat.
Do you have a cat who kneads you?
Where does your cat knead most frequently – the blankets? The couch cushions? Your face?
Please drop us a comment to share your cat kneading stories!
Finding Out More
We've got plenty more for you to read about cats! If you want to find out more about our feline friends, check out some of our articles below!
Sources
Beck et al, "Effect of a Synthetic Feline Pheromone for Managing Unwanted Scratching", Journal of Applied Research in Veterinary Medicine, 2018.
Feldman, "Methods of scent marking in the domestic cat", Canadian Journal of Zoology, 1994.
Coppinger & Smith, "A model for understanding the evolution of mammalian behavior", Current Mammology, 1990.
Zowistowski, "Introduction to Cat Behavior", Animal Behavior for Shelter Veterinarians and Staff, John Wiley & Sons, 2015.
Soennischen, "Responses Of Cats To Petting By Humans", Anthrozoos, 2015.
Benson-Amran, S., et al, "A Standardized Ethogram for the Felidae: User Guide," Animal Cognition Lab at the University of Wyoming, 2015.
Bradshaw, J.S., "Sociality in Cats: A Comparative Review," Journal of Veterinary Behavior, 2016.