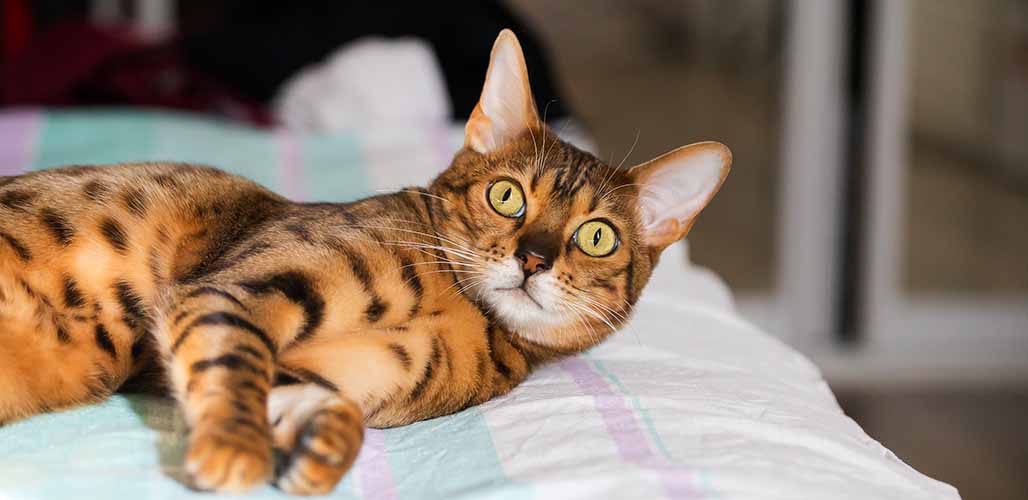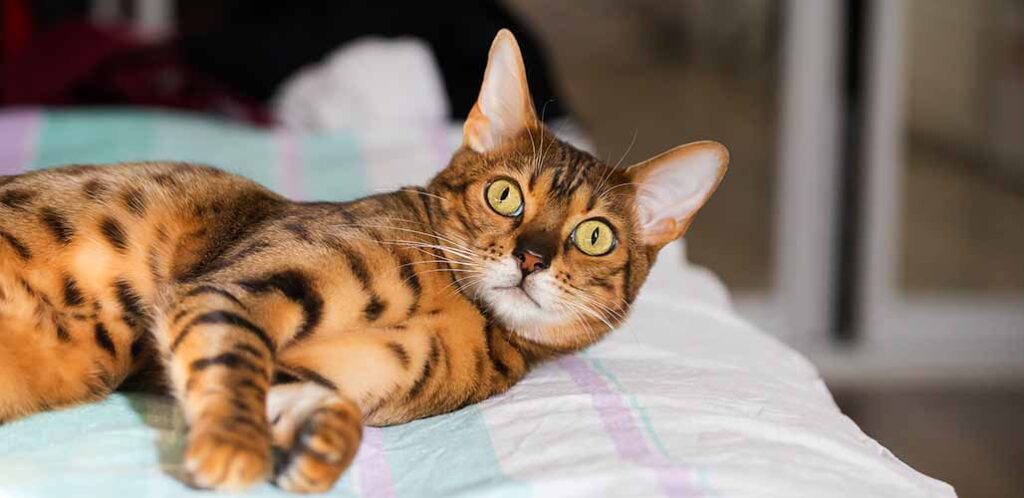 Do Bengal cats shed? Animals and humans have been friends for thousands of years. Cats in particular have claimed their places on our sofa, bed and in our hearts. My cats provide me comfort, entertainment… and runny noses. But, if you suffer from allergies, you don't have to avoid bringing a cat home altogether. Several breeds, like the exotic Bengal, are noted to be non-shedding and as close to hypoallergenic as you can get. In this guide, I'll take a closer look at whether there's any truth to this claim, how much Bengals shed, and whether you'll be able to live with a Bengal.
Contents
What is the Bengal Cat?
Often mistaken for small jungle cats, the muscular and beautiful Bengal is a cross-breed of domesticated house cats and the Asian Leopard Cat. While decorated with rosettes (the flowery markings that jaguars, leopards and cheetahs have), marbling or peculiar spots, Bengals are perfectly tame, friendly and playful housemates. But, they aren't suitable for all homes. And, if you suffer from allergies, it's important to learn about their coat type.
Do Bengals Shed?
The short answer is… Yes. As humans shed their hair, kitties shed theirs. Some breeds do so less than others; luckily, Bengals are on the lower end of that scale. Bengals have short fur that sheds minimalls. Some owners don't actually notice shed fur around the house, particularly those with a regular cleaning and vacuuming routine.
If shedding hair is your only concern, a Bengal can be a better option than a different housecat breed.
Why Do Cats Shed?
Discarding hair is a normal part of life for creatures with fur as it removes dead hair and releases natural oils, preventing skin irritation. Cats shed, or moult, heavily twice a year to control their body temperature as the seasons change. Heavy winter coats are unloaded in the spring, and autumn prepares for that winter fur to arrive.
Mainly, the amount of sunlight a cat receives determines when moulting occurs. A kitty's brain reacts to changes in sunlight, signalling hair follicles to respond appropriately. With less sunlight, they begin growing a short and fluffy secondary coat for insulation. With more, shedding begins.
Indoor kitties generally receive less sunlight, so their bodies disregard seasonal changes and moult year-round.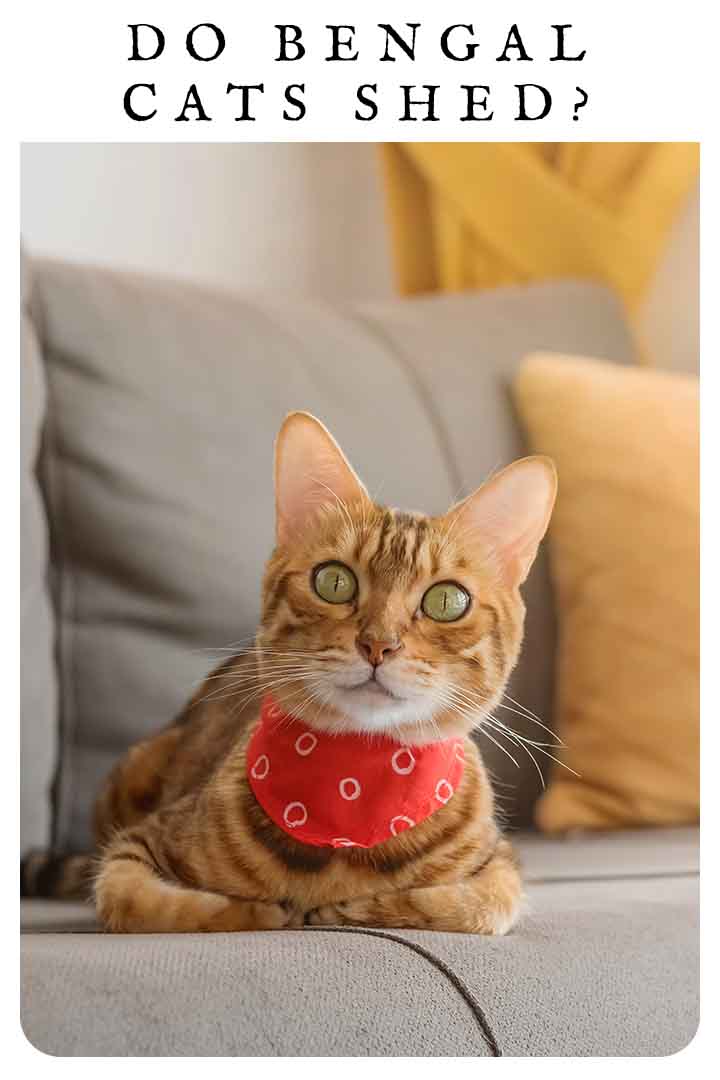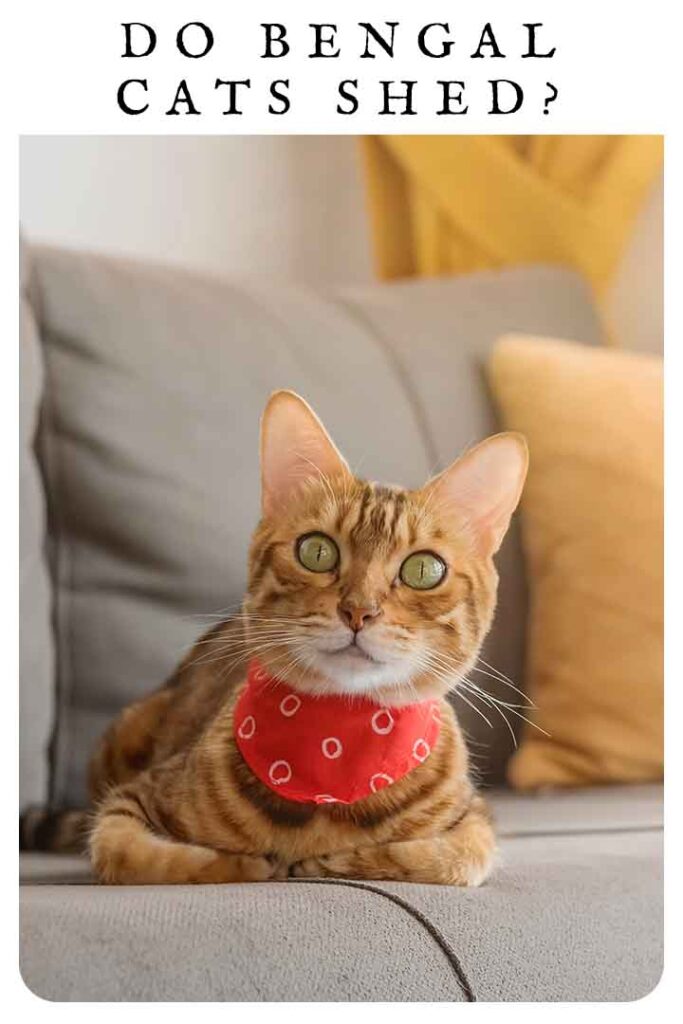 Additionally, it is influenced by numerous factors like diet, medication and sunburn. Stress, such as a visit to the vet's office or when a cat is suffering from sickness, mites or fleas, temporarily increases the amount of fur discarded. Although some folks believe that the length of an animal's fur dictates how much moulting occurs, this is untrue. Though, some breeds are more prone because of their genetics.
Am I Allergic to Cats?
The allergens that your feline friends give off are spread in different ways. Despite the misconception, your cat's hair does not cause allergic reactions, but a protein in the skin and saliva called Fel d 1 does. When a kitty grooms himself, his saliva dries on his fur and becomes airborne. This is why the effects linger even if the animal merely visits. So a fuzzier feline isn't producing more allergens, although he is emitting more into his environment.
Cat owners are understandably known for petting, cuddling and handling their pets constantly, taking the allergens onto their hands and clothing. Fel d 1 is unique and not found in other animals. Because of this, allergies to cats are twice as common as those to dogs.
Can I Live With a Bengal if I Have Allergies?
Bengals will have these proteins, like any other cat breed. But, if an allergic person's love for cats outweighs the suffering, there are steps they can take to make the home more bearable. Here are some of my top tips for coping with cat allergies:
Consult a doctor or pharmacist about antihistamines or medications to reduce or treat symptoms.
Regularly, but especially after interacting with their pet, wash your hands to remove dander.
Keep a regular schedule for washing carpets, bedding, and curtains.
Better yet, get rid of the curtains.
Unless a beloved tom never naps on the couch, replace upholstered furniture with pieces made of wood or leather.
Designate the bedroom as pet-free, guaranteeing a safe zone.
Consider investing in a HEPA (high-efficiency particulate air) filter, as these reduce small particles, such as dander, in the air.
If the cat cooperates, bathing him can reduce the amount of dander in the air.
Can I Stop a Bengal from Shedding?
Bengals are minimal shedders. So, you'll experience fewer issues with them than with other cat breeds. Understand that some amount of shedding is normal and unavoidable for your feline friend. With plenty of natural light, good nutrition, enough exercise and adequate grooming, a cat will be healthy and happy, limiting excessive moulting.
Long haired Bengals fare best with daily grooming. Brushing or combing traps fur that would otherwise float about the house. It also removes dead skin flakes and stimulates circulation, improving the kitty's health.
Shor thaired Bengals lose less fur than their longer-haired counterparts and do not require as much grooming, but a thorough brushing a couple times a week helps. For healthy teeth and gums, provide a chew toy or meat chunks. A professional nail trim is recommended monthly.
Do Bengal Cats Shed? The Bottom Line
Bengals sport various striking coat patterns with multiple colour combinations. They are happy, active creatures whether chasing soap bubbles, catching felt fish on a string or attacking piles of discarded wrapping paper. And, they don't shed often, so you might experience fewer allergy symptoms than you would with a different cat breed.
Despite shedding a little, Bengals are lovely, friendly companions who offer delight and comfort to any family. Grooming improves kitty's skin and helps contain irritating dander. A great cleaning regime is one of the best ways to keep a cat at home but stop any of your own suffering!
More About Bengals
References