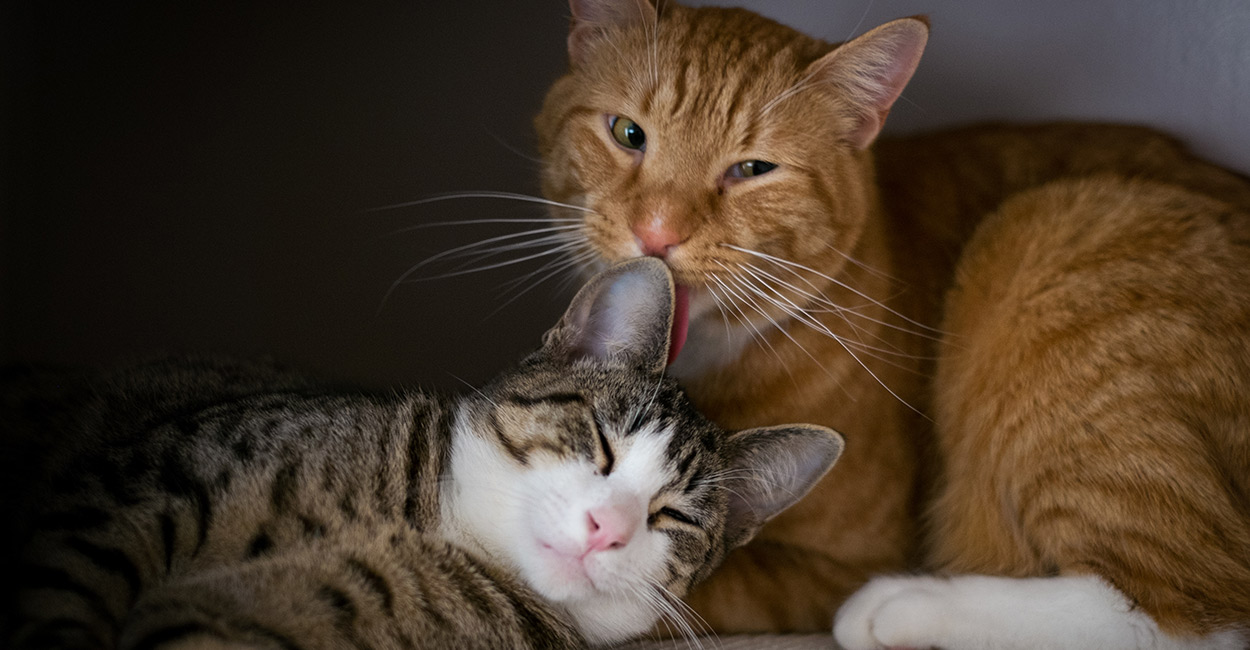 How do cats mate? Does it really begin with a lick of the ear? Penny Berrigan has the answers.
After bringing home a kitten, after some time questions will inevitably arise about your cat's "love life".
So, in this article, without any customary awkwardness, we'll answer the following questions:
How do cats reproduce? When can cats get pregnant?
What sort of behavior can I expect from a female cat in heat, and do male cats go into heat too?
How Do Cats Get Pregnant? – An Overview of Cat Reproduction
Cats are prolific breeders.
In fact, a female cat can give birth to a litter of kittens from around six months of age right up until they are nine years old.
Cats can have up to three litters each year.
At an average of four kittens per litter, over a female cat's lifespan that is a lot of kittens!
Actually, I did the math – it is around 108 kittens per female cat.
Fascinating Facts About Feline Reproduction
A female cat that has not been spayed is called a 'queen'.
Queens have two or three heat cycles during the mating season (which is typically February to October in the northern hemisphere).
While a queen is on heat, she actively seeks out male cats to mate with.
Queens are induced ovulators – this means that they will only release an egg once they have mated.
When a queen is on heat, she can mate multiple times a day.
Sometimes it will take a couple of times before the egg is released.
However, seeing a queen will mate many times while she is on heat, there is a high chance she will fall pregnant and have a litter.
That's if, of course, contact with a tomcat is permitted.
A queen can also have kittens to multiple fathers in a single litter, if she mates with more than one male while she is on heat.
Female Cats in Heat
If you have female cat, you may want to know what signs to look for that indicate she is on heat.
In fact, recognizing when your kitty is on heat is very important, as this is the best way to prevent unwanted pregnancies.
When a queen is on heat her behaviour will change.
She may start rubbing and rolling on objects and may become very affectionate – toward everything and everyone.
Some queens, however, will not display this affection.
In fact, some may become aggressive toward their owners and to other cats.
So, watch out for any sudden changes in behaviour.
More Signs Your Female Cat Is In Heat
She will also start becoming very vocal.
Many cat owners would describe the sound they make as a yowl.
You may be concerned that she is anxious or in pain.
However, if your queen is displaying other signs of being on heat, there is no need for concern; this kind of vocalisation is normal when a queen is on heat.
Another tell-tale sign is a tendency to lift her tail and back half in the air when patted along the back.
This may be accompanied by a kneading action with her back legs, while moving her tail from side to side.
Other signs may include an insistence on going outside, giving an increased amount of attention (i.e. licking) to her genital area, reduced appetite and spraying urine on walls and other surfaces.
What Age Can Cats Get Pregnant?
Cats can fall pregnant at around four months of age.
However, just because your little kitty is capable of falling pregnant, this does not mean it is good for her.
Queens that have had a litter are at higher risk of certain infections of the reproductive tract as well as some cancers.
They are also at a higher risk of contracting diseases from stray toms, and these infections can be passed on to their kittens.
How Many Months Are Cats Pregnant?
Feline gestation lasts around two months.
If your cat is pregnant, her abdomen will swell, her appetite will increase, and her mammary glands, or teats, will swell.
If they are squeezed, milk may come out.
Later in the pregnancy she will start looking for a "nest", a place to give birth and keep her babies safe and warm.
An average litter consists of four kittens, but this is not a hard and fast number.
Litters can be as small as one or as large as nine.
Once a queen gives birth, she can become pregnant again within eight weeks, or around the time her kittens are weaned.
Should a Cat Have a Litter Before She is Spayed?
According to a study conducted in 2014, many cat owners hold the belief that it is the cat's best interest to let them have a litter of kittens before they are spayed.
Not only has this belief led to many unwanted kittens, it is also a misconception.
In fact, it presents risks to your young kitten if she has a litter when too young both during the birth and later on in life, as having a litter increases the chances of certain infections and cancers.
According to the British Small Animal Veterinary Association position statement, stopping unwanted pregnancies is part of responsible pet ownership.
Preventing Unwanted Pregnancies and Protecting Your Female Cat
According to the statement, ways to control your pet reproducing include containment of the animal while it is on heat and spaying or neutering.
Regarding the former, to take such action at the appropriate time, a pet owner needs to recognize the signs of a queen on heat.
When cats are seeking to mate, they also tend to wander.
If your kitten is not spayed or neutered and is let outside while they are on heat, they are at a higher risk of getting lost or hit by a car.
There is also some evidence to suggest that spaying your cat earlier rather than later in life can increase the speed of recovery from the procedure itself.
Do Male Cats Go into Heat?
Male cats do not go into heat the way female cats do.
Male cats do, however, pick up on the scent that is left behind by a female cat which is on heat.
Once they have picked up on this scent, they will start searching for the queen.
If another male cat gets in the way, there will be fights!
Like female kittens, male kittens can safely be castrated at around four months of age.
How Cats Mate
Mating is initiated by the queen.
She lets the tom know she is ready to mate by way of her loud vocalisations, along with the scent she has left from all the rolling and rubbing she has done leading up to that point.
Once a male has approached the queen and she is ready to mate, she will lay low to the ground, and lift her tail and rear end.
She will move her tail to the side and may move her hind legs in a treading motion.
When a tom sees this behaviour, he knows that she is ready to mate.
The tom will stand over the queen, his front legs on either side of her shoulders, and bite her by the scruff of the neck.
The process leading up to this step usually takes up to five minutes; once this position has been assumed, the mating process itself is incredibly quick.
Why Do Cats Scream When They Mate?
When cats mate, penetration and ejaculation only takes one to four seconds.
As this happens, the queen will let out a scream, roll away and often give the tom a couple of slaps across the face.
The male cat's penis has spines on its surface which make the withdrawal painful for the female cat.
This, however, is also what stimulates the female cat to release the egg.
An experienced tom will know to move away from the queen at this point, to avoid being attacked.
How Do Cats Get Pregnant?
The queen will now lay on her side, roll around and lick her genitals.
After some time, she may be ready to mate again.
The tom will wait and approach again when he thinks she is ready.
The more times the pair mate, the higher the chance of pregnancy.
The queen will not be backward in letting the tom know when she has had enough.
It has been noted that during this process, the tom is usually the more nervy of the pair, and if the process is interrupted, it is the tom that will more readily abandon the idea.
How Do Cats Mate – Conclusion
Knowing how cats reproduce is an important part of responsible pet ownership.
This knowledge is not just for those who plan to let their cat have kittens.
Being familiar with how cats mate and knowing answers to questions such as "how young can a cat get pregnant" goes a long way to stopping unwanted pregnancies.
It is also a good idea to be clear on the facts so that certain urban myths surrounding spaying your female kitten do not influence your decisions regarding when to get your cat desexed.
If you'd like to know more about your female cat in heat, we have an article all about it here.

Have You Caught Your Cats In The Act?
We hope you have found this article on how cats mate useful.
If you've got tips for keeping your female cat in heat away from toms, and vice versa, let us know in the comments section!
References
Welsh, C.P., et al Poor owner knowledge of feline reproduction contributes to the high proportion of accidental litters born to UK pet cats, Veterinary Record, 2014
Joyce, A., Yates. D., Help Stop Teenage Pregnancy! Journal of Feline Medicine, 2011
BSAVA – Responsible Pet Ownership Statement 
Aronson, L.R., Cooper, M.L., Penile Spines of the Domestic Cat: Their Endocrine-behaviour Relations Department of Animal Behaviour, American Museum of Natural History
Feldman, E.C., Nelson, R.W., Canine and Feline Endocrinology and Reproduction, Saunders, 2004
Choron, S., Choron H., Moore, A., Planet Cat: A Cat-a-log, Houghton Mifflin Harcourt, 2007
The Cat Group: Policy Statement #1 Timing of Neutering 
International Cat Care: Neutering Your Cat 
Petersen, A., Reproductive Physiology of the Female Cat, Swedish University of Agricultural Sciences, 2015
Pregnant cats, birth and care of young, Produced by Cats Protection UK