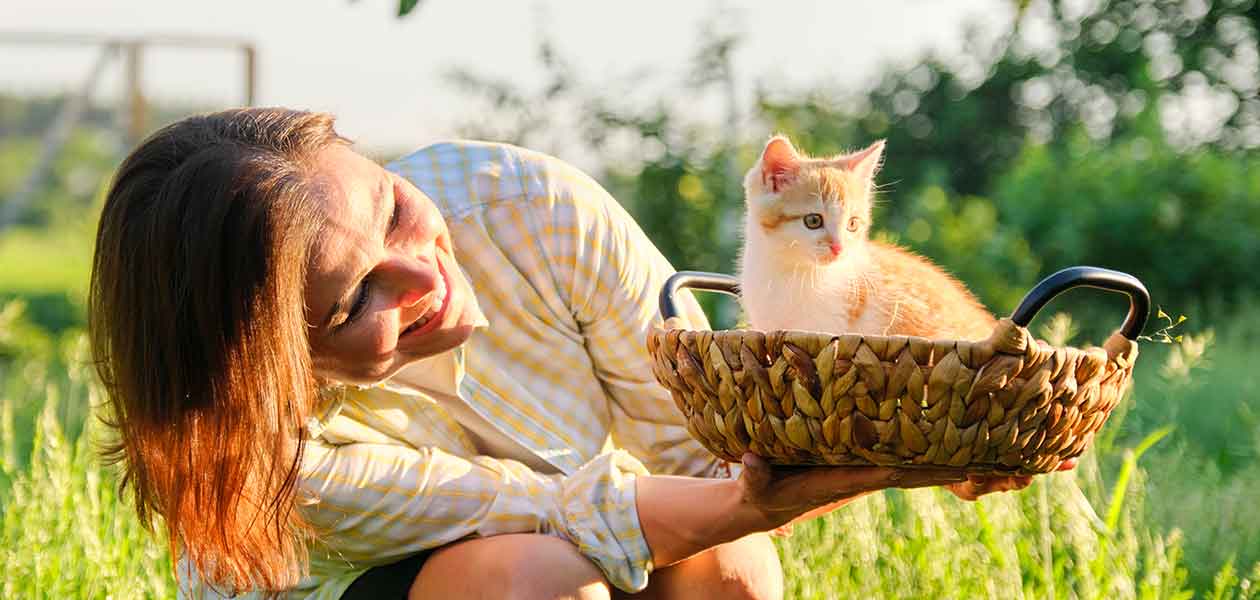 If you're ready for a new addition to your home, you may be wondering how to buy a cat.
Once you've decided on the type of cat you're looking for, there are a few places to search.
Rescue centers and private responsible breeders are the two most popular places to buy a cat. But, you may also find kittens through word of mouth or your veterinarian's contacts.
Be wary of buying kittens online, through wanted ads, or in pet stores.
How to Buy a Cat – Quick Links
Click the links below to jump straight to the section you need.
There are quite a lot of places to buy a cat, but some are better than others. Before you decide where to look, make sure you're definitely certain you're ready to bring a cat home.
Things to Consider Before Getting a Cat
A new pet almost always seems like a great addition to the family before you have one. But, after getting a new cat, many people realise they weren't ready.
Which leads to lots of cats being given up to shelters shortly after going to their new families.
To reduce this, it's important to make sure you're completely ready for a cat, and that your home is suitable.
After all, it's not just about you, but about the cat too!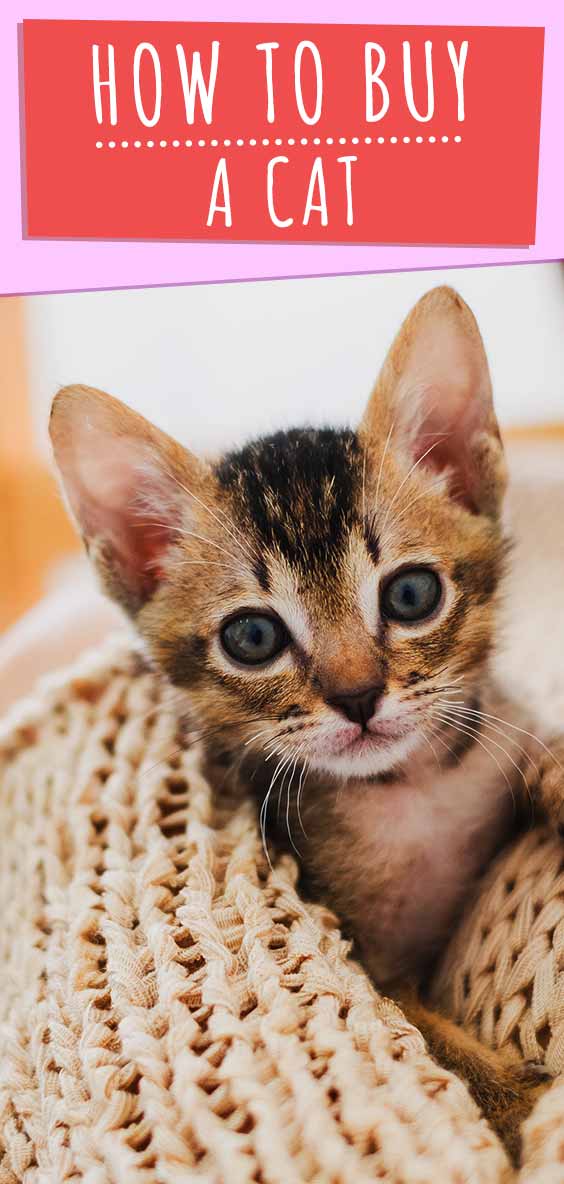 Do You Have Enough Space?
Cats need a surprising amount of space in their home, especially if they are going to be kept as indoor cats.
You'll need an area for them to sleep with a comfy cat bed. You'll need space for a litter tray.
Cats, just like other pets, will need toys, so you may want to invest in a toy basket. Things like cat trees and scratching posts are also great.
Plus, of course, they need food and water bowls.
Although it doesn't seem like a lot, all of this will add up in terms of space. So, make sure there's enough room for all of this, and for your cat to run around and play in your home.
Do You Have Other Pets?
Buying a cat isn't necessarily the best choice if you have other pets at home already.
Some cats won't get along with one another – so if you already have a cat at home, you need to make sure they're happy with any new pets you're considering.
Also, cats and dogs won't always get along.
If you have other pets at home you need to make sure they get along with cats, and that you are ready for the extra pressures an additional pet will bring. This includes having the time to care for all pets properly.
Can You Afford It?
Buying a new cat doesn't just include the upfront cost.
Cats need various products and accessories throughout their lives, such as flea treatments, food, toys, grooming tools, and more.
Plus, there's the risk that your cat will develop health problems throughout their lives, which will lead to potentially expensive veterinary treatments.
If you get a kitten, you will also need to consider the cost of vaccinations.
The price of keeping a pet is an ongoing one, not just an upfront fee. So, make sure you're prepared for this.
What Type of Cat do you Want?
Before you jump in and buy a cat, make sure you know what type of cat you're looking for.
This can refer to the breed you're looking for. Perhaps you want a breed that's known for having a certain temperament, or for having a low number of hereditary health problems.
But, it can also refer to the age of a cat. Do you want a kitten to raise from a young age? Or, are you happy with an older cat that's already had some basic training and potentially even a home before yours?
This will impact where you buy a cat.
Consider Your Household
On top of this, you must consider the impact a new cat will have on every single member of your household.
Does anyone in the house have allergies? Does everyone like cats? Will everyone have a role in caring for the cat?
Is everyone prepared for the space that a new cat will take up? And are they aware of the potential destruction – i.e. toilet training accidents, scratching furniture, catching small animals and leaving them around the house?
If you live in a home with small kids, getting a cat isn't always the right choice. If children don't know the right ways to play and interact with pets, a cat could get accidentally hurt by a small child.
And, the child could get hurt or scratched by a cat that lashes out to protect itself.
So, consider the impact a new cat will have on every single member of your household. And, make sure everyone is prepared for the changes in lifestyle your new pet will bring.
How Much Does a Cat Cost?
The prices of kittens and cats really varies depending on where you look. Prices will vary between breeders and rescue centers, but also between different countries and different parts of the same countries.
Plus, as we said a moment ago, the upfront price isn't the only thing to think about. Cats have additional costs that build up throughout their lives.
Purebred cats usually cost more than mixed breeds, particularly if the breed is very popular or very uncommon.
Breeders can charge anywhere from $200 to thousands of dollars per kitten. Whereas adoption fees at shelters often only cost around $50.
Deciding the amount you're willing to pay and the type of cat you're looking for is a good place to start your search.
Now, let's move on to the most common places to buy a cat.
Where to Buy a Cat – Rescue Centers and Societies
Some rescue centers specialize in certain breeds, but others will accept any type of cat. Cats in rescue centers will vary a lot in their ages, health, and temperaments.
So, speak to the staff about exactly what you're looking for to get the right cat for you.
Rescue cats are usually cheaper than kittens from breeders, and may already be toilet trained. Plus, you'll be able to learn more about their temperament before they come home.
However, if you want to raise a cat from the time they're a young kitten, you may struggle to find one in a rescue center.
Make sure to ask how well rescue cats are socialized to different people and things. And ask about any known health problems for the cat you're interested in.
Lots of rescue centers or humane societies will have rooms where you can spend some time with your chosen cat before deciding to bring it home. Make the most of this if it's available!
Why Cats End Up In Rescue Centers
There are many reasons why cats are relinquished to rescue centers. One study found that the main reason was aggression with other cats in the same household, with 38% cats studied being given up for this.
However, other reasons included changes in owner circumstances, and allergic reactions to the cat.
So, speak to the rescue center about why each cat is there. This can help you avoid any behavioral problems at home.
Private Breeders
Private breeders will breed their own kittens, but some private breeders are more reputable than others.
Kittens from this source will often cost more. But that doesn't always mean they're better or healthier. And, a higher price doesn't necessarily mean a healthier kitten.
Go to breeders with a long list of questions. If possible, meet both parent cats to assess their temperament and make sure they're a proper part of the breeder's family.
The best breeders will be able to show you any relevant health testing, and will likely ask you lots of questions in return. They will want their kittens to go to the best, most suitable homes.
Anyone who purposefully breeds their cat counts as a breeder. They may advertise their kittens online, in newspapers, social media, or even just through word of mouth.
But, it's really important to choose the best breeder possible if you want to get a healthy, friendly kitten.
Breed-Specific Breeders
Private breeders are often the best way to find purebred cats. Particularly breeds that are less common.
Many breeders specialize in particular cat breeds, rather than breeding as many different types as possible.
But, you should still ask lots of questions when looking at these kittens – don't assume they're a reputable breeder just because they specialize in one particular breed.
To find a breeder specialising in a particular breed, a good place to start is your country's national breed club website. Breed clubs frequently keep a directory of breeders working with their chosen cat.
Using Your Own Connections
Another way that you may be able to find a kitten is by using your own personal network and connections.
This can mean talking to your friends and family, or talking to your local veterinarian.
Many people who have cats sometimes find themselves with unexpected litters. Or, have friends who have unexpected litters.
By asking around, you may find a friend or family connection who has kittens that they're looking to rehome. But, bear in mind that you may not know about the health history of both parent cats.
Alternatively, your local veterinarian or local shelters may know of reputable breeders that they can guide you towards.
Some of the best breeders only operate by word of mouth, so this will be an easier way to find them than searching for hours online.
Your veterinarian will also be a great source of advice for choosing a healthy kitten.
Places to Avoid
Sadly, there are some places to avoid on your journey to buy a cat. Some poor breeders will try to breed and sell cats just to make a profit, rather than caring about the health of the kittens.
Choosing kittens in pet stores can be problematic. You can't meet the parent cats to see what their temperament is like, and usually can't see any health records for your kitten or its parents.
You should also be wary when looking at online ads. It can be hard to tell apart good breeders from bad breeders through ads online.
Usually it will take a home visit to find out more. But, remember to ask any breeder you're considering a lot of questions.
If they refuse to let you meet the kitten's parents, or if the cat or kittens don't look well cared for, it may be best to choose a different breeder.
Some people will have good experiences using online ads or pet stores. But, these are sources that should be used with caution.
How to Buy a Cat – Summary
As you can see, there are lots of places to buy a cat. Whether you're using your own connections, searching for a private breeder, or choosing to rescue an older cat or kitten.
Prices will vary depending on where you buy your cat. Breeders usually have higher prices than rescue centers.
But, no matter where you get a cat, make sure to ask plenty of questions about their health and temperament.
If you're currently looking for a new addition to your home, let us know how your search is going in the comments!
References and Resources