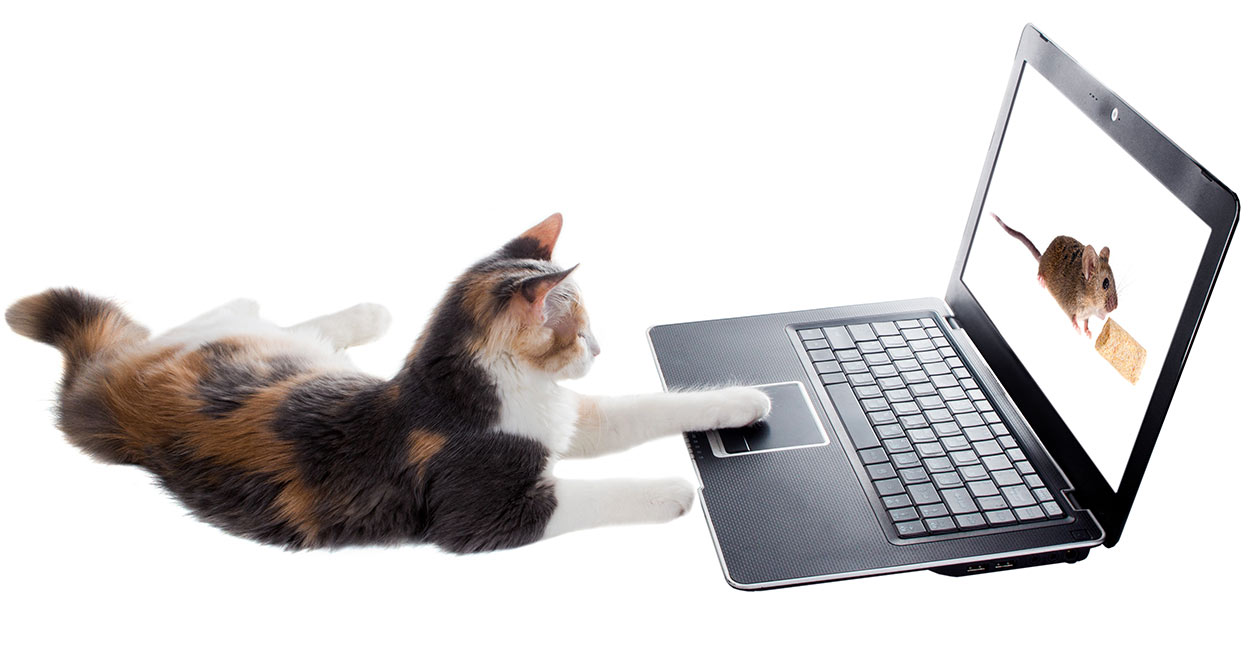 Alison Page rounds up the best videos for cats to watch on a rainy day while you have a lie in.
Most cat owners have seen their beloved kitty absorbed in watching fish swimming around an aquarium or witnessed the tail twitching and waving paws that result when birds are fluttering on a windowsill.
But have you ever noticed a cat watching TV or enjoying a FaceTime session with his owner?
Many of us have.
My cat is especially fond of wildlife documentaries with birds in them; the more chirruping and squawking the better!
In this article, we present to you (and your cat!) a whole range of different videos for cats to watch online!
But first of all let's have a look at whether cats can actually SEE the flat images on TV and computer screens.
Do cats see in mono or only in 3D? Can they see an actual image or are they just interested in the flickering of color on the screen?
Let's find out.
The "flicker" factor
Cats can certainly see TV screens, computer monitors, and even phone screens, although their viewing experience is not the same as ours.
Thanks to the old-school cathode ray tube, pre-digital TV screens produced pictures via a series of flashing images presented on the screen.
To our slow eyes, this looked like a continuous picture.
Cats need to view images at a higher frame rate than humans in order to make the images appear smooth.
The human eye needs 15 to 20 frames per second in order to view a clear, smooth picture, whereas your kitty requires at least 100 frames per second.
Therefore, your old, boxy TV set screen would have looked like a continuous strobing effect to a feline.
Hardly riveting viewing for a curious cat!
Modern digital TVs, computer screens, and smartphones use different technology in order to produce a picture.
Digital technology gives a much higher frame rate, presenting a clearer image to your cat.
It's thought that this is why modern cats are so fascinated by the tech you have in your home, especially if your TV viewing is in HD!
What colors can your cat see?
Cats have a reasonable range of color vision, although it's not as wide as ours.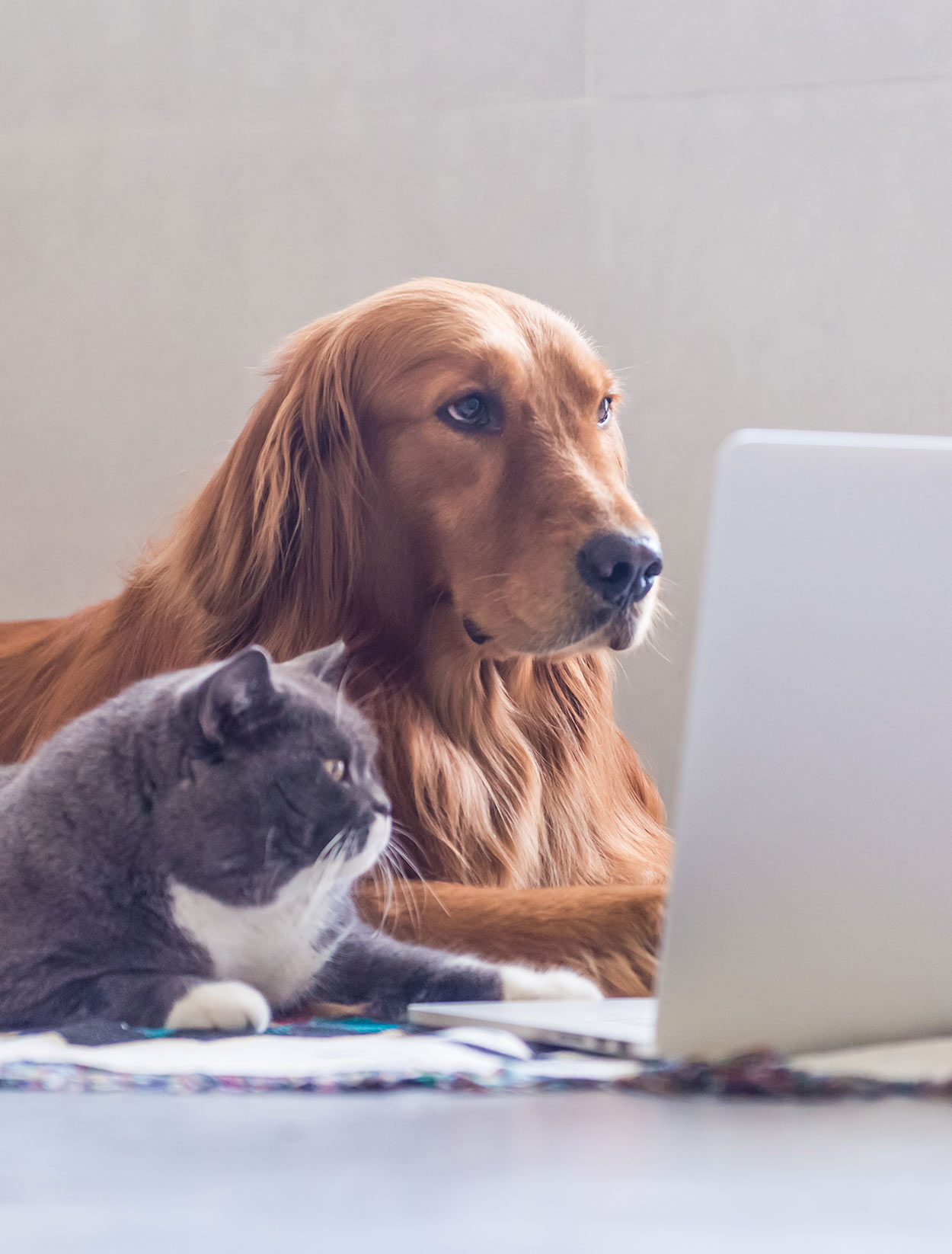 Your cat can clearly see colors in the purple and blue and spectrum, but he can see distinguish very little among the green-yellow-red end.
Your cat's preference for a particular toy might therefore easily explained.
For example, a bright blue catnip mouse is far more visible to your cat than an orange or red one. Given the choice, he'll go for the blue one!
A different perspective
Your cat has just one-sixth of the fine detail perception that you have.
This is because cats do not have a fovea.
The fovea is an area in the human retina which contains high concentration of cells called cone cells, which are responsible for creating sharper images.
The lack of a fovea means that cats have an acuity of just 20/75 vision.
This means that your cat will see an object from 20 feet away as well as you can from 75 feet away.
What this means in viewing terms is that the cat on your lap might only enjoy a blurry picture on your TV screen, but the phone or tablet in your hand will look enticingly clear!
However, cats are much better at detecting movement than humans. They are likely to focus more on the outlines of the images on the screen, rather than on the finer detail anyway.
Cats also have better depth perception in the near-sighted range than humans, reducing rapidly at greater distances.
Why do your cat's pupils dilate?
When your cat is eyeing up a "prey item", such as a favorite catnip mouse, a bird outside the window, or a fish swimming in a tank, his pupils will dilate (open up).
The cat's iris is controlled by his brain.
When the light is very dim or the cat needs to see something as clearly as possible, his brain instructs his pupils to dilate, allowing more light to the retina and improving the cat's vision.
Sensory experience
So, that's how your cat's eyes work when watching TV. But what about their other senses?
Cats are primarily stimulated by movement and by sound.
Watch your cat's reaction to a wildlife documentary where birds are singing, dogs are barking, or other cats are meowing.
You'll see that your sleeping cat is immediately attentive and looking towards the source of the sound.
The fluttering of a bird on the screen, together with the sound of its twittering and singing are virtually guaranteed to have your cat enthralled!
Many cats will even pat the screen with a paw in an attempt to get to the bird "trapped" inside the TV set.
Some cats will even look around the back of the TV set, obviously thinking that the bird is there!
Videos for cats to watch
So, now we'll move on to our selection of kitty-vision videos!
We've divided the selection into different categories so that you can see what best captures your cat's imagination.
Bird videos for cats to watch online
The first of our birdy offerings features a range of feathered friends to fascinate your feline!
There's plenty of action, but not much song – the birds are too busy eating to sing much!
See if this footage captures your cat's attention.
There's also a cheeky squirrel in there too!
This second clip features plenty of cheery chirruping and lots of fluttering and hopping too – surely plenty to amuse your curious cat!
At number three on our list is a birdy video set in the English countryside.
This time the birds presented this picture are crows, jackdaws, and rooks – somewhat larger than the little songbirds in the first two films.
And that pesky squirrel sneaks in on the act again too!
Chaffinches, robins, and tits feature in our final woodland birdy offering.
See if their song and dance routines catch your kitty's eye!
Fish videos for cats to watch online
This selection of feline films features swimming fish videos for cats!
My own cat, Harry, seems to love these videos!
He likes to sit on my lap while I'm working on my laptop, and has been busily patting the screen, trying to hook a fishy!
The first clip shows a tank full of pretty orange mollies, swimming against a bright blue background.
There's no sound in this second video, but plenty of action to keep your kitty entertained.
It also makes a great screensaver!
In our final silent offering, the fish are larger and slower-moving.
Purrfect videos for your cat if he prefers a more relaxing fishing experience!
Mouse video for cats
If birds and fish don't do it for your cat, a scurrying mouse might be more to his taste?
We've found some mouse videos for cats to watch that are sure to get your kitty's tail twitching!
In this YouTube video for cats, there's lots of scurrying and nibbling mouse action to catch your kitty's eye!
And a robin makes a guest appearance too!
Here's another mouse video for cats to watch.
As an added bonus, the film features a supporting cast of avian actors too!
Squirrel videos for cats to watch
If your cat enjoys chasing small furry things, he might be interested in viewing these clips of squirrels!
These cheeky squirrel videos for cats to watch are surely going to keep your kitty busy for hours!
Cat videos for cats to watch online
If you have an only-cat household, your pet may enjoy interacting "virtually" with other felines.
Here are some videos for cats to watch online that feature other kitties having fun.
This totally cute video of cats and kittens enjoying some festive fun in the snow with have both you and your pet enraptured!
https://www.youtube.com/watch?v=Od3rlk0wYEM
This awesome video has everything a cat could want for an evening's entertainment in front of the TV.
There's a cute, mewing kitten, birds, squirrels, and an array of different creepy-crawlies – so much to see!
Videos for cats to watch
We hope you and your cat have enjoyed this article (and your viewing!)
Why not experiment by presenting each of the videos we've featured to your kitty to see which generates the most interest?
Be sure to let us know your results in the comments section at the end of this article!
Perhaps you have your own collection of videos that your cat just LOVES! If so, please share them with us.
Happy viewing!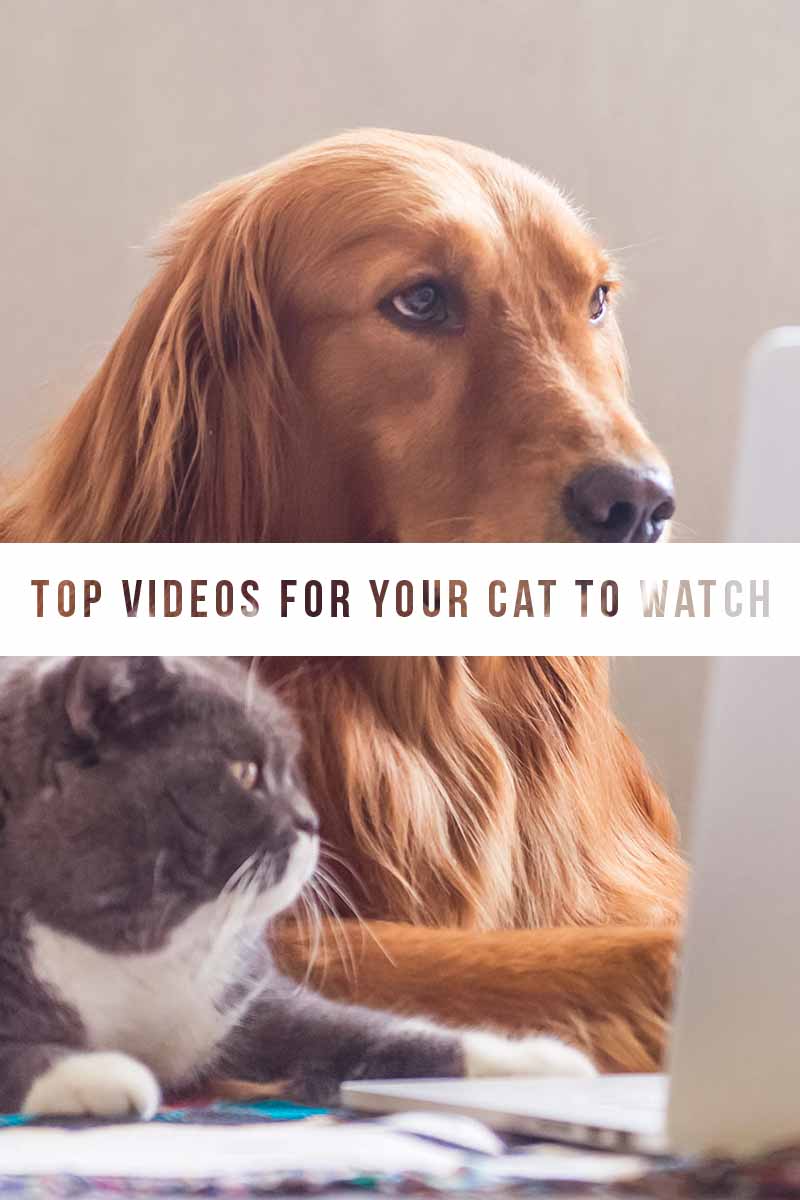 References and further reading
"What Do Dogs and Cats See?" Veterinary Vision Inc.
Galett, Baker & Eugster, "Eye Structure and Function in Cats" MSD Veterinary Manual, 2012