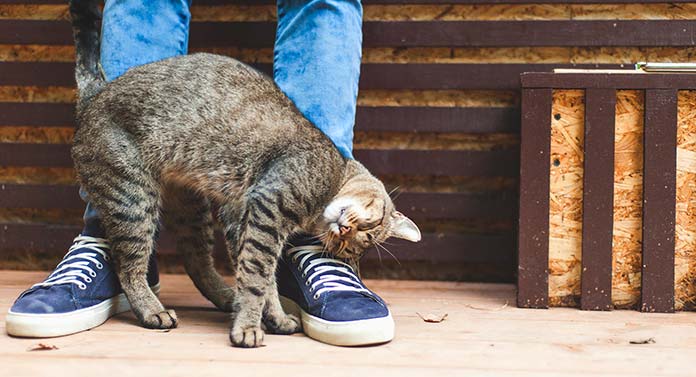 What does it mean when a cat rubs against you? Cats will rub against people to mark their scent, to get attention, or even as a friendly greeting.
Many cats will rub against your leg when they know something good is coming – like when you're preparing their dinner!
The reason cats rub against you will vary depending on the context. But this is generally a positive behavior. So, if a cat rubs against you, they definitely feel comfortable with you.
Cats may rub against you more if they receive positive reinforcement from you. So, reward your cat with plenty of love, or the occasional treat when they rub against you, if you want to encourage the behavior.
What Does it Mean When a Cat Rubs Against You?
Most people believe that a cat rubs against people, other cats, and inanimate objects to spread their scent around. But, this isn't the only explanation.
Here are a few of the most common reasons why a cat might rub against their owner or another person:
Scent marking
As a greeting
For attention or affection
In reaction to positive response
Over time, it can be easier to recognise your cat's behavior patterns, and to identify why they're rubbing against you.
Let's take a closer look at these potential reasons for cat rubbing behaviors.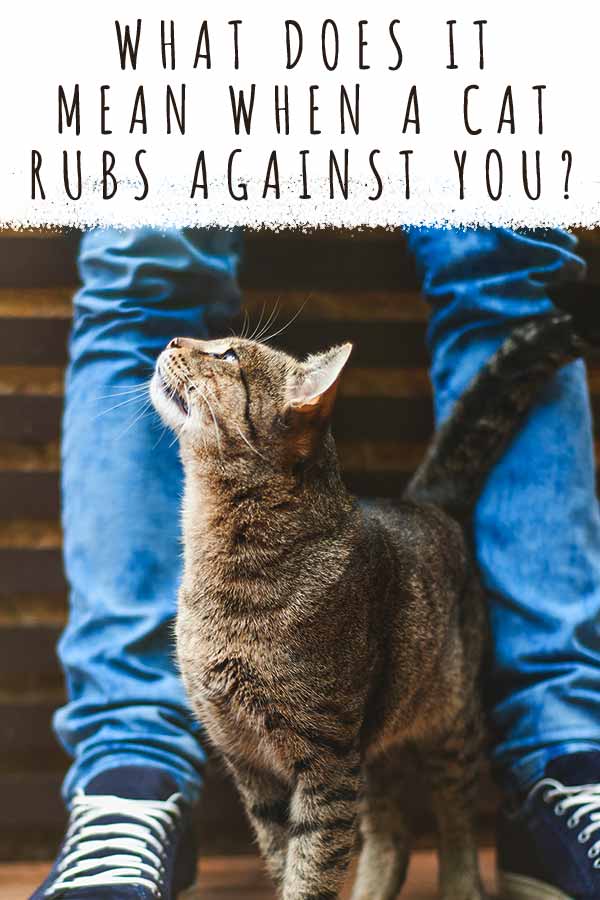 Scent Glands on Cats
Cats can use many techniques to mark their scent. They may spray urine, scratch things, or use glandular secretions when rubbing against objects or people.
Domestic cats have most of these glands on their faces, by their ears, cheeks, chin, and mouth, and some around their tail.
This would explain why cats rub against you head first. Some may just rub their cheek or forehead against you, but others may start with a cheek and follow with their whole body.
Cats may mark things to claim their territory, or as a way of communicating with other cats.
After marking their scent, cats may sniff at the area they've rubbed against. So, if your cat rubs against you and then investigates the area a little more, they may be marking you with their scent.
Rubbing as a Greeting
Studies have suggested that behaviors such as rubbing and rolling can also be used as a friendly greeting from a cat to their owner.
One such study suggested an easy way to tell the difference between rubbing for a greeting and rubbing for scent marking.
If a cat tries to sniff at the area it's rubbed against afterwards, it is more likely that it is marking its scent.
If, instead, the cat just rubs against you and does not investigate the area afterwards, it is more likely greeting you.
This is particularly likely if you haven't seen your cat in a while. For instance, they may rub against you when you return from work.
Rubbing for Attention or Affection
Another reason that cats might rub against you is to get some attention or affection. If you're tucked up on the couch watching a film or scrolling through things on your phone, your cat might get frustrated that they aren't getting that attention!
One study found that cats responded more positively when pet around their face and cheeks.
So, it makes sense that they might rub their face on you to try and get some affection in those areas.
Try playing with or petting your cat when they rub against you. If they settle down after that, this may be what they were after!
Attention can be rewarding, as can food. So, cats may rub against you more in the future if they get little rewards like this.
Do Cats Rub Specific Parts of Your Body?
Most studies have shown that cats won't necessarily try to rub particular parts of your body. Instead, they will usually just rub against whatever parts they can reach!
If you're standing up, they'll probably rub against your legs. But, if you're sitting down, they may take the opportunity to clamber over you and rub against your hands or face.
Have you noticed that your cat likes to rub a particular part of your body?
How Do I Get My Cat to Rub Against Me More?
Most people love it when their cat rubs against them – it's seen as a positive behavior. In fact, a study showed that people were more likely to adopt cats that rubbed against them in shelters.
So, it isn't unusual for you to want this behavior from your cat! It can make owners feel closer to their pets, and can be a great way to bond with your kitty.
Make sure that your cat feels like rubbing against you is rewarding. Give them an occasional treat when they rub against you, or some affection.
Just make sure not to give them too many treats outside of their regular meals. Too much can lead to obesity and other health issues.
What Does it Mean When a Cat Rubs Against You? A Summary
So, a cat might rub against you for a number of reasons. Perhaps they're just extending a friendly and familiar greeting.
Or, they may be trying to mark their scent on you, or get some attention!
Have you recognised any patterns of behavior when your cat rubs against you? We would love to hear your stories in the comments!
Readers Also Liked
References and Resources