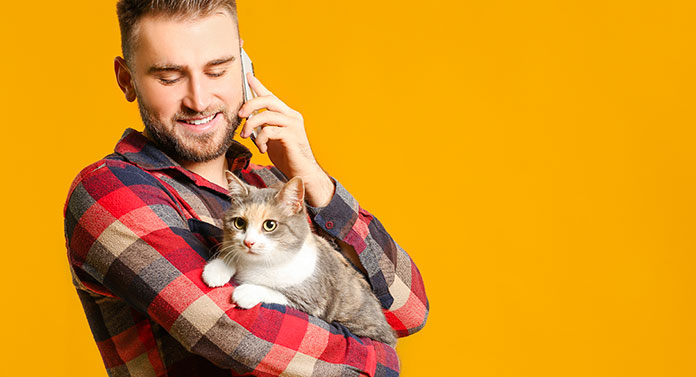 Pet parents wondering what to do with a needy cat are frequently at their wits' end.
Neediness in cats can stem from a variety of different causes. And the most effective way of overcoming it depends upon why it started in the first place.
If your cat is needy and it's damaging your relationship, this article will help you move forwards.
Help! I have an extremely needy cat!
Neediness in cats doesn't fit the feline stereotype, and it can take us by surprise.
We expect cats to be self-reliant, even to the point of aloofness.
But in recent years, our understanding of how cats interact with each other and their human family has changed a lot.
They're actually quite a social species, who form close emotional bonds with their social group – be it other cats, or their human family.
But, sometimes it can feel like that bond has gotten a little too tight.
Signs you have an overly needy cat
An overly needy cat doesn't just want an occasional scratch behind the ears, or a warm lap in the evening.
A furry shadow
They want attention all the time, and they're willing to follow you anywhere in order to seek it. From room to room, out into the yard, even to the bathroom!
To make sure you notice them, a clingy cat might walk across your keyboard, sit on the pages of the magazine you're ready, or jump up at the table where you're eating.
Shouting for attention
Needy cats can be noisy about getting your attention too, and meow incessantly. This is an instinctive behavior which stems from when they were a kitten.
Mother cats won't leave the nest to retrieve a wandering kitten until they make a noise. So, kittens are hardwired to meow to get their mom's attention.
When they're young, it's an important survival mechanism. But, not all cats grow out of it as they mature.
Distress behaviors
Needy cats may also behave in a distressed way if they're forced to be apart from you.
For example
vocalizing
scratching at doorways or furniture
compulsively over grooming
pulling their fur out
tail chewing
refusing food
or soiling outside the litterbox.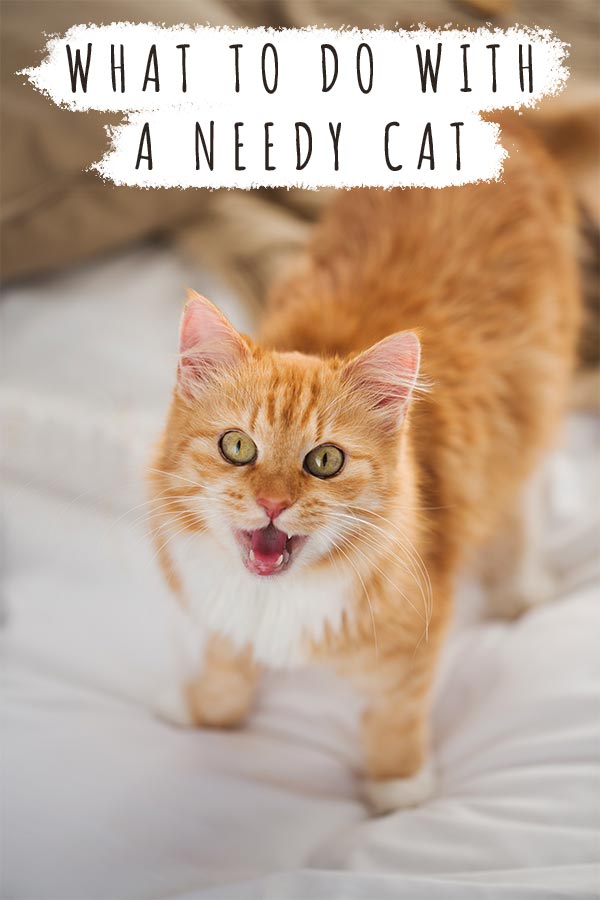 For owners of extremely needy cats, these patterns of behavior can be frustrating, miserable, and even ultimately make them consider rehoming their pet.
Next, we'll take a look at all the reasons cats exhibit needy behaviors, and then how to overcome each one of them.
Why is my cat so needy?
Essentially, neediness boils down to wanting a lot of attention, or wanting to be in your presence a lot.
But there are several reasons a cat might want this.
1. A traumatic kittenhood
For some cats, clinginess begins in kittenhood.
For example, kittens who are removed by force or circumstance from their mother before they are 8 weeks old, or who have to be rehomed several times.
This kind of disruption at a young age can teach a kitten that caregivers can't be relied upon to stick around.
So they become anxious about letting the people they rely upon out of their sight.
The role of socialisation
Kittens can also grow into needy cats if they don't have enough positive experiences with new people and everyday household noises before they're 7 weeks old.
These experiences are known as socialisation. Before 7 weeks old, kittens are naturally inclined to embrace new things, and positive experiences in this period give them confidence for future encounters.
Kittens who are very isolated in kittenhood are more likely to end up fearful of unfamiliar people, noises, and situations as adults.
Which can result in them becoming overly dependent on people for reassurance.
2. Separation anxiety
Cats form more complex and emotional social bonds than we tend to give them credit for.
Which also means they're capable of missing us when we're gone.
Separation anxiety is when simply missing us turns into something more unhealthy.
Triggers for separation anxiety include:
Being left alone for long hours because their owner gets a new job.
Changes in their routine.
The arrival of a new adult or baby in the home.
Losing a member of their social group (eg. through divorce or a fellow pet dying).
As I write this in 2021, the lockdowns imposed all over the world over the past year are gradually starting to be lifted.
This is going to represent a massive shift for lots of cats, who have gotten used to having their human family around all day.
Even if they've been used to spending lots of time alone in the past, they might not adjust easily to everything changing again.
3. Boredom
Cat's don't only demand attention because they're insecure or lacking in confidence.
Some cats want your attention because they're bored.
This is especially true of clever cat breeds like Bengals and Savannahs, and indoor cats without sufficient interesting things to occupy them around the home.
Behaviorists have also observed that many modern lifestyle choices of people can contribute to kitty boredom.
Such as increased urbanisation resulting in smaller living spaces, which means less space for cat-friendly features like scratching posts and climbing trees.
Smaller homes also mean cats are more likely to be kept singly, and miss out on social interaction with other cats.
And long working hours mean their human family doesn't have as much time to play with them either.
4. Medical reasons
If a cat's behavior suddenly changes to become more clingy, and none of the external factors we've already talked about seem to apply, it could be a sign that they're not well.
A common reason that older cats start to become clingy is the onset of cognitive degeneration – or dementia.
So if your cat's clingy or attention-seeking behavior is recent and out of character, ask a vet to rule out medical causes.
What to do with a needy cat
Now let's move on to helping your needy cat gain independence, and rely on you a little less.
Depending on why your cat is needy, you might want to mix and match different approaches. To tailor a solution which is just right for them, and you!
1. Never punish them
As exasperating as an extremely needy cat can be, never punish them for clingy behaviors.
Neediness stems from anxiety, insecurity and lack of confidence. Punishing cats only serves to increase those feelings, which may make the neediness worse, or alienate them altogether.
So instead, stick to force free techniques, like the following.
2. Add more toys to their environment
Not all solutions to a needy cat are quick wins.
But if your cat is bored and understimulated by their environment, then adding more toys and enrichments may change their behavior towards you pretty quickly.
In particular, look for toys which are interactive, or which involve an element of problem solving. And toys which dispense treats, to hold their attention for longer.
Most cats also enjoy being able to climb onto high places and watch the world from above. So consider installing cat shelves or free standing cat trees.
High up perches can even help boost the confidence of cats who are needy due to stress or anxiety.
Cats feel more secure and relaxed when they have a good vantage point. Instinctively, it just makes them feel 'right'.
3. Give them more company
A common pitfall of modern life is that we expect cats to cope with more solitude than they're really capable of.
Make time to interact with your cat every day. For very sociable breeds, consider asking someone else to drop in on them if you're going to be out for the entire day.
When you're at home, take the initiative and give your cat attention before they have to ask for it.
That way, they won't have to keep asking for company. They may even unlearn the habit of demanding attention, if their needs are already being sufficiently met.
In addition, reward independent behaviors. Pop a treat between their paws when they're resting without you, or playing alone.
4. Practice being alone
Cats with separation anxiety, or clinginess stemming from kittenhood can learn to be independent for longer periods by building up gradually.
This is also important for cats who have become used to round the clock human company, or who have become especially bonded to one particular person.
Start with short absences, and build up. Suddenly withdrawing company or the presence of their favorite person altogether can trigger an increase in neediness.
5. Helping a grieving cat
If your cat's neediness stems from losing a companion or member of their human family, then time is the greatest healer.
Avoid reinforcing needy behaviors while they grieve, as this can turn them into habits.
And try to distract them with something every day which they enjoy.
What to do with a needy cat – summary
A clingy cat can be stressful to live with.
There may be a range of emotions underlying their behavior, from fear, to boredom, loneliness, or grief.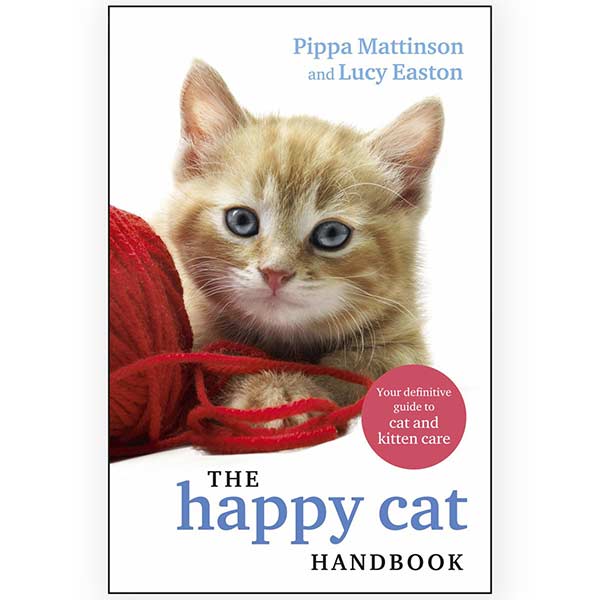 Working out how they're feeling is the secret to overcoming clingy behaviors.
Do you feel like you have an excessively needy cat?
We hope some of these ideas help you!
Let us know how you get on in the comments box down below!
References
Sonntag & Overall. Key determinants of dog and cat welfare: behaviour, breeding and household lifestyle. Companion Animal Clinical Studies. 2014.
Schwartz. Separation anxiety syndrome in cats: 136 cases (1991–2000). Journal of the American Veterinary Medical Association. 2002.
Schwartz. Separation anxiety syndrome in dogs and cats. Journal of the American Veterinary Medical Association. 2003.
Your Amazing Cat!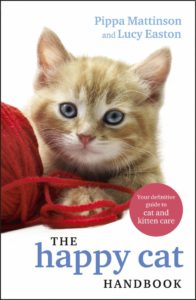 We are so excited to share our new book with you!
If you have enjoyed your visit to The Happy Cat Site we think you'll love The Happy Cat Handbook.
Written by the founders of this website including the author of the hugely successful Happy Puppy Handbook, it's packed with cat care information and fascinating cat facts.
Grab your copy today!
Free Updates For Cat Lovers!
Our cat care articles, tips and fun facts, delivered to your inbox