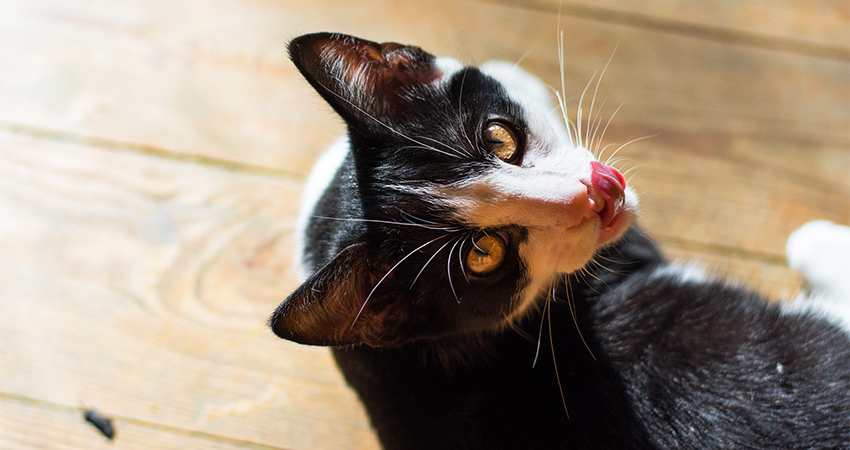 Why do cats lick you? In this fun guide, Caitlin Riffee takes a look at why kittens lick, what they lick and what it all means!
Have you ever wondered, "Why does my kitten lick me"?
Kittens and adult cats alike lick themselves and other cats, but the reason why they lick their owner may be a bit of a mystery.
In this article, we will discuss the possible reasons why your cat or kitten licks you, their four-legged companions, and even lick household items.
All of these products were carefully and independently selected by The Happy Puppy Site team. If you decide to make a purchase from one of the links marked by an asterisk, we may earn a small commission on that sale. This is at no extra cost to you.
Why do cats lick each other?
Before we can answer the question about why our feline friends lick their human companions, we have to first understand the reason why cats lick each other.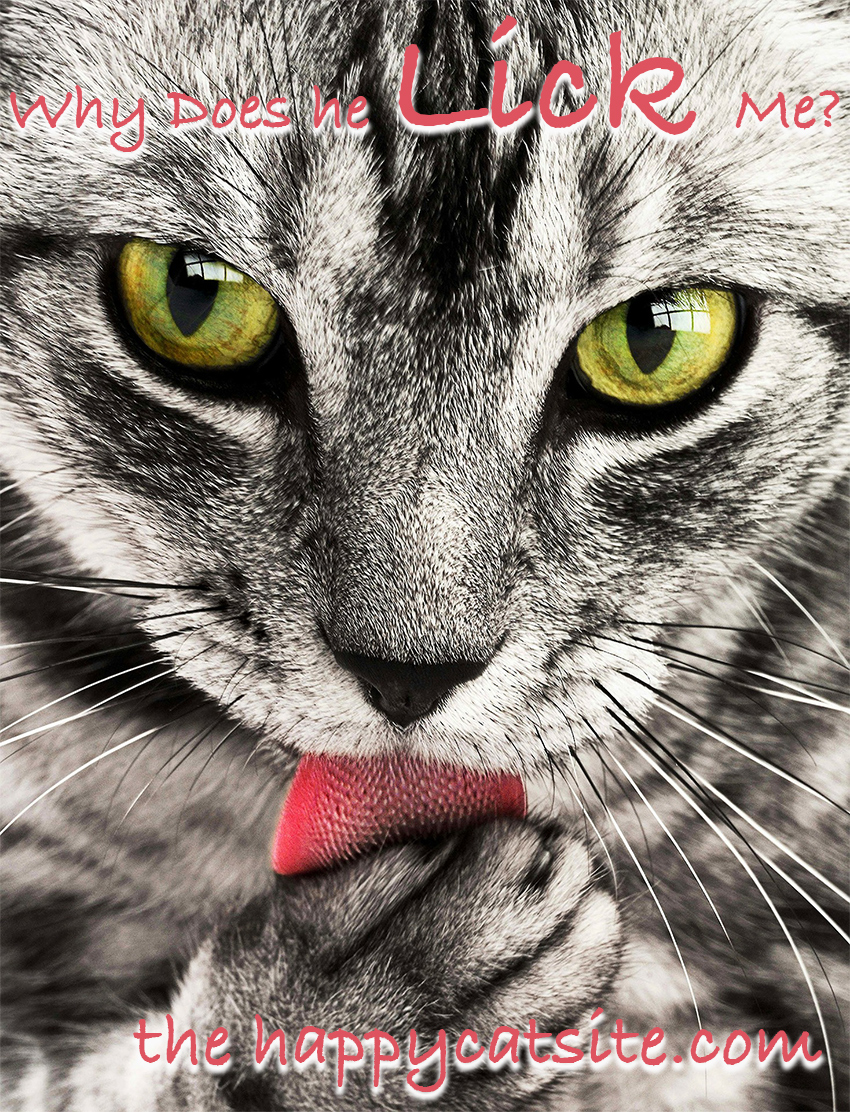 If you have multiple cats in your household, then you might find two or several of them in the midst of a grooming session from time to time. This mutual licking of each other's fur is referred to as "allogrooming".
Allogrooming typically involves cats who have befriended one another taking turns licking each other's head and neck area.
Consequently, when a human scratches behind their cat's ears, under its chin, or along its cheeks, a cat may perceive what we simply view as "petting" as their owner "grooming" them in a way that another cat would.
This may also help explain why your kitty may not particularly enjoy his or her belly rubbed, since this is not typically a place that one of their kitty friends would groom for them.
Why do cats lick you?
So, why do cats lick you?
Because cats enjoy grooming each other when they are amongst friends, it's generally thought that cats lick their owners because they show affection through mutual activity, such as grooming.
Although it may seem like it at times, cats do not express emotions in the same way that we do. When we express affection to someone we love, we give them hugs and kisses.
When your cat licks you, you might think they are "kissing" you, when really, they are showing their affection by "grooming" you.
Why does my cat lick my face?
If your cat licks your face, you might be concerned that you've left a mess after lunch. But don't worry.
If your cat is licking you, it doesn't mean that you are dirty by any means; it's a way for your cat to show that they accept you into their colony, or their circle of familiar (and favored) mates.
Why does my cat lick my hands?
The same is true of cat licking feet or hands.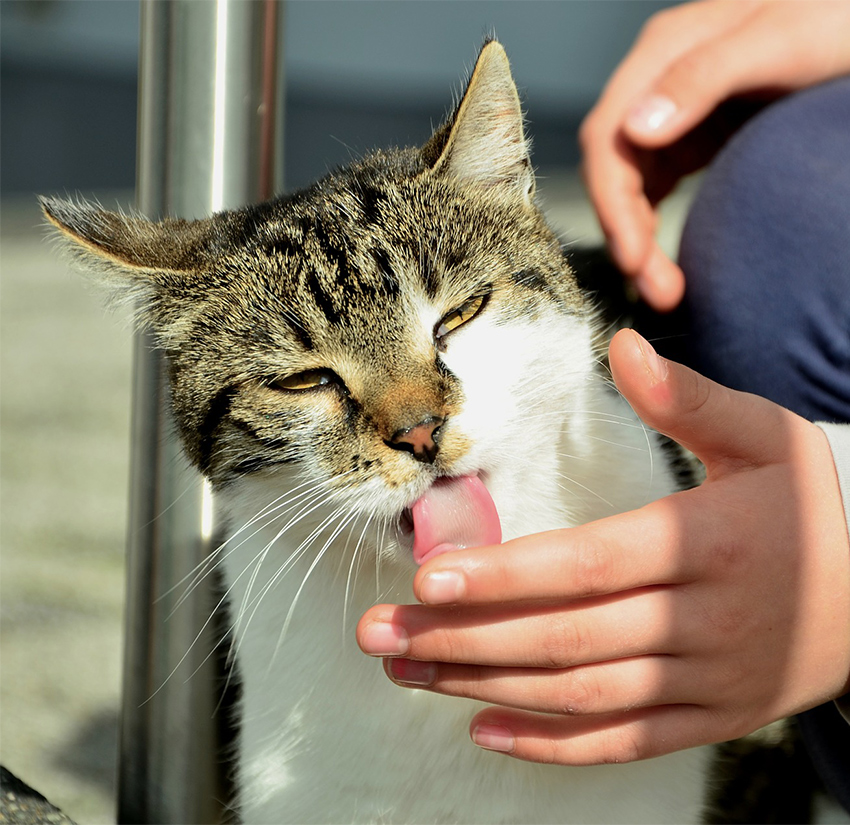 They probably aren't trying to give you a subtle message about your hygiene, or lick off food particles, they are just sharing the love!
Why does my cat lick my nose?
Do you like to rub your head against your cat when they are being affectionate, but end up getting a wet nose in the process?
Why does my cat lick my hair?
If your hair is long and falls towards your cat when you are petting him, it could well end up being the target of his licking.
You may also notice that your cat licks you after you've been petting or brushing them – this is your kitty returning the favor!
Why does my kitten lick me?
While we mentioned above that cats don't necessarily show love to their human by licking them, kittens may lick you in an attempt to show you love in the same way that their mother did.
Mother cats, also known as "queens", lick and groom their kittens for more reasons than to simply keep the kittens and their nest clean.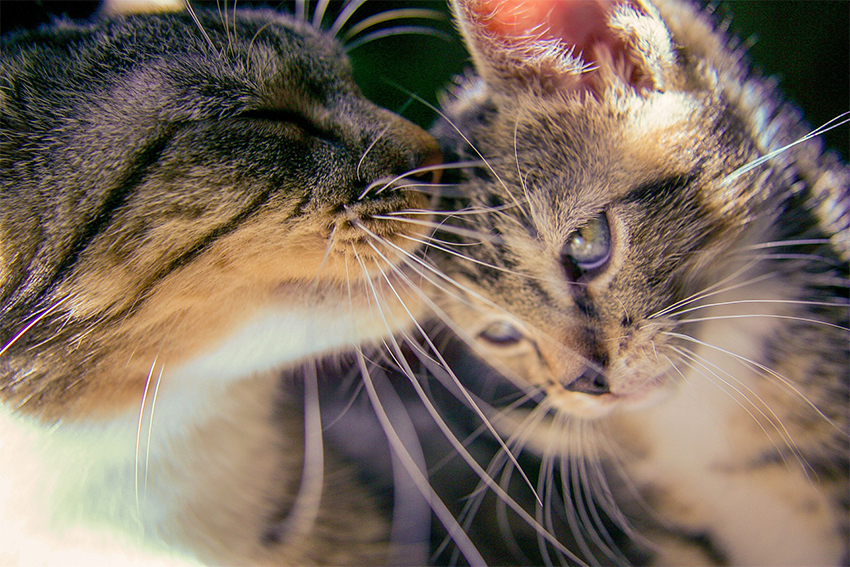 When a queen licks her kittens, she can bathe them and accomplish other things, such as rousing them for nursing, stimulating them to relieve themselves, learning their sent, and generally bonding with them.
So, if your kitten seems to always be licking you, then they may be attempting to bond with you!
Why do cats lick plastic?
If you've ever caught your cat licking or attempting to chew on a plastic bag, shower curtain, or any other household plastic object, you are not alone.
But why do cats lick plastic?
Some cats enjoy certain textures, so licking or sucking on a smooth piece of plastic or even metal may be enjoyable for your kitty, but certainly not for your nerves! However, some cats compulsively lick or suck on items as a form of obsessive compulsive disorder (OCD).
Cat licking, sucking, chewing, or even eating of plastic as an anxious behavior is thought to be similar to the act of "wool sucking".
Wool sucking is a behavior where a kitten or adult cat sucks or chews on a blanket or other soft material in a manner similar to nursing.
Wool sucking is often attributed to kittens being taken away from their mothers at too early of an age, before they have been weaned from nursing. This can spawn a psychological compulsion to search for a soft or smooth item on which the cat can simulate suckling and induce the calming effects that nursing produced as a kitten.
While wool sucking and licking plastic is common in kittens and cats that were born as strays and/or that lost their mothers early on in life, this behavior can develop in any adult cat that experiences stress.
We'll address stress-induced licking in the next section!
Excessive licking in cats
While it's perfectly normal for a cat to lick and groom themselves habitually (typically, for 30-50% of their day), it's not normal for them to lick themselves enough to produce bare spots on their bodies or an abundance of hairballs.
Cats may excessively lick themselves (or find items such as toys and household goods to lick or suck on) as a way to relieve anxiety.
A seemingly happy cat may become anxious when their owner leaves for work each day (a condition known as separation anxiety), and the way they relax themselves is by grooming, grooming, grooming.
Additionally, a cat whose environment has recently changed may become anxious. Stressful changes to a cat's environment might include introducing another cat (or human) to the household, changing your cat's food or litter, or otherwise disrupting your cat's daily activities.
Once a cat becomes anxious or stressed, they may begin compulsively licking as a coping mechanism. For the health of your cat, it's best to identify and resolve the root of the anxiety issue, as the broken skin from excessive licking can become infected, and large hairballs can cause blockages in the cat's intestines.
If your cat doesn't appear to have an anxiety issue but is licking themselves for an increased amount of time or more frequently, then it might be time for a trip to the vet to rule out fleas or a skin infection.
Cats lick themselves when they're itchy or painful, so pinpointing the part of their body that they seem to spend the most time on is crucial for a vet to form an accurate diagnosis.
Can you lick your cat back?
After all of this talk about cats licking themselves, other cats, household objects, and their humans, it's about time we addressed the million dollar question – can you lick your cat?
The answer may surprise you – yes, you can groom your cat in a manner that lets you simulate licking your cat like another cat with the latest trend in cat ownership: the LICKI Brush.
Cat owners can effectively groom their cats with their "tongue," hairballs not included.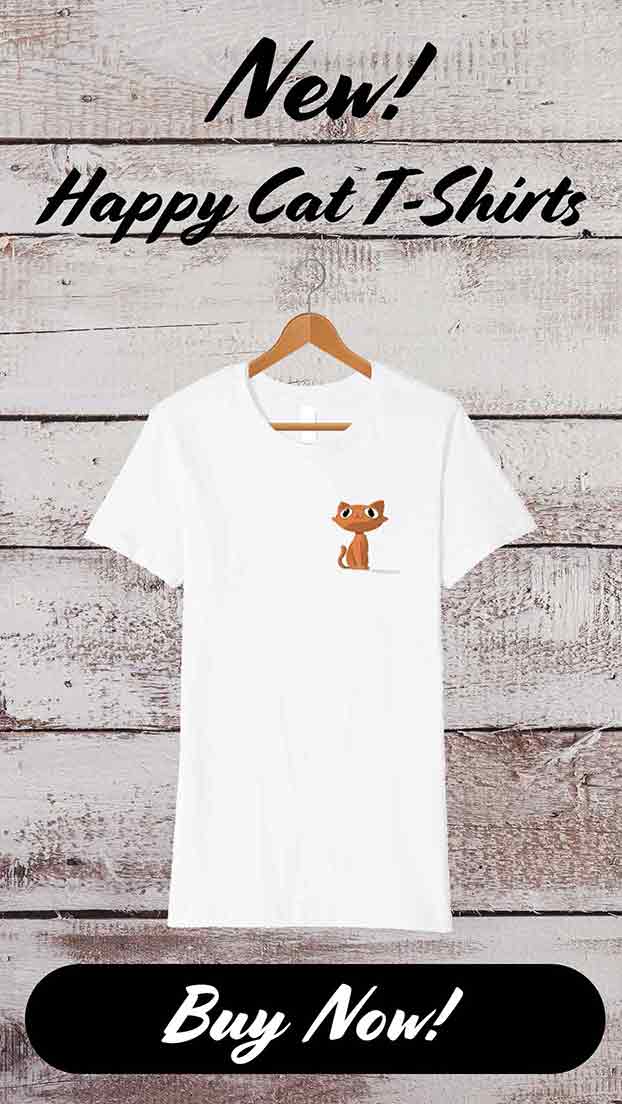 The "tongue" is a silicon piece that you place between your teeth, then rub the tongue-shaped piece along your cat's back (with the grain, of course).
How's this for anatomically correct?
The LICKI "tongue" even has filiform papillae on both sides!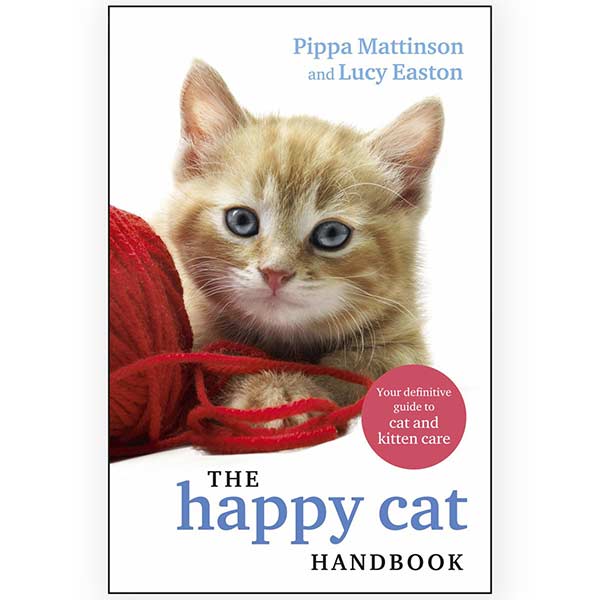 Filiform papillae are the barbs on your cat's tongue that make it feel like sandpaper. Those little barbs are essential for licking away dead skin, excess fur, and for pealing meat away from the bones of their prey (this mostly applies to feral cats).
If you'd like to assist your cat with the grooming usage of a cat "tongue," then the LICKI brush is for you!
Why Do Cats Lick?
There are a number of reasons why cats lick. When cats lick you it is normally related to bonding and grooming, although other reasons such as stress or boredom can cause them to lick other objects too.
Does your cat lick? Why not share your experiences in the comments box below!
Further Reading and References
Borns-Weil, S., Longo, J., Emmanuel, C., Dodman, N. "A case-control study of compulsive wool-sucking in Siamese and Birman cats". Journal of Veterinary Behavior Clinical Applications and Research, August 2015.
Cornell Feline Health Center, "Cats that Lick Too Much", www.vet.cornell.edu.
Crowell-Davis, S. "Social organization in the cat – A modern understanding". Journal of Feline Medicine & Surgery, March 2004.
Langley, L. "Why Cats Lick Plastic, and Other Odd Behaviors Explained". National Geographic, October 2016.
Whitely, H.Ellen. Understanding and Training Your Cat or Kitten, 1994.
Affiliate link disclosure: Links in this article marked with an * are affiliate links, and we may receive a small commission if you purchase these products. However, we selected them for inclusion independently, and all of the views expressed in this article are our own.
Your Amazing Cat!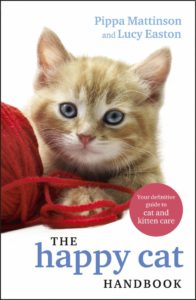 We are so excited to share our new book with you!
If you have enjoyed your visit to The Happy Cat Site we think you'll love The Happy Cat Handbook.
Written by the founders of this website including the author of the hugely successful Happy Puppy Handbook, it's packed with cat care information and fascinating cat facts.
Grab your copy today!