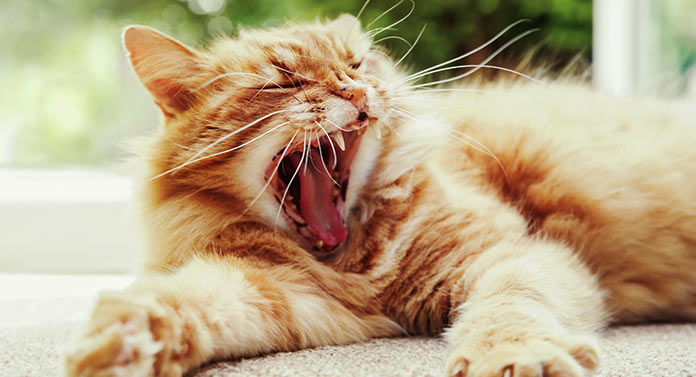 All mammals are known to yawn. So, it shouldn't surprise you to see your pet kitty doing it every now and again. But what does a cat yawn actually mean? Some people believe they yawn when they are relaxing. Others suggest it could have more practical purposes, such as to increase intracranial circulation and brain cooling. Yawning in cats is also commonly seen as a stress signal or displacement behavior. So which theory is right, and why is your cat making this adorable expression?
Contents
What Does a Cat Yawn Mean?
There are plenty of studies looking at the causes of yawns in humans, dogs, cats, and other animals. But, there are a number of competing theories. Some people believe that cats use yawning behaviors to help them relax.
One study suggested it has a more practical purpose. It suggested that yawning has a neurophysiological function to increase intracranial circulation and brain cooling. But, another suggests it is to do with emotional arousal levels. This study suggests that mammals use yawning to maintain or increase their arousal levels when the surrounding environment provides little or no stimulation.
So, perhaps cats yawn because they are bored! Another key theory focuses on yawning as a stress signal.
Do Cats Yawn When They're Tired?
It's a common picture – your cat wakes up in the morning, has a lovely big stretch, arches their back, and yawns before trotting over to their bowl for breakfast. Lots of us find that it's more common to see our cat yawning in the morning than in the evening.
This suggests that our cats aren't necessarily yawning just because they're tired. If this was the case, surely we would see them yawning whenever they were going to sleep!
Perhaps the reason is as some studies suggest, for neurophysiological purposes. Or, maybe your cat just enjoys having a good stretch and yawn when they first wake up.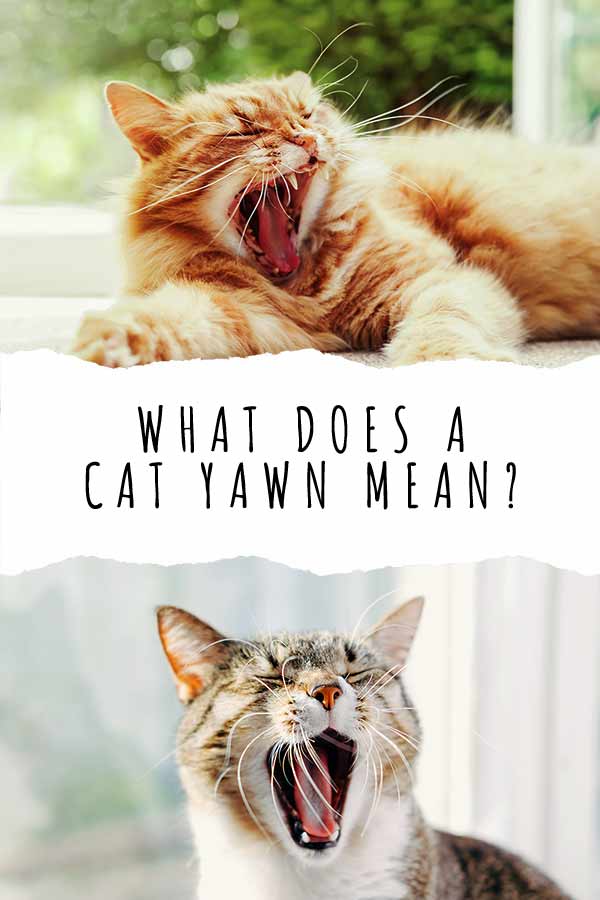 Cat Body Language
Cat's can't speak to us to tell us what they're thinking, or what they want. Instead, they use complex body language and vocalisations, like meows and purrs.
Do Cats Yawn When They're Stressed?
It's entirely possible that our cats yawn when they are feeling stressed out by something. In fact, several studies list yawning as a stress signal for cats. It's also possible that cat's use yawning as a displacement behavior. A displacement behavior occurs when a cat is stuck between two conflicting motivations.
Perhaps your cat wants to do something, but feels threatened by something else, so is conflicted about performing the action. If this happens, your cat may yawn as a displacement behavior. Studies believe displacement behaviors are a way to dissipate energy from conflicting motivations.
Grooming is another common displacement behavior in cats.
Why Does My Cat Yawn So Much?
Usually, yawning is nothing to worry about. In general it is a completely harmless behavior. But, if you notice that your cat seems to be having any problems with its jaw – such as struggling to close it fully after yawning, you should take them to the vet to see what the problem is.
So, if your cat suddenly starts yawning a lot more than normal, it's possible they're feeling stressed out by something in your home. Check if there are any obvious things that might be stressing out your cat, or if there are other signs of stress.
Why Does My Cat Yawn At Me?
Because we can only guess and theorise reasons that cats yawn, we can only guess why cats might yawn at their owners. Studies have suggested that cats have developed behaviors like a slow blink because humans appear to perceive them as positive.
So, perhaps the same is true of yawning.
You shouldn't worry too much if your cat yawns a lot around you. Perhaps it only seems this way because you only pay attention to your cat's yawns when they are near you or facing you.
And it could just be a sign that your cat feels relaxed around you.
References