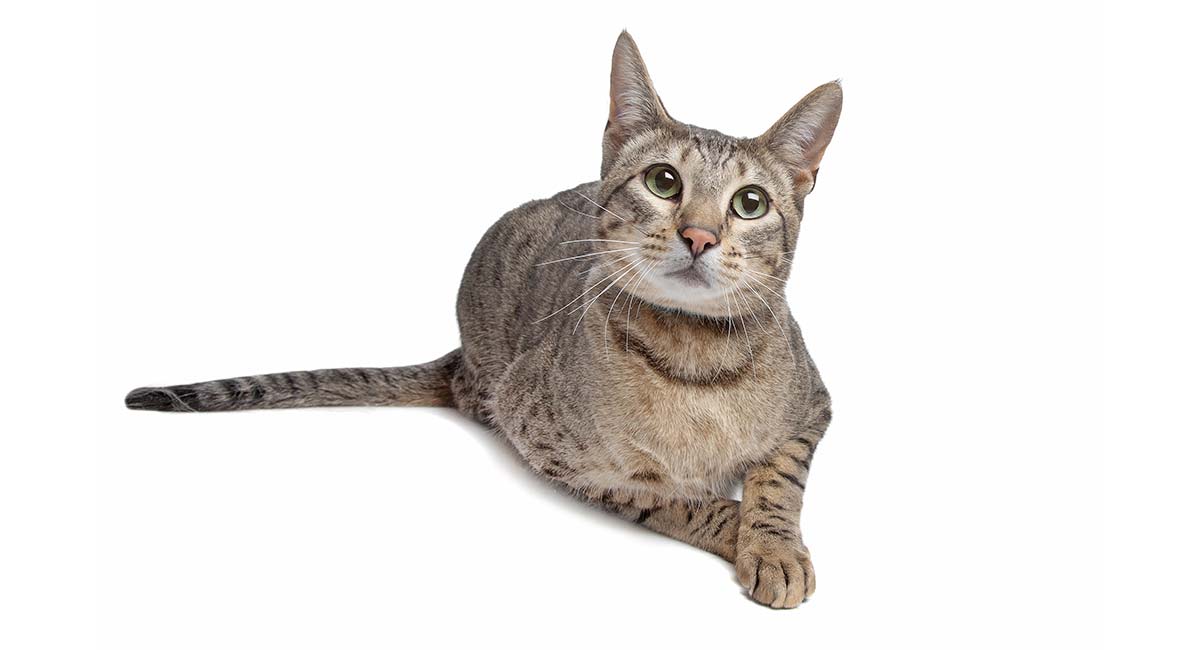 The Savannah cat is one of the most exciting new breeds to emerge in recent years. Created from cross-breeding serval cats and domestic cats, the Savannah is unique in appearance and temperament. This unusual cat became popular with breeders in the 1990s, and interest in the breed has steadily grown since then.
Because it is such a new breed, few cat owners know much about Savannahs. In this useful article, we delve into the characteristics of the breed, show you how to care for them, and help you decide if it is the cat for you.
If you are interested, we will show you how Savannah cats change through the generations, and explain some of the legal issues you might encounter.
First, here's a useful list of what you can expect to find in this guide, which we updated in 2019.
What's In This Guide
Are you thinking about bringing home a Savannah cat? Or, are you curious and want to learn more about this fascinating new pedigree breed?
Don't worry, you'll find all the answers about this fascinating cat here. We have everything you want to know, all in one place.
Let's start with a quick starter guide to the breed.
Savannah Cat Breed – At A Glance
Type: Domestic cat and serval hybrid
Coat: Short and spotted
Weight: Varies hugely, but averages around 13lbs
Temperament: Loving, loyal, intelligent and active
Although you can guess some traits of the Savannah cat, it is important to remember that it is a hybrid and differs from domestic cats in some important ways.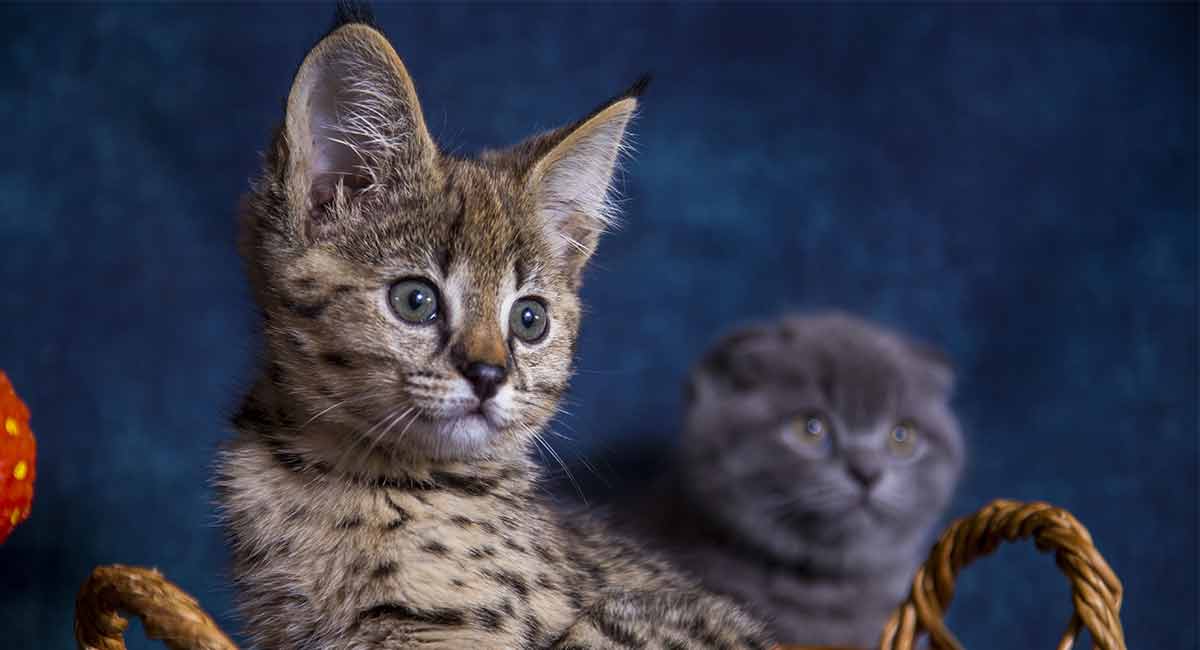 For a start, this means that many of the earlier generations will be unpredictable in nature and could include many traits descended from the serval parents and grandparents.
Another thing making the personality of Savannah cats hard to predict is the fact that they are a new breed. The cat has only been around a few years, so people are only just getting to know them.
Before we go any further, we get lots of questions from readers. We collected some of these for you and will point you to the answers.

Savannah Cat FAQs
Savannah cats are one of the cat world's newest pedigrees, and they have gained a steady following in the last thirty years.
Interest in them is growing, mainly due to their unique and striking patterns.
Here are our readers' top questions about the breed. You can click on the links and go straight to the answer.

Otherwise, why don't we take a deeper look at the Savannah breed?
Savannah Cat Breed Review: Contents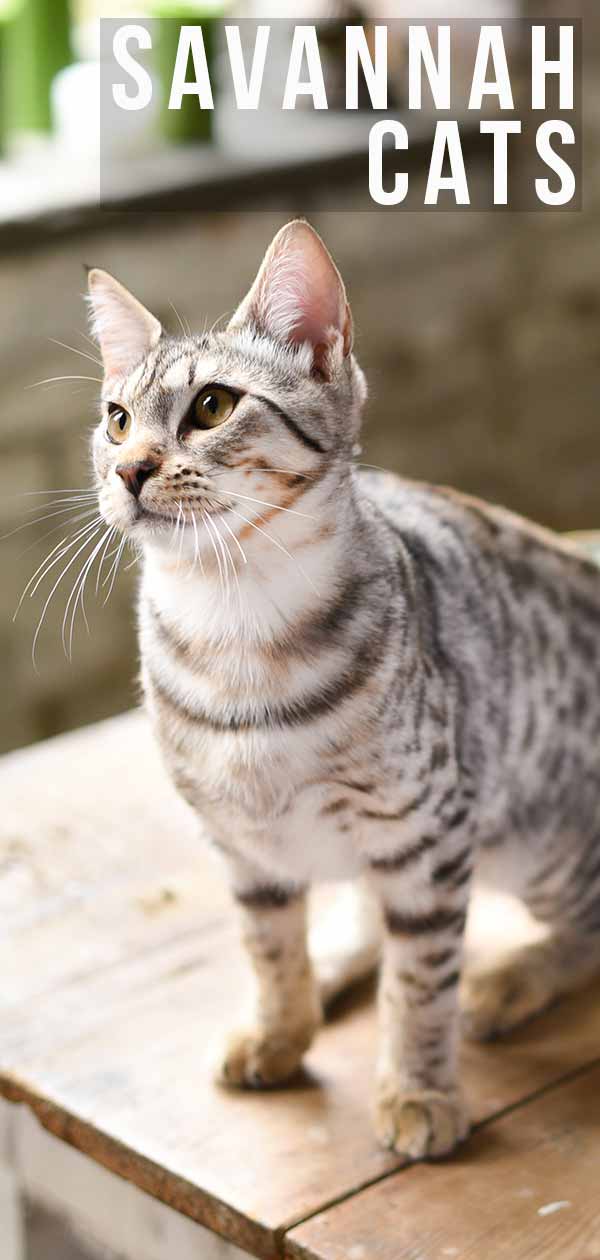 We know that Savannah cats have one serval parent. So, we'll give you a quick guide to the serval cat.
The Serval Cat
The serval is a wildcat native to sub-Saharan Africa, where it prefers to hide in long grass and reed near water, waiting to ambush its prey.
The serval is a medium sized cat that weights about 20-40 pounds (9 – 18kg), and is surprisingly tall, measuring 21-24 inches (54–62 cm). It is related to the lynx and ocelot, with similar coat patterns.
Servals have a golden/yellow coats with dark spots and stripes, as well as a small head with large ears. It has a short tail with a black tip, and its camouflage is perfect for its grassy home.
They tend to be solitary animals and prey on small animals such as rats, birds, reptiles, and insects. Servals have excellent hearing and use this to locate their prey.
African servals have the longest legs in proportion to their body of any cat. This means that they are able to leap great distances and heights. These long legs are a result of elongated bones in their feet.
Servals are agile and able to catch birds in mid-air, as well as digging for prey.
Servals As Pets
Because they are so beautiful, humans have long coveted this wildcat. Ancient Egyptians kept them as pets and gave them as gifts.
It's no surprise that people want to keep these beautiful cats, but they are very wild. They really are a pet only for experienced owners, and keeping them is illegal in many places.
Because of the difficulties with keeping servals, it's no wonder that breeders tried to find a solution.
Can you cross a serval with domestic cats to make them less wild while keeping the beautiful patterns and coat colors?
You bet! A few years ago, the first Savannah cat was born.
History of the Savannah Cat
The history of the Savannah cat is an interesting story, if not particularly long.
Oddly enough, we know the exact day the first Savannah kitten was born. It was born on Monday, April 7th, 1986.
As we already know, Savannah cat breeds are hybrids of domestic cats and Servals. That year, a breeder, Judee Frank, mated a female domestic Siamese cat with a male serval, and she soon gave birth to the first Savannah cat.
The owner of the first Savannah cat actually gave the breed its name, calling it after the African Savannah, home of the serval.
The new kitten soon charmed it's owner, and Savannah cat breeding began. These charming cats gained popularity due to their unusual looks and resemblance to their wild serval ancestors.
Fifteen years later, in 2001, the International Cat Association (TICA) recognized Savannah cats as a separate breed. So far TICA is the only body to recognize them.
We can now look at some of the characteristics of the Savannah cat. First of these fun facts is the 'filial number.' This shows how far a Savannah is from its wild serval parent.
For anyone interested in Savannah cat breeds, this is important to know.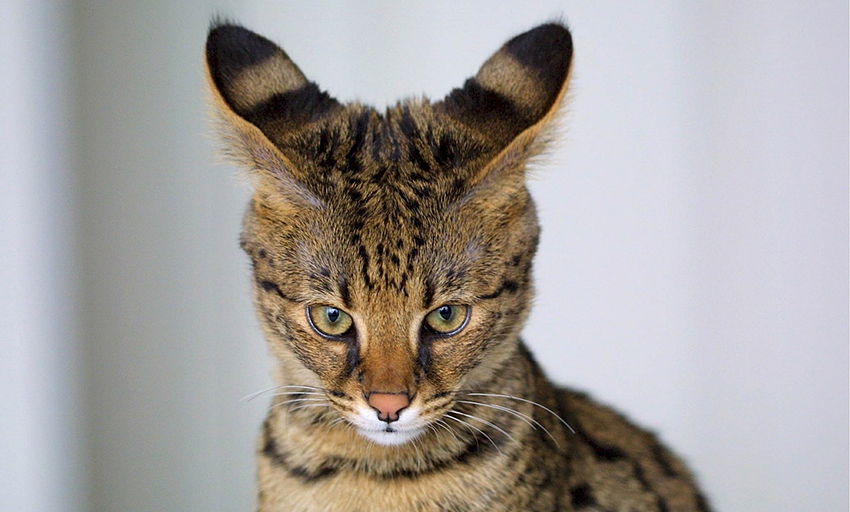 Fun Facts About Savannah Cats
Savannah cats are almost always described with a filial number, such as F1, F2, F3, and F4 etc. The initial cross is described as an F1 Savannah with one serval parent.
A filial number simply describes the generation an individual cat comes from, and how many generations away it is from the serval:
An F1 Savannah cat has a serval parent and a domestic cat or Savannah parent
An F2 Savannah, cat has a serval grandparent, while the rest are domestic cats or Savannahs
An F3 Savannah cat has a serval great grandparent, while the rest are domestic cats or Savannahs.
So, an F1 is one generation removed from the serval, the F2 two generations, and so on.
These first three generations are most like servals, so they are usually larger than domestic cats and share many personality traits.
Filial numbers continue down through the generations, up to F7 and beyond, each becoming more like domestic cats and less like servals. F4 is when the breed is considered a true Savannah cat.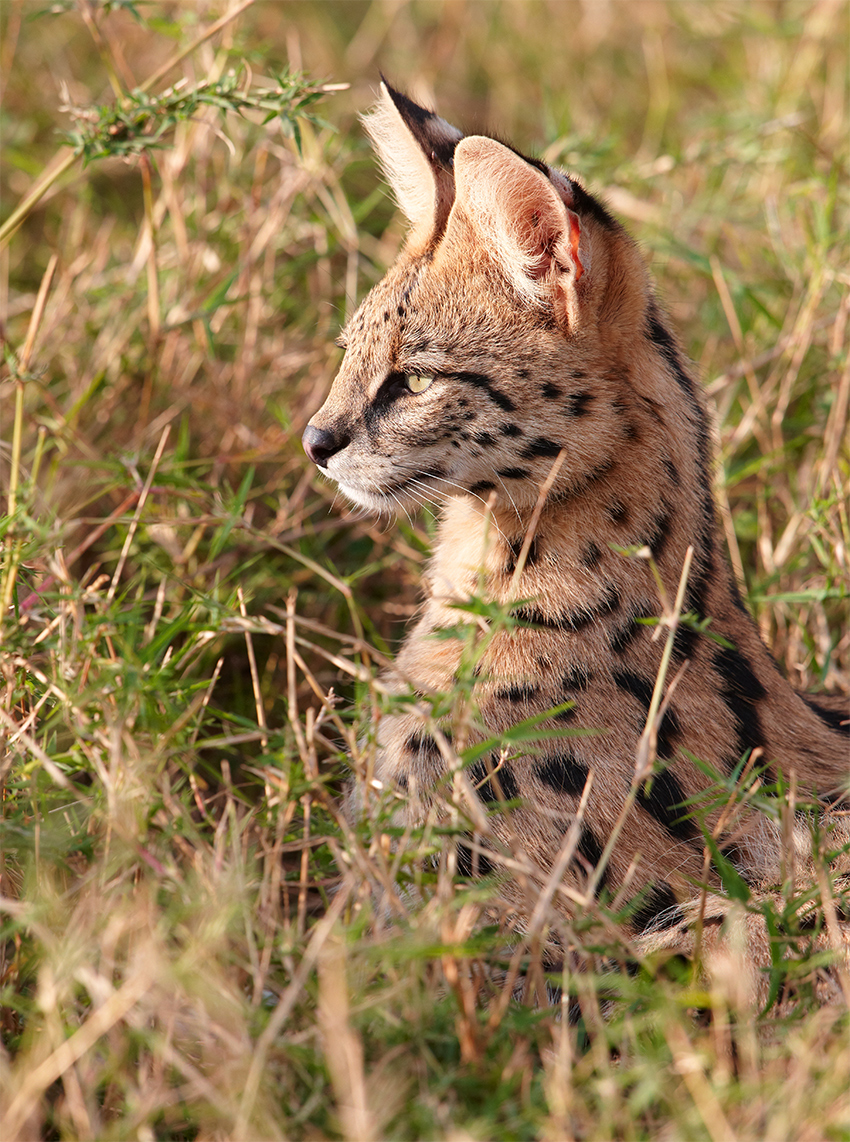 In short, the filial number is a rough guide to how far removed an individual cat is from servals.
The filial number can also tell us how much wild cat DNA they possess. This is something that should be simple, but can be quite complex.
It's All About The DNA
At first glance, the rule for calculating how much serval DNA a Savannah cat has looks as simple as dividing by two.
An F1 should be 50% serval, an F2 25% serval, and so on.
Nothing is ever that simple, because backcrossing makes calculating the percentage of serval DNA more difficult. This is simply the practice of mating across different filial generations.
Breeders like to backcross early generations of Savannahs to "fix" as many serval characteristics as possible and make their cats more beautiful and more saleable.
Doing this, at the beginning of the breeding line, can help keep that wild look that potential owners want. Ultimately, the lanky long legs and beautiful coat are the reasons people want Savannahs!
So, if you cross a serval with an F1 Savannah, it will contain a higher percentage of serval DNA than a serval crossed with a domestic cat. Because an F1 has 50% serval DNA, this means 75% serval DNA, making these cats very like the serval.
Extra Classification
To keep track of the DNA percentage, breeders add an extra classification to the filial number: A, B, C, or Stud Book Traditional (SBT).
A: One parent wasn't a Savannah cat
B: One grandparent wasn't a Savannah
C: A great-grandparent wasn't a savannah
SBT: Ancestors have been Savannahs for least three generations.
Once a Savannah is classified as SBT, it is considered a purebred Savannah. Because this takes at least three generations, F4 Savannah kittens are the first generation that can be purebred Savannah cats. In other words, they are no longer wildcat hybrids.
When you meet Savannah cat breeders, they should be able to provide a detailed family tree for their kittens. Ideally, they will provide you with a calculation of how much serval DNA each one has.
Of course, some of you might think that you don't need to understand the genetics and filial number. However, if you want to adopt a Savannah, it is important to know. As we will see later, some states and countries don't allow you to keep Savannah cats from the early generations.
We talked about backcrossing to keep the serval's looks for as long as possible. Why do breeders do this?
It's because the Savannah's appearance is what makes the breed successful. People love how this unique cat looks.
Savannah Cat Appearance
Why do people find Savannah cats beautiful? What is it about this breed that makes people want to own them.
Well, the secret of the Savannah's mesmerizing appearance is extremes. None of their features are quite what we expect to see in a domestic cat.
Their legs are just a bit longer than we're used to. The Savannah cat's tail is just a bit shorter, and their ears are bigger.
A Savannah looks like no other cat breed and, for some people, they simply can't resist falling in love with these gorgeous cats.
And, when they jump, boy do they jump!
Now, if you are interested in Savannahs, how big are they? This is a difficult question to answer because they vary so much.
Savannah Cat Size
Savannah cats fall somewhere on a scale between domestic cats (9-11lb) and servals (20-40lb). Usually, they are around 11 to 30lbs in weight.
As you would expect, F1 and F2 generations are the biggest cats, and subsequent generations tend to get smaller.
In other words, they decrease in size as their serval ancestry becomes more dilute.
An F4 Savannah cat size is equivalent to a normal medium or large domestic cat, at around the 11-13lb mark.
Make no mistake, they can be very imposing though. Large Savannah cats are taller than most domestic cats and, even for lower generations, their long legs and muscular build give the impression of height and size.
This means that Savannahs look more powerful than domestic cats, even when their weight is comparable.
You like the size and build, but what about the Savannah's coat? That's the main reason why they are becoming so popular.
Savannah Cat Coloring
Savannah cats have been meticulously bred to retain as much of their serval appearance as possible.
Purebred Savannah cats have crisp and distinct spots on their coat, and they also have dark "tear stain" lines, like cheetahs. These stretch from the inside corner of their eyes to the corners of the mouth.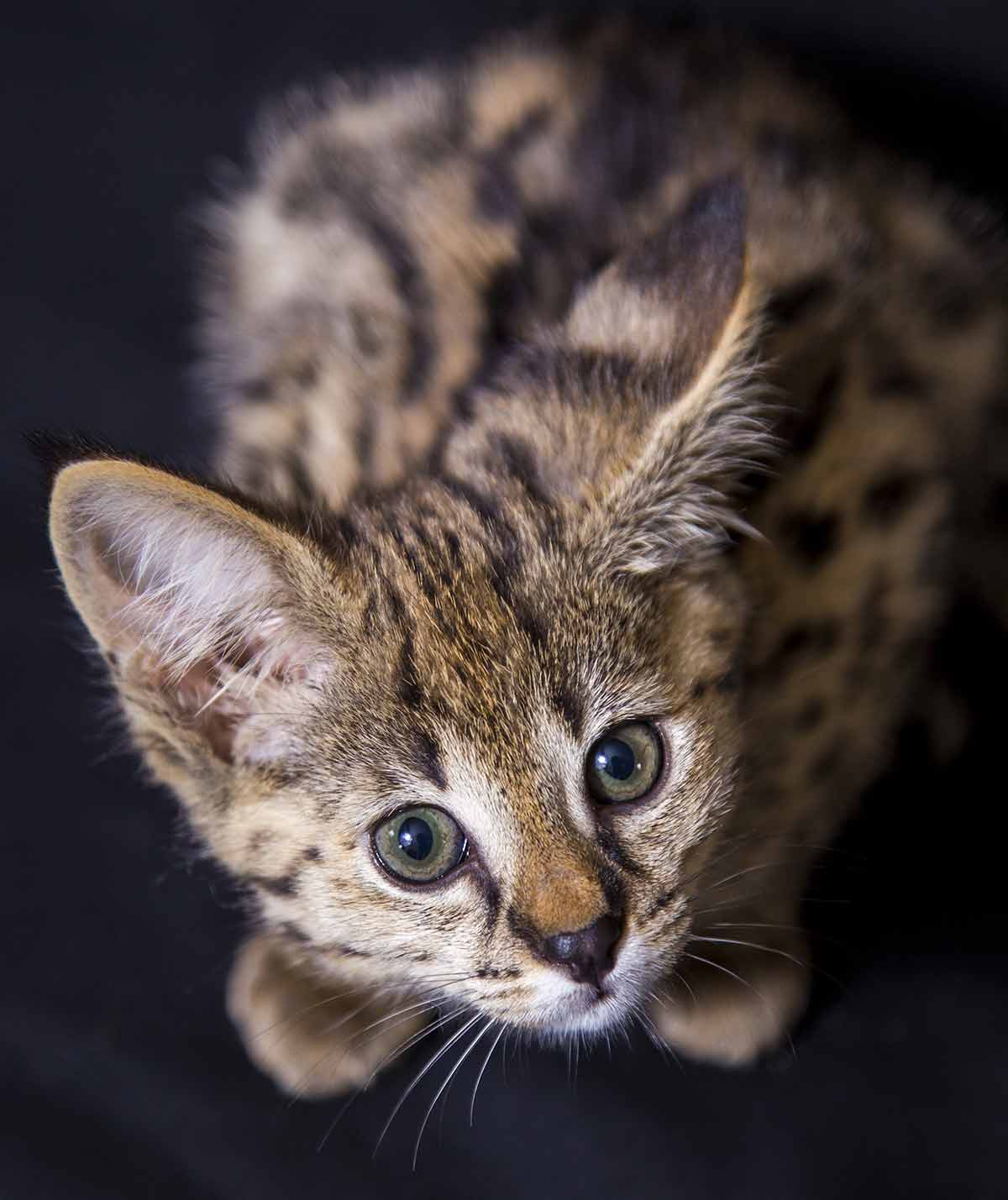 Savannah cats also display ocelli (eye shapes) on the back of their ears.
Savannah cats come in four background colors. These include golden brown, silver, smoke and black.
If we are talking about color, what about those exotic spots?Well, you can have them in any color you like, as long as it's black!
As any cat owner knows, the appearance is only one part of living with a cat. We also need to understand the personality and temperament of the Savannah cat.
Savannah Cat Temperament
Savannah cat temperament can vary a lot due to their hybrid origins. To add to the confusion, they are a relatively new breed, so people are still learning all the quirks.
However, Savannahs from F4 onwards are usually regarded as having good temperaments. They have certainly lost most of the wild instincts that make for difficult pets. Earlier generations are less predictable because they have a higher proportion of wildcat in their DNA.
Many owners report that the Savannah cat temperament is very dog like. Indeed, Savannah cats are one of those breeds often described as a dog inside a cat's body. Many Savannah owners love to take their cat for a walk on a leash.
They are loyal and loving, and they are also fiercely intelligent. Most are social animals and good with people, children, and other pets.
Because they are intelligent and curious, Savannah cats require lots of mental stimuli. To keep them from tearing up your home, you'll need a large stash of toys, and you will need to spend a lot of time playing with them.
You'll need plenty of diverting and enriching activities to keep them occupied. Their intelligence and bundles of energy mean that most Savannahs have some common behaviors.
Savannah Cat Behavior
Savannahs are also incredibly athletic, and can easily jump six feet (two meters) from a standing start.
Their rampant curiosity means they'll use this prowess to explore every possible corner of your house and get into all sorts of mischief!
It's this combination of wit and playfulness that gives Savannah cats their bright and entertaining personalities.
Their huge personalities make them so beloved by their owners, and the cats usually reciprocate these feelings, too.
Savannah cats often meet their owners at the door when they get home, happy to see them and ready to play.
Does the Domestic Cat Strain Affect Savannah Behavior?
Some potential Savannah cat owners ask if the type of domestic cat bred with the serval affects the Savannah's personality.
Savannah cats can meow like their domestic mothers, or they can actually chirp like a serval, or even a mixture of both, although the chirping usually occurs only during the earlier generations. The breed can also hiss loudly, which can be a surprise the first time you hear it.
Really, it's difficult to know how much of the behavior is from the mother because the breed is so new. For example, the cat's generation and socialization play a role. Overall, once they reach the later generations, Savannahs behave like domestic cats.
However, most Savannahs seem to retain the energy, curiosity, and intelligence of their serval forebears.
If you introduce kittens to people and other cats, they will grow to be more confident and less afraid of people and new situations.
We have looked at the Savannah, but before we go any further, we need to know if you can actually own one. It would be a shame if we let you get all excited, ready to adopt one, only to find out that you can't.
The problem is, in some areas, it isn't legal to keep these cats as pets, let's explore where it is actually legal to keep Savannahs as pets?
Are Savannah Cats Illegal In My Area?
Due to their unusual ancestry, some regions have strict rules about owning Savannah cats. In fact, some places prohibit it completely.
If you're thinking of bringing home a Savannah cat, first make sure you don't live in a prohibited area.
Regions with Restrictions on Owning a Savannah Cat
Regions in the United States where all Savannah cats are illegal:
Alaska
Connecticut
Georgia
Hawaii
Iowa
New York City
Regions in the United States with restrictions on owning Savannah cats:
Colorado: Only F4 or below permitted
Indiana: Only F3 or below permitted
Massachusetts: Only F4 or below permitted
New York (except New York City – see above): Only F5 or below permitted
While we listed some of the places where they are legal, this can always change. If you are not sure, check with your vet or a local cat breeders association. Please check the rules in your area before you commit to buying a Savannah cat.
Let us know if any of our information is out of date!
Outside the US
Moving away from the US, in the United Kingdom, F2 Savannah cats and lower are legal, while F1 Savannah cats require a special license.
If you're reading this in Australia, all generations of Savannah cats have been illegal since 2008. The government's rationale, and the counter arguments by critics, are a thought-provoking debate.
It covers the rights and wrongs not only of creating wild cat hybrids, but also the problems Australia faces with importing alien species and managing unwanted cat populations at a national level.
Because they are illegal in many places, does that mean that Savannahs are dangerous?
Let's find out!
Are Savannah Cats Dangerous?
Because they are illegal in some places, people may think that the breed is dangerous. Certainly, Savannah cats can be unpredictable, especially in the F1 and F2 generations.
However, this does not mean that they are aggressive. It means that they might be less easy to live with than your average domestic cat, and they are probably better with experienced cat owners.
Their size means that, if they do scratch or bite, it could cause more damage. We can't find any research to suggest they are more of a danger to their families than other breeds.
They aren't dangerous and make good house pets. Therefore, if you have decided to own a Savannah, can they be kept indoors, or do they need outdoor access?
Indoor vs Outdoor Living for Savannah Cats
Savannah cats love to be around people. They often have no desire to stray far from their owners. Many will adjust to life indoors, provided you supply plenty of entertainment, toys, and lots of time.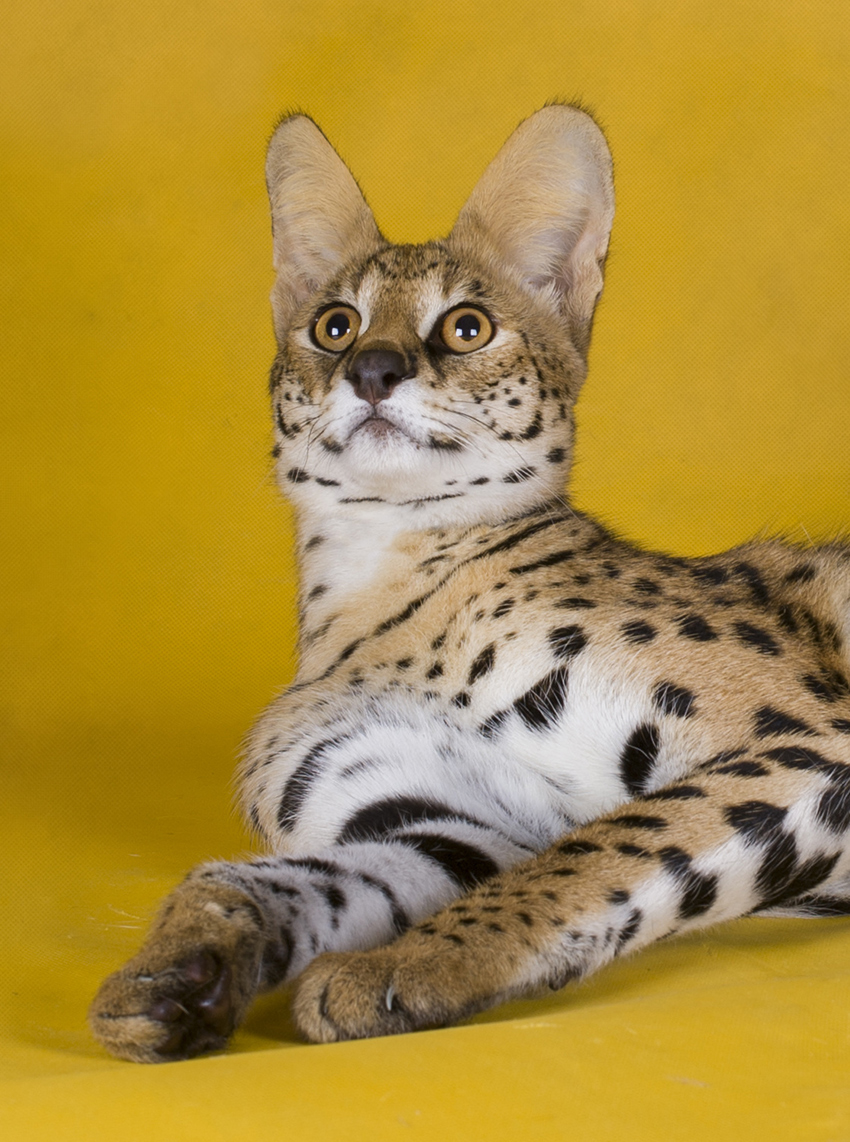 However, Savannah cats are enthusiastic athletes. Sometimes it can be hard to satisfy their impulse to run and jump indoors. When this happens, they can become bored and destructive.
The best way to help them burn off their energy appropriately is by letting them roam outside. Sometimes, this simply isn't possible. Perhaps you live next to a busy road or somewhere dangerous for cats, and their leaping ability means they can escape your backyard in the blink of an eye. What can you do?
Well, there's a quirky compromise to be had.
Lots of Savannah cat owners report successfully teaching their Savannahs to walk on a leash outdoors, like a dog! That way, they can burn off their energy while safely supervised.
Bet it's fun taking the cat for a walk, too!
It is really important that Savannahs get plenty of exercise, not just for to combat boredom, but also for their health. Savannahs have some unique health issues that you should know.
Savannah Cat Health And Care
The biggest problem with Savannahs is creating the first F1 hybrid, the one between a domestic cats and a serval.
Domestic cats and servals have different gestation times, so this can result in a high number of aborted pregnancies, stillbirths and deaths in early infancy.
Once these hurdles are overcome, most Savannah cats enjoy pretty good health. However, we should mention two conditions.
Hypertrophic Cardiomyopathy (HCM)
Savannahs seem more vulnerable to hypertrophic cardiomyopathy (HCM) than their moggy counterparts.
Cats with HCM have an enlarged heart, which can impair function and result in sudden cardiac arrest.
In an ideal world, all pedigree cat breeders would have their breeding cats regularly checked for HCM. Unfortunately, there is no requirement for them to do so.
You will need to make sure your kitten's parents have had these checks carried out, and ask for proof from the vet.
Another problem for earlier generations is male sterility.
Hybrid Male Sterility (HMS)
Early generations of male Savannahs suffer Hybrid Male Sterility (HMS). HMS means that male Savannahs are born with incorrectly developed testes. Accordingly, they remain infertile in at least the F1 and F2 generations.
Very, very occasionally a fertile male Savannah is born in the third generation but, generally, the F4 generation is the first to produce reliably fertile males.
In fact, Savannahs are proving a valuable species for scientists at Texas University. They are trying to understand HMS and show how it keeps all species distinct rather than seeing infinite numbers of hybrids cropping up all over the place.
HMS doesn't really affect the health of male Savannahs very much, and neutered male cats still have a good life with the right family.
It certainly does affect their price! While money is the last thing on most cat owners' minds, if you are spending money, will your Savannah cat live for a long time?
Luckily, the Savannah cat lifespan is fairly good.
Savannah Cat Lifespan
Estimates on Savannah cat life expectancy vary. However, most reports tend to put them between 15 to 20 years. That's pretty much the same as the average domestic cat, so you can look forward to years of companionship!
As we all know, one of the keys to long kitty life is a healthy diet. How should you feed your Savannah?
Savannah Cat Food
If you want to keep your cat healthy, there are a few things you can do.
Savannah cats tend to prefer a wet diet with a large meat component. You can feed kibble and other dry food, but good quality meat can make the difference.
Savannahs grow very quickly in the first couple of years, so a high quality, nutritious food will give them everything they need.
Your Savannah cat breeder should be able to discuss their parents' diet in detail.
They should also give you a small amount of the food your kitten has been weaned onto in their going home pack.
When your Savannah is full and contented, perhaps a groom will make her happier and strengthen the bonds between you.
Grooming Your Savannah Cat
People breed Savannah cats for their temperament, body shape and coloring.
Their coat has remained short, slightly coarse and practical, just like their wild ancestors, and it is not hypoallergenic.
A Savannah cat's coat doesn't require much grooming, and a a gentle brush every now and then will suffice.
A groom should help to catch stuck pieces of debris (especially if they're an outdoor cat).
Are you with us so far? Are you interested in Savannah cats?
What if you have kids? Are Savannah cats good with families?
Do Savannah Cats Make Good Family Pets
This breed can make great pets for the right homes. However, Savannah cats often crave one-to-one attention, so they are perhaps incompatible with raising small children at the same time.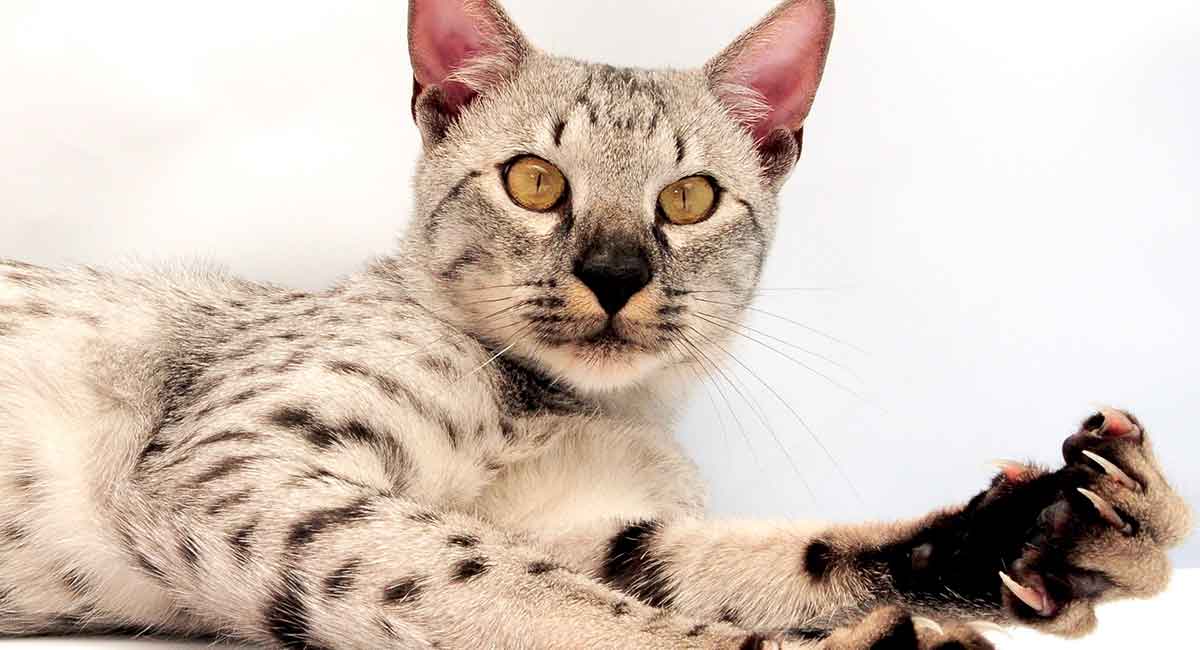 But, they are highly sociable and rarely shy of people.This makes them a great pet for older children.
If you are now determined to find a Savannah cat for your home, can you find a rescue cat?
Rescuing a Savannah Cat
Savannah cats are still pretty rare, owing to the biological challenges of creating them, and the short time they have been accepted as a pedigree.
However, it's not completely unheard of to find Savannah cat for adoption every now and then.
If you wish to go down the route of Savannah cat rescue, you might have to register your interest with local agencies.
Then, brace yourself to be a little patient.
Of course, you can also find a Savannah kitten from a breeder, but this might cost you some money. This ranges from a few hundred dollars to a few thousand.
Finding a Savannah Cat Kitten
So, you're confident that a Savannah cat is the breed for you, and you've checked they are allowed where you live.
Then, your kitten search can begin!
The TICA website maintains a list of Savannah cat breeders, and it's easy to find more online.
When you have found one you like, you will need to ask lots of questions. Alarm bells should ring if they try to sweep your concerns under the carpet.
Firstly, make sure that the breeder has carried out health tests on the parents.
Secondly, check that they are knowledgeable about the breed.
This is the same advice you should follow whenever you buy any cat from a breeder.
If you find a breeder you like, and a kitten you love, how much will it all cost? What is the Savannah cat price?
Savannah Cat Price
You might be thinking, how much is a Savannah cat? They must be expensive if they are so rare.
Well, Savannah cats can be very, very expensive, mainly because they are still uncommon. However, some generations and cats are more affordable and comparable to other pedigree breeds.
F4 and F5 Savannah cat kittens usually cost between $1,000 and $2,000.
F8 Savannah cats tend to go for around $600 – $700.
You can expect to pay a premium for kittens of any generation who have inherited especially serval-like features. That's because the serval patterns are what everyone wants!
HMS can also have an effect on the price.
Effect of HMS on Savannah Cat Price
Have you already decided you specifically want a male Savannah cat or a female Savannah cat?
You'll need to bear in mind the effect of Hybrid Male Sterility on the price of a Savannah cat. In the F1-F3 generations the males are usually sterile.
This means that female Savannah kittens are much more valuable than male Savannah kittens.
In reality they are usually kept or promised to other breeders before they are even conceived. F1 to F3 females are rarely found for sale.
From the F4 generation onwards, the value of female kittens drops. This continues as they become further removed from their serval relatives.
In contrast, the males become fertile, so their value actually goes up.
Strangely, it's easier to find an F3 Savannah male kitten on the market than an F4 Savannah male kitten.
If you find a kitten, how do you go about raising them? Do they need any special treatment?
Raising a Savannah Cat Kitten
Bringing up any kitten is an important job. With exotic breeds like the Savannah cats, you really need to get it right.
Fortunately, we have lots of great free guides to help you along the way, along with some useful accessories.
How To Raise A Friendly Kitten
Savannah Cat Products and Accessories
Here are some handy items that you will need when caring for your kitty:
Best litter boxes for Savannah cats
So, why don't we go over the pros and cons of Savannah cats to help you make the right decision.
Pros and Cons of Getting a Savannah Cat
Getting a cat is a big decision, especially when it's a rare breed.
So, let's run through those pros and cons one last time before you take the plunge.
Cons
Savannah cats are big and active
They need lots of attention, time, and toys
Savannahs might become destructive if left alone too regularly
They can be prone to health problems
The breed might not be suitable around small children
Pros
Savannahs are fun and interactive
They will play with you to your heart's content
Savannah cats love to spend time with you
You might be able to walk them on a leash
The main con is the potential heart problems, but you can help to reduce the chances by choosing a kitten from health tested parents.
While there are many pros, there are also some cons. If you are not sure, are there other breeds that might make a great pet? How do Savannahs compare to other types of cat?
Comparing the Savannah Cat With Other Breeds
Still stuck on whether to get a Savannah cat or another breed?
Why don't you check out our comparison guides here!
We've even looked at the question of Savannah cat vs Dog, due to their canine compatible character!
Similar Breeds
What if you've come this far and decided that a Savannah cat is not right for you? Just maybe, you have realized that they are outlawed in your area, or you want to wait until your kids are a bit older.
Well there are some great alternative breeds, with exotic looks and devoted personalities, but which are completely domestic.
Two great breeds that share some of the Savannah's looks are the Oriental Shorthair and the Ocicat.
Oriental Shorthair
Oriental shorthair cats are lean and muscular like the Savannah cat.
They also have the same big eyes, big ears, and big personalities.
Oriental shorthairs come in almost every possible coloring, including spotted tabbies, which look a little like the Savannah.
Ocicat
Ocicats are three parts siamese and one part abyssinian.
This beautiful breed was discovered by happy accident in the 1960s.
The breed became popular because their spotted coat gives them the appearance of a wild cat, but without any wild cat DNA.
Their temperament is friendly and energetic, so they make great family pets.
Summary
Hopefully, this article has given you an insight into the fascinating world of Savannah cats. Now, you know a little bit about the history of this unique hybrid cat and understand why it became popular.
They have big and boisterous personalities matched with that wildcat look and, as long as you check a kitten's history or check with a vet, few of the major health issues that can affect some pedigree cats.
Because this is a relatively new breed with so little information out there, we are always on the lookout for Savannah cat stories and advice. Leave us a comment!
References and Resources
David, B. W. 2015. Mechanisms Underlying Mammalian Hybrid Sterility in Two Feline Interspecies Models. Molecular Biology and Evolution.
Gelberg, H. B. 2009. "Purkinje fiber dysplasia (histiocytoid cardiomyopathy) with ventricular noncompaction in a Savannah kitten". Veterinary Pathology.
Hybrid Law, Laws Pertaining to Hybrids, hybridlaw.com
Murphy, W. 2015, Genetic Analysis of Feline Interspecies Hybrids, Tufts University.
Markula, A., Hannan-Jones, M., and Csurhes, S. Savannah Cat Risk Assessment, Queensland Government Department of Agriculture.