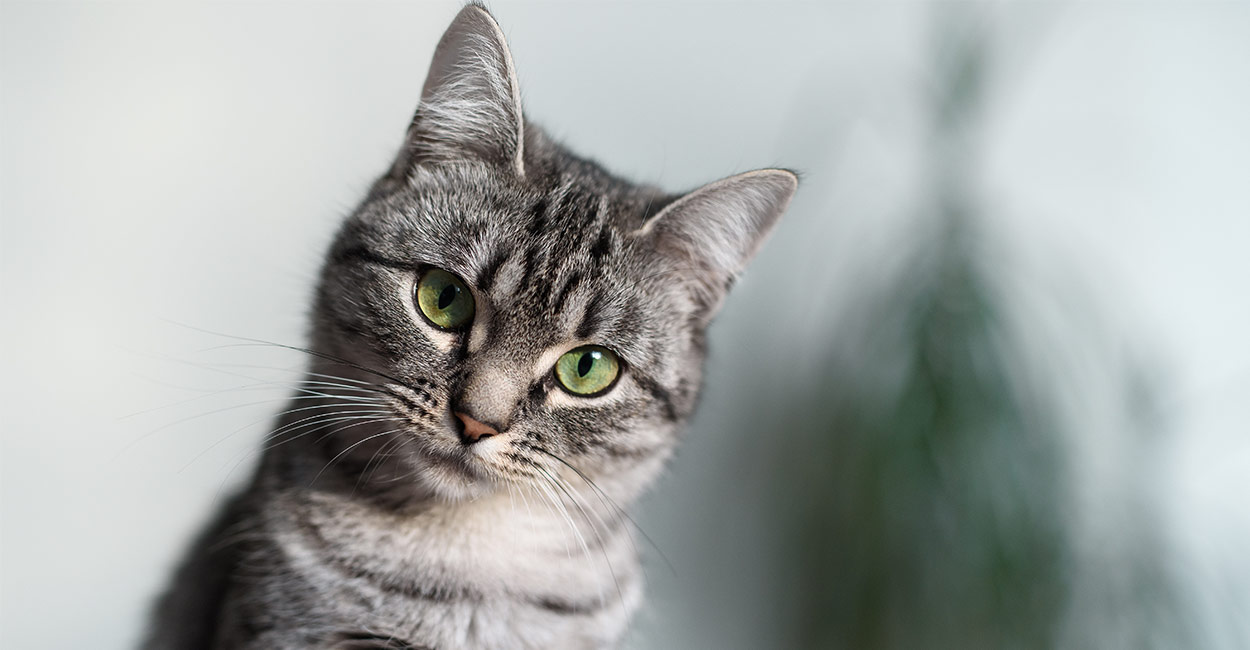 The American Shorthair cat is a true classic. This cat breed is about as close as the United States comes to having its own national cat. The American Shorthair came over with the original pilgrims on the Mayflower, paying for its passage with expert ratting services. This patriotic breed can find a place within most families, has a friendly well-rounded personality, and most individuals live long and healthy lives. Nothing about them is over-the-top or exacting, they're simply a pleasure. Which isn't to say they aren't a commitment, of course. In exchange for their agreeable nature, these cats deserve loving homes, with owners who have plenty of time to keep them company.
Contents
How Far They Have Come!
The plain old shorthair cat became a part of early New World culture long before it captured the interest of professional cat breeders. In fact it wasn't until the late 19th century when newly formed cat associations decided they wanted an all-American "working cat" breed to share at cat shows.
In 1906 the Cat Fanciers Association added it to their approved breed roster as their fifth registered cat breed. Since then, these feline heavy weights have lent their genes to many a more recent pedigree, including the fuzzy American Wirehair, and the inky Bombay cat. Today, this cat's working days are most certainly left behind, and the American Shorthair enjoys the easy life as one of the nation's favorite pet felines.
How Big Are They?
American Shorthair kittens will mature slowly. Some can take up to four years to reach their full adult weight and height. Once they are fully grown, adults are muscular and balanced. They have medium bones and an overall firm and solid body structure.
Female adult American Shorthair cats will generally weigh between 6 and 12 pounds. Male adult cats, on the other hand, can weigh anywhere from 11 to 15 pounds. At maturity, the American Shorthair can stand anywhere from 10 to 14 inches (paw pads to shoulder), with males again being slightly taller than females.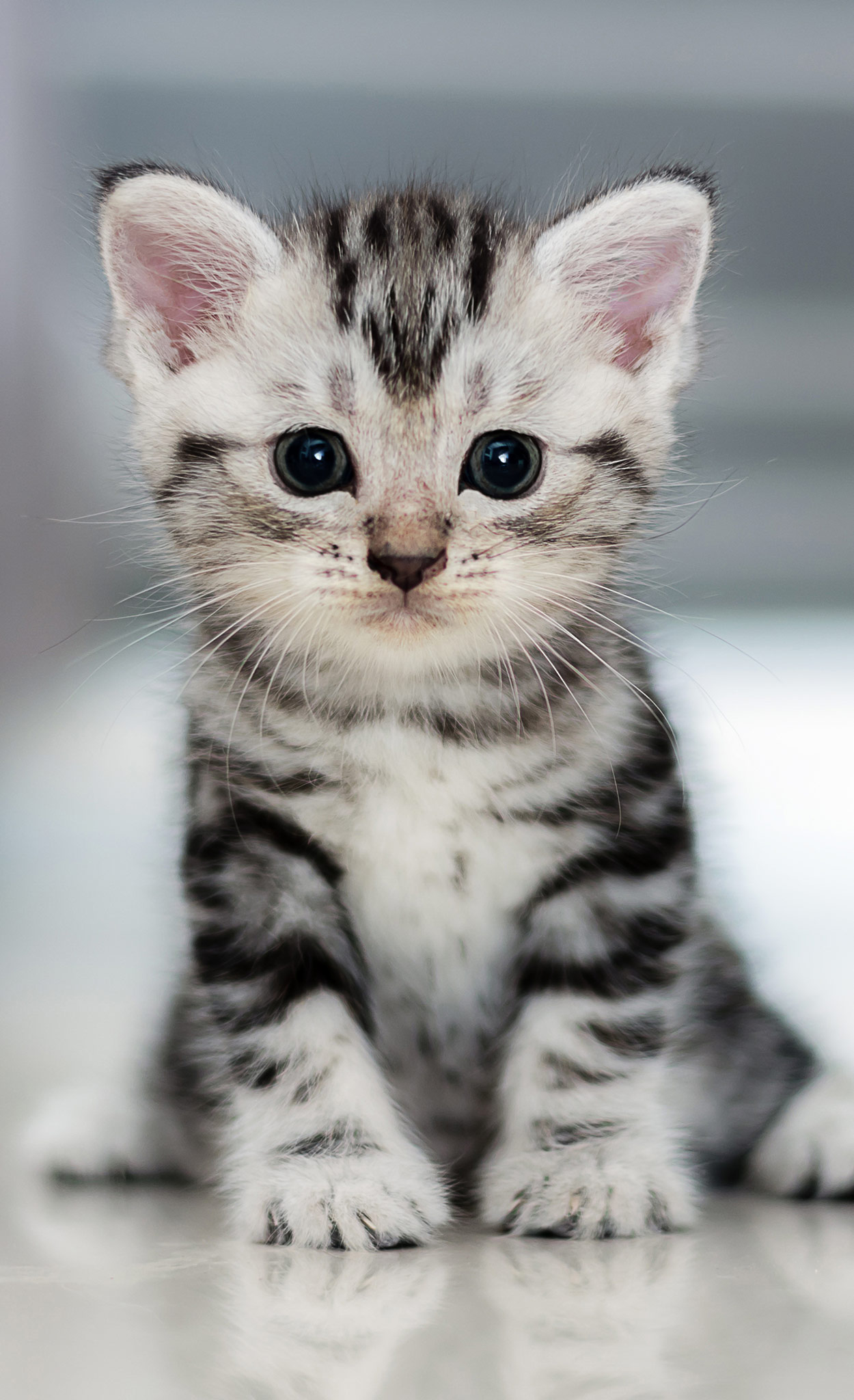 Characteristics, Coats and Colors
The American Shorthair has wide, rounded eyes set slightly apart, and round-tipped ears. These features give them a perpetually good-natured and somewhat surprised expression! This cat has a square jaw and a medium to short muzzle.
One of the most exciting things about this breed is the exciting kaleidoscope of patterns and colors these kitties come in. They can have cream or pure white fur, silver, blue, brown, black, red or gold fur. Their markings are often striking – this is definitely a show cat that can and does turn heads!
Coat texture can vary somewhat depending on the color and pattern. The brown tabby pattern seems to produce ideal coat texture. Eye colors include blue, hazel, green, gold or a striking copper.
Shedding and Allergies
The American Shorthair cat has short hair, but it is also very dense, comprising two layers with distinct and important functions. The top layer is water repellent and thick. The under layer is soft and insulating.
Because of the thickness of their coat, these cats will shed year-round and more heavily when the seasons change. However, you don't need to do anything special to keep your cat's coat healthy other than brushing it once or twice per week. This should also keep the hairballs to a minimum.
Sadly, American Shorthairs do cause reactions in those who are allergic to cat dander, even if they aren't in one of their heavier molting periods.
Intelligence and Independence
The American Shorthair is a very intelligent cat who easily learns tricks and loves to play interactive games. Because this is a laid-back and easygoing cat breed, some people think it has a solitary nature, but nothing could be further from the truth.
This breed is quite social and will not fare well if left alone for long periods of time. However, short periods of time alone are okay, as this cat is smart enough to do some amount of self-entertaining. Although you might not love the results when you discover your kitty has turned the toilet paper roll into a fun interactive toy while you were out!
While this cat has the strong and muscular physique and street smarts to be an indoor-outdoor cat, the American Shorthair is generally perfectly content to remain indoors. Favorite indoor activities include sunning on a window ledge, watching birds in the trees outside. They might also take pleasure stalking insects that fly inside unwittingly, and following their "people" around.
Are They Good Family Pets?
Your American Shorthair won't be clingy but will like to be close to you. Some of them do become very fond of lap time, while others just enjoy sitting close by. This good-natured breed is often praised for its patience and forbearance. So as you can imagine, American Shorthairs make great family cats!
You won't have to worry about guests scaring your American Shorthair into the closet, either. This cat likes to meet new people and will happily join in the party and make new friends.
Although this laid back cat can rub along with visitors children and other pets of all sizes, he will have his limits as surely as we humans do. So always make sure he has a peaceful space to escape to when he needs it, and always supervise very young children as they play with them.
American Shorthair Health
Overall, the American Shorthair breed is a healthy cat breed. However, there are no cat breeds today that do not have some genetic predisposition towards certain health issues.
Researchers have identified the following health conditions that crop up in American Shorthairs more frequently than in the domestic cat population as a whole. Obesity, heart problems, thryoid problems and kidney disease are the top of your potential problems.
Overall, this breed is considered to be a healthy, stable natural cat breed with a lifespan that can reach 15 to 20 years or more. As with any pet, this cat's daily diet, exercise, enrichment, lifestyle and access to preventative veterinary care can greatly influence how long your cat is with you.
Breeders and Kittens
American Shorthair cat breeders are relatively plentiful, since this is a very popular cat breed. Any breeder you choose to work with should be willing and able to verify their breeding line is free from all known genetic health concerns. You should also receive an initial health guarantee (typically good for six to 12 months), papers, proof of all required vaccinations.
Responsible cat breeders also offer a take-back offer if the kitten doesn't work out for any reason. You may also want to ask for references, which any reputable breeder should happily provide.
Healthy kittens have naturally alert, open expressions and look like teensy tigers with their wild markings! You should always visit any litter you are interested in in person, and see them with their mom, before you bring them home. This will give you a good idea of their adult temperament, and help you to decide if you are happy with the breeder's ethics.