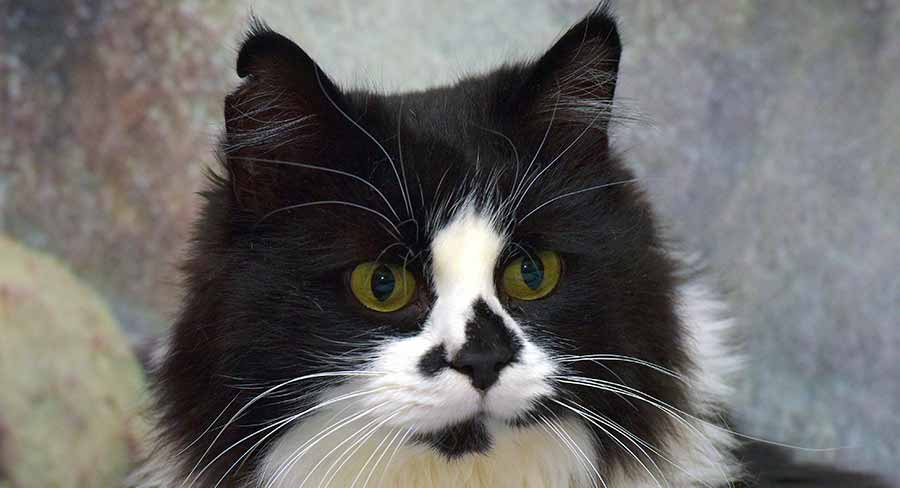 A black and white Ragdoll cat is an uncommon find when searching for a kitten. The placement of white markings on Ragdoll cats can vary, but you will usually find white on their faces, feet, chest, and stomachs. However, black and white won't be found on the Ragdoll's breed standard. In fact, there's quite a lot of controversy surrounding this color on Ragdoll cats! Let's take a closer look at what has caused this controversy, and whether or not you can find a true black and white Ragdoll cat.
Can Ragdoll Cats be Black and White?
According to the Ragdoll's breed standard, they cannot be black and white. Instead, they are described as pointed cats. The potential colors for their points are:
Blue
Chocolate
Cream
Lilac
Red
And seal
All much paler colors than black. These points can be solid, lynx, or tortie. However, there is a chance you'll stumble across black and white Ragdoll cats. But, many fans of the breed will not consider a black and white Ragdoll to be legitimate. Originally, the Ragdoll breed was created by a woman named Ann Baker. The matriarch of the breed, named Josephine, had three kittens: Daddy Warbucks (a seal mitted cat), Fugianna (a seal bicolor) and Buckwheat (solid black). Baker set out to create a breed that resembled Daddy Warbucks.
Are Black and White Ragdolls Controversial?
Black and white Ragdoll cats are quite controversial because they don't fit into the official breed standard. And, though a solid black cat does have a place in the breed's history, subsequent kittens were bred from (and bred to be like) the seal mitted Daddy Warbucks. So, black and white Ragdolls will not qualify for show. And, some fans of the breed may suggest that your black and white Ragdoll is not a true Ragdoll.
What do Black and White Ragdolls Look Like?
The Ragdoll is a large breed. They have medium length silky coats and always have blue eyes. A lack of blue eyes can suggest that the genetic influence of another breed, which would mean your black and white Ragdoll isn't a "true" member of the breed.
White markings on Ragdolls can vary. But, generally, you can find markings in the following areas:
A white inverted 'V' on the face
Front paws and legs
Back paws and legs
Chin
Bib
Chest
The extent of these white markings depends on the type of Ragdoll you have (eg. mitted or bicolor). Bicolor Ragdolls are also allowed to have patches of white on their back, but this will only be up to a third of the space. Black and white cats are also often called Tuxedo cats.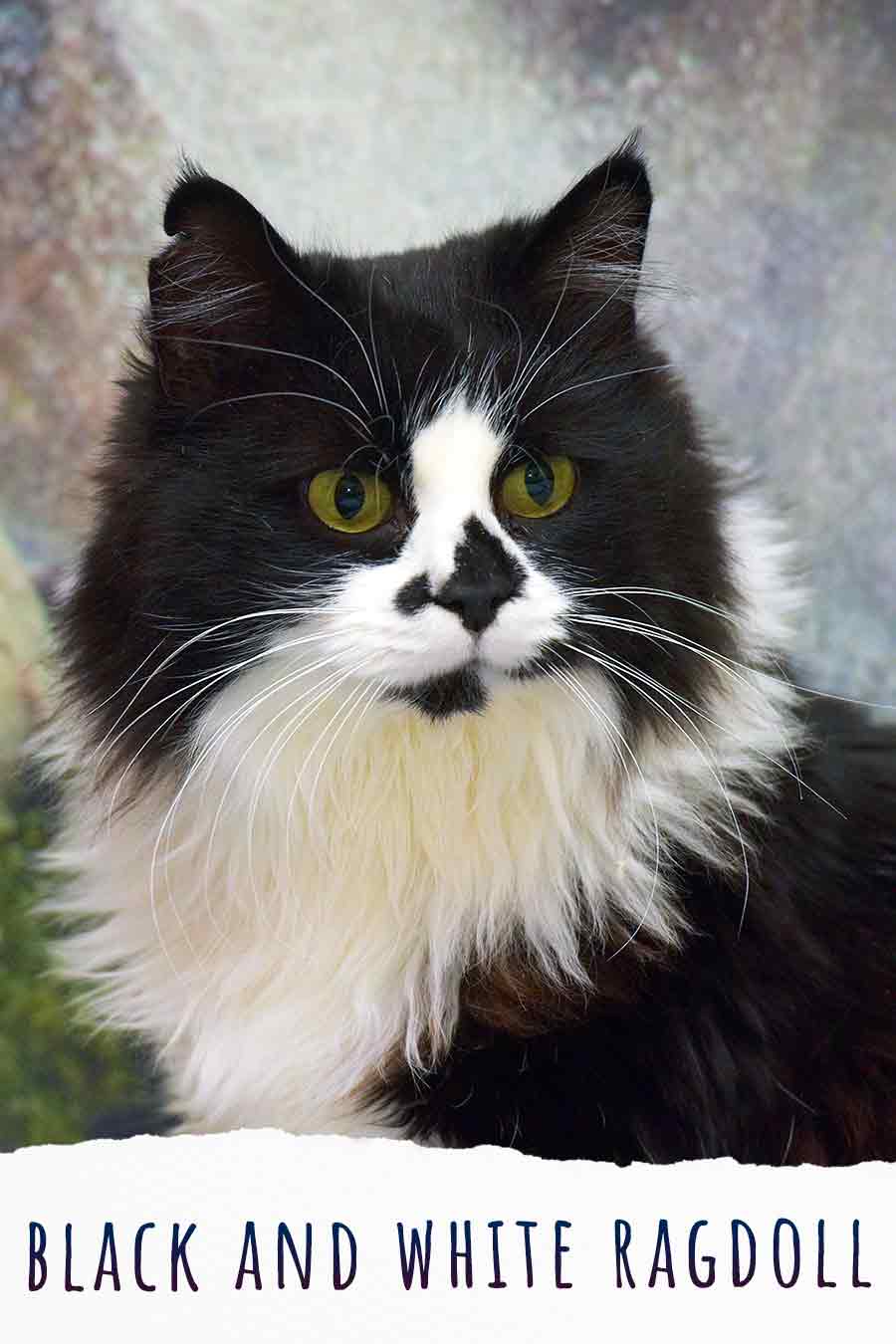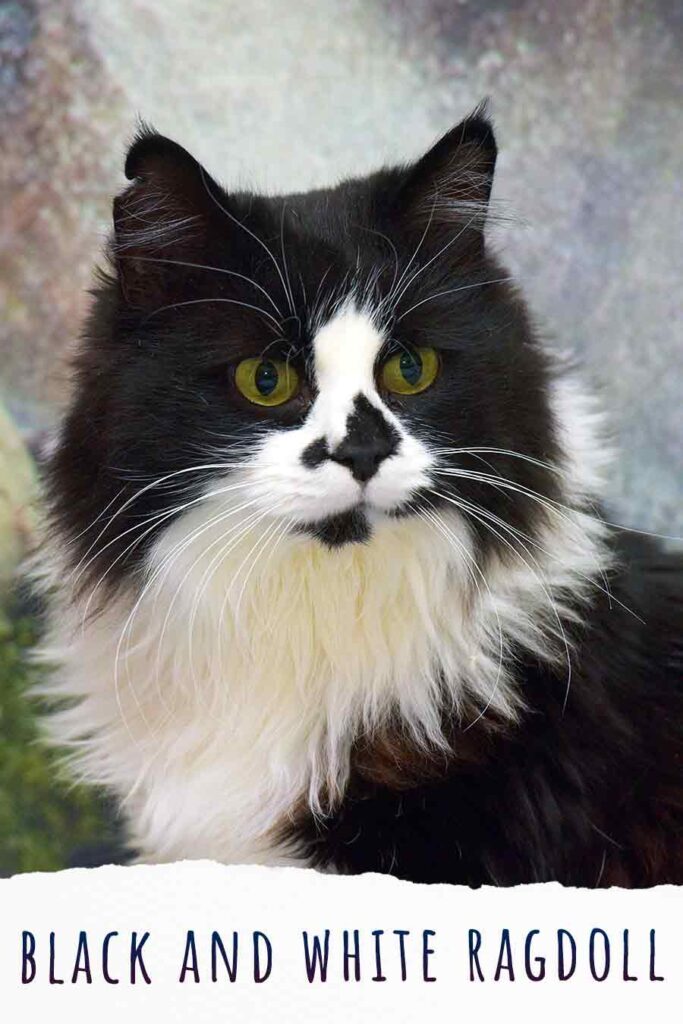 Are Black and White Ragdoll Cats Friendly?
If you have a true black and white Ragdoll cat, their temperament will be friendly, patient, and affectionate. This is not an overly chatty breed, but they are known to be great with kids. They are intelligent cats, often described as dog-like. Many owners love teaching their Ragdoll cats tricks!
However, since black coloring is not accepted by the Ragdoll breed standard, you must be aware that some breeders may outcross to other breeds to get this color. Mixed breed cats like this can inherit traits from either parent breed, including their personality. So, a black and white kitten with only one Ragdoll parent may have quite a different personality to this. You would need to learn about the second parent to discover a more accurate prediction for your kitten's future temperament.
Finding a Black and White Ragdoll Kitten
Since this coloring isn't officially accepted by the Ragdoll breed standard and by most Ragdoll breed clubs, it can be quite hard to find breeders with kittens of this coloring. You must be aware that some breeders will try to achieve this coloring by outcrossing their Ragdolls to other breeds.
Black and White Ragdoll Cat
Did you realise that the black and white Ragdoll was such a controversial cat? Have you got a Ragdoll mix at home with this coloring? Or are you still searching for your future kitten? Let us know in the comments!
Other Ragdoll Colors
References