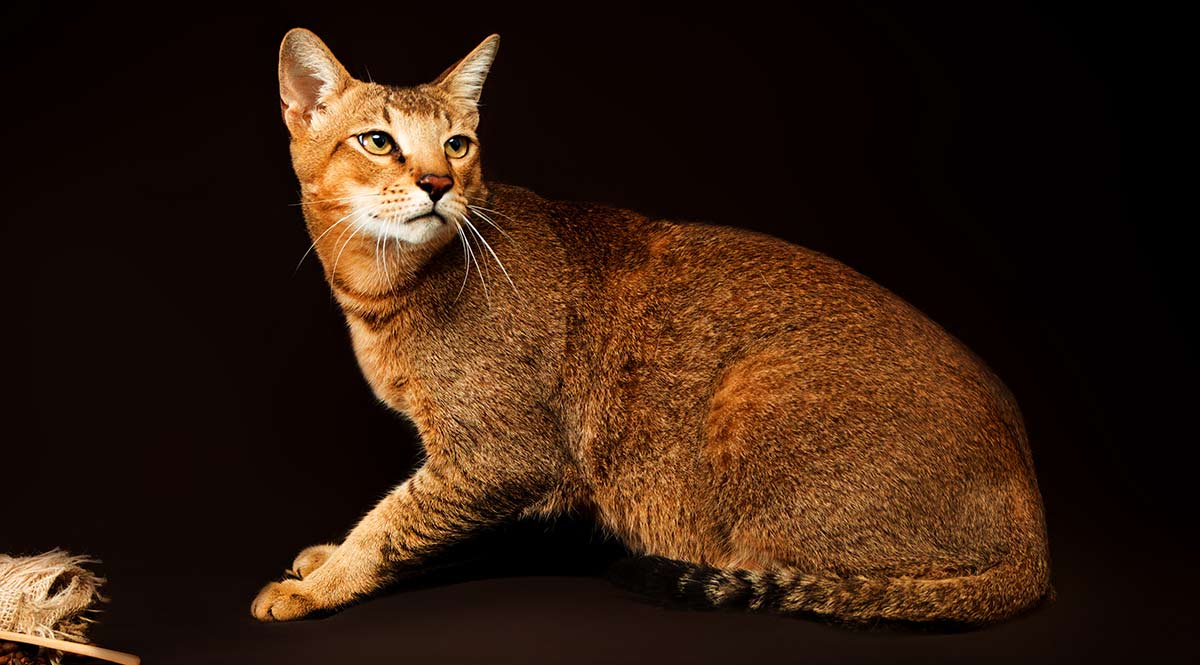 Today's multimillion dollar domestic animal landscape is ever-changing and always evolving. One of the latest breeding trends involves cross breeding domestic cats with wild breeds in order to create an exotic hybrid.
Why?
Well, much of the answer lies in the fact that modern humans have always had a fascination with wild animals, as evidenced by the enormous popularity of zoos and wild animal parks.
But while some of us may dream of having a wild animal larking about in our backyard or flexing among the living room pillows, our daily reality prevents this.
Unless you consider an increasingly popular alternative: taking ownership of a domestic and wild cat hybrid.
The Chausie (pronounced Chow-see) cat fits into this category of exotic animals, and today many individuals are considering the pros and cons of owning such a cat. Other cats in this category include the Bengal and the Savannah cat.
Given the growing interest in Chausies as companion animals, we've decided to take a closer look at this fascinating creature. Here you'll find the important information you need to help you decide if the unusual, one-of-a-kind Chausie is the right choice for you.
The Chausie cat breed
Lithe, long, and powerful, the contemporary Chausie cat is a perfect example of our desire to have a domesticated little tiger or mini-lion lounging about our living rooms.
The Chausie is a strikingly beautiful cat whose eye-catching features are the result of cross breeding the domestic cat (Felis catus) with a non-domesticated wild jungle cat (Felis chaus).
For those owners who desire a feline capable of evoking the great outdoors, the exotic Chausie retains a bit of the wild in its appearance but has the house manners of our friendly, familiar moggies.
Origins of the Chausie Cat
Jungle cats are found along the waterways of India, the Middle East, Southeast Asia, and northern Egypt. The lithe creature is a master of survival, known for its courageous behavior.
People began to deliberately cross breed jungle cats with domestic cats in the 1960s.
Prior to this it's generally agreed that domestic cats and jungle cats spontaneously bred in the wild in Egypt several thousand years ago.
In the last decade of the 20th century a breeders collective gave the name Chausie to the stautuesque hybrid cat that the initial breeders had originated some 30 years earlier.
Today the Chausie is recognized by The International Cat Association (TICA) in the domestic breed category as a, "nondomestic hybrid source breed."
The dazzling Chausie is tall and lanky, without an ounce of fat on it's muscular body. He has a friendly, curious personality and enjoys spending time with his humans.
Chausie cat appearance
A well-structured, healthy Chausie cat is limber and lean with a passing resemblance to a mountain lion.
Historically Abyssinian cats have been paired with the jungle cat to create the Chausie hybrid, with Oriental Shorthairs also used. As a result, the Chausie is a large cat with a definite likeness to the Abyssinian.
What can you expect your hybrid to look like?
First off, Chausies have a short, non-shiny coat. The main colors include solid black, brown tabby and black grizzled tabby. Among domestic cats, the latter coloration is unique to Chausies, a matter we'll discuss more when we talk about Chausie kittens.
Interestingly enough, a black Chausie cat can experience a change in appearance if she has strong, prolonged sun exposure. In this case, the black fur will lighten somewhat, causing it to be appear more brown in hue.
This magnificent cat's facial features include high cheekbones and eye colors that range from yellow to lime, with aqua-colored eyes sometimes seen.
The ears are prominent, being both large and tall, with tufts considered a desirable characteristic.
On a curious note, the Chausie's tail looks a bit abbreviated, since it can be almost half the size of what one would expect for the length of its body. Which in my estimation, only adds to its cuteness factor!
Grooming a Chausie cat
Chausies have a short, somewhat stiff coat that sheds at a moderate pace making their grooming needs minimal.
But you should help your cat become comfortable with being handled from an early age. Have you ever tried to wrangle a regular sized moggie into a cat carrier?
Well, consider what that task will be like with a 30 pound cat! It will be much easier on you and your Chausie if she gets accustomed to being touched and picked up as a kitten.
Luckily you can use grooming time as a means of fixing her comfort level! Be sure to brush her on a regular basis, and use a gentle massaging motion to help her get used to having her ears and paws touched.
Chausie cat size
What is an average Chausie size? Chausies can weigh as much as 25-30 pounds depending on their parentage.
My black tabby weighs in at about 9 pounds soaking wet (which is definitely a metaphor, folks!), so imagine a cat about three times the size of your average house cat and you have a good idea of how large a Chausie can be.
But more realistically, you can expect your little mountain lion-like moggie to range anywhere from 15-30 pounds.
Still, this is a lot of poundage for a still slightly wild-spirited housecat. Expect to keep your little lion entertained as well as socially and mentally stimulated or he might make his own amusement by "playing" with your furniture and possessions!
Chausie cat personality
Chausies will be a challenge for first time cat owners. Because they are a large cat, their needs are naturally outsized: their space requirement, food allotment, etc.
Given it's lineage it's not surprising that the Chausie has a high IQ, is very athletic, and retains an instinct for hunting behavior.
Overall the charming Chausie maintains the impressive muscular structure of its wild ancestors, in addition to inheriting the never-ending curiosity of their domestic parents.
The upshot of this unique genetic blend is a hybrid with a frisky nature who enjoys playtime: he isn't the kind of cat who wants to be left alone to indulge in sleep and daydreams!
Chausie breeders
Today breeders provide Chausies that are four or more generations removed from its jungle cat progenitors.
Since the Chausie is a relative newcomer, it is important to ask your breeder for thorough and in-depth information on the cat you are considering, as well as its parents. All of your questions and concerns should be answered to your satisfaction before committing to bringing a Chausie into your home.
Chausies are still developing a fan base, so your may have to do a bit of research to find a reputable breeder. When you do settle on a Chausie cat or kitten, you can expect to pay a handsome price for this amazing feline.
Are you wondering what is the typical Chausie cat cost? The Chausie cat price varies, with kittens being sold in the range of $400 to $600.
The Chausie price for an adult cat can typically range anywhere between $500 and $1,000.
Chausie kittens
Little Chausies are frenetic balls of energy, full of captivating personality and charm.
But don't let the relatively small size of young Chausies fool you. Once they get past the skittish, clumsy kitten phase, adult Chausies are a handful.
They are not recommended as a young child's pet due to their powerful nature and high energy level.
Owing to their strong intelligence, Chausies can and should be taught the boundaries of acceptable behavior early on.
Teaching your kitten with positive and supportive training methods about how to use a scratching post instead of the furniture, etc., will provide a solid foundation for your future happiness together.
As we mentioned earlier, among domestic moggies, only Chausie cats have a black grizzled tabby coat, due to an inherited trait from his jungle cat ancestors.
This unique coat is the result of a brown-black background coloration, with some of the hairs featuring eggshell colored bands.
It is not unusual for an entirely black-colored kitten to eventually grow into a black grizzled tabby coat, with the appearance changing as the kitten ages.
Chausie health
The Chausie is still a relatively new feline on the cat scene, so there is not yet a highly developed library of information on this cat's health profile.
But the best known Chausie health issue is related to food and digestion. In particular, if a Chausie inherits the traditionally shorter intestinal tract common to wild cats, she may have issues digesting plant-derived food such as vegetables and cereal.
Allergic reactions to such ingredients can cause intestinal inflammation and/or inflammatory bowel disease.
As a preventive measure Chausie owners should provide their fur babies with a high quality cat food that includes as few plant-derived ingredients as possible. A natural raw meat diet is another alternative that you might want to consider.
If well fed and cared for a healthy Chausies can be expected to enjoy a lifespan that averages 10-12 years.
Chausie rescue
The Chausie is not currently a highly reproduced cat, so fortunately surrender numbers are low.
If you are interested in locating a Chausie rescue cat, you can get more information from the Chausie Cat Rescue online.
Is a Chausie cat right for me?
If you're debating whether or not a Chausie cat is right for you, we have some final questions for you to consider as you come to a decision.
Is your house big enough to accommodate a long, muscular cat with the ability to leap up to six feet high?
Chausies are powerful animals who need to be active and kept mentally stimulated. Do you have the time and desire to train an assertive animal using consistent and positive methods?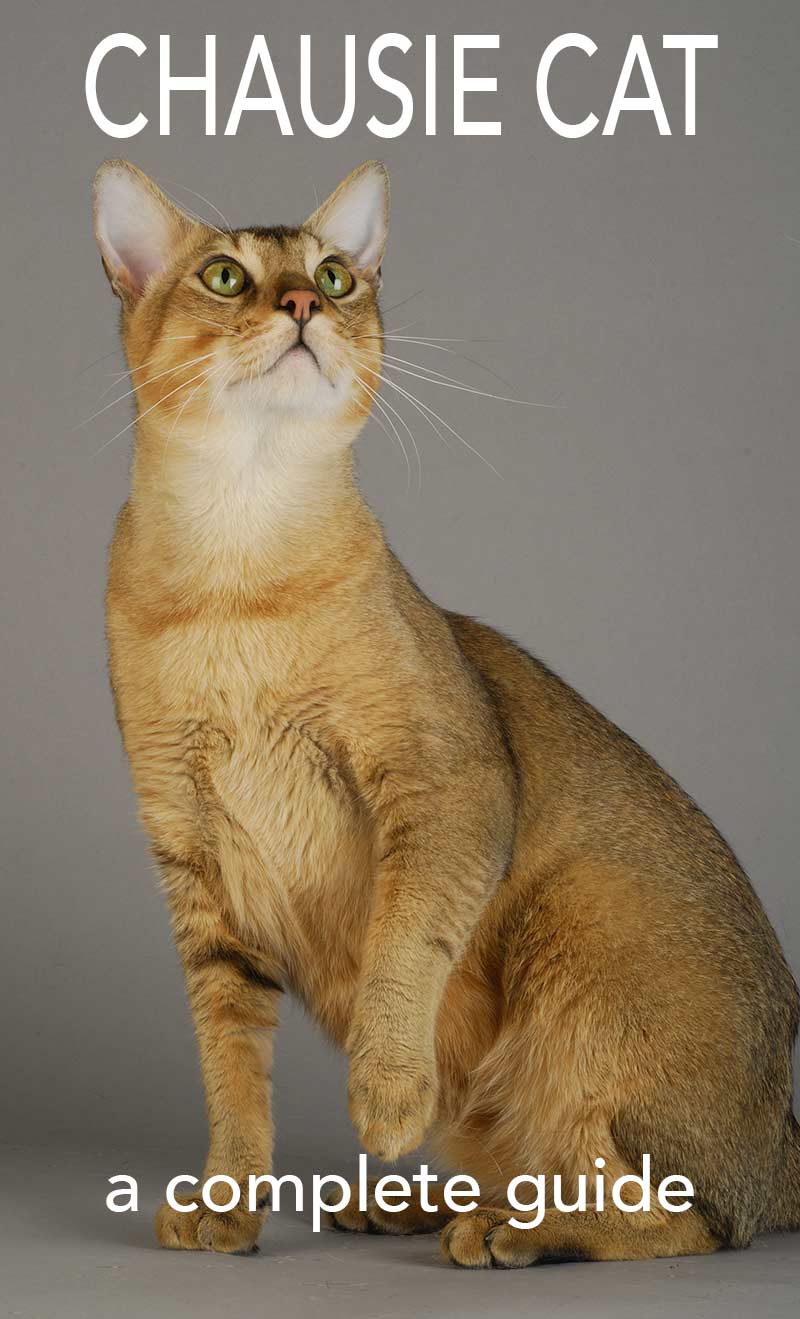 And are you ready and able to spend a good amount of time with your new bestie? Not only training it when it's a kitten, but also being a steady and reliable presence as it grows?
Chausies are not a solitary animal. In fact they are considered to be very dog-like in their affinity for spending time with their humans.
If you want a Chausie simply to admire it's raw, rare beauty, or to have a glamorous conversation piece, you may want to reconsider purchasing an animal who wants and needs to spend his time interacting with you.
But if you desire a true animal companion, a feline that is imbued with a bit of a wild side, then the unique and exceptional Chausie may be for you!
Sources
Eckermann-Ross, C., Small Nondomestic Felids in Veterinary Practice, Journal of Exotic Pet Medicine, 2014
Lyons, L. A., DNA mutations of the cat, The good, the bad and the ugly, Journal of Feline Medicine and Surgery, 2015
Mukherjee, S., et al, The importance of rodents in the diet of jungle cat (Felis chaus), caracal (Caracal caracal) and golden jackal (Canis aureus) in Sariska Tiger Reserve, Rajasthan, India, Journal of Zoology, 2004
Mukherjee, S., Geographic variation in jungle cat (Felis chaus Schreber, 1777) (Mammalia, Carnivora, Felidae) body size: is competition responsible?, Biological Journal of the Linnean Society, 2007
Van Neer, W., et al, More evidence for cat taming at the Predynastic elite cemetery of Hierakonpolis (Upper Egypt), Journal of Archaeological Science, 2016
http://www.cat-breeds-encyclopedia.com/
http://www.tica.org/en/