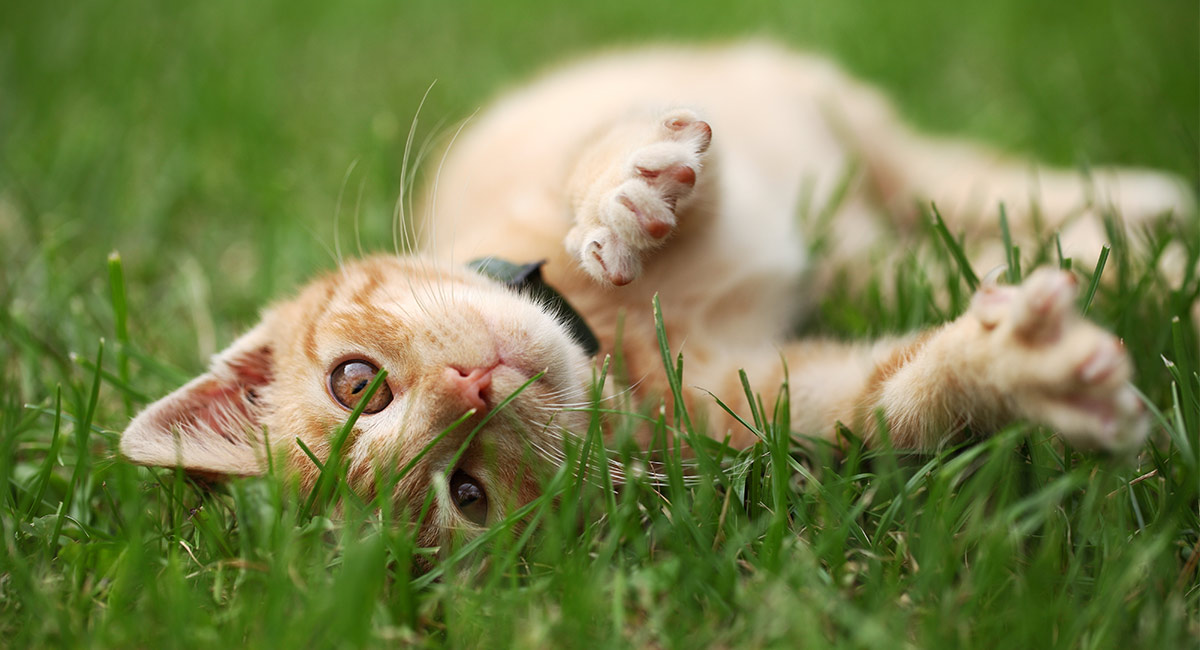 The Domestic Shorthair Cat Is Beautiful, Popular And Beloved In Thousands of Homes Around The World.
But Did You Know The Domestic Shorthair Cat isn't officially a breed!
In this article we are going to take a look at this popular type of cat.
Finding out all about them, and how this classification came to be so commonly used.
What is a Domestic Shorthair cat?
The term "domestic shorthair cat" is used the world over to describe a local, short–haired cat of mixed ancestry.
In a manner of speaking, the domestic shorthair cat is the feline equivalent of a canine "mutt!"
The domestic shorthair hybrid is not a standard, recognized breed like the Siamese, Maine Coon, or Ragdoll cat breeds.
Rather, "domestic shorthair" is a 'cat'ch-all term used to refer to moggies of mixed ancestry, sporting a neat and tidy short coat.
In short, a domestic shorthair cat is as universal as sunshine and just as happiness-inducing.
That's my opinion of course, but I'm biased, since I am owned by one!
What does a domestic shorthair look like?
This furry little dynamo comes in just about any color you can imagine on a feline.
Take a stroll down any leafy suburban street or urban alleyway. You'll likely encounter a black domestic shorthair, grey domestic shorthair, or domestic shorthair calico crossing your path.
Domestic shorthair cat breeds
But if you do cross paths with a domestic shorthair tabby or domestic shorthair black and white, don't confuse him with the similarly named British Shorthair cat or American Shorthair cat.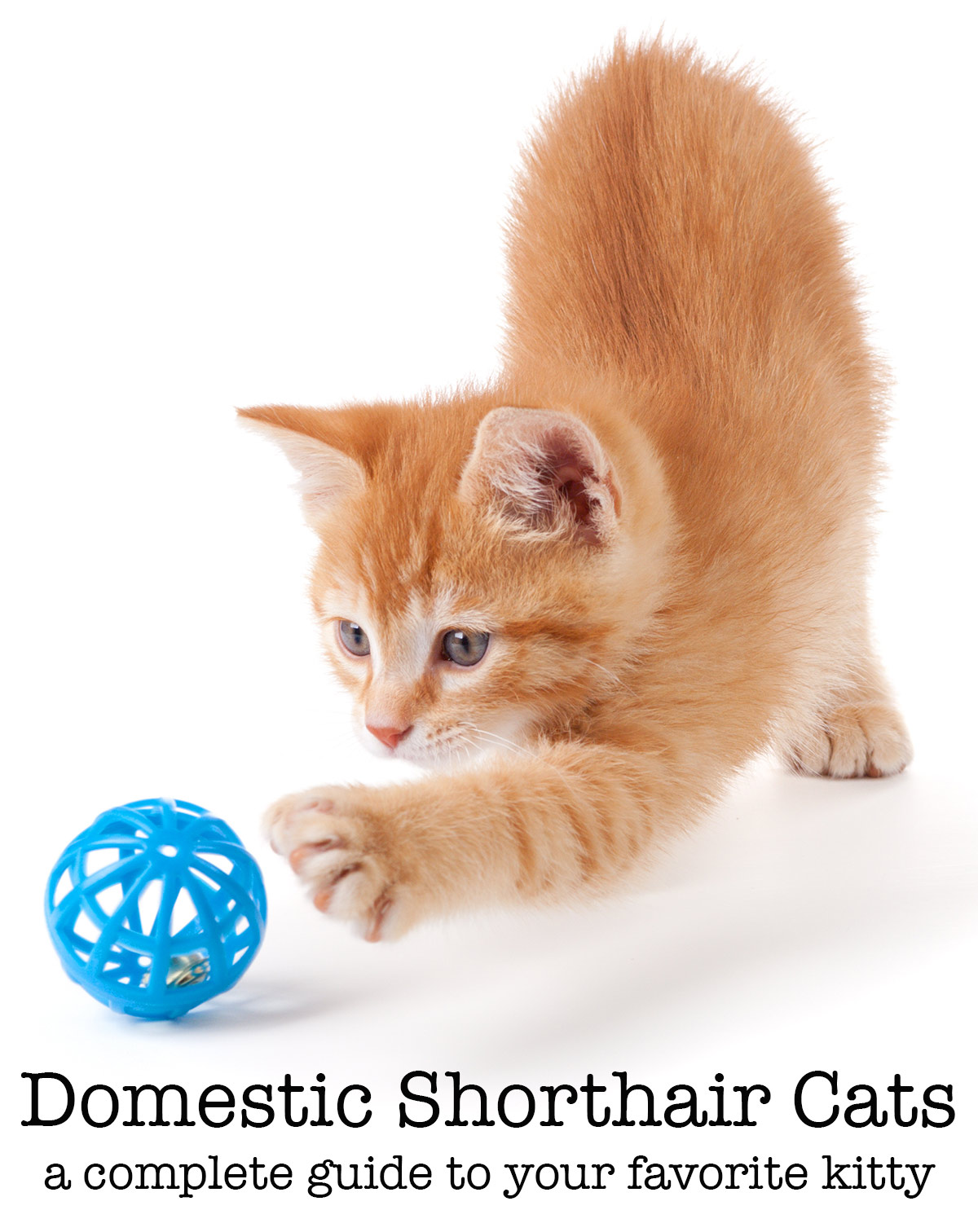 The latter two felines are standardized breeds distinctly different than the loveable feline mix affectionately known as an, "alley cat."
The always inquisitive (and usually hungry!) domestic shorthair cat is found in all corners of the world. And as such can be counted on to be a distinctive mix of that locale's feline inhabitants.
These cute kitties are nature's "happy accidents," a domestic cat that is produced when two non-purebred felines take a liking to one another.
Are you considering bringing a domestic shorthair into your family? In this article we are going to take a look at the captivating domestic shorthair.
Including their origins, temperament, and needs.
Maybe you already share your home with a domestic shorthair grey tabby? Or a domestic shorthair black cat, as I do?
It's never too late to learn more about your BFF!
We have some fascinating insights about the domestic shorthair's personality. As well as facts about important issues such as weight, life span, etc.
Domestic shorthair cat origins
There is no such thing as a domestic shorthair breed. The humble domestic shorthair cat can't trace it's origins to a specific country, like the Siamese cat. He has no fancy pedigree like an upscale show cat.
But this little fur ball is just as loveable, and every bit the faithful companion, as any cat with a stack of gilded papers to pronounce his value!
Records indicate that British pilgrims brought the first cats to America. Their main purpose would have been to control the rodent population on the seagoing boats, a skill we still value highly today!
It's believed that today's domestic shorthairs are descended from the shorthaired African wildcat, with the ancestors of the domestic shorthair likely domesticated in ancient Egypt.
In case you're wondering, the shorthair cat is closely related to the domestic longhair cat, with the main difference being the length of their fur.
Domestic shorthair cat background information
In the US, 30-39% of households have at least one cat running the show. This translates into 35 to 45 million residences, meaning 74 to 86 million cats.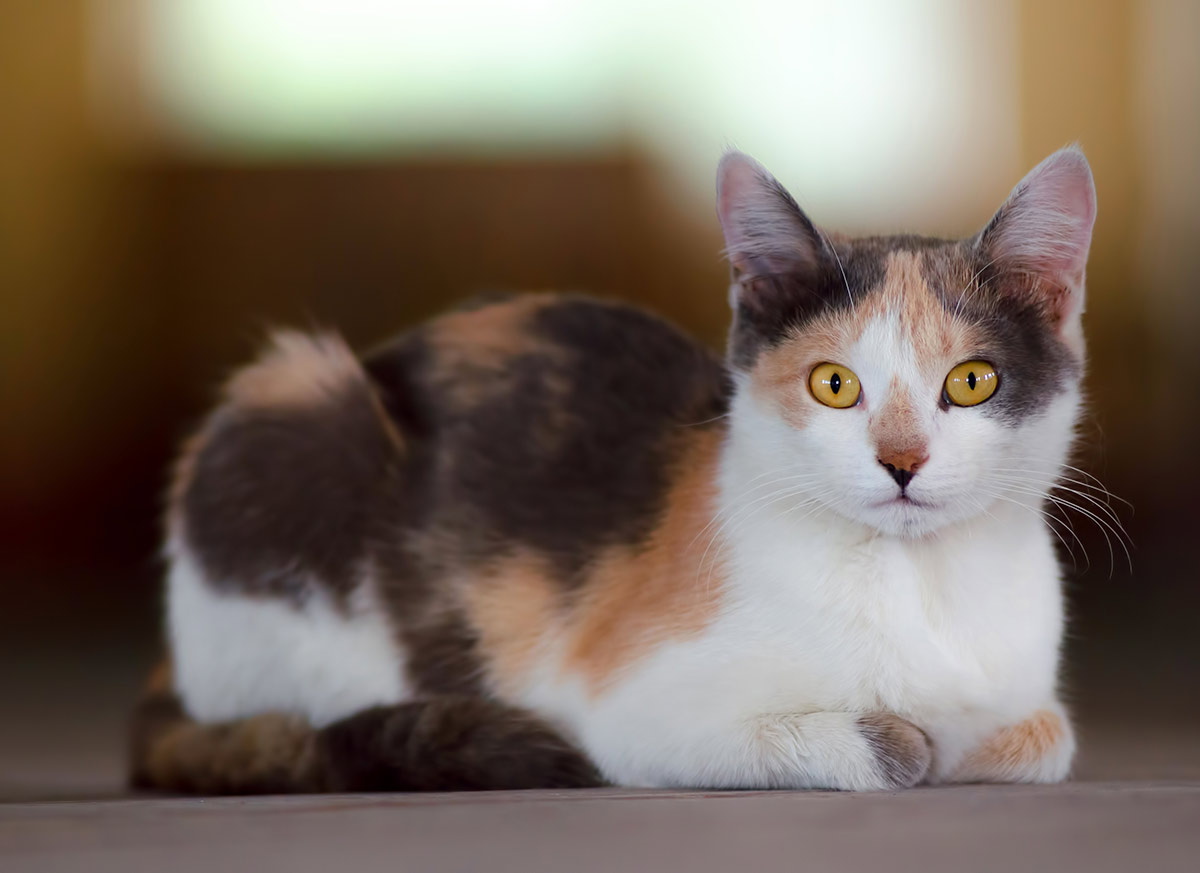 Can you guess which cat composes the vast majority of this well-cared-for population?
You guessed it, the domestic shorthair accounts for 95% of cats in the U.S.!
Domestic shorthair cat appearance
Very slight variations in appearance can be expected in domestic shorthair cats depending on their native country.
If there is one breed more prominent in his background, a cat may resemble this or that ancestor breed.
Overall the shorthair is a resilient little animal, being the result of countless generations of breeding among mixed breed cats.
This is a sturdy cat of medium build, with all of the clandestine grace and stealthy mystery that we've come to associate with felis catus.
But no matter where this little enduring little kitty cat lives, the domestic shorthair comes in all of the cat-colors that you're familiar with. White, black, orange, rust, gray, and the list goes on.
These beautiful moggies also sport a range of coat patterns including calico, tortoiseshell, and tabby.
Eye colors include green, blue, golden and brown.
Have you ever seen a moggie with two eye colors, maybe one is green and the other blue? Many people consider this to be a sign of good luck!
Domestic shorthair grooming
All domestic shorthairs have one thing in common: their short furry coat. This short fur is low maintenance. You don't need to brush these cats each and every day as you might a long hair cat.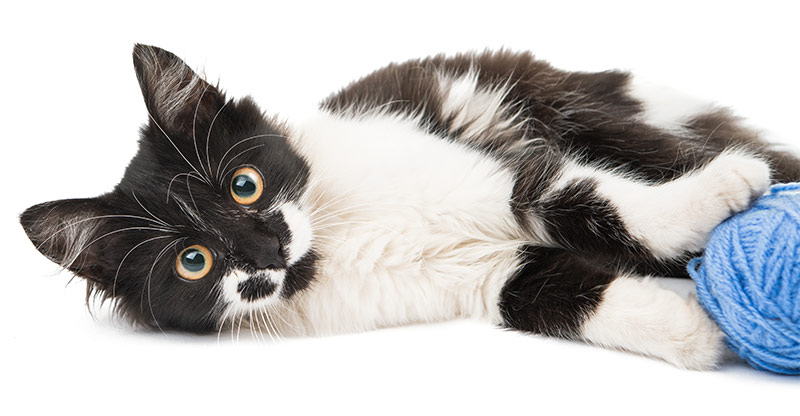 Still, if your cat enjoys being brushed, as my black tabby Fuzzy does, then you might find yourself using the hairbrush more than once a day!
Unless her health prohibits it, you can count on your moggie grooming herself on an ongoing basis.
But if you have an older or disabled cat, be sure to help her maintain her hygiene by brushing regularly to remove excessive hair, and to help her stay clean and fresh.
Domestic shorthair personality
Being of mixed ancestry, the temperament and personality of any domestic shorthair cat is highly unpredictable, even among littermates.
Go to any animal shelter and you'll find the place filled (usually to capacity) with a range of personalities. Some cats are boisterous and wild, some are shy and silent.
Affection levels and degrees of independence also vary widely. While some cats prefer to while away their time in a warm lap. Others are content to peer down at you from the solitary perch atop the kitty condo!
Again, this is the result of the domestic shorthair being a mixed breed with DNA from a multitude of gene pools.
Nonetheless, a healthy kitten that is socialized early and given lots of love can be expected to be an amazing companion.
Most experts suggest leaving kittens with their mom for about 8 weeks. One reason being so that they can learn proper socialization skills.
Domestic Shorthair Health
What types of health problems can you expect your little kitten to face?
Well, for one thing domestic shorthair cats have a reputation for enjoying their food a little bit too much. In other words, they love to overeat!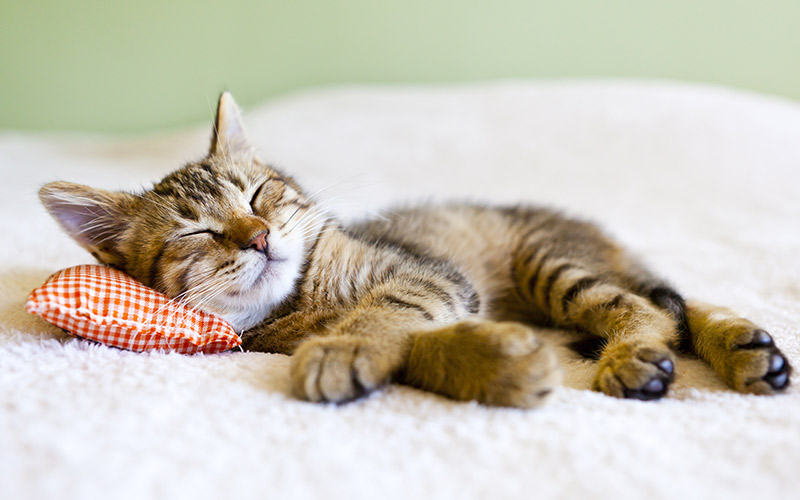 Unfortunately obesity is the most obvious downfall of this pleasure-seeking behavior. That's why it's crucial that cat parents provide a complete and well balanced diet. In order to keep kitty's weight at an acceptable level.
The American Humane Association reports that obesity is now considered to be an epidemic for both dogs and cats. As of 2011, 54% of cats and 56% of dogs in the U.S. met the definition for being overweight or obese.
Obesity is implicated in a variety of diseases, including diabetes that has increased 16% in cats since 2006.
Cat Illnesses
My cat has had diabetes since 2012. He requires two insulin shots a day, and a specialized diet. This is to control his blood sugar levels and maintain his overall condition.
Through it all Fuzzy has been a trooper and maintained his spunk and zest for life. But I know that his general well-being would be much better if he were diabetes-free.
Other serious domestic shorthair cat conditions seen at veterinary clinics include chronic kidney disease, cancer, and hyperthyroidism.
In older cats kidney disease is the number one cause of death. 1 in 12 senior cats experience some degree of this life-threatening condition.
Other serious illnesses are more pervasive depending on a cat's living environment. For example, heartworm disease is more likely to be seen in domestic shorthair cats who live partially or wholly outdoors.
Lastly, dental care is key to the overall health of your domestic shorthair cat. Keeping kitty's teeth and gums healthy is as simple as using a cat toothbrush and toothpaste on a regular basis!
Some people believe that "alley cats" have a heightened immunity to health issues because of the protection conferred by their numerous and varied bloodlines.
Whether or not inheriting a larger genetic pool confers certain health protections, your cat should
see a veterinarian at least once a year for a preventative health check.
Domestic shorthair allergies
According to the American Humane Association, allergies are given as the second most common reason that owners relinquish cats.
The term "hypoallergenic cat" is used to describe an animal who does not provoke an allergic reaction. Usually a cat who sheds very little or is furless. However, no cat is 100% hypoallergenic to all individuals.
Still, you can expect a short haired cat to provoke fewer reactions than a long haired cat.
One research study found that infants who are exposed to cats (or dogs) may experience a lower risk for certain illnesses including allergies.
Domestic shorthair life expectancy
Domestic shorthair cat life expectancy can be reasonably anticipated to range between 10-15 years of age. Of course, being in good health is a crucial element to life expectancy.
Because it's so easy to overlook, it bears repeating that feline obesity is a growing problem that has been implicated in many maladies and serious conditions.
Male domestic shorthair cats should weigh between 8 to 13 pounds, and females should range from 8 to 11. If your animal is much larger than this, you may want to talk to your vet about how to best address your cat's dietary and nutritional goals.
Domestic shorthair breeders
As we've already discussed, the domestic shorthair cat is a cat of mixed ancestry, not a pure breed or a cross breed.
Because of their similar sounding names, it's easy to confuse the domestic shorthair cat with the American or British shorthair cats.
Both of these are breeds that a breeder will produce, and each is recognized by the Cat Fanciers Association.
What is the ideal place to adopt your next little forever friend? When it comes to the non-pedigreed domestic shorthair cat, rescue groups and animal shelters are excellent places to find your furry BFF!
Assuming that your cat has received all of the required immunizations, been spayed or neutered, and received a clean bill of health, you can expect to pay less than $100 out the door for a domestic shorthair cat. If there's a better bargain to be found, I'd like to know about it!
Domestic shorthair kitten
Have you ever seen a good-hearted human standing in front of a supermarket or on a corner holding a box of mewing kittens that need good homes?
The chances are excellent that the littermates are domestic shorthairs.
There is no shortage in the world of domestic shorthairs who need loving homes. By one estimate there are 80 million domestic shorthairs in the U.S. alone, and over 500 million scattered around the globe.
Because a domestic shorthair kitten is a feline of mixed ancestry, it's impossible to foretell the nature of his adult personality. But most domestic shorthair kittens are playful when they are young and eagerly exploring their world, with the majority seeming to enjoy the company of other cats and people.
Since a cat's temperament can be adversely impacted if it's taken away from its mother too soon, experts recommend not separating moms and kittens before the litter is 8 weeks old.
Domestic Shorthair Cats
We hope you enjoyed learning more about that delightful little moggie known as the domestic shorthair cat.
Remember, this charming, hardy little moggie is not a breed, rather he comes from a classification of mixed breed cats that are found in all four corners of the globe.
To his credit, the humble domestic shorthair is overwhelmingly the most popular cat in the world, and for good reason.
This kitty is a low maintenance animal in terms of grooming, it is a relatively healthy feline, it is much less expensive than a pedigreed cat (probably free if your neighbor's cat just had a litter!), and yet it is every bit as furry, cuddly, and mysterious as the costliest cat breed.
What's not to like, right?
Do you have a domestic shorthair cat? We'd love to hear more about the adorable "mutt" of the feline kingdom!
Resources
McCann, T.M., et al, Feline diabetes mellitus in the UK: the prevalence within an insured cat population and a questionnaire-based putative risk factor analysis, Journal of Feline Medicine & Surgery, 2007
Lee, A.C.Y., Understanding Feline Heartworm Infection: Disease, Diagnosis, and Treatment, Topics in Companion Animal Medicine, 2010
Ownby, D.R., Wray BB, Does exposure to cats or dogs in early life alter a child's risk of atopic dermatitis?, Journal of Pediatrics, 2011
Ross, S.J., et al, Clinical evaluation of dietary modification for treatment of spontaneous chronic kidney disease in cats, Journal of the American Veterinary Medical Association, 2006
Vollaire, M.R., et al, Seroprevalence of Toxoplasma gondii antibodies in clinically ill cats in the United States, American Journal of Veterinary Research, 2005