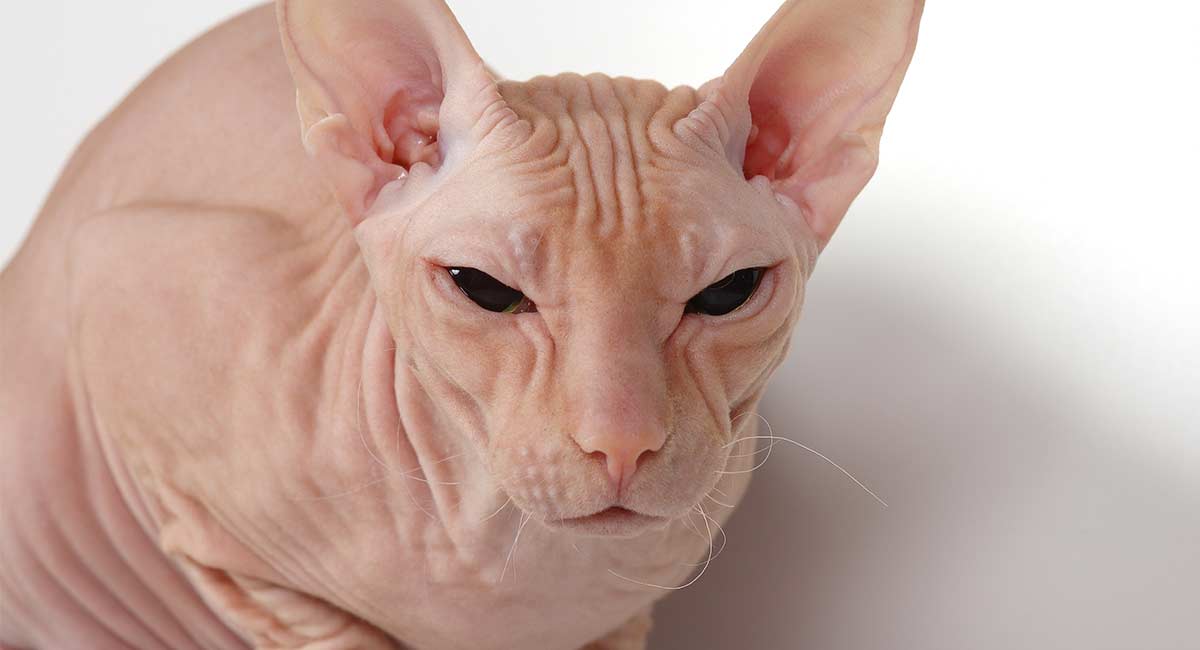 The Donskoy cat is a new breed, originally discovered in Canada in the 1990's. A gene for hair loss gives these kittens 4 different coat types called rubber, flock, velour and brush. Each variation gives less hair, different textured hair and interestingly also narrowed facial features. Although low shedding, this is not a hypoallergenic cat as they do spread allergen proteins in their skin dander. The Donskoy cat has also been known as the Don Sphynx, the Sphynx Donskoy, or the Donskoy Sphynx as it was originally confused with the Sphynx cat's gene for hairlessness. Calm yet playful, the Donskoy breed lives over 12 years, which isn't bad for a pedigree breed but is less likely to reach the late teens of the classic moggy. Today we'll check out the breed traits and care requirements of this rare kitty.
Contents
The first time most people see a Donskoy cat, their reaction is, "What IS that?" These unusual felines are technically classified as a "hairless" cat breed, even though some Donskoy cats can develop a fine type of coat.
What is a Donskoy Cat?
A Donskoy cat is an almost entirely hairless breed, although they can have a fine fur coat. They are a relatively recent development and pretty new to the cat fancier world. In this article, we take a close look at the Donskoy cat, delving into genetics, differences from other hairless cat breeds, size, temperament, health, and other important facts you need to know!
A Donskoy cat breeder must be extremely knowledgeable about feline genetics to reliably produce Donskoy kittens with the different Donskoy hairless/hair coats.
Where Do Donskoy Cats Come From?
The Donskoy cat's breed history begins in Russia, which explains why sometimes this breed is called the Russian Donskoy cat. The Donskoy cat was first recognized as an official cat breed in 1997 by the World Cat Federation. In 2005, The International Cat Association also recognized it as an official breed.
This cat can trace its modern lineage back to a single feral kitten named (depending on who is telling the story) Varya or Varvara. The kitten had hair when cat breeder Elena Kovaleva rescued her, but this hair began to fall out rapidly as Varvara grew up.
No amount of veterinary treatment seemed to resolve the hair loss.
Another cat breeder named Irina Nemikina took a kitten from one of Varvara's litter and began to breed these cats. Subsequent kittens all had immediate hair loss just like their mother. At first, breeders assumed this cat was a Sphynx.
Donskoy Cat vs Sphynx Cat
The Donskoy was originally thought to be a Sphynx cat. That's why at first, this cat was called the Don Sphynx, the Sphynx Donskoy, or the Donskoy Sphynx. The reason these two similar-appearing feline breeds were initially confused is because they both share the gene for hairlessness.
But when breeding began in earnest, key differences in gene expression between the Sphynx and the new Donskoy cat breed were immediately apparent. This proved that, while these two cats may share the gene (or set of genes) thought to be responsible for hairlessness, how it works in each breed can look very different.
The Donsky Cat is Not a Variety of Sphynx
Sphynx cats hail from Canada while Donskoy cats call Russia home. Sphynx cats have the hairlessness gene but it is recessive, meaning it doesn't always express (show up) fully in the kittens. Kittens can have a thin coat or they can be hairless.
These cats have the hairlessness gene in its dominant form, and it impacts not just the coat but also the cat's face shape, eye shape, and muzzle shape.
Donskoy Cat Coat Types
Fascinatingly, Donskoy cats can produce kittens with four different types of coats. The closer to a true hairless cat a kitten comes, the more pronounced the facial differences will also be. Most interestingly, the Donskoy's gene expression is also thought to affect temperament.
These coat types include:
Rubber bald coats
Flock coats
Velour coats
Brush coats
Rubber bald coat
Rubber bald, as its name suggests, is the true hairless cat. This cat may show the shorter muzzle length, extended cheekbones, and wide eyes associated with the hairlessness gene, but it may not last past kittenhood.
Flock coat
The flock coat may give the appearance of true hairlessness, but when you run your hand over your cat's skin, you will notice a very soft chamois texture. Sometimes the sparse flock coat will disappear in adulthood and the cat will become truly hairless.
Velour coat
The velour coat type initially shows up as a bald spot (monk's cap) on the kitten's head at birth. Over time, a wiry coat may grow in and fall out, remaining only in small patches on the tail, legs and face.
This cat can also become completely hairless in adulthood, although this doesn't always occur. The velour-coated cat will show the most variation in shorter muzzle length, extended cheekbones, and wide eyes, and this often lasts into adulthood.
Brush coat
The brush coat type is the fullest coat a Donskoy kitten grows. This kitten will keep a partial or sparse wiry, bristled, or wavy coat and will also show the most skin wrinkling everywhere but on the upper torso.
This cat rarely displays the shortened muzzle, wider eyes, and facial shape changes of the other coat types. This is also the only coat type that is not acceptable by show standards.
Is the Donskoy Cat Hypoallergenic?
The myth that any pet can be truly hypoallergenic is a compelling one, but unfortunately it is not true. All cats secrete an allergy-triggering protein called fel D 1 through their skin, urine, and saliva. This protein gets transferred to the cat's body,hair, and skin.
When the cat's hair is shed out, the protein gets transferred to other surfaces, including the floor, the carpet, and general furnishings. It also gets into the air and onto your hands when you clean. But the protein is present at some level regardless of whether the cat sheds a little, a lot, or even has any hair to shed!
So while low or no-shed cats may deliver less of the protein into the environment, it is still there. In this way, the Donskoy cat is no more or less hypoallergenic than other low or no-shed cat breeds.
Donskoy Cat Size
The Donskoy cat may look fragile because of the light hair or absence of hair, but this is actually quite a strong and sturdy cat!
The adult female cat (altered) will typically be 6 to 8 pounds and the adult male cat (altered) will be 10 to 12 pounds.
Are Donskoy Cats Friendly?
The Donskoy cat's personality is notoriously calm, more so the less hair this cat has. It is now thought the same gene that causes degrees of hairlessness in the Donskoy also causes alterations in cat personality.
This cat is often described as "dog like" in how the Donskoy is always eager for human attention, play, and affection, but can be self-entertaining also.
Donskoy Cat Care
The Donskoy cat can struggle with internal body temperature regulation in ways regular coated cats seldom do. Don't let this cat's naturally warm-feeling skin fool you – the Donskoy cat must work its metabolism overtime to stay warm when temperatures drop!
The general rule of thumb to remain aware of is that if the environment feels cold to you, it probably also feels cold to your Donskoy cat. It will be necessary to have cat clothing available to your Donskoy in the cold months.
You will also want to cat-proof any areas in your space that stay naturally warm but are not safe for your cat to sit or lie on.
Do Donskoy Cats Get Sunburn?
Your Donskoy cat cannot go outside without getting sunburned, just like your skin would if you sat too long in the sun. This is a cat that needs sunscreen – ask your veterinarian to recommend the right product that will protect your cat's skin.
For these and other reasons, you should not bring home a Donskoy cat unless you can commit to providing your cat with an indoor-only lifestyle.
Donskoy Cat Health
As a fairly new cat breed, the Donskoy cat does not yet have any serious known heritable breed-specific health concerns.
However, any reputable Donskoy cat breeder should willingly volunteer results of any preliminary health tests performed on the parent cats and should also offer you an initial health guarantee (usually 12 to 24 months).
How Long Do Donskoy Cats Live?
The Donskoy cat can live 12 or more years. Lifespan in any given cat is typically directly related to diet, activity level, enrichment, lifestyle, and access to preventative vet care.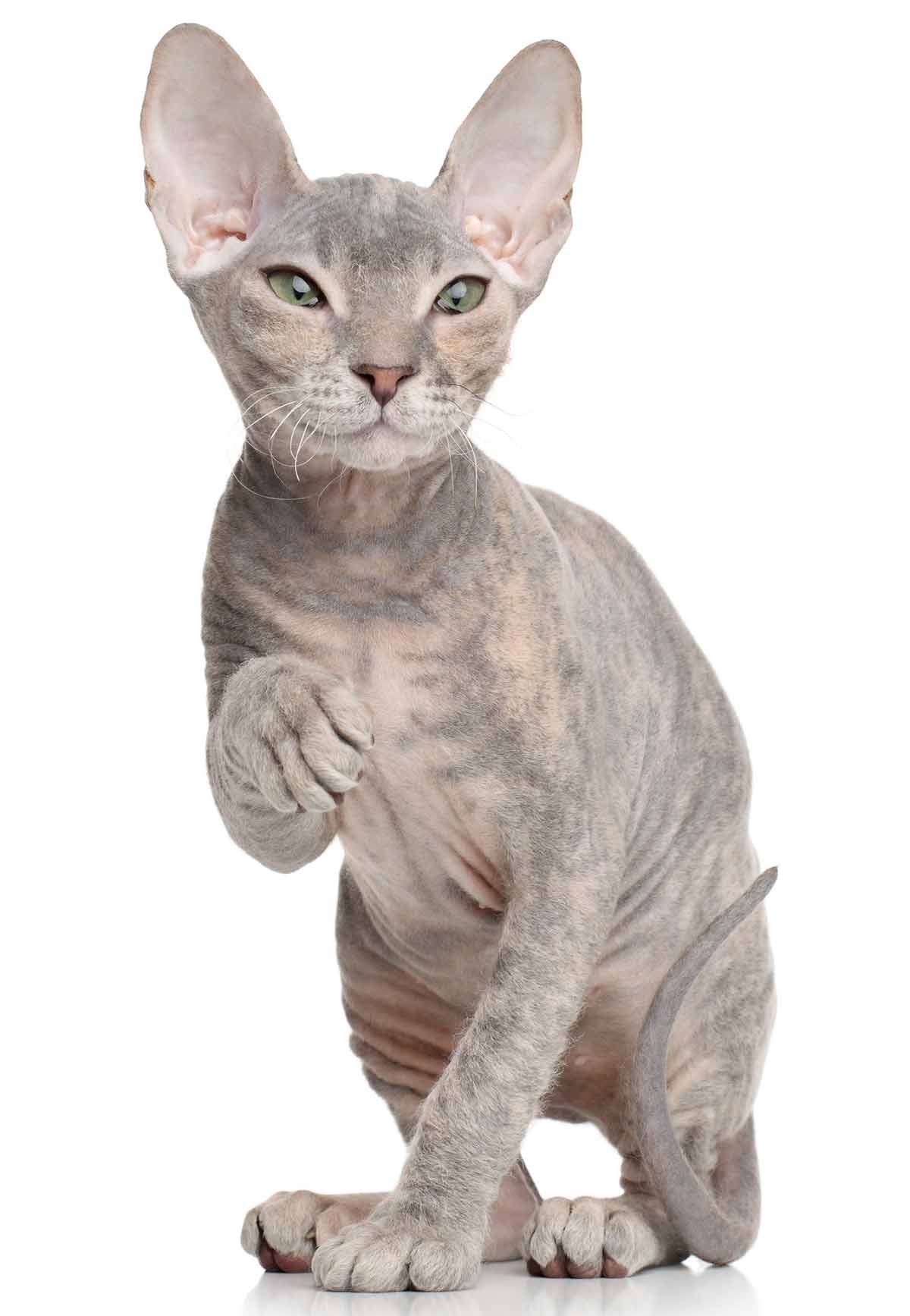 Donskoy Kittens
Donskoy kittens can display one of four coat types: rubber bald, flock, velour, or brush. All Donskoy cats will display this breed's characteristic skin wrinkling everywhere except on the upper torso and back. In terms of the breed standard, more wrinkles is always considered better!
Donskoy Cat Price
The Donskoy cat price can set you back anywhere from a few hundred dollars to well over $2,000. The price tag is par for the course when shopping for a rare cat breed like the Donskoy.
The price may vary within this range for a variety of reasons including show lineage, gender, birth order, markings, coat type, and whether the kitten is considered to be show quality (show ring potential) or pet quality (not suitable for the show ring but fine for a pet).
Donskoy cat rescue can be another viable option to pursue if you run into trouble locating an available Donskoy kitten. These cats are rare, so your best chance of locating a Donskoy cat in need of a new home is to contact breeders.
Are Donskoy Cats Good Pets?
Buying an unusual breed like the Donskoy cat always comes with a little bit of a risk. They are harder to find, more likely to be inbred and need some extra care that a more common haired breed won't need. They can make great pets for the right home, but you need to carefully consider whether your lifestyle matches their needs before making that commitment.
More Unusually Coated Cat Breeds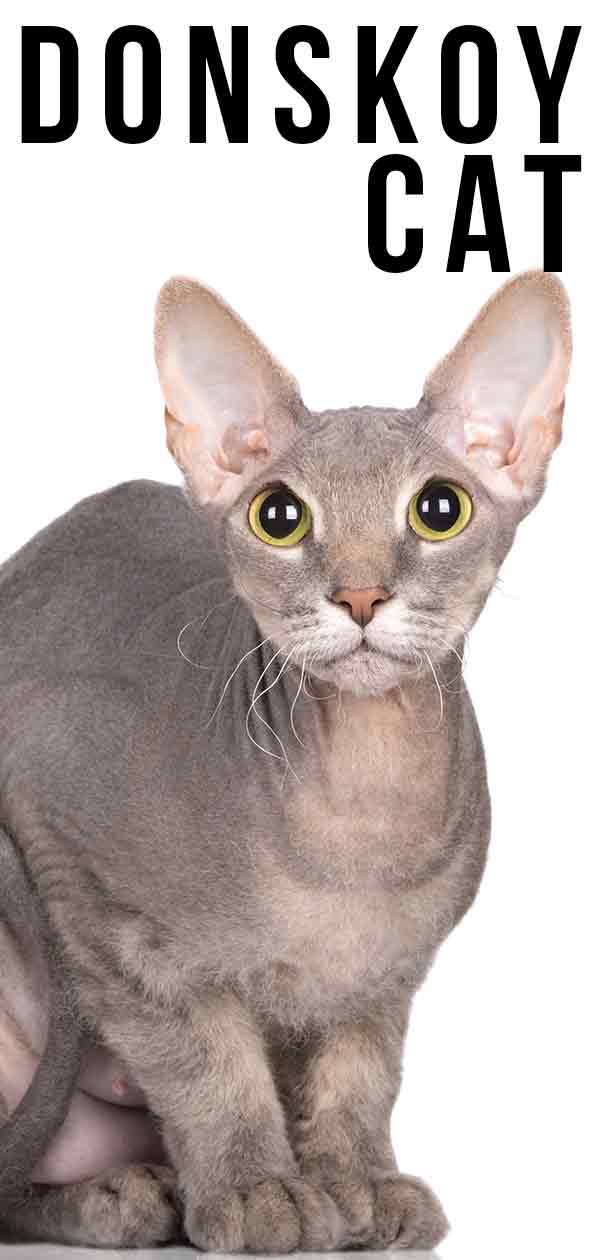 The Donskoy cat is a very unique cat breed in ways that go far beyond skin deep. Is a Donskoy cat in your future? We'd love to hear your thoughts!
Readers Also Liked
References and Further Reading
Eden, K., et al, "Donskoy," The International Cat Fanciers, 2018.
Jacobs, E., "Donskoy Origin/Genetics," Amur Alien Tresor Cattery, 2018.
Abitbol, M., DVM, "Unverified Color Pink-eye dilution Ukraine‐chocolate in Donskoy cats," Lyon School of Veterinary Medicine, 2016.

Brennan, T., "How Much Does a Sphynx Kitten Cost?," NoCoatKitty Cattery, 2018.

Eden, K., "History of the Donskoy," DonEden Cattery, 2018.