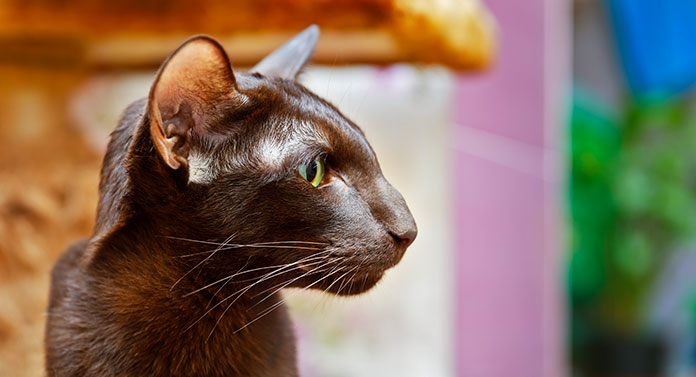 The Havana Brown cat is so unique in so many ways. From its mink-like coat to its delicate yet sturdy body and emerald eyes.
Today, there are two distinct Havana Brown lines. The English (European) Havana Brown and the North American Havana Brown.
These cats are engaging, affectionate, and curious. So, they can make the perfect family companion for the right home.
Without further delay, let's dive into an exploration of why you might choose to share your life with a Havana cat. And what you need to know first!
What's In This Guide
Havana Brown Cat Breed FAQs
Here are some of our readers' most frequently asked questions about this popular breed.
There is something great about the Havana Brown cat breed.
Havana Cat Breed Review: Contents
Just when you finish admiring this gorgeous cat's looks, you will find there is even more to love about the Havana Brown cat personality!
What is a Havana Brown Cat?
The Havana Brown cat was originally named the Chestnut Foreign Shorthair.
But in 1970, the breed name was officially changed to Havana Brown and then to simply Havana.
As we already know, there are now two varieties of the Havana cat. These are the English, or European Havana Brown, and the North American Havana Brown.
The North American line doesn't include significant Siamese influence and is stockier.
This line stems from a single imported female named Roofspringer Mahogany Quinn.
In 1983 a new coat coloration was introduced, lilac (a pink-grey color). Plus, the breed name was formally changed again to simply Havana.
Havana Brown Cat History
This cat actually hails from an ancient line. It potentially dates back to the kingdom of Siam (now Thailand).
But, the line moved erratically forward after it left Siam, all but dying out. Until it reappeared in early modern shows under the breed name of Swiss Mountain Cat.
Just how it got that name is unclear!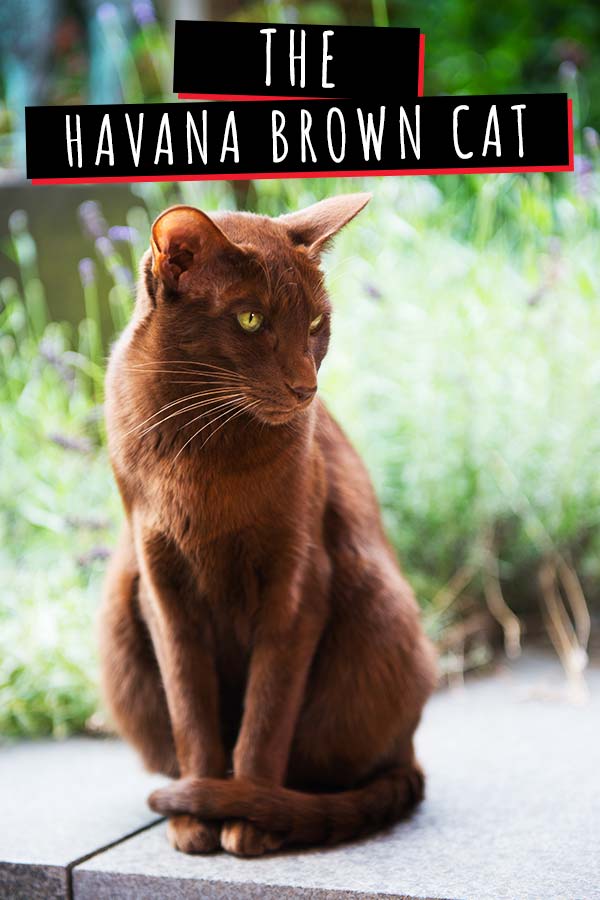 The modern version of the Havana Brown cat owes its existence to a trio of enterprising British breeders. Baroness Miranda Von Ullman, Mrs. Anne Hargreaves, and Mrs. E. Fisher.
These women co-created a "recipe" that made the modern breed version of Havana Brown.
The recipe included a "dash" of Russian Blue and a healthy helping of black shorthair. They set this on a base of chocolate point Siamese mixed with seal point Siamese.
Elmtower Bronze Idol, a Havana Brown with a suitably regal name, was the first cat registered from this new breed.
Havana Brown Cat Personality
Havana Brown cats are very engaging! They are lively, intelligent, curious and affectionate.
One breeder likens this cat's personality as having "gone to finishing school."
Many Havana cat owners remark on this cat's habit of reaching out with a paw to touch anything new. Plus, they also like to keep a paw on their owner to enjoy that closeness.
The Havana Brown cat loves to play. It wants to be a part of whatever you are doing.
Havana Brown Cat Temperament
These cats easily adapt to households with children and other pets. Including dogs!
They have a medium energy level. So a Havana can readily enjoy a nice rest when you are busy doing other things.
The Havana cat is not overly vocal. It prefers using its paws to ask for attention or explore new things. But, you will hear the occasional trill or chirp.
This breed will suit households looking for a personable, playful, affectionate breed. As long as they are well socialized as kittens, they'll be friendly and loving.
Can Havana Cats Go Outside?
This is a decision that will vary depending on owners. Havanas have unique appearances, and wonderful temperaments.
So they are likely to attract a lot of attention whilst outside, and will usually not shy away from strangers.
This is all thanks to their intelligent and curious personalities.
Havanas will likely love exploring the outside world, but there are times when this curiosity can be dangerous for cats – particularly if you live in build up areas with lots of busy roads.
Ultimately, this decision will depend on your circumstances. But, you can read more about the debate here.
Havana Brown Cat Weight
When you pick up a Havana Brown cat, you will notice this cat looks lighter than it is!
This cat's appearance is pretty unusual. The Havana Brown cat's head is long. Plus, some owners describe its muzzle as "light bulb-shaped."
Plus, this cat's ears are large and striking, set up high on the head. They are often described as "bat-like," giving this kitty something of a superhero quality.
It is described as a medium-to-large cat breed. So, Havana brown females typically weigh in at six to eight pounds. While males will generally weigh eight to 10 pounds.
Havana Brown Cat Colors and Coats
This cat's original coat coloration actually inspired its name. It is often likened to the rich brown of the cigar by the same name.
The Havana Brown color is sometimes described as "chocolate delight". So, it tends towards the red-brown spectrum, giving it a warm, rich, rippling look.
The Havana brown hair color has since expanded to include the Havana lilac cat as well.
Kittens of either coat coloration (brown, lilac) may be born with ghost markings. But these will disappear as your kitten grows up.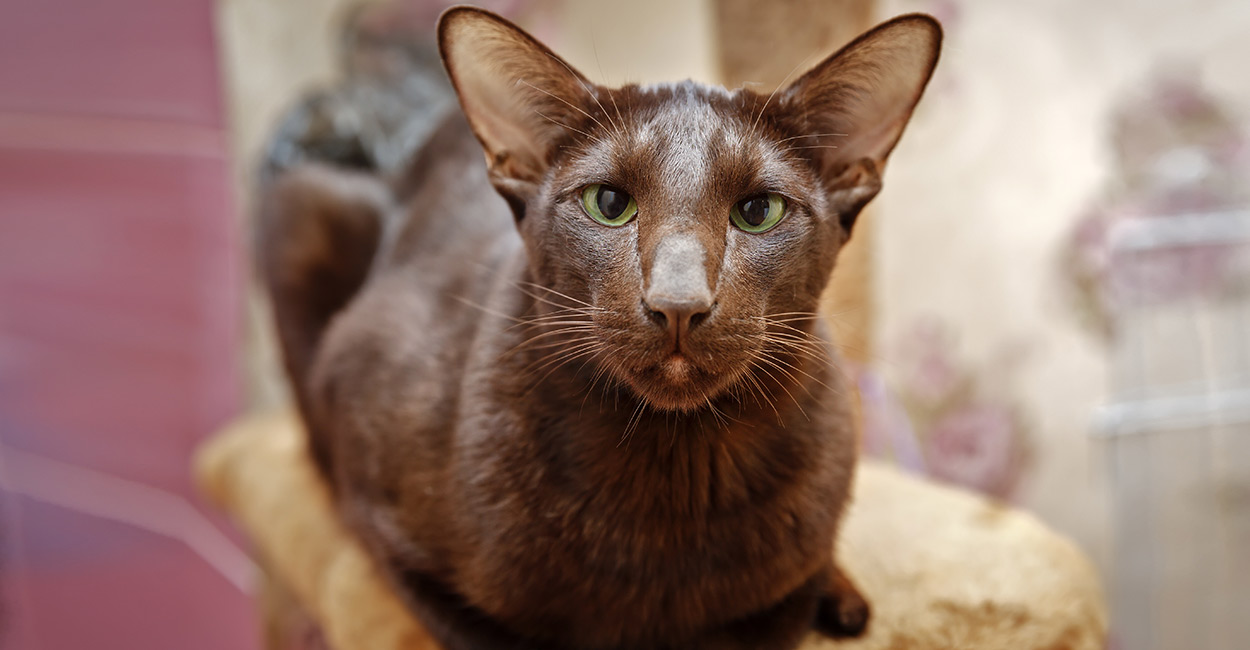 Whiskers must be brown (not white) to qualify this cat for the show ring. The eyes are oval and green.
The ears and lower chin have very little hair. Which is something else that is different about this breed.
Grooming your Havana Brown Cat
Havana cats with either coat coloration are easy to groom.
The coat is short, lustrous and close. So, it is easy to give your cat a full brushing without encountering any mats or tangles.
But, it is important to establish a regular brushing and grooming routine. Include cleaning the ears, clipping the claws and examining your cat's body.
Luckily the Havana cat loves attention. So, it will be an eager participant in this process.
Havana Brown Cat Shedding
The Havana cat sheds only minimally. So, it requires little in the way of any formal grooming.
Grooming regularly, as we suggested in the previous section, will help to control the small amount of shedding that the Havana does experience.
A low shedding breed like this is popular with people who suffer from cat allergies.
But does the Havana qualify as hypoallergenic?
Are Havana Cats Hypoallergenic?
Hypoallergenic is a term given to cats that are least likely to prompt allergic reactions.
Truly, no cat breed is completely hypoallergenic, and there's always a risk that allergies are possible.
This is because the allergens that cause reactions in most people are present in your cat's saliva, skin flakes, and perianal glands.
If you are usually allergic to cats, the best idea is to spend some time with a Havana cat before you bring them home.
This will help you assess how badly affected you are.
Havana Cat Health Problems
Because the gene pool for the Havana Brown is not diverse, this breed can be prone to certain genetic-based health issues.
These aside, the Havana Brown cat is a healthy breed overall.
These are the health conditions of the Havana cat which are known to have a genetic component.
Cardiomyopathy
Cardiomyopathy, or heart disease, isn't just a risk for people today. Felines are also increasingly at risk of developing heart disease.
Heart disease can develop from genetic predisposition in the breed line. Or through other conditions that may cause damage to the heart muscle.
The Havana Brown's predisposition to thyroid dysfunction can also damage the heart, causing it to thicken and struggle to pump effectively.
Since treatment is available, catching heart disease early is the best way to limit its impact on your cat's life.
There is a genetic test called HCM which can detect whether breeding cats have inheritable cardiomyopathy they could pass on to their kittens.
Arterial Thromboembolism
FATE, or feline aortic thromboembolism, is a fancy name for blood clots in the heart arteries.
While symptoms can vary, the most reported symptom is sudden hind-leg paralysis.
This is life-threatening and your cat needs emergency veterinarian care!
The risk of your cat developing FATE is linked to a diagnosis of cardiomyopathy.
Feline Lower Urinary Tract Diseases (FLUTD)
There are a number of conditions that fall under the umbrella of "FLUTD."
Often, the first signs that your cat has this condition include peeing outside the litter box, even after being neutered or spayed.
Another symptom is inability to pee, especially in male cats. This is life-threatening and requires emergency veterinary care!
Havana Brown cats are known to be predisposed to developing bladder stones, or calculi (calcium deposits). The presence of these stones can lead to FLUTD.
FLUTD is also linked to a diagnosis of diabetes and kidney disease. The most common treatment is dietary changes.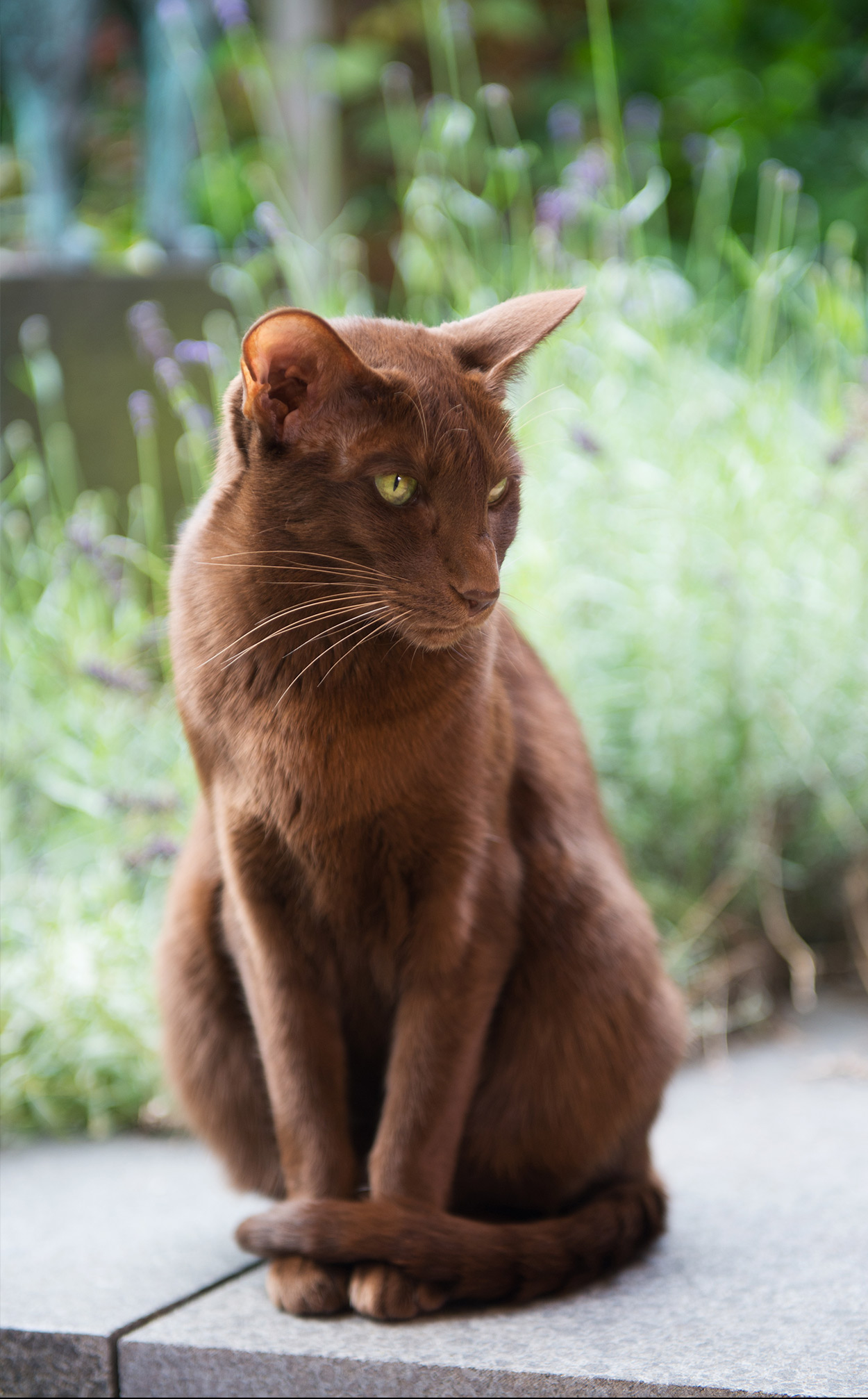 Hemophilia
Hemophilia is a heritable disorder of the blood which impacts clotting function.
When the blood can't clot, even a simple injury can be fatal.
The best test is diagnostic in nature. Your vet will need to do a test to monitor clotting time to detect if it is abnormal.
It is vital to do this test before your cat has any type of medical procedure!
Kidney Disease
Many older cats develop kidney disease, which is linked to FLUTD. But there is a genetic kind as well.
Havana cat breeders should keep details of recorded incidents of kidney disease in a kitten's family tree, and avoid breeding from cats likely to pass on hereditary renal disease.
Hyperthyroidism
The Havana Brown cat is prone to hyperthyroidism. This is when the thyroid develops a tumor (usually benign) that causes the gland to produce more hormones.
The early signs are:
Vomiting
Restlessness
Increased drinking
Weight loss.
Your vet can do a test to determine if there is a thyroid dysfunction or a tumor. Treatment is available for this condition. But it is best caught early!
Diabetes
Diabetes is another serious health condition that affects both people and cats.
For some cats, diabetes may not be triggered unless they become overweight or obese.
But, the Havana Brown cat breed is affected by genetic diabetes. So, it is more likely your cat will become diabetic no matter what.
Your vet can do a test to detect diabetes, which is typically treated with either dietary modification alone or in combination with insulin injections.
Allergies
Havana Brown cats are prone to skin allergies (atopy). This may or may not have a genetic basis.
The first symptoms to appear are usually excessive itching or licking certain areas.
Food allergies, environmental allergies or pollen/mold allergies are often the culprit.
Your vet can do tests to determine what is causing the allergy and prescribe the appropriate treatment.
Havana Brown Cat Lifespan
The Havana Brown cat is a long-lived cat breed. It can easily live 15 to 20 years.
As with any pet cat, the Havana cat's diet, fitness level, enrichment and lifestyle as well as genetics are a significant factor in how long any individual cat may live.
Caring for your Havana Brown Cat
To encourage the longest lifespan in your Havana cat breed, you need to take the best care of them.
Although they have no special care needs, make sure you keep up with regular grooming, vet checks and even check them over at home for any problems.
A large part of keeping a healthy Havana Brown is making sure they are on the best diet possible.
Havana Cat Food
These cats are prone to obesity if free-feeding is not accompanied by sufficient exercise and playtime.
Obesity can increase the risk of your Havana brown developing diabetes, heart disease and other serious health conditions later in life.
So, be careful that you are feeding your cat a good quality food, and no more than they need.
Be careful about giving too many treats outside of mealtime. If you are worried about your cat's weight, take them to the vet for more help.
Are Havana Brown Cats Good Pets?
The Havana Brown cat is still rare. But it is increasingly sought after. This is because these cats are as beautiful on the inside as they are on the outside!
These friendly felines make great pets if you're looking for company from your cat.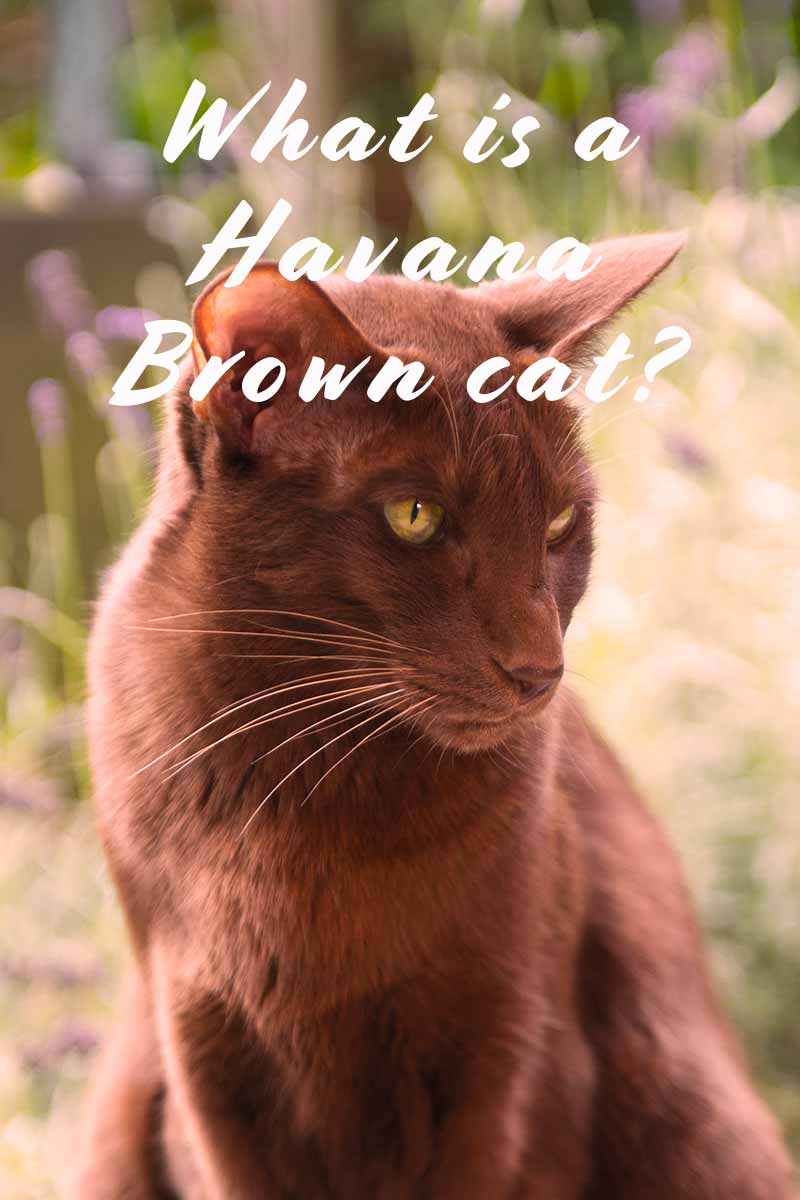 They'll want to hang out with you regularly. Not just when the food bowl comes out.
At the moment their low numbers put them out of reach for many of us.
But as the breed goes from strength to strength, maybe we'll see a lot more of these improbable-looking cats.
Havana Brown Cat Breeders
There may be as few as 1,000 Havana cats living in North America at any given time. Plus, many people have never even heard of this breed, let alone seen one.
This breed is the only cat that sports its signature dark chocolate-brown coat. But there are so few of these cats in the world that breeders are permitted to cross this breed with unregistered shorthairs with blue or black coats to attempt to enhance the gene pool.
Because Havana Brown kittens can be hard to come by, you need to be especially vigilant, So, do adequate research and be sure the Havana Brown cat breeders you work with are legitimate.
If you work with a breeder locally or at a distance, be aware that reputable Havana Brown cat breeders should be willing – eager, even – to prove an authentic pedigree of their breeding pairs.
Havana Kitten Price
The rarity of Havana Brown kittens typically impacts Havana Brown cat price.
Kittens may cost upwards of $1,250. Especially if the kitten hails from a championship line.
You may find that adopting a mature Havana Brown cat, especially one that will not be bred, is more affordable.
Havana Brown Kittens
The Havana Brown cat breed is quite rare. So, finding Havana brown kittens can be a challenge!
Always make every effort to visit the cattery in person. Examine the licensing and pedigree of breeding pairs, meet the kitten's parents, interact with the litter of kittens and talk with references before purchasing a kitten from any breeder.
Given the rarity of Havana Brown cats worldwide, legitimate Havana Brown breeders often have long waiting lists.
But the good news is that Havana Brown cat owners say it is always worth the wait to enjoy the company of a Havana Brown kitten of your very own!
Rescuing a Havana Brown Cat
If you are interested in adopting a Havana Brown cat from a shelter or rescue organization and want to verify pedigree, the University of California Davis Veterinary Genetics Laboratory has a feline ancestry test you can order to verify that your kitten's ancestry is authentic.
The only issue with rescuing a Havana Brown cat is simply finding one. These cats are very hard to come across because they're so popular.
You may find breed specific rescues for these cats in places, but it's not hugely likely.
Instead, let rescue centers know what you're looking for, and they may be willing to notify you if a Havana comes in.
Havana Brown Cat Mixes
Havana Brown Cats are hard to come across purebred. So, you may have more luck finding a mixed breed cat with some Havana ancestry.
Mixed breeds are becoming more popular in recent years.
But, it's just as important to choose a reputable breeder when you're looking for a healthy Havana mix kitten.
Scroll back up to our section on breeders and kittens if you missed the tips on finding the best breeder possible.
Pros And Cons of Getting A Havana Brown Cat
Let's take a quick look at the main points to take away about this breed.
Cons
These cats are really hard to find
Rarity means prices are high
Some disreputable breeders may try to pass of mixed breeds as purebred for extra sales
A number of possible health problems
Prone to obesity
Great with kids and other animals
Havanas have wonderful temperaments
Low shedding breed
If you can get your hands on one, you'll have a very unique cat
Should I get a Havana Brown Cat?
Have you decided that this lovely cat breed is right for your home? Or do you already live with one of these lovely felines?
Please drop us a comment to share your story!
References And Resources
The Cat Fanciers Association
The International Cat Association
Kang, H. (et al), 'Havana Brown', UNI Pet Clinic (2018)
Mokolea, D., 'Exclusively Havana Browns: Acquiring a Havana Brown Kitten', Mokolea Cattery (2011)
Lipinski, M. J. (et al) 'The ascent of cat breeds: Genetic evaluations of breeds and worldwide random-bred populations', Science Direct: The Journal of Genomics (2008)
Bell, J. (et al) 'Veterinary Medical Guide to Dog and Cat Breeds', CRC Press Medical, (2012)
Lyons, L. A. (et al) 'A Short Natural History of the Cat and Its Relationship with Humans', The Cat: Clinical Management and Medicine (2012)
Lockey, R. 'The Myth of Hypoallergenic Dogs (and Cats)', The Journal of Allergy and Clinical Immunology (2012)
Butt, A. (et al), 'Do Hypoallergenic Cats and Dogs Exist?', Annals of Allergy, Asthma and Immunology (2012)