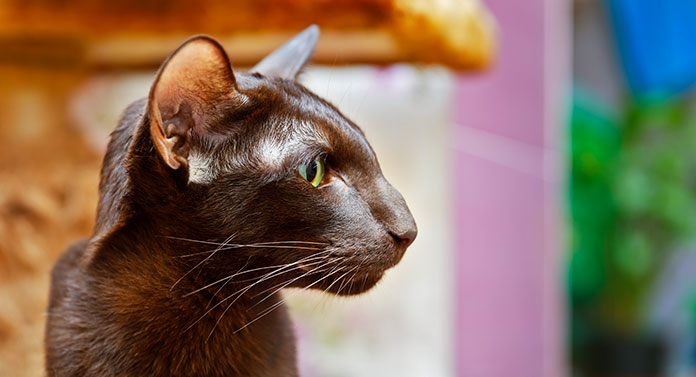 The Havana Brown cat has a narrow profile and a long nose. Their coats are usually deepest brown, but they can also come in lilac shades. Their eyes are emerald and oval, giving them a serious expression that belies a fun loving, playful nature. Today, there are two distinct Havana Brown lines, the English or European and the North American Havana Brown. They are both engaging, affectionate and curious, and make excellent family pets.
Contents
How They Developed
Modern Havana cats include a dash of Russian Blue and a healthy helping of black shorthair. They set this on a base of chocolate point Siamese mixed with seal point Siamese.
The North American line doesn't include significant Siamese influence and is stockier. In 1983 a new coat coloration was introduced, lilac (a pink-grey color). Plus, the breed name was formally changed again to simply Havana.
Characteristics
Havana cats physically look a lot like your typical wedge head Siamese, with a narrow chin and broader forehead. Their large striking ears are often nearly bald, and set high on their head. They can even have that classic squint in their green, oval eyes.
This is a medium to large sized breed, with adults weighing somewhere between six and ten pounds when fully grown.
Colors and Coats
This cat's original coat coloration of course inspired its name. Often likened to the rich brown of the cigar by the same name, the Havana's color is sometimes described as chocolate delight. It tends towards the red-brown spectrum, giving it a warm, rich, rippling look.
These cats also come in a lilac purple hue, and kittens of either coat coloration may be born with ghost markings.
Whiskers must be brown to qualify this cat for the show ring. The ears and lower chin have very little hair. Which is something else that is different about this breed.
Shedding and Grooming
Havana cats with either coat coloration are low shedding and easy to groom. Their coat is short, lustrous and close. So, it is easy to give your cat a full brushing without encountering any mats or tangles.
But, it is important to establish a regular brushing and grooming routine. Include cleaning the ears, clipping the claws and examining your cat's body. Luckily the Havana cat loves attention. So, it will be an eager participant in this process.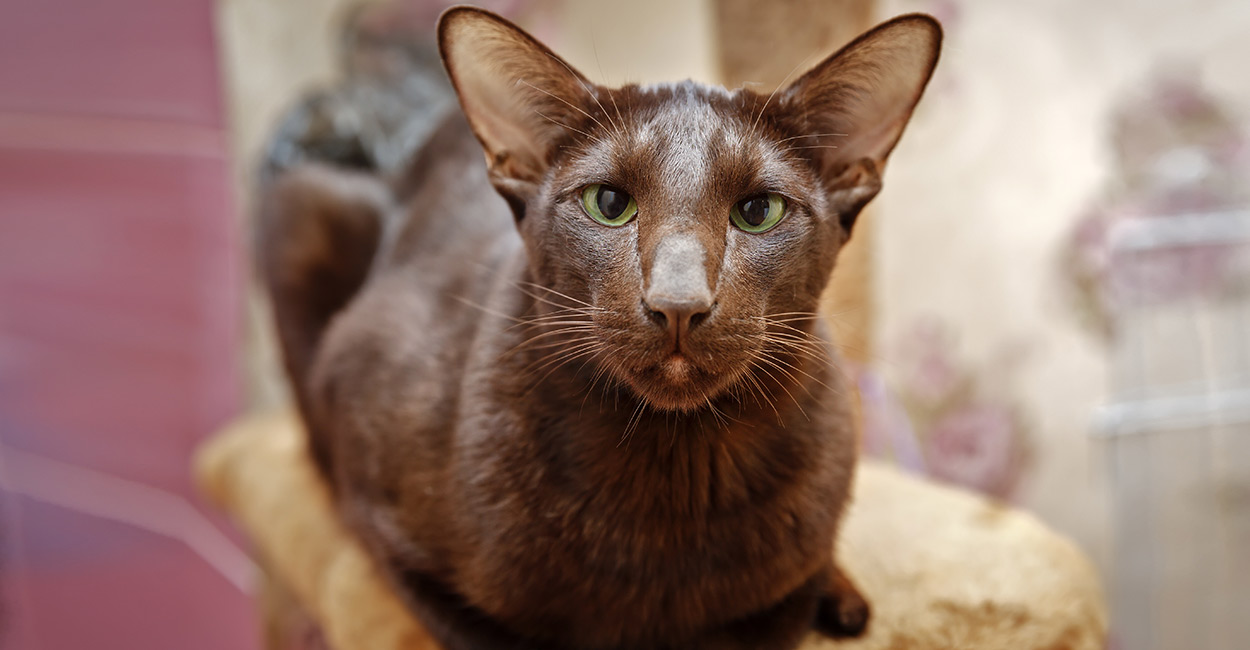 Are They Good Pets?
Havana Brown cats are very engaging! They are lively, intelligent, curious and affectionate. They also love to play. It wants to be a part of whatever you are doing. These cats easily adapt to households with children and other pets. Including dogs! They have a medium energy level. So a Havana can readily enjoy a nice rest when you are busy doing other things.
They have a cute habit of reaching out with a paw to touch anything new, and they also like to keep a paw on their owner to enjoy that closeness. The breed is not overly vocal. It prefers using its paws to ask for attention or explore new things. But, you will hear the occasional trill or chirp.
Potential Health Problems
Although generally a healhty breed, these cats do suffer from some inherited genetic conditions that might be more prevalent due to their small gene pool:
Heart problems
Urinary tract disease
Hemophilia
Kidney issues
Hyperthyroidism
Diabetes
Allergies
It is however a long lived breed, often reaching 15 to 20 years.
Special Care
To encourage the longest lifespan in your Havana cat breed, you need to take the best care of them. Although they have no special care needs, make sure you keep up with regular grooming, vet checks and even check them over at home for any problems. A large part of keeping a healthy Havana Brown is making sure they are on the best diet possible.
These cats are prone to obesity if free-feeding is not accompanied by sufficient exercise and playtime. Weight gain can increase the risk of your Havana brown developing diabetes, heart disease and other serious health conditions later in life. So, be careful that you are feeding your cat a good quality food, and no more than they need.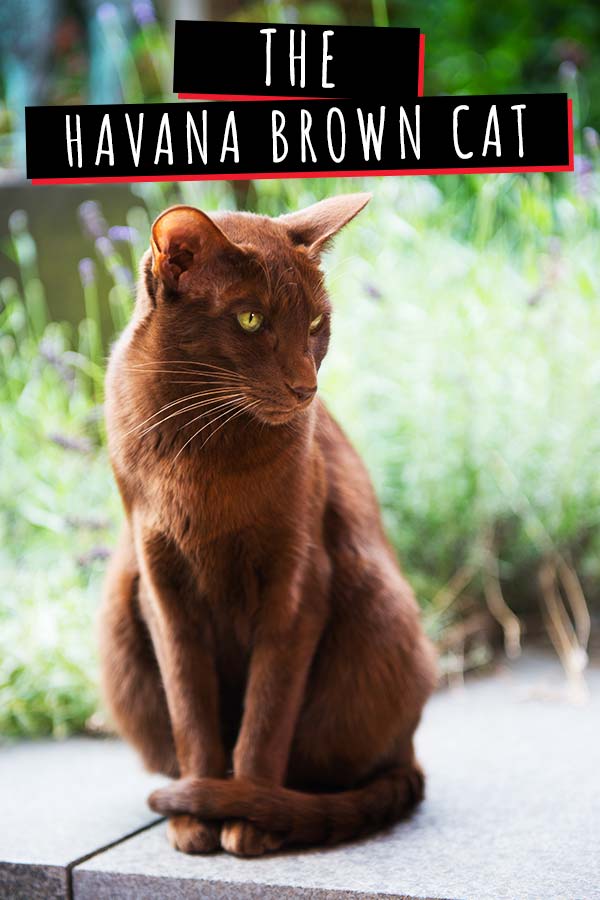 Havana Brown Kittens and Cat Breeders
There may be as few as 1,000 Havana cats living in North America at any given time. Plus, many people have never even heard of this breed, let alone seen one.
This breed is the only cat that sports its signature dark chocolate-brown coat. But there are so few of these cats in the world that breeders are permitted to cross this breed with unregistered shorthairs with blue or black coats to attempt to enhance the gene pool.
The rarity of Havana Brown kittens typically impacts Havana Brown cat price. Kittens may cost upwards of $1,250. Especially if the kitten hails from a championship line. You may find that adopting a mature Havana Brown cat, especially one that will not be bred, is more affordable.
What About Rescue?
If you are interested in adopting a Havana Brown cat from a shelter or rescue organization and want to verify pedigree, the University of California Davis Veterinary Genetics Laboratory has a feline ancestry test you can order to verify that your kitten's ancestry is authentic.
The only issue with rescuing a Havana Brown cat is simply finding one. These cats are very hard to come across because they're so popular.