Welcome to our detailed and candid review of the Munchkin cat.
In a world obsessed with designer brands, pets are no exception.
Whatever look you are after, whether it be long and lean, or small and fluffy, you can find a pet that takes your fancy.
While this is not always a problem, deliberately breeding pets with exaggerated physical features has the potential to cause them pain, discomfort and distress.
What about the Munchkin cat?
A relatively newcomer to the world of recognized cat breeds, there is already much controversy surrounding this distinctive kitty with short, stumpy legs.
Let's have a look at some Munchkin cat facts, and in particular, Munchkin cat health issues.
What is a Munchkin Cat?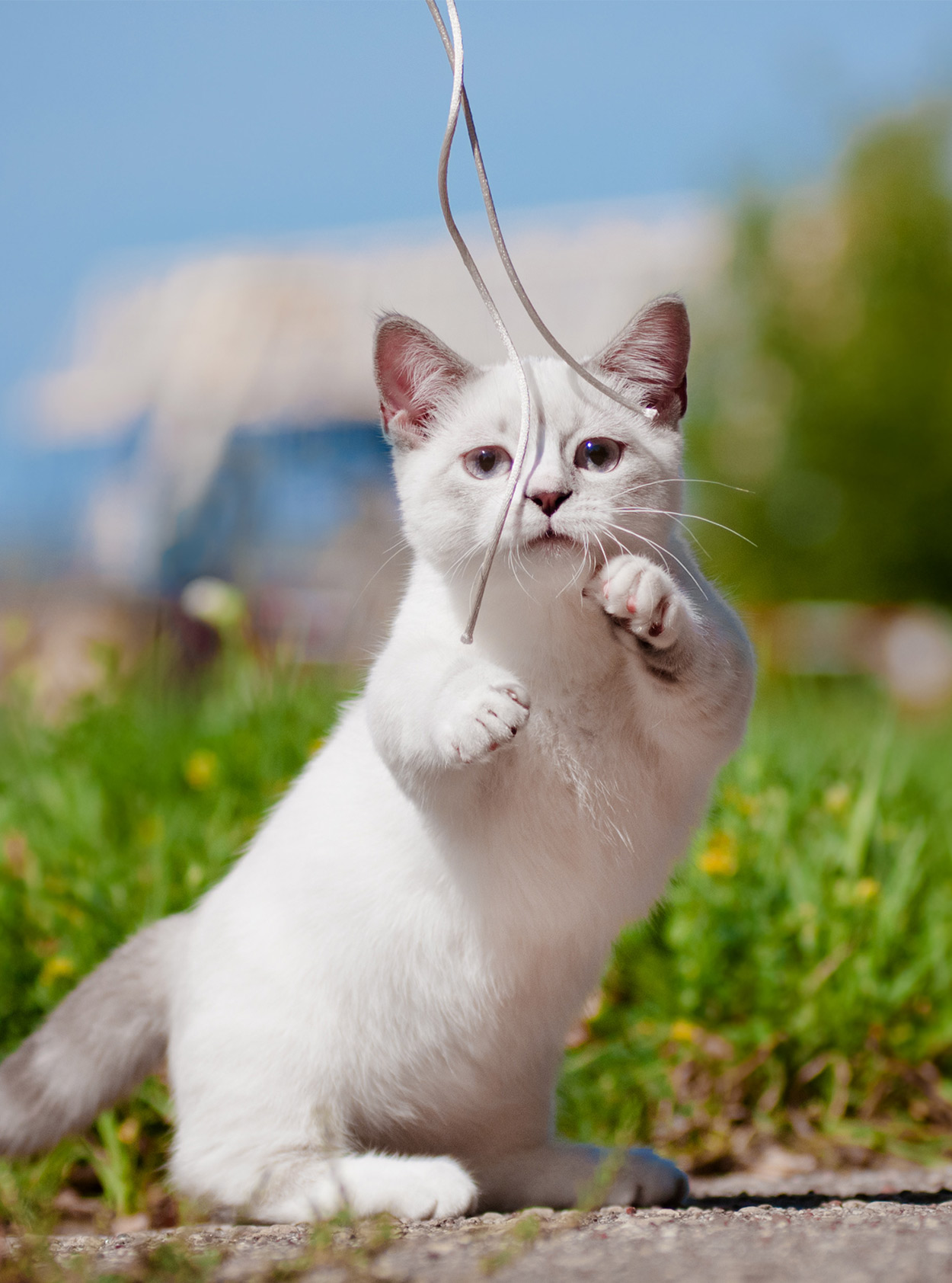 Perhaps you have come across a picture of a baby Munchkin cat online.
A Munchkin cat kitten is a little fluffy bundle, with big round eyes and cute little paws that look like cotton balls.
And the real kicker is this – these cute little kittens promise to stay small and cute – a Munchkin cat adult won't grow to be much taller than that kitten you see in the picture.
How Does an Adult Munchkin Cat Stay Small?
Munchkin cats have been bred to have disproportionately short legs.
This means that an adult Munchkin cat will look like a normal adult cat until you get to the legs.
The legs are short and stumpy, a bit like a Dachshund dog.
The Munchkin cat's short stature is the result of a genetic mutation called pseudoachondroplasia, commonly referred to as dwarfism.
The characteristics of an individual with pseudoachondroplasia can also be seen in humans who have the condition.
Deliberately Downsizing Cats
Aside from the Munchkin cat, which is really a dwarf cat, there are other breeds of cat that have been miniaturized.
This is accomplished by "ultra-typing" or picking the smallest cats of each generation and breeding them.
If you would like to know more about the difference between dwarf breeds as opposed to miniature breeds, you can read more about them in our article on teacup cats and miniature cats.
Munchkin Cat History
There have been reports of the existence of dwarf cats throughout history.
In England, for example, dwarf cats were reported to be in existence in the 1930's and 40's and were discussed in a British veterinary report of 1944.
This line seemed to disappear during WWII, but stumpy legged cats popped up again in the 1950's through 1970's in various spots around the world, even Russia!
In 1983, a pregnant female cat with the distinctive short legs of the Munchkin breed we have come to know today was adopted by a lady in America.
She went on to have a few litters, and between her and one of the male kittens she produced, the foundations of the Munchkin cat pedigree were established.
In 1994, The International Cat Association accepted the Munchkin into their new breed development program and granted the breed championship status in 2003.
Munchkin Cat Size
Munchkin cats are described as a medium sized cat despite their short legs.
So, how big do Munchkin cats get?
They will usually weigh between five and nine pounds when fully grown.
This might be a little bigger than some expect, given that an average cat breed is around nine or 10 pounds fully grown.
But the truth is that other than their short legs, a full-grown Munchkin cat is otherwise the same size as any other cat.
Munchkin Cat Personality
The International Cat Association describes the Munchkin cat as outgoing, active, sociable and "built for speed".
They also claim that they love to run, jump (albeit to more modest heights than other cats) and play with toys.
This description appears to be at loggerheads with studies that suggest pseudoachondroplasia in humans and other species puts them at higher risk of osteoarthritis and back problems.
By extension, it would seem a cat with the same condition would find it difficult to be so active.
We will talk more about the health issues associated with Munchkin cats later in this article.
Are Munchkin Cats Healthy?
The question of Munchkin cat health is the point from which the controversy around this breed springs.
Part of the difficulty in answering this question is a lack of data.
While there are studies being undertaken, it will be some time before definitive answers are found.
Proponents of the breed claim the cats suffer no ill effects as a result of their shortened limbs, and are happy, playful pets.
However, aside from some scientific studies suggesting otherwise, the ethics of deliberately breeding pets with genetic mutations that have the potential to impact on quality of life leaves some concerned.
Physical Limitations of Munchkin Cats
These cats cannot jump as high as cats with proportionate legs.
It must be questioned whether such physical limitations effect their quality of life.
A Munchkin cat's ability to protect itself and escape threatening situations without the help of humans may also be compromised as a result of these characteristics.
The physical limitations of this breed also mean that they may not be able to reach all areas of their body to groom themselves properly.
Munchkin owners may need to assist their cat to clean themselves.
Amongst humans, people with pseudoachondroplasia have a much higher incidence of joint and back problems, as well as some other health issues.
Because the Munchkin cat is relatively new as a breed, there have not been enough studies done to confirm that these cats will not suffer the same problems.
Behavioral Concerns in Munchkin Cats
Interestingly, another trait of these cats which has not been adequately studied yet is the tendency to hoard.
This appears to be a type of Obsessive Compulsive Disorder, which is known to be linked to anxiety.
While there has not been enough time invested to 'join the dots' on this behaviour, it will be interesting to see what is found in the future as to what may be driving it.
Munchkin Cat Crossbreeds
Another factor to consider is the other breeds with which Munchkin cats are cross bred.
Bambino cats or Napoleon cats are two examples of a Munchkin subtypes.
Each breed has its own inherent health problems.
Take the Napoleon cat as an example.
This subtype is a Munchkin cat crossed with a Persian.
The combination of brachycephaly and dwarfism means these kitties are at a great risk of back, joint and breathing problems.
Are Munchkin Cats Healthy Size?
There's a lot to suggest that deliberately breeding cats with exaggerated unnatural features is impairing their health and wellbeing.
Having said that, it can't be categorically stated that every single Munchkin cat is suffering terrible pain and anxiety due to their stature.
Healthy specimens can no doubt be found.
But the true effects of encouraging this mutation really needs to be studied before we can definitively state that Munchkin cat health is not detrimentally affected.
Further Munchkin Cat Health Problems
We have touched on the general concerns surrounding the health of the Munchkin cat.
Aside from these concerns there are some other disorders that have been found.
Progressive Retinal Atrophy
One such problem is progressive retinal atrophy.
This condition results in a gradual loss of sight and can eventually lead to blindness.
While this issue presents itself in various degrees of severity, if a Munchkin cat has this problem, it will usually start experiencing vision loss around one-and-a-half to two years of age.
An affected cat could well be completely blind around three or four years later.
Other breeds of cats such as the Persian have been found to have this disorder also, making any mixes of Persians and Munchkins at a very high risk of developing the condition.
Urinary Tract Infections
A study done in Japan in 2012 also found that Munchkin cats are at a higher risk of developing urinary tract disorders than some other breeds.
Recurring urinary tract infections are uncomfortable and distressing for proud cats, and necessitate frequent trips to the vet.
Bone and Joint Problems
Aside from these issues, additional concerns surrounding bone and joint problems, such as osteoarthritis, lorditis, and flat ribcage (pectum excavatum) are the main health issues associated with Munchkin cats.
Munchkin Cat Lifespan
All the talk of health concerns related to Munchkin cats might have left you wondering, "How long do Munchkin cats live?"
You may be surprised to learn that they have typically average lifespan.
You can expect a Munchkin cat to live anywhere between 12 and 14 years, although bear in mind the breed hasn't existed long enough for the longevity of many successive generations to be studied.
Alternative Small Breeds of Cat
You may be concerned about buying a Munchkin cat now that you have found out about some of the issues surrounding the breed.
But perhaps you are a fan of diminutive cats.
Are all small cats at higher risk of health problems?
Not at all!
While most breeds come with some hereditary issues, there are cat breeds out there that are small and dainty, but do not carry the same health risks as the Munchkin cat.
Singapura
This cat hails from Malaysia.
They are smaller in size than most other cats, weighing in at anywhere between five and eight pounds. Singapura kittens take longer than usual to reach full size; usually around 15 to 24 months.
They are a light flecked color, and have large, round intelligent eyes and a fine, muscular body.
They are smart and playful, and most will take pleasure in accompanying you throughout the day, whatever it is you happen to be doing.
Cornish Rex
Hailing from Cornwall, England, the unique looking Cornish Rex has a short, velvety, curly coat, big ears and fine features.
They are energetic, inquisitive and kitten-like in nature.
These cats are typically between 6 and 10 pounds when fully grown. Despite their fine and delicate appearance, they are sturdy and agile.
Devon Rex
Generally weighing six to nine pounds, the Devon Rex sports a similarly curly, soft coat as does the Cornish Rex, and also has the huge ears.
However, the Devon Rex also has an elfin face and a more impish temperament.
If you are a fan of cats big on personality and not so big on size, that have a distinctive look, then the Devon Rex might be a good fit for you.
American Curl
Yet another breed of cat that offers something a little different in the looks department, the American Curl has distinctive ears that curl back resembling something like a lynx; only much smaller and far cuddlier.
Loyal and friendly, these cats are medium sized, and have a luxuriant tail, and a more rectangular shaped body.
So, if you are not so much of a fan of long and lean cats as the breeds mentioned above tend to be, you might want to get to know an American Curl.
Is a Munchkin Cat a Good Pet?
While it cannot be denied that some find the distinctive stumpy legs of the Munchkin cat adorable, it is worth taking a moment to think about the welfare of these cats before jumping in to buy one.
We believe that happy pets are a healthy shape, and selective breeding should never be allowed to compromise cats' quality of life.
Sadly, on the evidence currently available, we cannot in good conscience recommend a Munchkin cat as a pet.
The good news is that if you are a fan of small cats with big personalities, then there are other breeds out there that fit the profile, without the same health issues.

Are You a Fan of Small Cats?
Have you had any experience with the Munchkin, or any other breed of cat that we have talked about in this article?
If so, let us know your thoughts in the comments section below.
References
Gunn-Moore, D., Bessant, C., Malik, R., Breed Related Disorders of Cats Journal of Small Animal Practice, Wiley, 2008
The International Cat Association – Munchkin
U.S National Library of Medicine – Pseudoachondroplasia
Dodmon, Dr. Winn Feline Foundation – "Cat Tales" of Genetics and Behaviour, 2016
Yamazaki, M., Inoue, M., Suguira, A., Association between age, breed and sex in relation to urinary disorders in insured cats in Japan during fiscal year 2012, Internal Medicine, 2016
Gustafsson, K. Genetics and Phenotypes of Chondroplasia (Achodroplasia) Across Domestic Animals Species, 2015
McKeand, J., Rotta, J., Hecht, J.T., Natural history study of pseudoachondroplasia, American Journal of Medial Genetics, 1996
Preston, S.D., Hoarding in Animals: The Argument for a Homology, The Oxford Handbook of Hoarding and Acquiring 2013