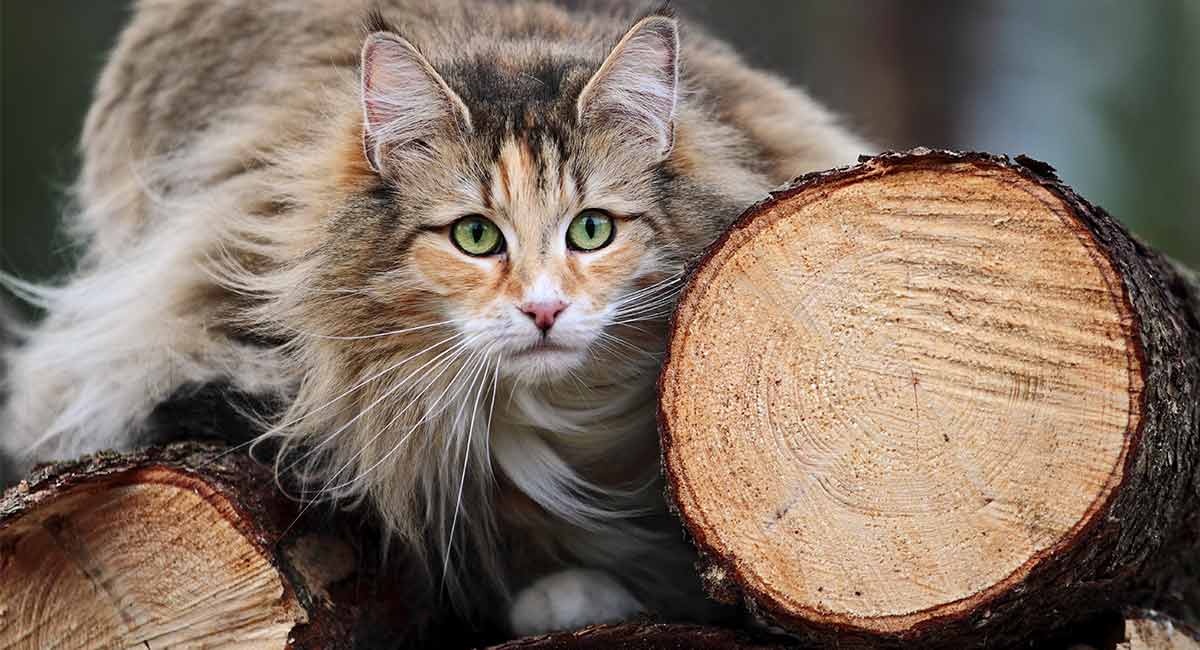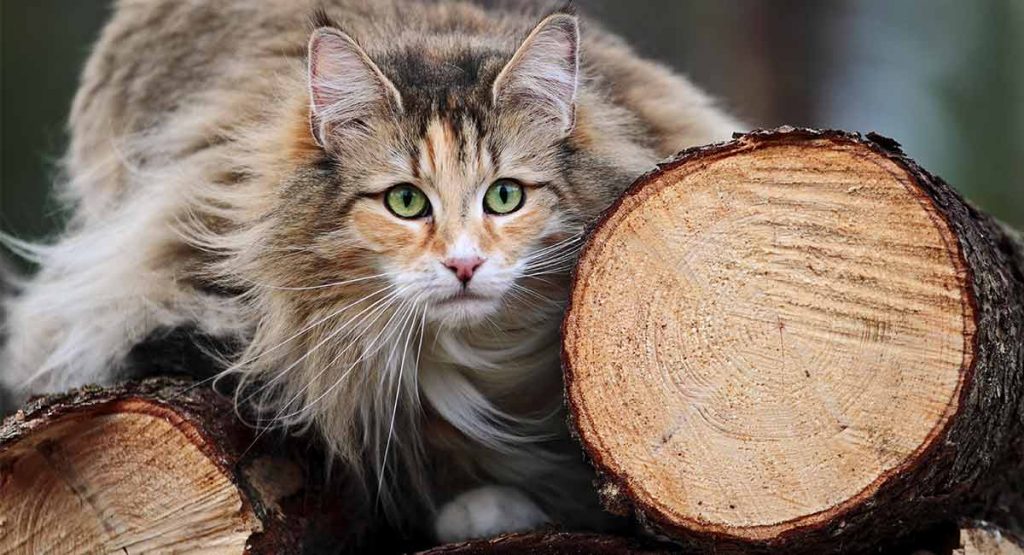 The Norwegian Forest cat personality may seem rugged and independent.
Upon closer examination, you will discover a true "homebody" cat that thrives best when included in an active, social household.
Due to this cat's original Scandinavian birthplace, today's Norwegian Forest cat also goes by several traditional names.
These include the Wegie, the Skogkatt, the Norskogkatt, the Norsk Skogkatt and the Norskskaukatt.
In this short, focused article, we take a close look at the Norwegian Forest cat personality!
Norwegian Forest cat personality vs appearance
Intriguing feline science studies have recently investigated possible links between cat appearance and personality.
So let's take a look at the Norwegian Forest Cat personality in terms of its appearance to see if we find some hidden cat personality clues!
Male Norwegian Forest cats can weigh anywhere from 13 to 22+ pounds in adulthood. Female Wegies may weigh only half to two-thirds of that.
The Norwegian Forest cat has a wide, open, even-featured, triangular-shaped face.
This cat's eyes are large, almond-shaped and wide-set. The ears are proportionate in size and up-turned.
Their coat is naturally water-repellent and semi-longhaired, thick and double-layered, with longer, coarser waterproof top hairs layered over a soft, dense insulating undercoat.
The Norwegian Forest cat also sports a massive front ruff of hair and a rear ruff, along with a very bushy tail and fully tufted paws to protect from the cold.
The color of the Norwegian Forest cat coat can vary from traditional brown tabby and white markings, to solid colors ranging from white to black, and every color and pattern in between.
What does that tell us about Norwegian Forest cat personality?
Overall, personality clues picked up from studying the Norwegian Forest cat's appearance indicate that this is a smart, sizable cat with natural strength, grace and agility and confidence even in ever-changing conditions and terrain.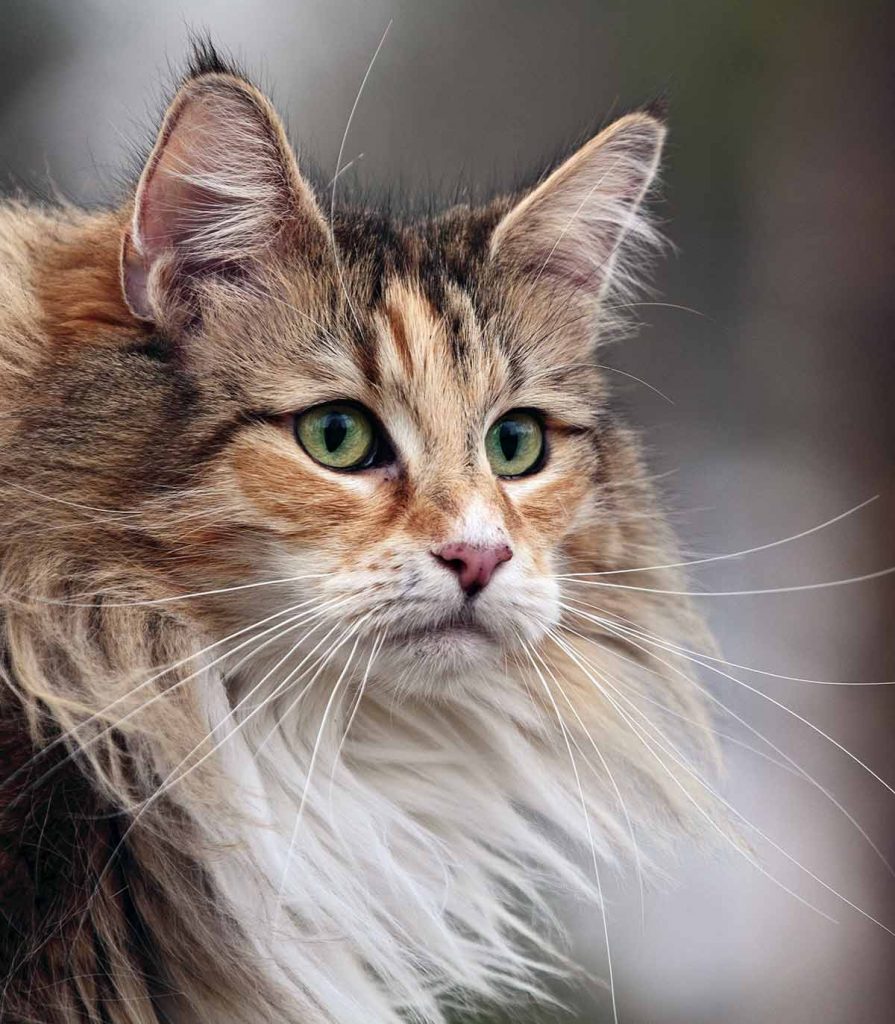 Norwegian Forest Cat personality – the science
Over the last few years, a number of intriguing feline research studies have been published on the subject of cat personality "typing."
Investigating the results of these studies may shed more light on the Norwegian Forest cat personality.
One study took a look at possible correlations between cat coat color and personality.
While this study failed to establish any definitive connections between cat coat color and personality, one interesting finding did show that people perceive a cat's personality differently depending on the cat's coat coloration!
For example, human study participants rated orange cats as "friendlier," tri-colored cats as "intolerant," and white or tri-colored cats as "aloof."
White cats were also rated as "shy" compared to other colors.
The Norwegian Forest cat shows tremendous variation in coat color and pattern, and nearly all colors and patterns are acceptable in the show ring, which is a relative rarity among show-worthy purebred cat breeds today.
From this we can deduce that, most probably, there is no important personality difference to be found among individual Wegie cats with different coat colors.
Norwegian Forest Cat Temperament Traits
Another feline research study took a look at a set of personality traits researchers dubbed the "Feline Five."
These traits included neuroticism, impulsiveness, dominance, extroversion, and agreeableness.
Researchers hypothesized that assessing a cat's dominant personality traits could be helpful for problem-solving in feline placement and in the home.
For instance, if a cat is showing neurotic tendencies (changeable personality), establishing greater consistency and routine in daily life may help to ease anxiety.
Past feline research tells us that gender, birth order, parents, genetics, health, upbringing, early training and socialization and other environmental factors can each influence where individual Norwegian Forest kittens temperament falls along the spectrum for each of these "feline five" personality traits.
However, to hear breeders and cat owners tell it, "typical" Norwegian Forest cat traits, in a healthy, well-socialized cat, tend towards extraversion, agreeableness and dominance.
Norwegian Forest cat temperament
The Norwegian Forest cat is a natural cat breed, which means this cat was domesticated directly out of a wild/feral setting.
First employed as a "ship mouser" aboard ancient Norse fishing vessels, this cat has a very long history of close collaboration with people.
The Norwegian Forest cat characteristics we recognize as fairly constant in the breed today have arisen out of this long and willing association with people.
The result is a balanced cat with a rugged body and temperament who can withstand the rough-housing of children, the changing days of an active household and the ongoing company of other pets with equanimity.
Typical Norwegian Forest cat personality
Does the Norwegian Forest cat sound like the ideal cat breed for you? Post us a comment to share your thoughts and experiences!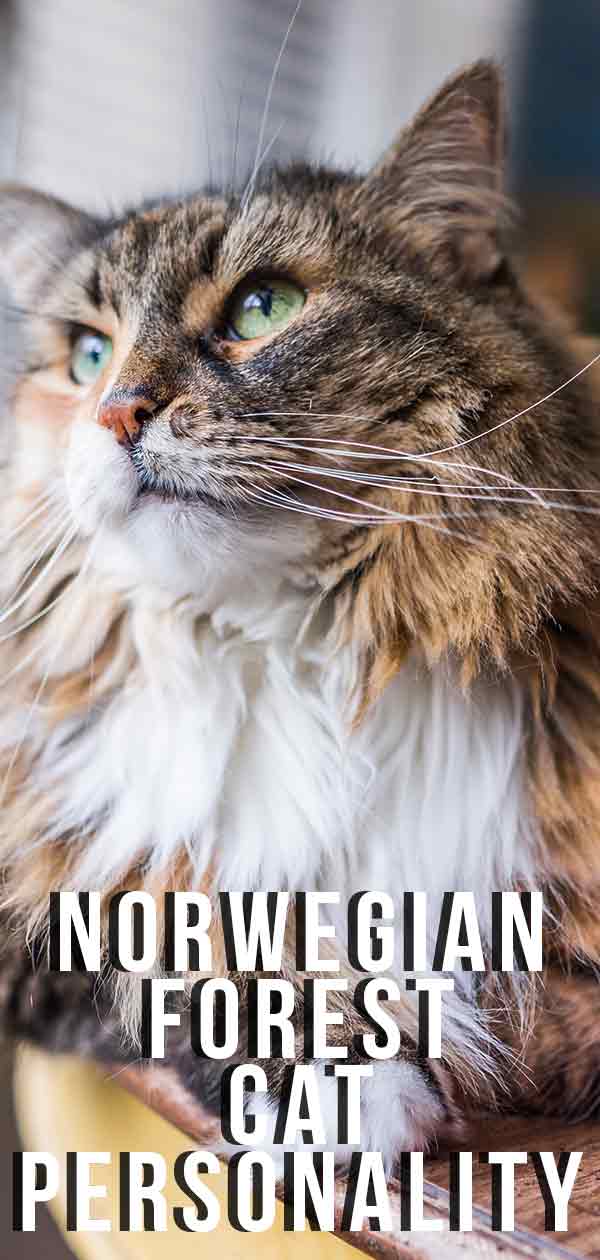 Resources
Barie, K., "About the Norwegian Forest Cat," The Cat Fanciers Association, 2018.
Delgado, M., et al, "Human Perceptions of Coat Color as an Indicator of Domestic Cat Personality," Anthrozoos Journal, 2015.
Pierce, J., PhD, "Do You Know Your Cat's Personality," Psychology Today, 2017.
Litchfield, C., et al, "The 'Feline Five': An exploration of personality in pet cats (Felis catus)," PLOS One Journals, 2017.
Lanesskog, T., "Norwegian Forest Cat – a Small Puma," Thor News, 2012.
Bennett, J., et al, "Norwegian Forest Cat," The Governing Council of the Cat Fancy UK, 2018.
Gartner, M.C., et al, "Personality Structure in the domestic cat," Journal of Comparative Psychology, 2014.