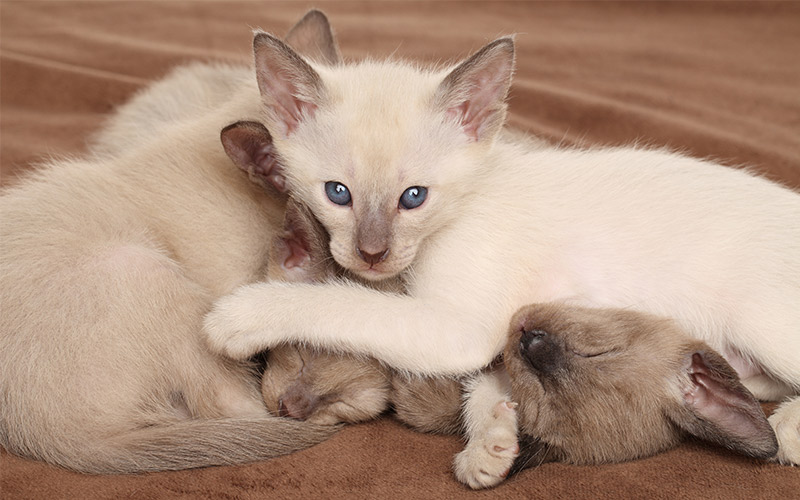 Welcome To Your Complete Guide To The Oriental Shorthair Breed. From Choosing An Oriental Shorthair Kitten, To Understanding And Caring For Oriental Shorthair Cats.
With regal ears and a majestic triangular head, the Oriental Shorthair is one striking feline.
Popular for its looks and distinctive personality, this breed has found fans all over the world and continues to attract new fanciers.
What is an Oriental Shorthair cat?
The Oriental Shorthair breed represents a diverse group of cats.
Thought to have roots in Thailand, the Oriental Shorthair breed as we know it today originated in Britain in the early 1900s.
It began as an offshoot of the Siamese, imported to the UK from Siam (now known as Thailand).
The Siamese is known for its restricted or pointed coat.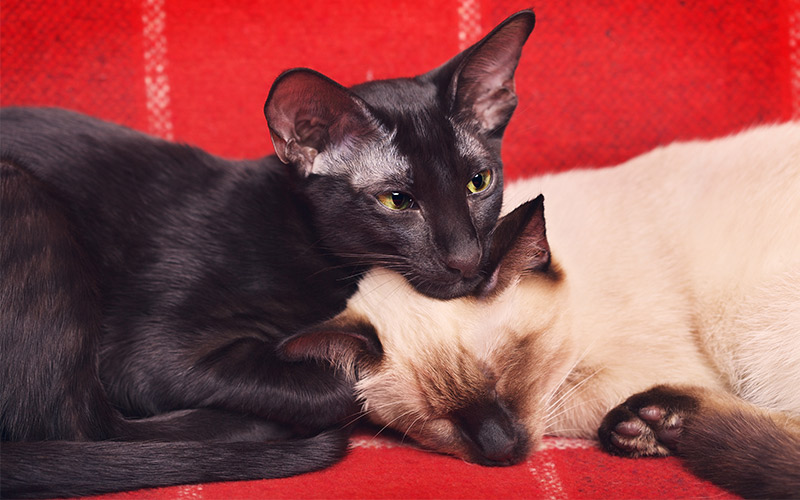 A light body with darker markings on the paws, ears and face.
However, because this color combo was caused by a recessive gene, early crossbreeding of Siamese cats with other breeds in the UK also resulted in cats with solid coats.
The descendants of these cats eventually became classified as the Oriental Shorthair . A breed that was first accepted for championship status in the organization in 1977.
Oriental Shorthair cats soon became one of the association's most popular breeds, and is now beloved by cat fanciers around the globe.
Oriental Shorthair personality
Like its cousin, the Siamese, the Oriental Shorthair is known for being a very intelligent, chatty and busy cat.
Oriental shorthairs can be trained, and make very affectionate, attention-seeking pets.
They are known for their curiosity, and, according to The International Cat Association, many Oriental Shorthairs enjoy a game of fetch long beyond kittenhood.
In fact, the breed remains playful and toy oriented long into adulthood.
Although the appear delicate, Oriental Shorthairs are actually quite athletic. They can be trained to walk on a leash, and are masters of the high jump.
Oriental Shorthair temperament
These cats are people lovers, and do best when they are able to be part of a human's life and household.
Although some Oriental Shorthairs may have a favorite human in the family, the breed does quite well in busy homes. Fitting in nicely with kids, dogs and other cats.
In fact, the Oriental Shorthair does not enjoy a lot of solitude, and is known to enjoy the company of feline companions over alone time.
Oriental Shorthairs don't like being left alone for long periods of time, and may do better with a buddy.
They are not a good choice if you work full time, or have a very busy schedule that keeps you away from home.
Oriental Shorthair weight
Adult male Oriental Shorthairs weigh between seven and 10 pounds, while the females tip the scales at five to eight pounds.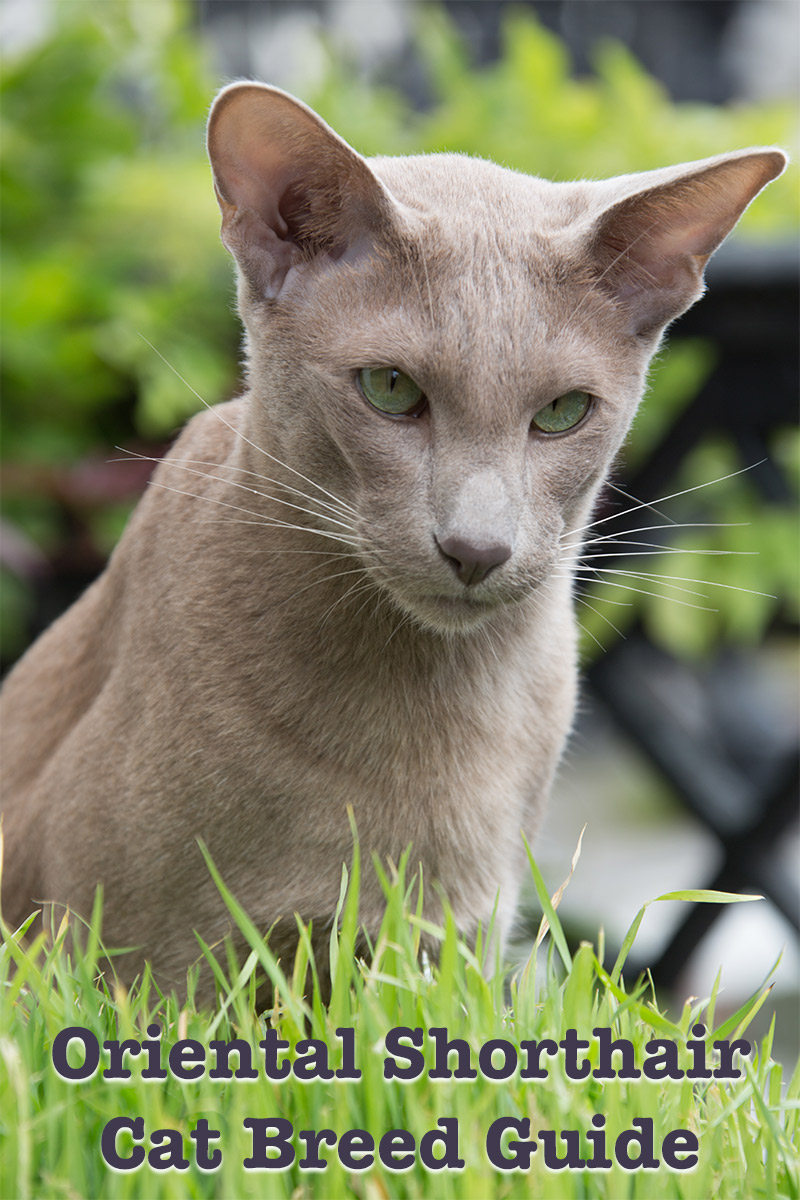 The slim and sleek body of an Oriental Shorthair is not compatible with excess weight, so a proper diet is essential.
These cats put on weight quickly and an extra meal or two can lead to excess belly fat in no time.
Oriental Shorthair coat and colors
An incredibly diverse breed when it comes to coat color, the Oriental Shorthair is often called the "ornamental" due to the natural beauty of its short, lustrous coat.
With 600 possible coat and color varieties, the Oriental Shorthair has also been dubbed "the rainbow cat" due to the abundance of coat shades found within the breed.
The UK's Governing Council of the Cat Fancy (GCCF) divides Oriental Shorthair coat colors into the following categories. These include Oriental Selfs, Oriental Non-Selfs other than Tabbies and Oriental Tabbies and the Oriental Bicolor (a cat with a colored and white coat).
Single color coated cats sporting black, blue, Havana, lilac, cinnamon, fawn, caramel, red, cream and apricot coats make up the 'Selfs' group.
Cats with smoky, shaded or tortie markings are classified as Oriental Non-Selfs other than Tabbies.
White Oriental Shorthair cats with blue eyes are categorized separately as the Foreign White. While white cats with the more common green eyes are known as the Oriental White and are not recognized by the GCCF.
Is the Oriental Shorthair hypoallergenic?
With its short, fine coats, the Oriental Shorthair sheds less than other cat breeds, which may make it a good pet for someone sensitive to cat dander.
No cat is 100 percent hypoallergenic, but research indicates some breeds, including the Oriental Shorthair, may secrete less of the major allergen Fel d 1 (a protein found in cat saliva) than others, but further research on the presence of Fel d 1 in Oriental Shorthairs is needed.
You can find out more about hypoallergenic cat breeds here.
Oriental Shorthair health problems
Along with its cousin, the Siamese, the Oriental Shorthair is at greater risk for mediastinal lymphoma.
These tumors typically occur at an early age and are not related to FIV.
The Oriental Shorthair is also considered to have an increased risk of Dilated Cardiomyopathy, a condition that can lead to heart failure.
They may also be more prone to Mucopolysaccharidosis (MPS) Type VI, which results in skeletal abnormalities from birth.
Breeders can prevent MPS through proactive DNA testing. And should only breed from cats who do not have any family history of heart conditions or cancer.
Oriental Shorthair life expectancy
Compared to other breeds, the Oriental Shorthair has a pretty typical life expectancy. Many will live to see their late teens, with the average lifespan being 15 years.
Oriental Shorthair price
Oriental Shorthair cost varies by breeder, but North American buyers should expect to pay between $500 and $1,000.
In the UK, Oriental shorthair cat price is commonly from £400 to £600.
Oriental Shorthair breeders
Prospective buyers should take care to research Oriental Shorthair cat breeders to find the right match.
The International Cat Association suggests buyers seek out breeders who offer guarantees and are amenable to having the kitten examined by the buyer's veterinarian.
Reputable breeders can be found through cat fancier associations and cat show communities.
However, not all registered breeders are ethical breeders.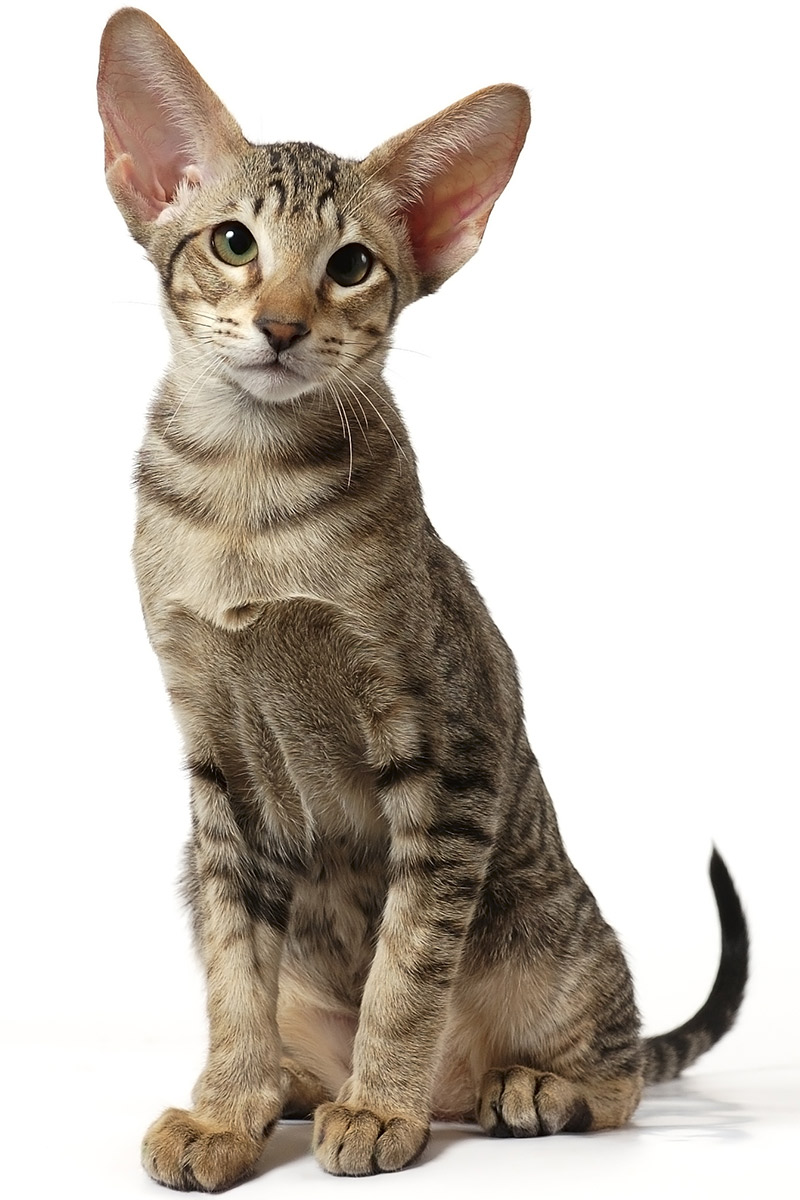 Due to the potential health problems, you need to choose a breeder than uses DNA testing to prevent MPS. You also need to choose one whose lineage does not contain cats that have had an incidences of cancer, or cardiomyopathy.
If your chosen breeder does not dedicate themselves to reducing these risks for their kittens, then it's best to walk away.
Oriental Shorthair Kittens
Oriental Shorthair kittens are known to be playful and rambunctious.
Most breeders will send the kittens to their new home at between 12 and 16 weeks old as they aren't physically mature enough for the transition earlier than that.
Breeders suggest plenty of handling and affection in the early days to solidify the bond between kitten and human.
But Oriental shorthair kittens are not your only option, you might also consider an Oriental Shorthair rescue cat.
Oriental Shorthair Cat Rescue
Gorgeous Oriental Shorthair cats can be found in both general cat rescues and breed specific rescue groups.
American cat fanciers may consider searching for Oriental Shorthairs online, or contacting groups like Specialty Purebred Cat Rescue.
In the UK, the Oriental Cat Welfare Trust provides rehoming services.
Oriental Shorthair mix
Partial Oriental Shorthairs are often mixed with Siamese. And Oriental Shorthairs have been crossed with other breeds as well. Including the British Shorthair and domestic cats.
If you buy a cross bred kitten, ensure each parent has been health tested for the diseases relevent to their own breed.
Should I buy an Oriental Shorthair cat?
The Oriental Shorthair is a time commitment. Despite their short coat, these cats do best with frequent grooming and they need plenty of exercise.
They thrive in company, so it's important that your family tends to spend most of their time around the home.
You also need to make sure that you buy your kitten from a breeder who fully health tests, and records the family histories, of the parent cats.
If you are seeking a feline companion that is beautiful, loving and athletic, the Oriental Shorthair could be the right cat for you.
References
Ross D Clark, DVM. Medical, genetic and behaioral risk factors of Oriental Shorthair and Longhair cats
Satorina, J et al. 2014. Do hypoallergenic cats exist? Determination of major cat allergen Fel d 1 in normal and hypoallergenic cat breeds. Clinical and Translational Allergy.