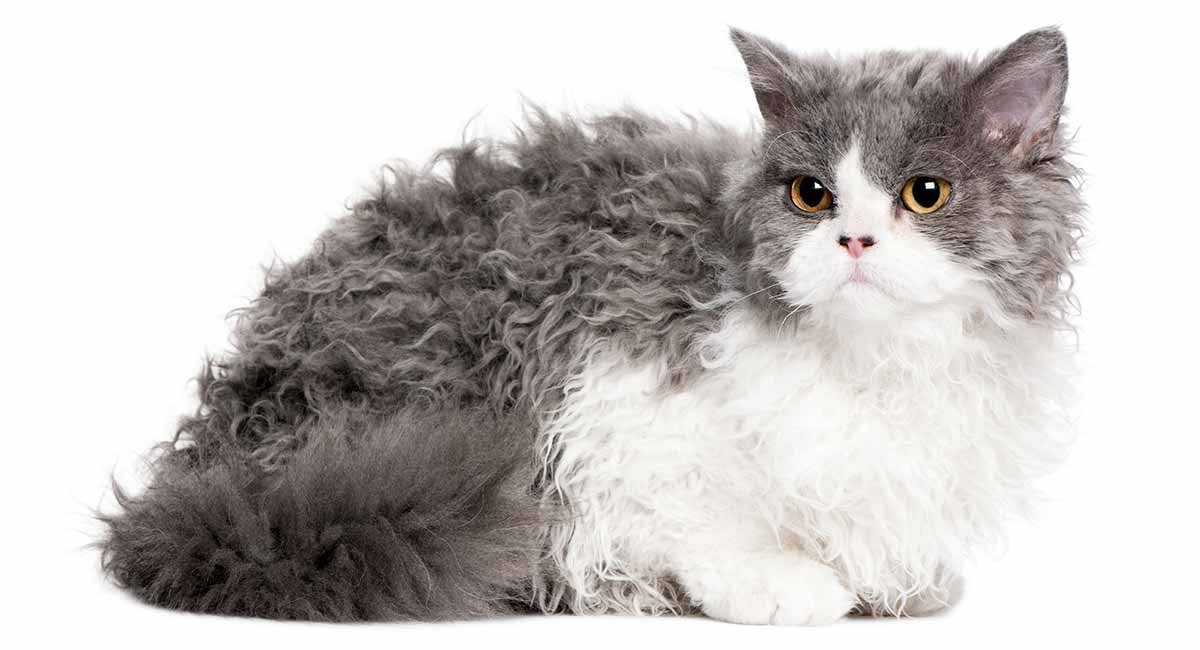 The Selkirk Rex is an intelligent, friendly and easy-going cat. They weigh anywhere from six to sixteen pounds and are generally healthy.
One of the newest cat breeds, it has quickly gained in popularity. Their unusual curly fur makes them stand out and get noticed.
What's In This Guide
Selkirk Rex cats may be new to the show ring, but they haven't wasted any time generating new nicknames.
"Dip and dry cat," "cat in sheep's clothing," "poodle cat" and "bad hair day cat" are just a few of the nicknames their owners hear regularly.
As a Selkirk Rex owner, you will need to be okay with other people wanting to pet your cat.
The soft, curly, plush, thick fur of these cats is not only unusual but is also nearly irresistible!
Selkirk Rex Breed Review: Contents
What is a Selkirk Rex
This cat only became an officially recognized natural breed in 1990.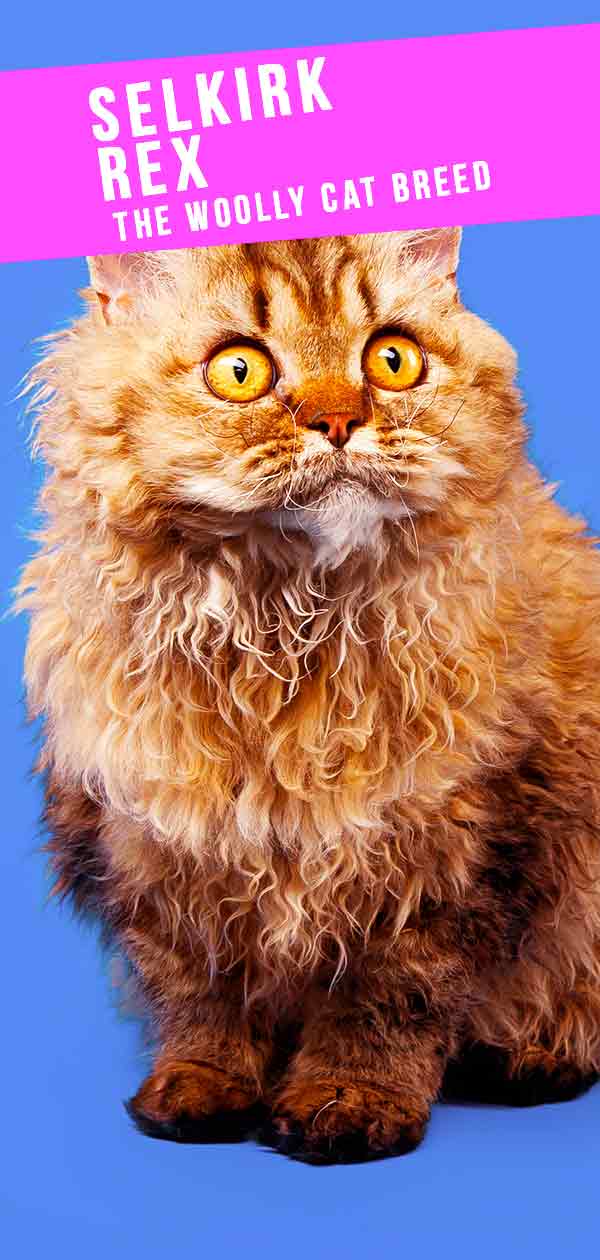 It is a medium to large cat with distinctively curly fur and a generally friendly disposition.
Selkirk Rex History
This cat got its unlikely start in 1987, when a breeder of Persian cats named Jeri Newman got a call from a local feline rescue organization.
The shelter had received an unusual kitten who had softly kinked (wavy) hair.
Ms. Newman adopted the kitten and bred her to a purebred Persian from her own line.
A few litters later, curly-haired kittens began to emerge.
After several generations the genetic mutation naturally developed into a new breed named Selkirk Rex, a nod to its birthplace in Montana and a nearby mountain range, the Selkirk Mountains.
Selkirk Rex Personality
The Selkirk Rex cat has garnered a reputation as a patient, sweet-tempered and outgoing cat. This is a plus since this cat will naturally draw attention!
The Persian influence is largely responsible for this breed's love of a good cuddle, while the British shorthair influence gives it an easy-going, calm personality.
This breed is generally intelligent, so don't be surprised if your cat learns to open doors and drawers.
Selkirk Rex Temperament
This cat is known for its friendly temperament. It won't be overly demanding of your attention but will be unhappy if left alone frequently.
The American/Exotic shorthair contributed a playful quality to it's temperament.
Can Selkirk Rex Go Outside?
There are pros and cons to consider when deciding whether to let your cat outside.
Indoor cats avoid hazards such as traffic accidents and theft while living inside can be stressful for cats who need outlets for their natural instincts. For more information check out our guide to outdoor versus indoor cats.
Selkirk Rex Weight
This cat has a strong, stocky body and a round head with round eyes and a sweet-natured gaze. It is a medium to large breed, weighing anywhere from six to 16 pounds.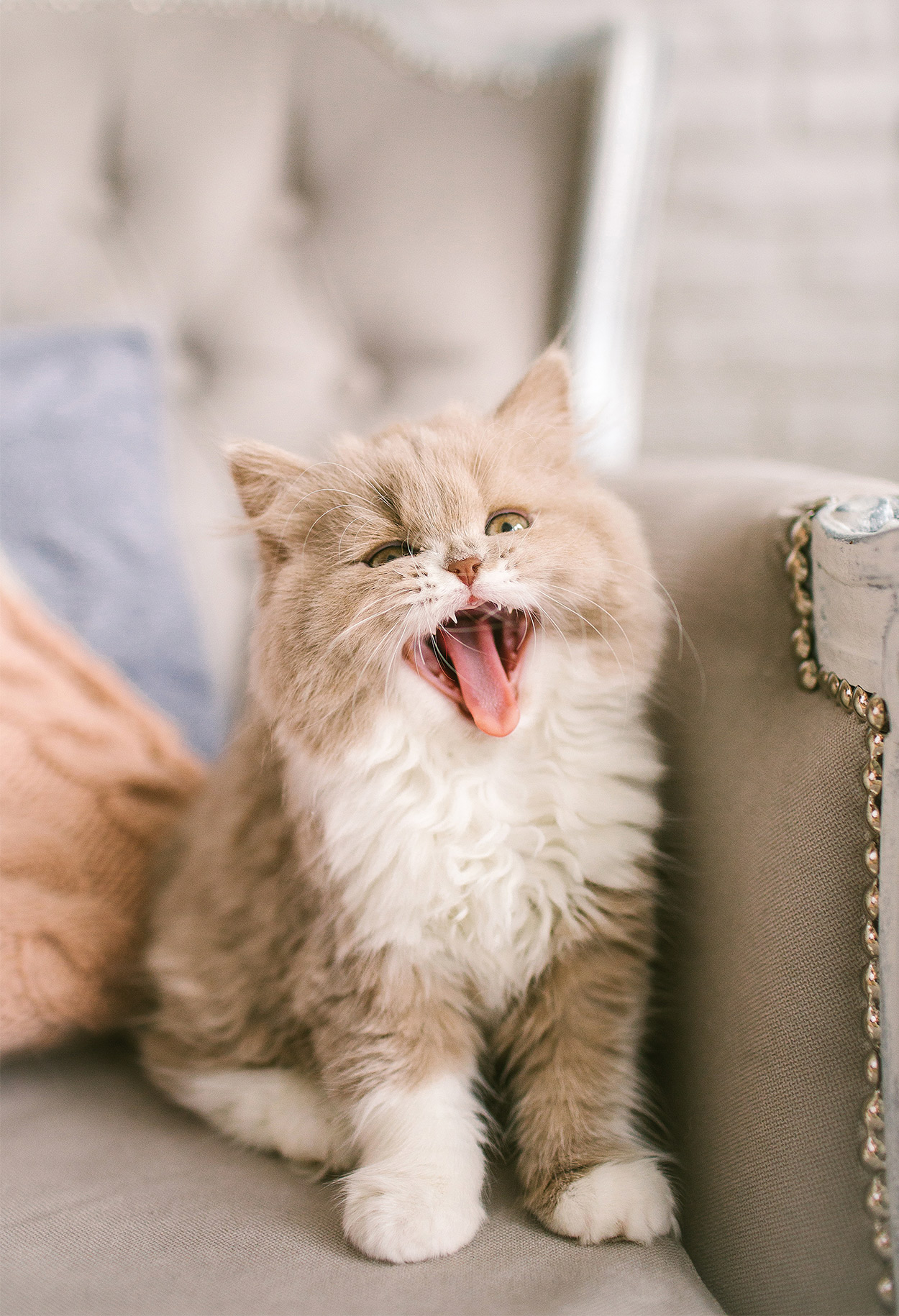 Selkirk Rex Colors and Coats
The Selkirk Rex's signature coat can be short-hair or long-hair in a wide variety of colors and patterns. In fact, there are 95 recognized coat colors and patterns!
The Cat Fanciers' Association recognizes any genetically possible coat color or combination of colors.
The shorthair version is often described as a "teddy bear cat," whereas the long-haired is often likened to a "woolly sheep."
The gene responsible for its remarkable fur is dominant, meaning only one parent cat needs to pass it along for a kitten to be born with curly fur.
Also, both straight and curly fur kittens can be born in the same litter.
Amazingly, less than nine generations after Ms. Newman's stray kitty, this mutation gave rise to a popular new breed of curly-furred cat!
Shorthair vs Longhair
Selkirk Rex short-hair and long-hair cats came out of the same genetic line. The difference in hair length partly reflects the original shelter kitty's DNA, which Ms. Newman concluded to have included a long-hair gene.
Hair length is also determined by subsequent breeding between Selkirk Rex cats and British Shorthair, American Shorthair or Persian cats. So today's cat remains an evolving genetic line.
Additionally, research has identified a straight hair variety of this cat – however, this is a relatively rare phenomenon (if you are curious, this study includes pictures of curly-haired and straight-haired Selkirk Rex cats).
Grooming Your Selkirk Rex
This cat's unique curly coat means it can be more labor-intensive to maintain than typical shorthair or longhair breeds. Brush it too often and you will brush out the curls. Don't brush it enough and you will likely encounter snarls, tangles and mats when you next get around to it.
Similarly, bathe your cat too frequently and you will wash out the natural oils that keep the coat soft and plush. Don't bathe your cat enough, however, and the coat is liable to get greasy.
This cat's coat is also unique in another way: it has three layers!
Tools for Selkirk Rex Grooming
To strike the right balance, it helps to invest in special grooming tools.
These include a wide mouth comb with long tines that can penetrate through all three layers. You may also want to keep a de-greaser handy for times when you have gone too long without bathing.
However, if you plan to show your cat, show breeders say this cat breed is actually easier to get ready for the show ring because the curls are "wash and wear." In other words, you can bathe your cat the night before and towel dry – no blow drying or extra styling required.
The next morning, just lightly spritz the curls and "scrunch" them with your hands to refresh the coat's natural curl. Voila – your cat is ready for the show ring!
Selkirk Rex Shedding
This is a low shedding breed.
A Hypoallergenic Cat?
There is a happy myth circulating about the Selkirk Rex "hypoallergenic cat."
Unfortunately, there is no such thing as a hypoallergenic cat.
Similarly, there is no cat that doesn't shed at all – not even the hairless cat breeds, since they typically have some fine downy hair as well.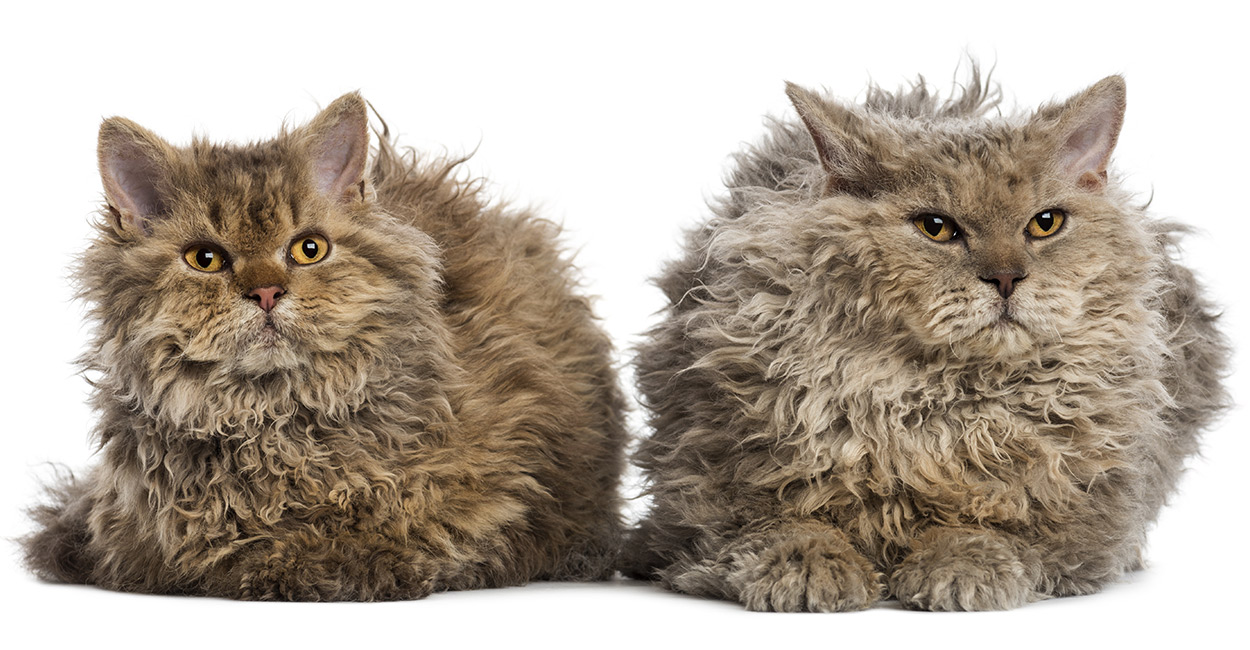 In fact, shedding is a secondary issue to the production of proteins, the real culprits behind cat allergy sufferers. A protein known as Fel d1 is the allergen that tends to provoke the most symptoms, although Fel d2, Fel d3 and Fel d4 may also be responsible.
All cats produce these allergens in their salivary (mouth) and lacrimal (eye) glands as well as their sebaceous (skin) glands. However, some cats produce less than others.
Curly-coat cats shed less than many straight-hair cat breeds, which means you may come in contact with less of the irritating proteins. So, while choosing a Selkirk Rex may mean your cat allergy symptoms are reduced, there is no guarantee.
Selkirk Rex Health Problems
Because this is a relatively new breed it doesn't have much genetic health history.
However, since the genetic contributions from the British shorthair, Persian and Exotic/American shorthair breeds are well known, it is possible to look ahead to some potential health concerns.
A significant one is the risk of breathing problems, eye damage and dental disorders caused by having a short skull.
Altogether these are such a pressing issue that we have written about them in detail over here.
Further heritable health conditions associated with this cat breed:
Polycystic Kidney Disease
This congenital disease is common to the Persian breed and may show up in Selkirk Rex cats as well.
Small, fluid-filled sacs (cysts) form inside the kidney and continue to grow until they take up more room than the remaining kidney tissue, causing renal failure.
A cat with this condition will have the cysts inside the kidneys even at birth. But because not all affected cats show symptoms, sometimes it isn't detected until the condition has seriously compromised the kidneys.
Treatment focuses on keeping the kidneys functional for as long as possible.
There is a genetic test that can determine whether a kitten has the cysts or not, but only an ultrasound can indicate how serious the condition may be.
The genetic test is useful for determining whether a pair of cats could pass the condition to their kittens, so breeders should have their breeding cats tested.
Hypertrophic Cardiomyopathy (HCM)
This complicated term can be translated to mean "thickened heart walls (ventricles)."
When the heart walls thicken, it is harder for your cat's heart to support their body. While there are some medications, this is a very difficult condition to treat and will progress to heart failure in time.
There is a blood test that can determine the likelihood a kitten will develop this condition.
Hip Dysplasia
The Selkirk Rex is considered a medium to large cat breed. The larger the cat, the more pressure on the hip socket.
Hip dysplasia is a heritable condition where the socket is badly formed, causing pain while running and jumping.
Typically, only surgery can correct hip dysplasia.
There is no genetic test for kittens to determine the likelihood of hip dysplasia in the future, the responsibility lies with breeders to not breed affected cats. An X-ray can make a definitive diagnosis once symptoms appear.
While the genetic health conditions mentioned here are serious and can sound daunting, the Selkirk Rex breed is considered mostly healthy.
Hopefully, breeders will commit to minimizing the risk of serious congenital health issues by maintaining sufficient genetic diversity. You can play a part too, by choosing a breeder who takes the health of the breed seriously.
Selkirk Rex Lifespan
This cat typically lives anywhere from 10 to 15 years.
As with all cat breeds, your cat's diet, level of activity, enrichment, overall health and genetic makeup contribute to how long your cat may live.
Selkirk Rex Food
The proper food for your cat will depend on its age, lifestyle, and whether it suffers from any of the health issues mentioned above. Your veterinarian can make a recommendation based on your cat's specific situation.
Are Selkirk Rexes Good Pets?
The Selkirk Rex cat has a lot going for it, and it is no surprise this cat breed is rapidly gaining in popularity!
The unique curly coat means these cats are cute as can be. Who wouldn't want a snuggly-soft kitty to curl up with? Its personality is also a major plus. This cat is all about being petted and loved as part of your family.
Because this cat does well with respectful children and cat-friendly dogs, it makes a great family pet.
Selkirk Rex Breeders
Finding a good Selkirk Rex breeder is an important part of bringing home a healthy kitten. In general, look for a breeder that is up-front about their operation and takes pride in the health of their lineage.
A breeder should offer you each of the following:
Proof that their breeding line has been genetically tested and shown to be free of polycystic kidney disease and hypertrophic cardiomyopathy.
Evidence that the parent cats have been X-rayed and shown to be free of hip dysplasia.
An initial health guarantee for your new kitten (this typically runs from six to 12 months).
A take-back offer if your new kitten does not work out.
Pedigree papers.
Proof that your new kitten has received all required vaccinations.
Willingness to allow you to visit the cattery in person and see that the operation is clean and healthy.
Enthusiasm to let you meet and interact with both parent cats and your kitten before you commit.
Permission to have a kitten of interest genetically tested for polycystic kidney disease and hypertrophic cardiomyopathy if you desire.

Selkirk Rex Price
Since this cat breed is still relatively new and happens to be quite popular, you can expect the price of Selkirk Rex kittens to put a dent in your wallet.
Generally expect to spend anywhere from $500 to $800 for a healthy, pedigree kitten.
The price for a kitten varies depending on coat color, gender, birth order, size, lineage, championship show status and other factors.
Selkirk Rex Kittens
These kittens are in demand and you may need to get on a waiting list to get one.
Caring for a vulnerable kitten is a big responsibility. For more information, check out our guides on litter training, socialization and coping with biting. Our The Happy Cat Handbook is a useful resource for keeping your cat happy and healthy.
Rescuing a Selkirk Rex
An alternative to the lengthy process of finding a breeder is adopting a Selkirk Rex from a rescue organization or shelter, although they may be hard to find.
You may not be able to learn as much about the health history of an adopted cat, but you can still opt to have it genetically tested for polycystic kidney disease and hypertrophic cardiomyopathy before making a commitment. Some rescue organizations will even pay for this to facilitate faster placement of desirable cats in good homes.
Petfinder and Adopt-a-Pet.com are helpful resources for finding a Selkirk Rex cat.
Selkirk Rex Mixes
Because it is a relatively new breed, there aren't many mixes. There is, however, the Lambkin cat, a cross between the Selkirk Rex and Munchkin breeds.
Pros And Cons of Getting A Selkirk Rex
Because this is a relatively new and popular breed, owners may face challenges. The cons of the breed are:
its popularity makes it difficult to find a cat
kittens can be very expensive
finding the balance between under- and over-grooming their distinctive fur
lack of genetic health history for the breed.
Despite these factors, this cat has many wonderful qualities. The pros are:
low-shedding, almost "hypoallergenic"
calm personality
friendly temperament
social nature
and of course Selkirk Rex's unique curly fur!
Should I Get a Selkirk Rex?
Its uniquely curly fur makes it popular, but also difficult to groom. Luckily this breed is generally friendly and calm, making them great for families with older children or households that frequently have guests.
Because this is a new breed, little is known about potential health issues and specific care requirements. Your veterinarian can provide recommendations for your specific cat.
What are your thoughts on this new cat breed? Do drop us a comment and let us know what you think!
This article has been revised and updated for 2019.
References And Resources
Gough A, Thomas A, O'Neill D. 2018 Breed Predispositions to Disease In Dogs and Cats. Wiley Blackwell
O'Neill et al. Longevity and mortality of cats attending primary care veterinary practices in England
The Cat Fanciers Association, 2017.
Newman, J., "History of Selkirk Rex," Selkirk Rex Cat Club, 2018.
Gandolfi, B., et al, "A splice variant in KRT71 is associated with curly coat phenotype of Selkirk Rex cats," Nature Scientific Reports, 2013.
Freeman. L.M., "Feline Hypertrophic Cardiomyopathy: A Spontaneous Large Animal Model of Human HCM," Cardiology Research, 2017.
Scherk, M., DVM, DABVP (Feline Medicine), "Feline Polycystic Kidney Disease," Clinician's Brief: Feline Medicine/Nephrology, 2014.
Kornreich, B., DVM, "Hip Dysplasia," Cornell University College of Veterinary Medicine, 2016.
Filler, S., et al, "New cat breed, Selkirk Rex, genetically different from other curly-haired cats," Science News: University of Vienna, 2012.
Vetstreet, "Selkirk Rex,"
Purina, "Selkirk Rex Cat,"
GCCF, "Selkirk Rex Cat Breeding Policy," gccfcats.org.