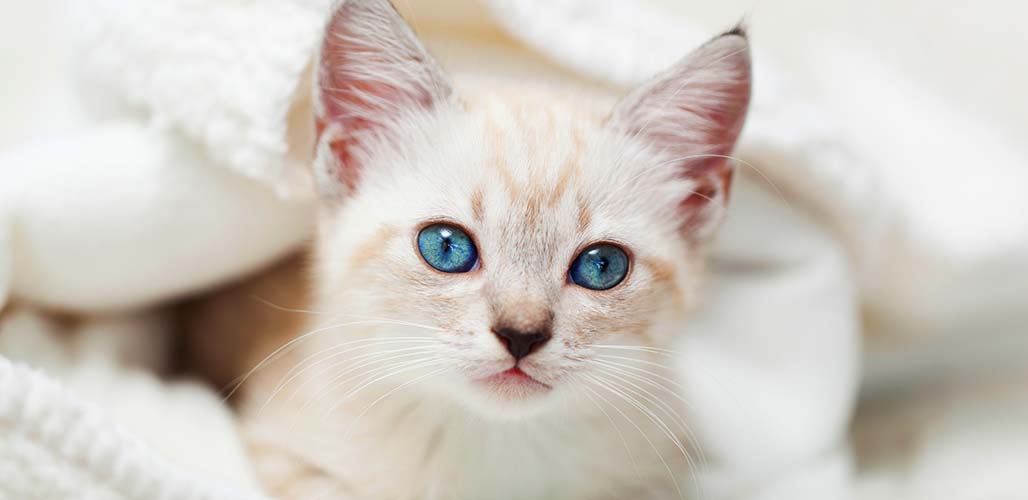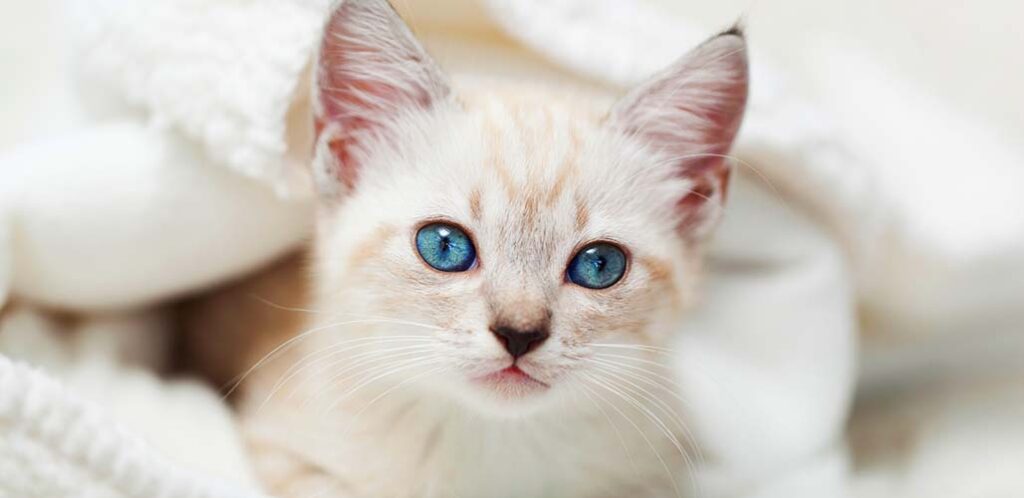 Siamese tabby is a term that is used for a coupe of different cats. Either a kitty with tabby points that is also known as a lynx point Siamese, or a more tabby patterned cat with some Siamese ancestors! The tabby markings you might see include mackerel, classic, and spotted dark areas, that are usually found on the tail, face, ears, and legs. These unusual cats are utterly beautiful, and have that classic loud but loving personality.
Contents
What is a Tabby Siamese Cat?
The term 'tabby Siamese' usually refers to a lynx point Siamese, or a tabby point Siamese. Though, in some cases it can also refer to a mixed breed cat, which will be much less predictable in terms of temperament and physical appearance. And, according to the CFA, only the Colorpoint Shorthair can have lynx points, although this breed is identical to the Siamese in every way other than color.
Original Siamese cats did not have tabby markings. Instead, they were more likely to have solid coloring at their points. But, over time breeders began experimenting and investigating the influence of different breeds on a Siamese cat's coloring. Tabby markings arose when breeders mixed Siamese cats with American Shorthairs.
The exact appearance of a tabby Siamese cat might vary depending on the placement and intensity of their markings. But also on which breed standard a breeder favors, since many have slight differences.
What Does a Tabby Siamese Look Like?
A Siamese cat with tabby or lynx points will have the same general body conformation as any other Siamese. The difference will lie in their coloring. So, you can expect a medium sized, slender cat. This breed has an angular, wedge-shaped head and large, triangular ears. They have medium-sized, almond-shaped eyes and a long, straight nose.
Siamese and Colorpoint Shorthairs have short, fine, and glossy coats. Their tails will be long and thin. In terms of their markings, these cats will have stripes at their points. Pointed coloring is caused by a form of temperature-sensitive albinism. So, only the coolest parts of the cat's body will display darker pigment. But, a Siamese Tabby mix could be slightly different, for instance with tabby markings all over their body.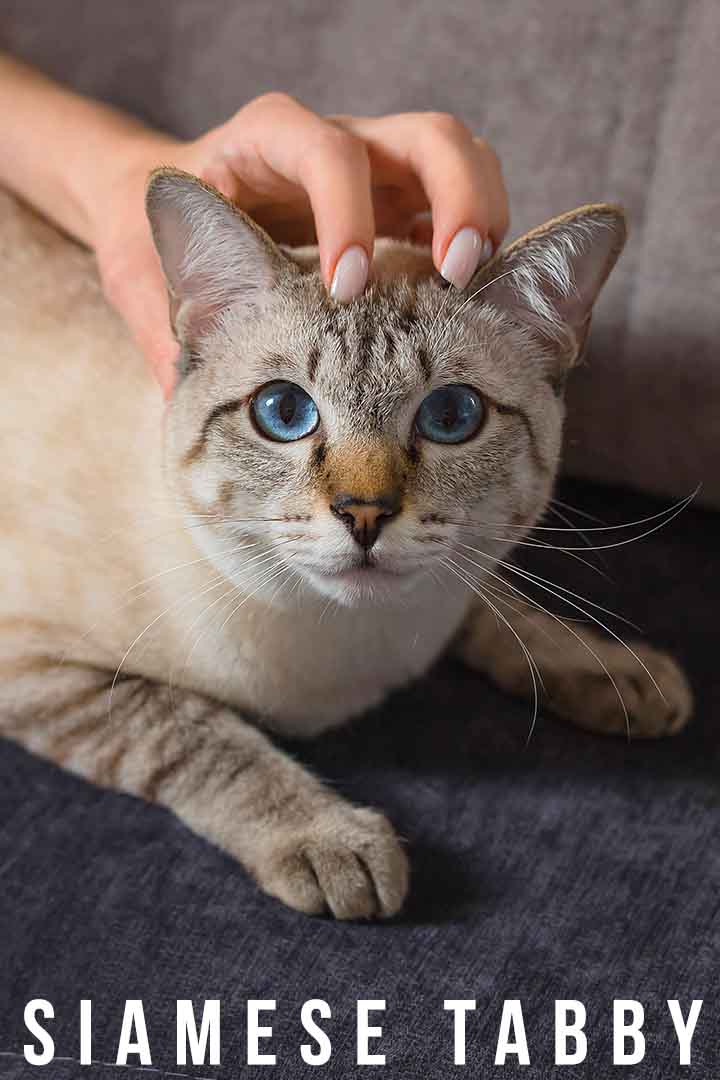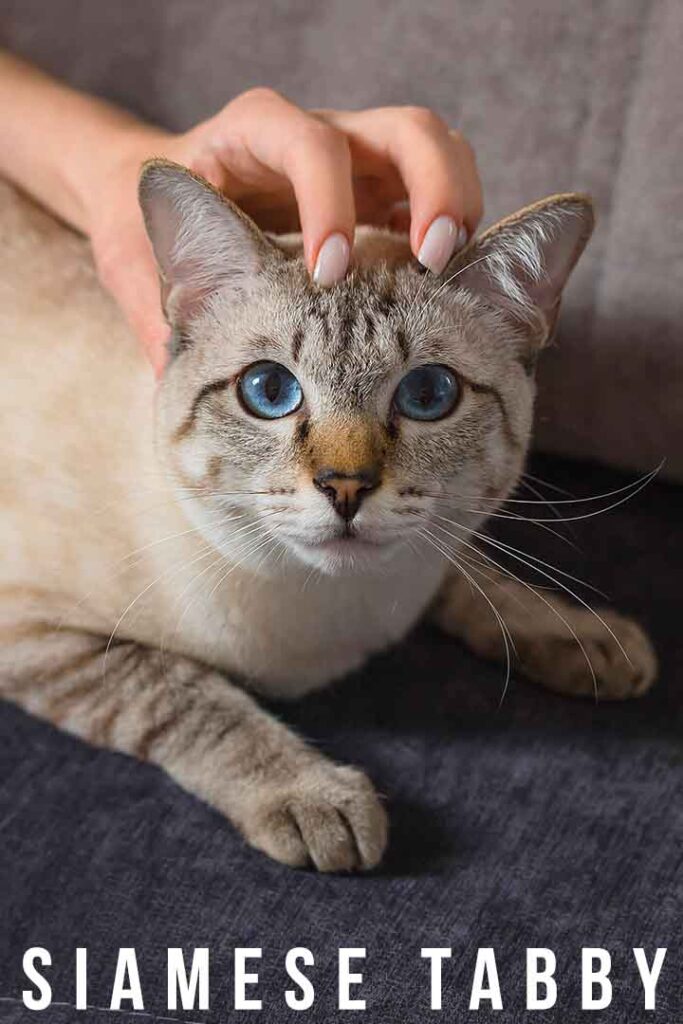 Specific tabby or lynx markings on each of these cats will vary. Many will have the typical M on their foreheads. Their markings will be alternating and striped, though some may have the spotted tabby pattern. Striping and ticking are two of the most common lynx patterns. These markings can come in a huge range of colors, including seal, lilac, red, and more.
Siamese Tabby Temperament and Personality
The Siamese breed is known for its highly affectionate and people-oriented personality. This will be the same in tabby Siamese cats. These cats are at their happiest when they're in your company. They are also known for being an incredibly chatty breed. Siamese cats of any color will follow you around the house, cuddle up in your lap, and chat to you the whole time, purring and meowing!
On top of this, the Siamese breed is very intelligent and playful. They're adept at creating their own fun around the house, but will always appreciate toys and games that involve your company. Some owners may even succeed at teaching their tabby point Siamese cat tricks.
Is a Siamese Tabby Cat a Good Family Pet?
In the right home a Siamese cat with lynx points can be a wonderful pet. However, it won't suit every family! These cats are low maintenance when it comes to grooming. But, they are very people-oriented. And, they can be prone to separation anxiety. So, if you spend a lot of time away from home, this might not be the ideal cat for you.
On top of this, a people-oriented cat might sound great in theory, but this personality won't suit everyone! Be prepared for a cat that loves to be around you all the time, and one that can be quite noisy and stubborn in order to get your attention! Even at times when you might not want them to, like first thing in the morning when you're trying to catch a extra hour in bed!
Siamese cats are generally known to get on well with all members of the family. But, young children must be taught how to handle them gently to avoid any injuries or misunderstandings.
Siamese cats are low maintenance when it comes to grooming. But, you should keep an eye on their ears to prevent excess wax. And their claws, to monitor length and breakages. Like all cats, they need a high quality carnivorous diet.
Finding Siamese Tabby Kittens
When searching for Siamese kittens with tabby markings, it's important to choose a reputable breeder. Prices vary depending on your location, demand, other fur patterns available in the litter, and so on. But, as a general idea, you can expect a Siamese tabby to cost between $1000 and $2000.
It's also occasionally possible to find a Siamese cat with these markings in rescue centers. Rescue kittens will usually be cheaper than those from a breeder. They could be slightly older, but still have the potential to become a loving, affectionate member of your family, particularly when shown love and good care. However, these unique beauties aren't going to hang around for long, so you'll likely have quite a wait if you go the shelter route.
Your Pet Cat
A Siamese cat with tabby markings at its points can be a wonderful companion in the right home. They need plenty of attention and affection, and will love spending lots of time with you, whether that involves cuddling on the couch or playing a fun, interactive game.
Do you already have a tabby point Siamese cat at home? Or are you still searching for your future kitten? Let us know your experiences in the comments!